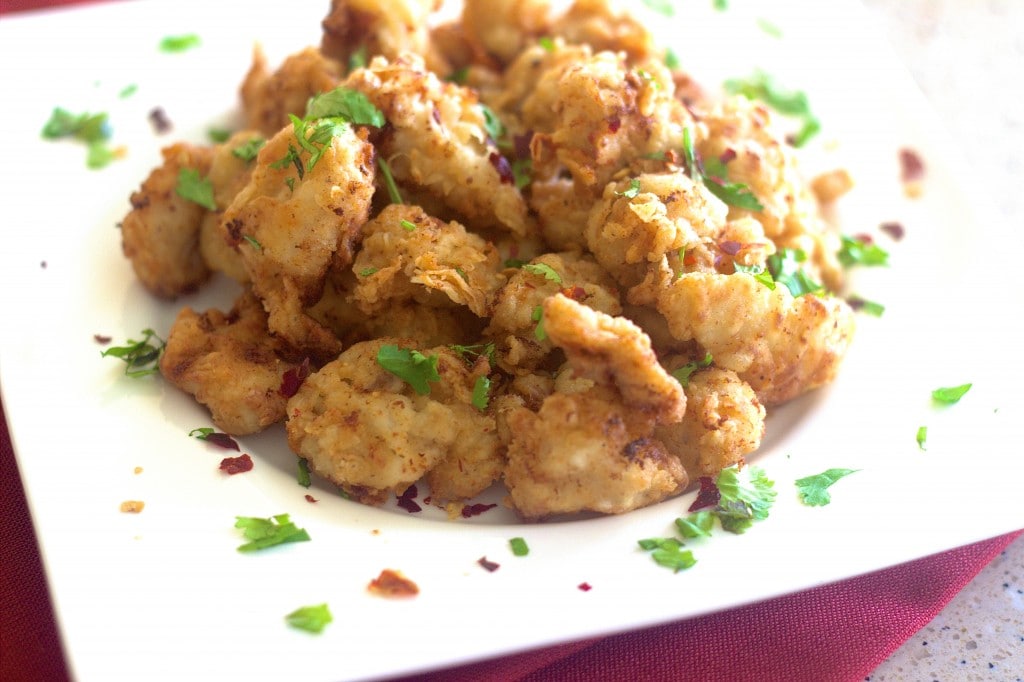 Sometimes things can be easier than it looks and sounds. 'Is the wrinkled crispy coating on the chicken its skin', I have thought, when biting into a KFC fried chicken. 'No, it not', I understood when I started my cooking frenzy. I figured making this is easier than cooking up a curry. I don't have the secret ingredients that KFC and other fast food chain uses, but sure, this is how the basic crispy fried chicken is made. Add spices according to your taste buds and you can come up with a smoking flavor rather than the bland ones you get.
Use bigger pieces if you like. But you will need more oil and the frying time will increase. These bite site pieces are small, crunchy and cooks fast. A bite site appetizer. But the only thing is, you won't even know how many pieces you will pop into your mouth. Marinate this, coat it with flour and freeze it for later use. Its a good lunch box idea and so many times healthier than the store brought ready to fry stuff.
Hey your kids might end up calling you a supermom or superdad. Come on, you just made their favorite food at home.
P.s: When I typed superdad, it gave me a spellcheck. I googled it and apparently couldn't find any results other than the the old English movie Superdad. I wonder why? 🙂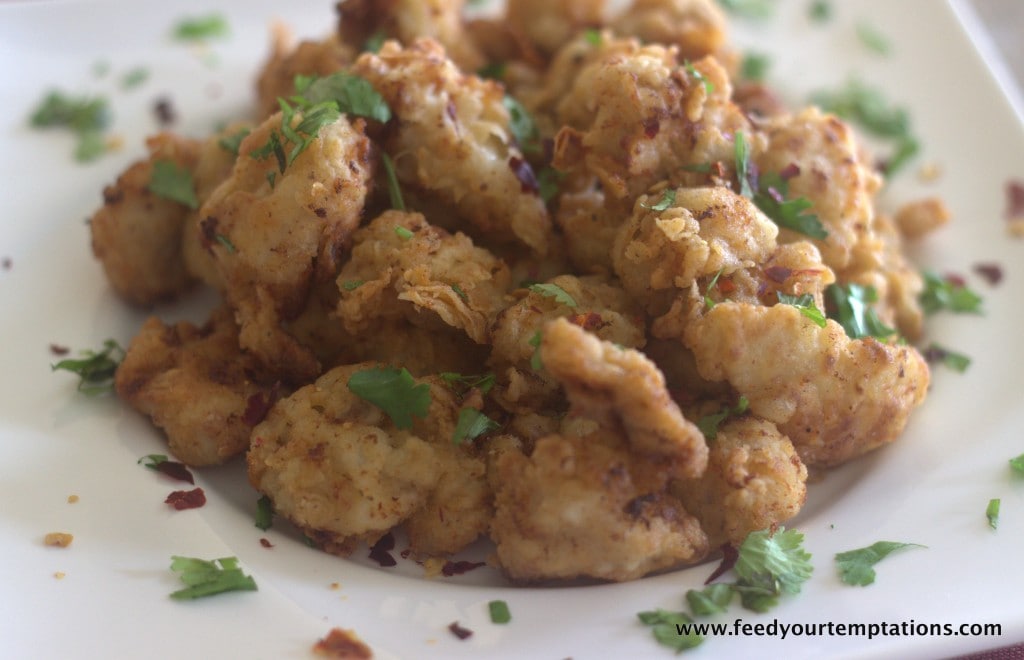 I have a confession to make. These red pepper flakes and cilantro are to lure adults. You can totally avoid it and still make a good kids version. My son looks at cilantro and says, 'mom, don't like that'. I bet, you must be getting enough of that too.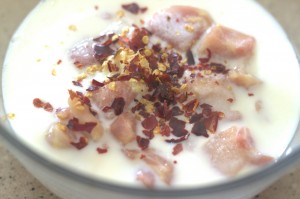 Add buttermilk or milk+vinegar and spices to chicken. Let it marinate for 4-8 hours in the refrigerator. Buttermilk acts as meat tenderizer and let the chicken get the flavor of spices. If you are in a hurry, marinate for 30 minutes, but the flavor will vary.
You know what else you can do? add pickled Jalapenos, canned adobo or green chillies to the buttermilk.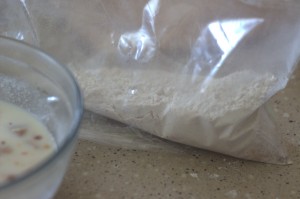 Add the flour and spices to a ziplock or plastic bag and mix well. This is so much time better than coating individual pieces.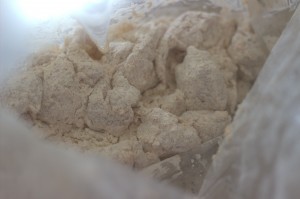 Strain the marinated chicken though a wire mesh and throw it in the flour. Close and shake the bag well, so that all the pieces coat well with flour.
Heat oil in a pan on medium high heat. Shake the excess flour and add a piece to the oil. You will know the oil is ready, when it sizzles. Add additional pieces. Do not crowd the pan. Fry till the coating is golden brown, ideally for 2-3 minutes. (If the chicken remains uncooked and the coating turns dark, reduce the heat to medium).
High heat will leave the chicken uncooked and the coating will darken, while low heat will let the chicken absorb more oil.
Popcorn chicken - The fast food style
Marination time: 4-8 hours Ideal
Ingredients
For CHICKEN

2

chicken things

cut into 1/2 inch cubes

1/2

cup

milk + 1 tablespoon vinegar or 1/2 cup buttermilk

1/2

teaspoon

salt

2

red chillies

broken or 2 teaspoon pepper flakes (optional)

FOR COATING

1

cup

all purpose flour

maida

1/2

teaspoon

salt

1

teaspoon

red chilly powder/paprika

1/2

teaspoon

black pepper powder

oil for frying

cilantro/coriander leaves for garnish
Instructions
Mix chicken + buttermilk + salt and red chillies, cover and refrigerate it for 4-8 hours.

For the coating, take a ziplock bag or a thick plastic bag and add flour + salt + red chilly powder + black pepper, mix well.

Strain the chicken pieces through a sieve and add it to the flour. Cover and shake the bag so that all the pieces coat well with the flour.

Heat oil in a pan on medium high heat. Add one pieces and if it sizzles, its time to add the remaining pieces. Do not crowd the pan. Fry it for about 2-3 minutes or till the coating is golden brown.

(If the chicken stays uncooked and the coating starts to darken reduce the temperature to medium heat) Drain on a paper towel.

Season with some extra salt and pepper if needed and garnish with cilantro and red pepper flakes.
Recipe Notes
To freeze it for later: Coat the marinated pieces with the flour, line a plate or sheet with plastic wrap and place the chicken pieces on it. It shouldn't touch each other. Place this in the freezer for 30 minutes.
Then transfer everything into a freezer bag or freezer box.
Thaw it in the microwave before frying or leave it at room temperature for 15-20 minutes.