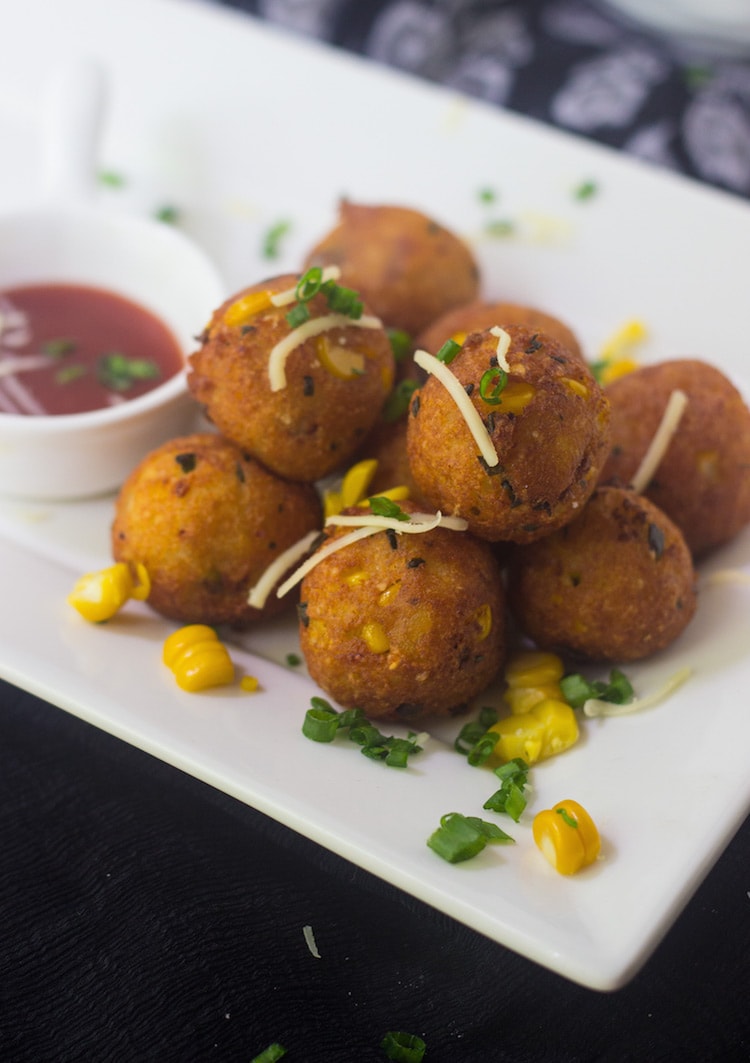 My foodie friends, Won't you agree when I say appetizers and desserts are the best things to look up too and won't you also agree that appetizer takes equally long time to prepare, especially if that involves bite sizes.
Well then, these loaded mashed potato balls are crisp on the outside with gooey cheesy goodness on the inside and the best thing is its one of the easiest appetizers you can make —- because you don't have to dip individual balls in batter.
Just MIX, ROLL and FRY.
Its VEGETARIAN —- No eggs either.
You can FREEZE the potato pops and use as needed.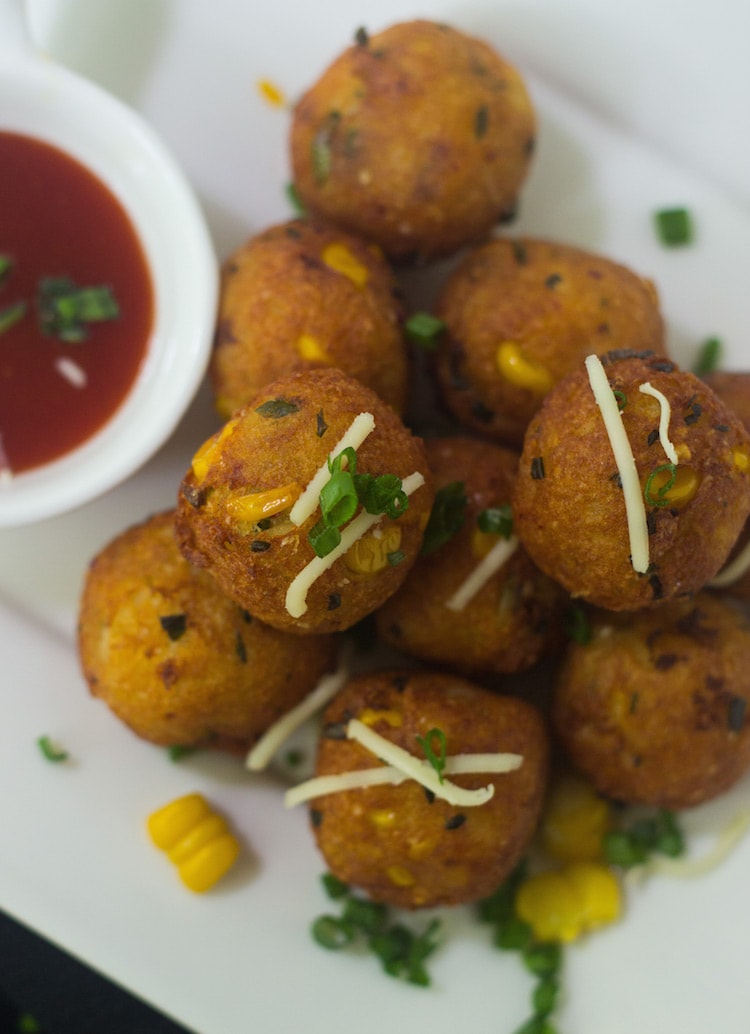 Serve it with your favorite sauce.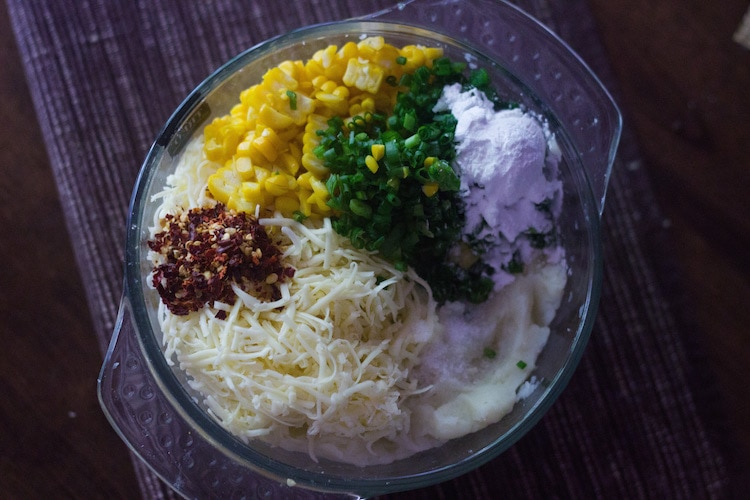 Another best thing is its so versatile. Change the herbs and spices to your liking and use your favorite cheese.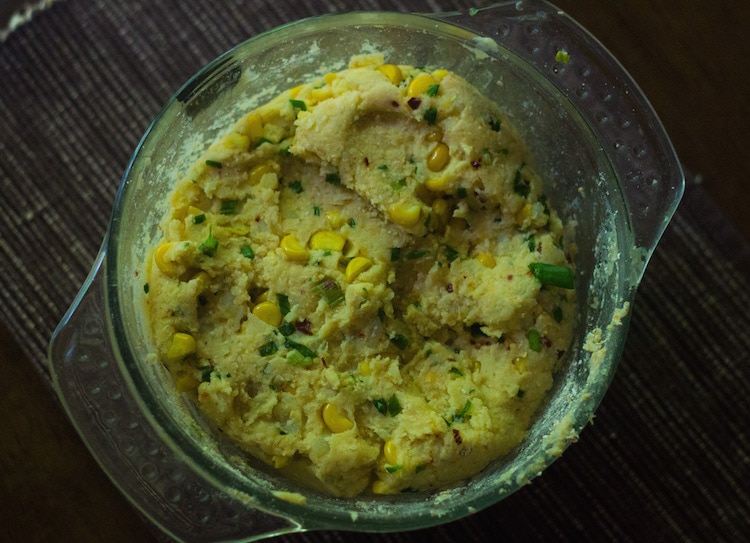 Shape these into balls or flatten them into tikis.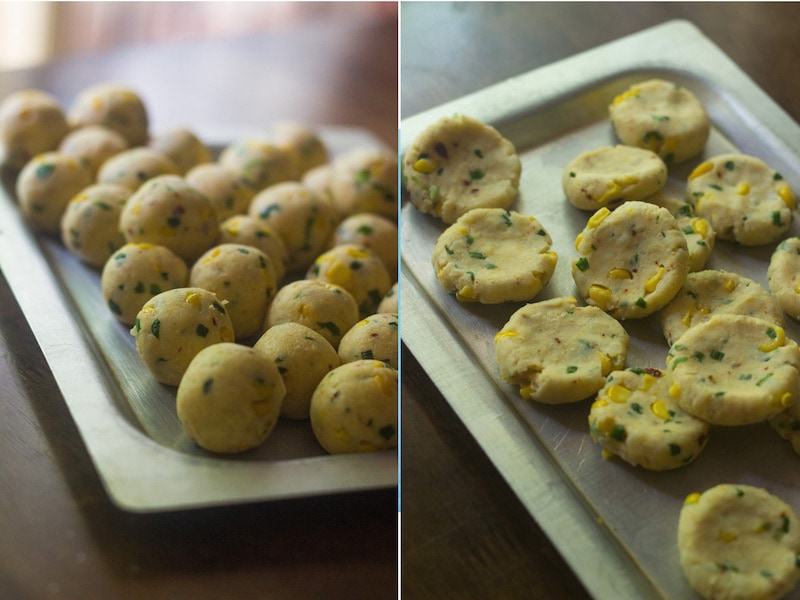 If you plan to shape it into tikis, then flatten and keeps the sides uneven. Its looks better and makes it more crisp too. You will also end up using less oil if you flatten these into tikis.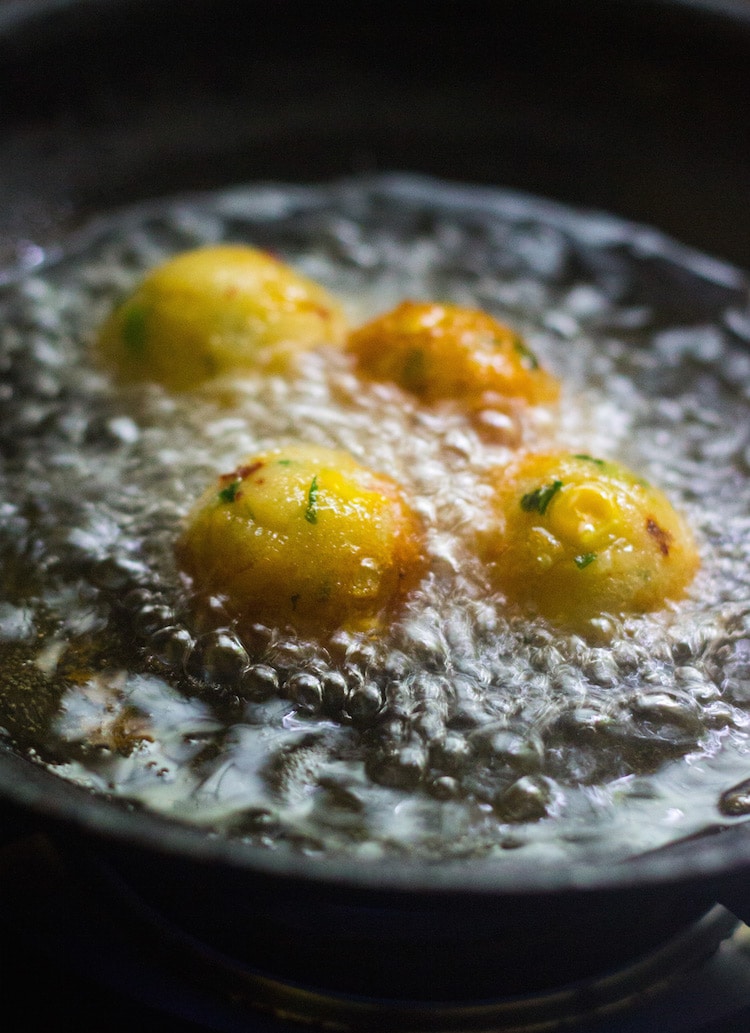 Maintaining the temperature of oil is very important as it can break easily because you are using cheese. Medium temperature is ideal.
Everything is cooked so you don't have to worry about the inside getting cooked. The moment outside looks dark golden brown, take it out of the oil and drain it on a paper towel.
If you have time in hand its a good idea to freeze appetizers involving cheese before deep frying to avoid breakage, but be careful as it can splatter when it comes in contact with hot oil because of the water droplets.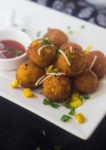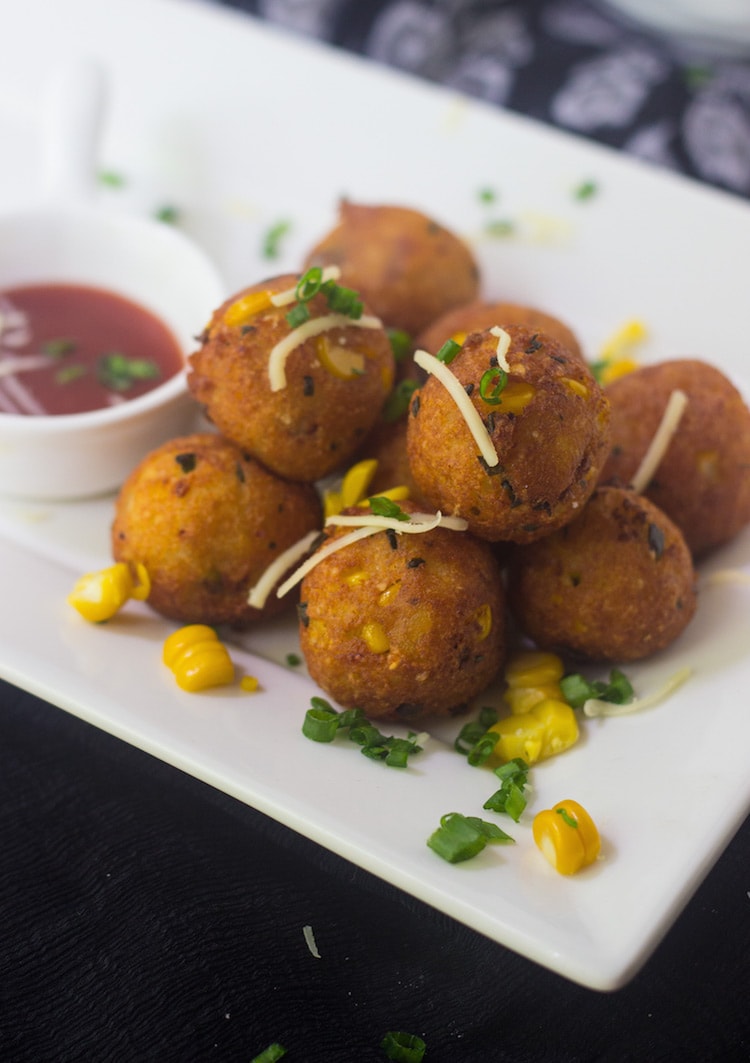 Potato and cheese pops
Ingredients
2

and 1/2 cups boiled potatos

mashed (About 3 medium potatoes) (Ref notes)

1

cup

cheese

shredded

1

cup

corn

cooked

1/2

cup

spring onions

finely chopped

1

and 1/2 teaspoon red pepper flakes

1

teaspoon

black pepper powder

salt to taste

1/2

cup

bread crumbs

2

teaspoons

corn starch / corn flour
Instructions
Add all the ingredients to the mashed potato except corn starch. Mix well and adjust the salt and any flavor as needed.

Sprinkle corn starch over the mixture and knead.

Shape the mixture into balls.

Deep fry these in oil placed on medium heat till golden brown and crisp.(Ref notes)

Alternately you can also freeze these for later and use as needed.
Recipe Notes
Potatoes: Mash the potatoes only once its completely cooled. You can also place the boiled potatoes in the refrigerator for an hour or two before peeling and mashing. This way it will leave less water.
Cheese: Combine two different cheese if you like. I like to use 1/2 parmesan and 1/2 mozzarella. Some cheese can be salty so adjust the salt accordingly.
OIL : Place the oil on medium heat or the inside can melt and the pops can break. You can also freeze these for 30 minutes to 1 hour before frying.
Once you put the pops in oil, wait for it to get golden brown on one side, turn the pops to the other side and let that brown too. Don't keep moving it in oil.
To FREEZE: Arrange potato pops with space between them on a tray lined with plastic wrap and place it in the freezer. Once it turns hard (which should take about an hour) transfer into a ziplock freezer bag and use it as needed.
(To fry place it on the kitchen towel for about 5 minutes and deep fry. Be careful as the oil can splatter as the surface of the pops may contain water.)