Spicy Potato Fry
Another simple and excellent Spicy potato fry. You can serve this with rotis or as a side with rice. All in all, the garlic, mustard seeds, cumin and the spices coat the outside of the potato which gives it a beautiful look and makes it worth digging into.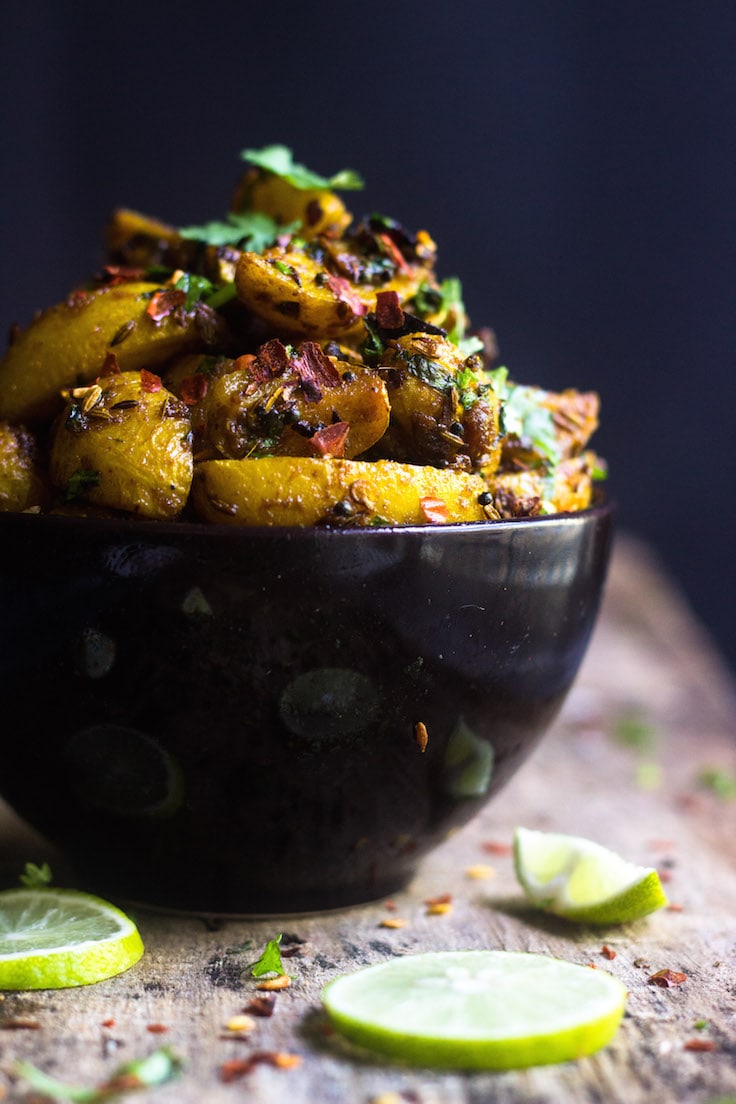 Last week it was the spicy Hasselback potatoes, and this week it's the spicy potato fry. A spicy potato fry couldn't be comforting enough. It is something which you might enjoy eating on its own and if you are a potato lover then more the merrier.
A slight squeeze of lemon in the end ups the flavor in a way which you will devour.
This recipe is almost like the roasted cauliflower stir fry which everyone will love.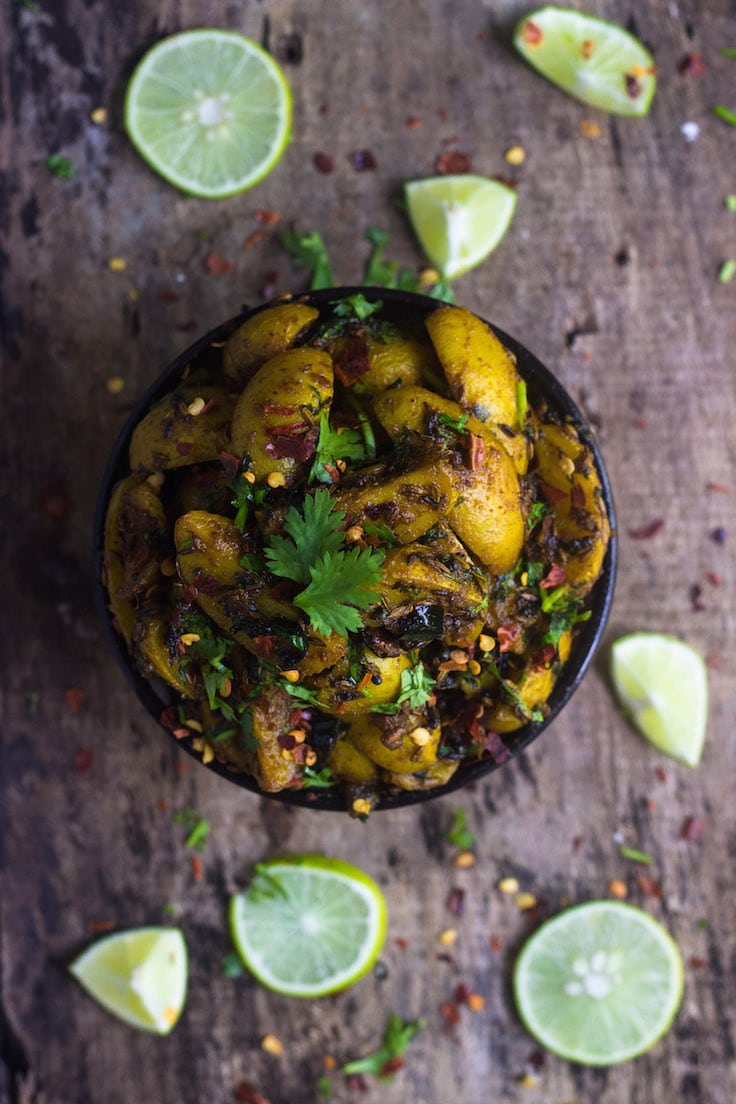 Finally, if your like added heat, you can chop and add the dried red chilly instead of adding the whole chilly. If you have red chilly flakes, just add that.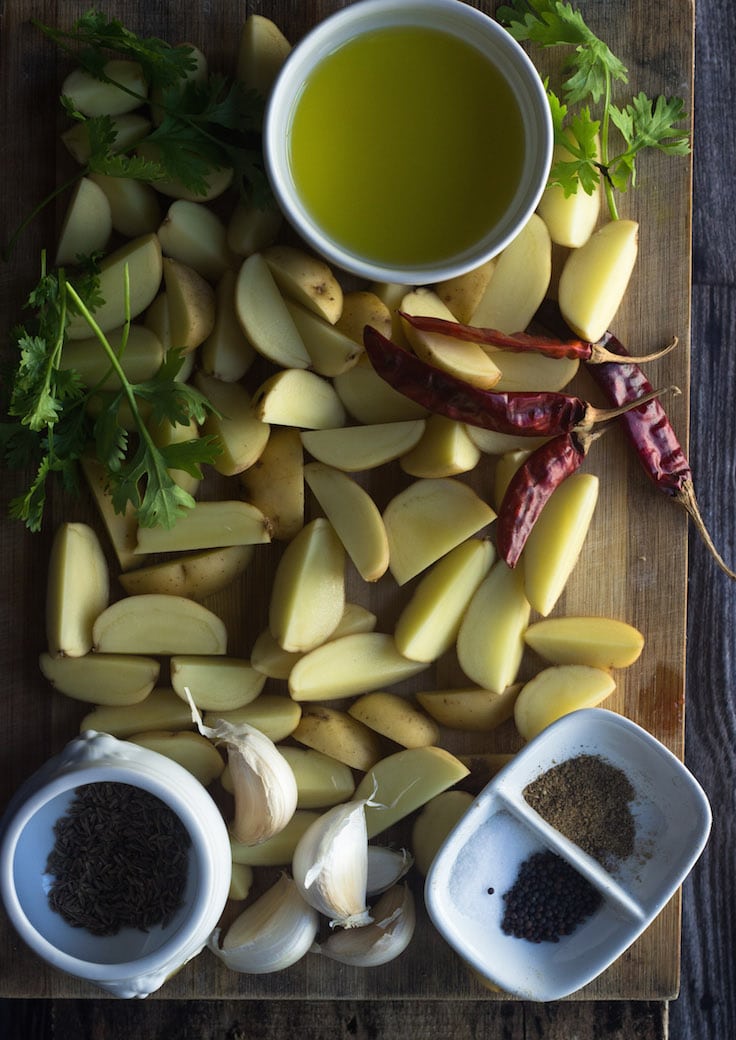 If you are using baby potatoes, cut it into four pieces. Cut along the longest side and then divide into further two sections. If you are using big potatoes, cut into wedges.
P.s: Since last week I started a new section below the post which says 'What I learned this week about Blogging'. If you are interested in blogging it might benefit you. Please find it below the recipe.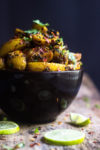 Spicy Potato Fry
Simple and easy potato fry with basic ingredients.
Ingredients
500

g

(1 pound) baby potatoes, cut into 4

(Or normal potatoes, cut into wedges)

6

tablespoons

(1/4) cup oil

5

cloves

garlic, finely chopped

1

teaspoon

mustard seeds

3

teaspoon

cumin seeds

3

dried red chilies

1/2

teaspoon

garam masala

1

teaspoon

turmeric powder

1

teaspoon

salt, or to taste

2

teaspoons

coriander powder

(sprinkle in the end)

1/4

cup

coriander leaves, finely chopped

(for garnishing)
Instructions
Heat oil in a pan, preferably a non-stick pan.

Add oil, once the oil becomes hot, add mustard seeds. After the mustard seed crackles, add cumin seeds and garlic.

Once the garlic cooks, add the dried red chilly and spices (garam masala + turmeric). Quickly stir and add the potatoes. Sprinkle salt and mix. Turn the heat to low, then cover and let it cook for 10 minutes.

Once the potatoes are cooked, open the lid and let it roast on low-medium heat till the outside is roasted and golden brown. Sprinkle coriander powder and mix. The roasting could take additional 10 minutes.

In the end, sprinkle the coriander leaves and transfer to a serving bowl.
Recipe Notes
Squeeze some lemon in the end if you like it with a slight tang.
Changed my Hosting Company: I moved my hosting company from Bluehost to Siteground after a lot of research. It is definitely faster, cheaper and the customer reps took care of the migration which made my life so much easier.
Shareaholic is another paid plugin which I switched to for social media shares. One of the main reason to purchase the plugin was to retrieve the social media counts which I had lost because of the move from HTTP to https.
Disclaimer: Technology changes every day and although this is important now, it may change in the future. So do your research before you decide to do anything.