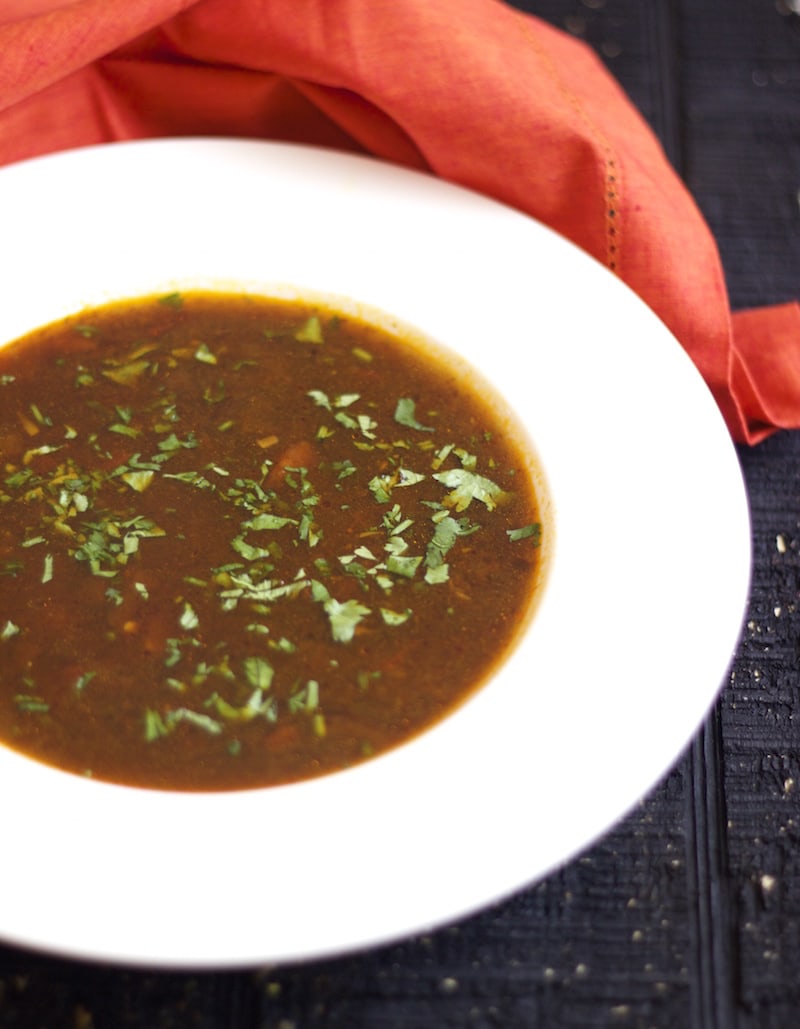 Rasam (a tangy tomato soup) can be one of the most comforting things to have when you come up with a cold or when it gets a little chilly outside. But, that doesn't mean it cannot be had any other time. The pepper, the garlic and other spices makes the difference.
Whenever Nivaan comes up with a cold or congestion, I make this and boom…the symptoms almost disappears. Its takes less than 15 minutes to make. I don't think there is a right way or wrong way to make rasam. Everyone has their own ways of preparing this tangy soup. This is my moms recipe which I have had growing up. I can never get enough of it.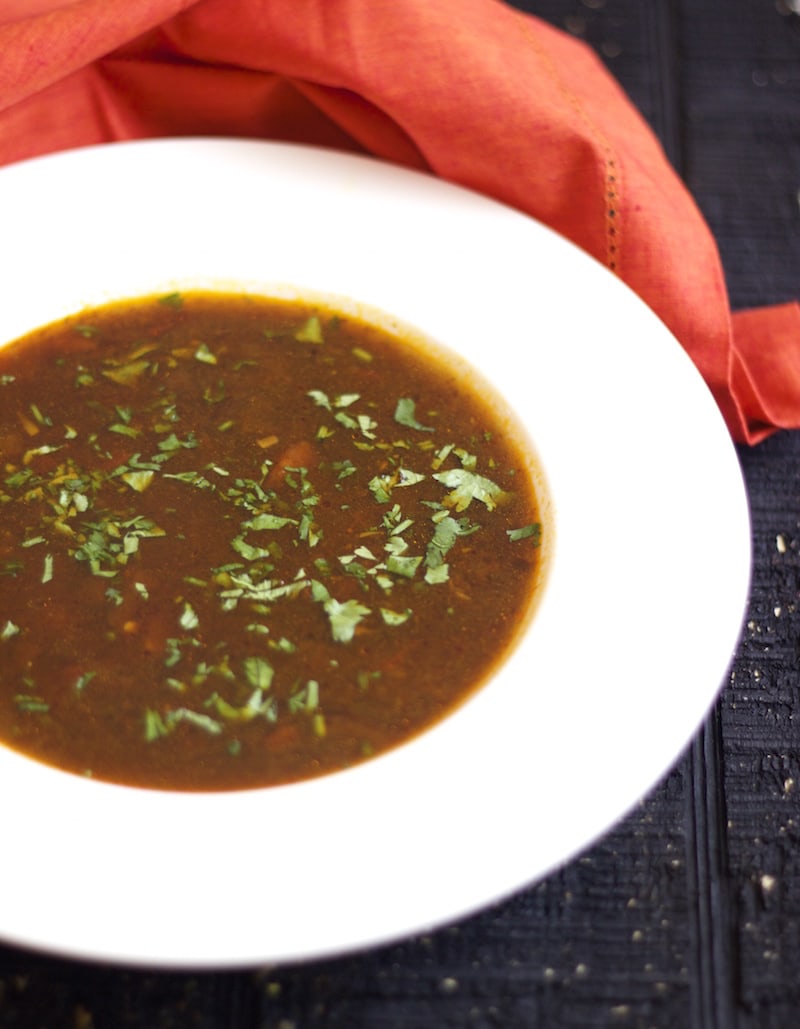 Many add cooked pureed lentils (daals) to the soup. But this is one step easier as you don't have to go through the extra step of cooking lentils. Its easy and comes handy when you want to make something quick.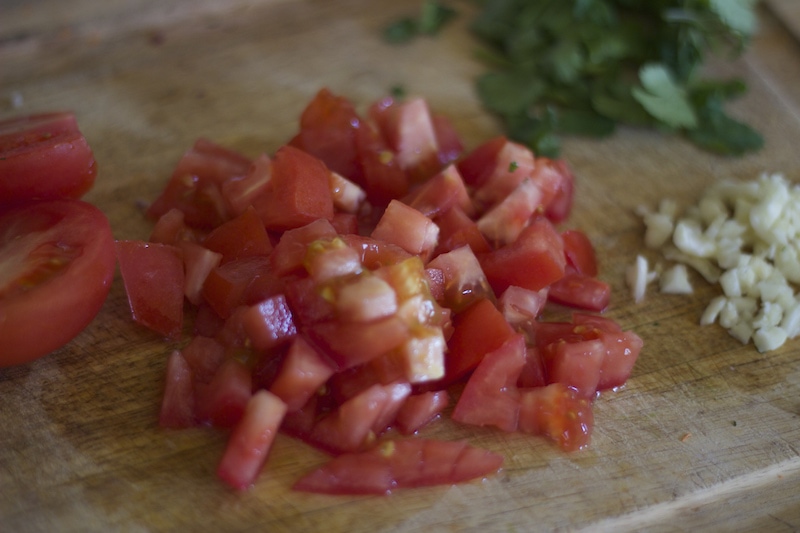 Chop some tomatoes and mince few cloves of garlic.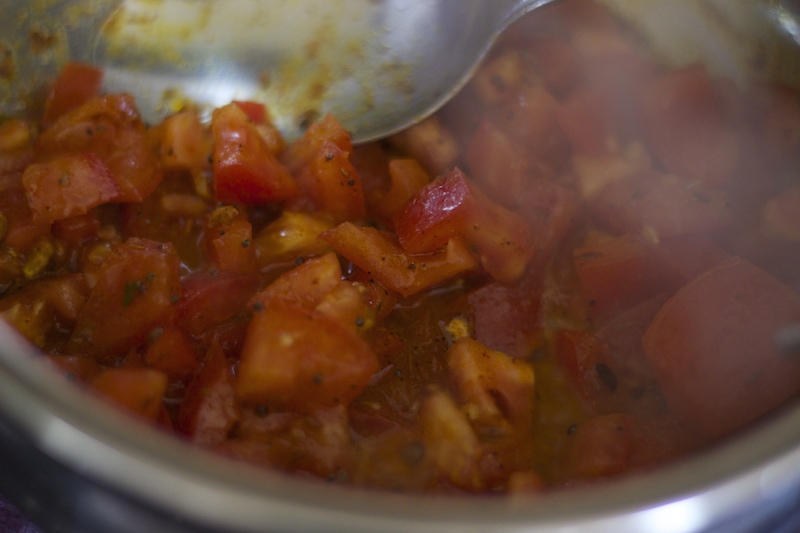 Add oil to a pan, add herbs and spices as per instruction. Add the tomatoes, cover the pan and let the tomatoes soften.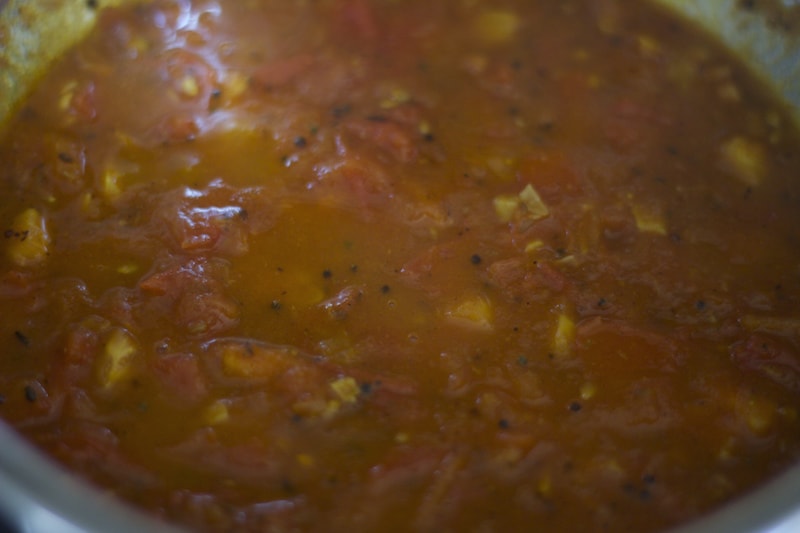 Once the tomato softens and you see a very thin layer of oil, mash it with a spoon and add water. Bring the water to a boil and then let the curry simmer on low for 5-10 minutes.
Add tamarind paste and adjust the salt as necessary.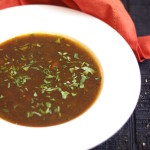 Tomato and Tamarind soup
Ingredients
1

tablespoon

oil

1/2

teaspoon

mustard seeds

4

cloves

garlic

minced

1/2

teaspoon

cumin powder

1/4

teaspoon

turmeric powder

1/2

teaspoon

chilly powder

5

pepercorns crushed or 1/2 teaspoon black pepper powder

3

Medium

1 and 1/4 cup tomatoes. finely cut

2

cups

water

1/2

tablespoon

tamarind paste

salt to taste

finely chopped cilantro for garnishing
Instructions
Heat oil in a pan on medium heat. Add mustard seeds. Once it crackles, add minced garlic. Sauté till garlic cooks.

Add cumin powder + turmeric powder + chilly powder + pepper. Stir and then add chopped tomatoes. Cover the pan and turn the heat to low till the tomato softens and oil layer can be seen on top.

Add water into the tomatoes, mix and bring the heat to high. Once it boils turn the heat to low and let it simmer for 5 minutes. Add tamarind paste and then add salt. Mix well and then taste and adjust the salt as needed. (This curry should be slightly tangy).

Turn off the heat and add some finely chopped coriander leaves.

Serve with rice or have like a soup.
Recipe Notes
I used tamarind concentrate. Every brand is different so add half a tablespoon and taste the required tanginess before adding more.
Once you are comfortable with the tang, add salt. Salt will balance the flavor and will decrease the sourness from the tamarind and at the same time giving it a perfect tang and good flavor.