Vegetable Sandwich | With Colorful Veggies. 
This veggies sandwich with a beautiful and delicious filling of yellow, green, red peppers, tomatoes, cucumbers, mayo and hint of spices will make you wonder if vegetarian sandwiches can taste this good.:)
(New: Check out Blogging tips below the recipe)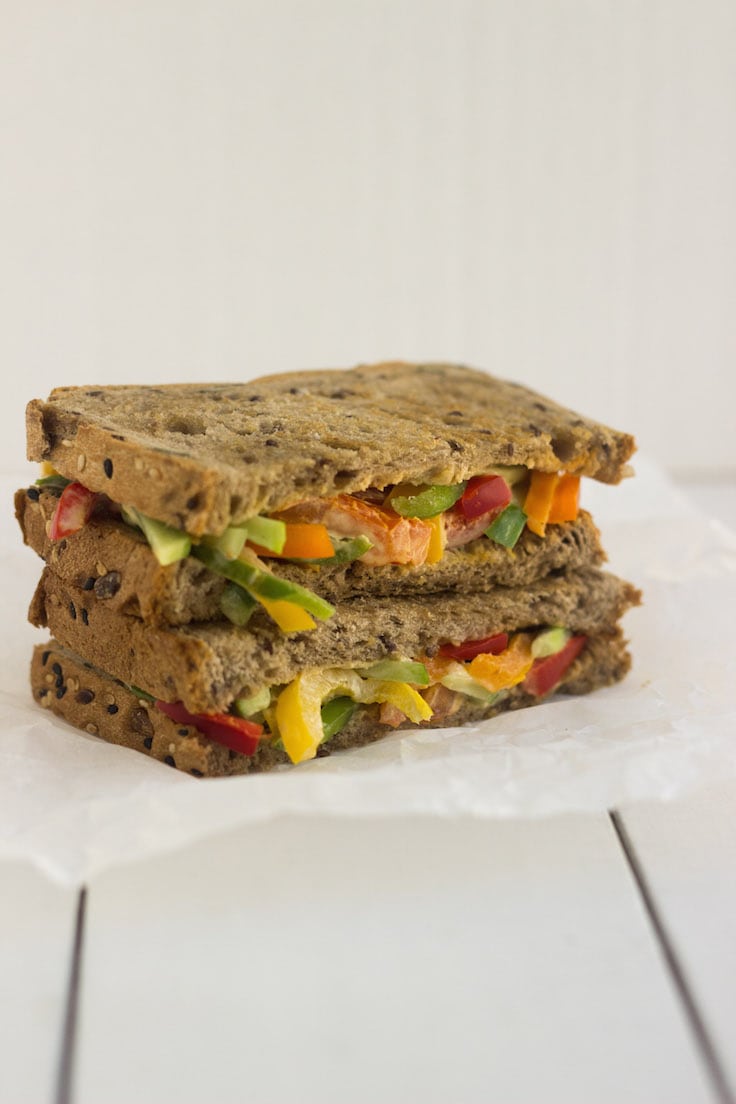 To make this veggie sandwich, all the vegetables except cucumber are sauteed in little oil. Once the mixture cools, you add the cucumber which gives it an extra crunch. Before you are ready to make a sandwich, add mayonnaise and mix.
This recipe was given by someone I know who works at a 5-star hotel. There are a couple of things you can do to make this even better.
Spread a thin layer of butter on the bread and toast it before you add the filling. You can also add cheese slices or grated cheese to make it cheesy, like this perfect grilled cheese sandwich.
If cheesy is your thing, then also try the cheesy garlic bread.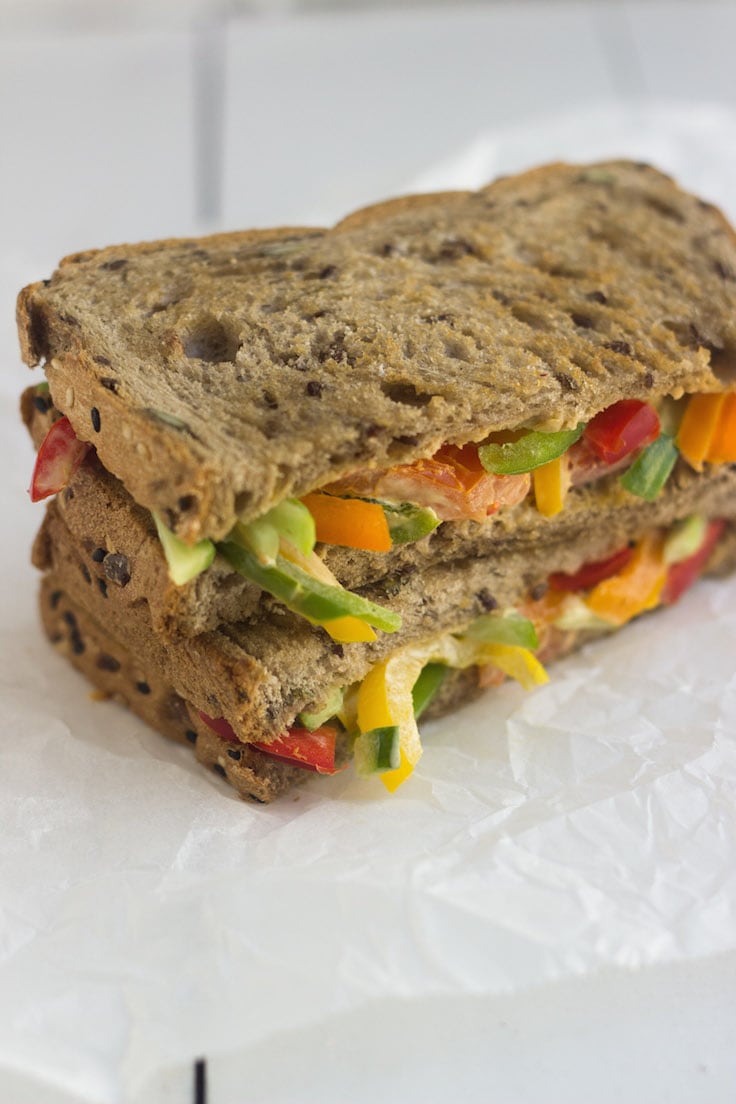 You can use brown bread or white bread as per your liking. I usually prefer multigrain bread.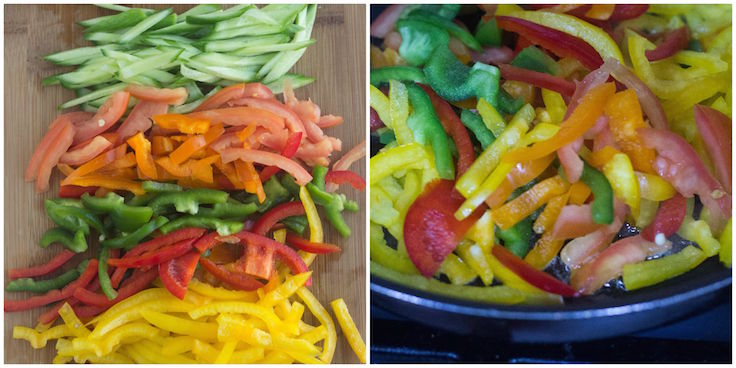 Cut the veggies Julienne, deseed the tomatoes before cutting. Transfer the vegetables, except cucumbers, to a saute pan with little oil and cook it halfway while maintaining the crunch. Season lightly with salt and pepper.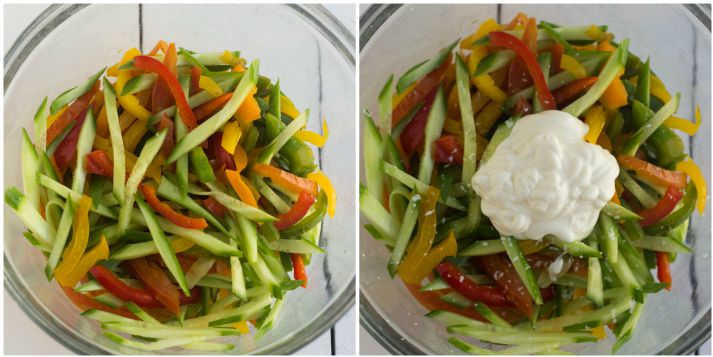 Once the mixture cools completely, add cucumber. Add mayonnaise right before making the sandwich.
P.s: Since past few week, I started a new section below the post which says 'What I learned this week about Blogging'. If you are interested in blogging, it might benefit you. Please find it below the recipe.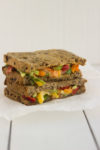 Veggie Sandwich
Ingredients
8

Slices

Bread

1/2

Red bell pepper

1/2

green bell pepper

1/2

yellow bell pepper

1

medium

tomato

(Deseeded and sliced)

1

medium

cucumber

(Cut Juliane)

1

tablespoon

oil

1

teaspoon

salt

1

teaspoon

pepper powder
Instructions
Cut the vegetable Julienne and keep aside. Deseed the tomatoes and cucumbers before you slice it.

Place a saute pan over medium heat and add oil. Add the veggies, except cucumber and stir until vegetables cook only halfway. Season with salt and pepper. Keep aside to cool.

Once the vegetables cool, add the cucumber and mayonnaise and mix.

Butter one side of the bread, and place it in a pan or panini maker. Add the filling. Place the other bread on top. Cut and serve.
Recipe Notes
You can also add cheese slices or grated cheese between the bread to make it cheesy.
Tit-Bits of Blogging:
Video Recipes: Don't you love video recipes. Since the past few months, I have been researching about how to take food videos. Finding a perfect tripod was definitely on the top of my list. I am finally done with my research, and I got a beauty, A Vanguard 263 AB, shipped all the way from States. Thanks to my BIL. Now, I cannot stop admiring its beauty. It is a sturdy tripod with a horizontal bar for overhead video shoots. Will post the pics soon.
I joined Food blogger pro again because I finally have the time to get serious :). If you are new to blogging, still figuring out blogging related stuff or want to start taking videos, I recommend joining Food blogger pro. It is a one-stop place for all blogging related stuff. They have 60 days money back guarantee, and no contract sign up.
Disclaimer: Some of the links are referral links, and I get paid when you make any purchases by clicking on it. But the views are strictly mine and is based on my experience. Technology changes every day, and although this is important now, it may change in the future. So do your research before you decide to do anything.