I get so distracted when it comes to posting a recipe (Ahhh). I am like a toddler with very short attention span. I drift off to other blogs, check out new recipes, check updates on Facebook and do everything else other than writing. I guess I should keep the internet and all other gadgets switched off when trying to compose a post. Before my mind wanders again to far off places, let me get started.
Grilled cheese is something which you don't need a recipe for. 'Come on', you might say, 'it's just a slice of cheese sandwiched between a bread', but let me tell you, the bread you use and the cheese is what matters it a perfect grilled cheese sandwich. Couple of years back I was watching a show on food network about americas best places to eat. I don't remember the episode or anything related to that, but I remember the featured best grilled sandwich. The chef used sour dough bread and he said it was the secret behind a good grilled cheese sandwich. He used gouda though instead of the muenster cheese I used. Use sour dough bread and your favorite cheese and you will not turn to another bread for your grilled sandwich. My 2nd choice of bread would be butter bread, 5 grain italian and chiabata.
I have been eating whole wheat bread for many years now, but when I have to indulge in grilled sandwiches I step down to sour dough or italian bread.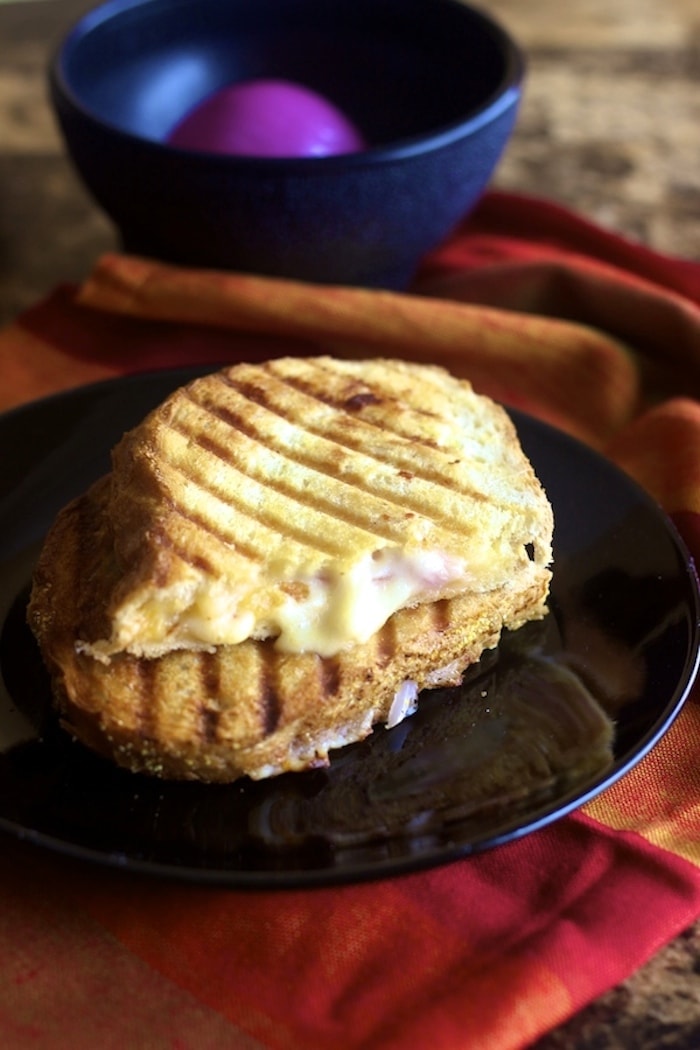 Creamy and mild taste of muenster is what I like. This sandwich also reminds me of the fontina panini you get in panera bread, only without the chicken.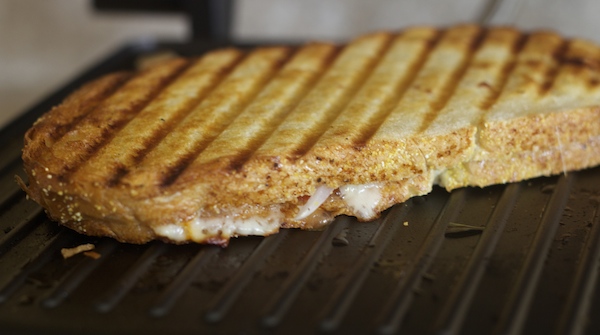 I always had a sandwich maker so resisted from buying a panini maker. I did not want to fill my kitchen with gadgets which I rarely use, like the waffle maker and juicer which is lying in the garage. The beautiful grill marks of a panini maker did not let me budge for long. I found a panini maker in macys for $19 and decided to pick it up. Now, you cannot beat that price. Ever since it has a special place on my kitchen counter and it is the only appliance which I use almost everyday to make a simple nutella sandwich or toast a bread.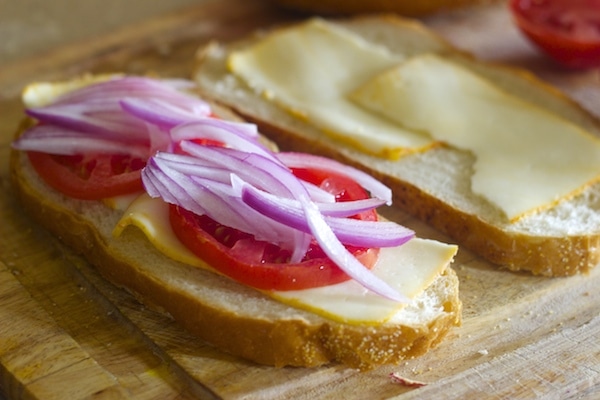 Adding only onions and tomatoes makes it a simple sandwich, but  I do use chicken, avocados and leftover meat.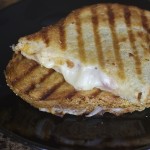 Perfect grilled cheese sandwich
Ingredients
Sour bread

muenster cheese slices or your favorite cheese

tomatoes

onions

oil or butter for drizzling
Instructions
Place a slice of cheese on one slice of the bread. Arrange onions and tomatoes. Top with another slice of cheese. Place another bread slice.

Drizzle some oil or butter on panini maker. Place the sandwich and then drizzle some more oil or butter on the sandwich. Grill to perfection.
Recipe Notes
You can also make this in a pan. Drizzle some oil and butter in a pan. Place the sandwich and hold it down with a flat spoon. Flip and repeat the same with the other side until the cheese is melted and the crust is crisp.