'Everything is so beautiful and serene here'. I told my dad, sipping my morning tea which was all ready when I woke up. 'Feels like I am camping in a forest', I said again. What else would go in your mind if you are surrounded by acres of greenery and everything beautiful nature has to offer. Squirrels enjoying the nectar from the plantain blooms, pigeons, coconut grooves,  river…
Yeah..This is what I wake up to every morning, these days.
Sourness from the mangoes, creaminess of the coconut and the succulent prawns all combined transforms a curry from good to finger licking good. One more authentic curry from the southern state of India.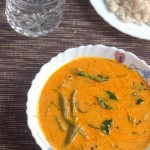 Shrimp and raw mango curry / Chameenum manga curry
Recipe Courtesy: Mom
Ingredients
SET 1:

1/2

kg

1.1lb shrimp

1 1/2

cup

mangoes

cut into 1/2 inch cubes

4

green chillies slit

or to taste

3

teaspoons

red chilly powder

1

teaspoon

turmeric powder

1 1/2

teaspoon

salt or to taste

2

sprig curry leaves

1

cup

water

SET 2:

1 1/2

cup

grated coconut

1/8

cup

onion

about 1/4 medium onion

SET 3:

2

teaspoons

mustard seeds

1

tablespoon

oil

1

sprig curry leaves
Instructions
Add all the ingredients from set 1, except mangoes into a pan, stir well, turn on the heat and let the prawns cook. Now add mangoes and let that cook too.

Meanwhile grind the ingredients from set 2 into a fine paste. Add this to the curry and let it simmer for additional 5 minutes. Turn off the heat.

Set3: Heat oil in another pan. Add mustard seeds. Once mustard cracks, add curry leaves and add this to the curry.
Recipe Notes
This curry is served with rice.
Adjust the salt and mangoes depending on the sourness of the mangoes. Mangoes used in this curry had enough sourness.