I have literally survived on hazelnut spread during those initial days of mommy hood. Those overwhelming days when you had no idea that a tiny little thing can become your world. No matter how much you see or hear from others experiences, having your own child brings a totally different perspective. How can a new life who just arrived mean everything to you in this world? Everything starts revolving around them and their eating habits.
You are all in for veggies and constantly trying to cut down on their sugar intake. You think about healthy meal planning ideas. Its a different story if they don't touch the food you make after all that effort. Kids can be the most unpredictable tiny little creatures around. No wonder they are made so adorable and come with skills which can make your cave in to their demands.
Like I said, I have been having hazelnut spread for a while now, it has also been a to-go snack for my kiddo, but every time I see my son have it, somewhere in the back of my mind I know it has lots of sugar and preservatives. So one day I  thought of making almond butter since almond is something I always have at home. I am definitely not the first person who thought of this. People have been making this healthy spread for years. Also almonds contain the monounsaturated fat , a type of healthy fat, which is known to reduce the risk of heart disease.
Step 1: Place roasted almonds in the food processor and turn it on. Almond turns into a coarse powder.
Step 2: After some more processing the almond meal starts forming clumps as the oil starts oozing out and becomes creamier.
Step 3: Once it reaches the creamier state, add the melted chocolate.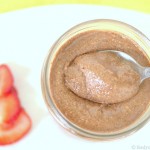 Choco Almond Butter/ Plain Almond Butter
Ingredients
2

cups

roasted almonds

1/4

teaspoon

salt

2/3

cups

semisweet chocolate chips

Optional
Instructions
Roasting almonds(stovetop): Turn the heat between low to medium. Place almond in a heavy bottom pan and spread evenly. (Do not grease the pan). keep stirring every 30 sec until light brown and fragrant for approximately 3-5 minutes.

Roasting almonds(Microwave): Place almond in a microwave safe plate and spread evenly(Do not grease the plate). Check every 30 seconds and keep stirring until it turns light brown and fragrant, approximately 3 minutes.

Roasting almonds(Oven): Preheat oven to 350 degree Fahrenheit or 175 degree Celsius.

Place almond in a tray and bake it for 10 min mixing half way between baking. Once done let it cool.

Almond Butter: Place the roasted almonds and the salt in a food processor and process until creamy.

Melt the chocolate chips in the microwave for 30 sec. Mix well with a spatula until all the chips are melted. If needed keep it for additional 30 sec and repeat the process.

Pour the melted chocolate into the almond mixture and process well, scraping the sides as needed.
Recipe Notes
Storage:
Transfer the butter into a glass container and store it in the refrigerator.
It should stay good in the refrigerator for 2 weeks.
If the butter is hard, transfer spoonful as needed into a bowl and microwave for 15-20 seconds.