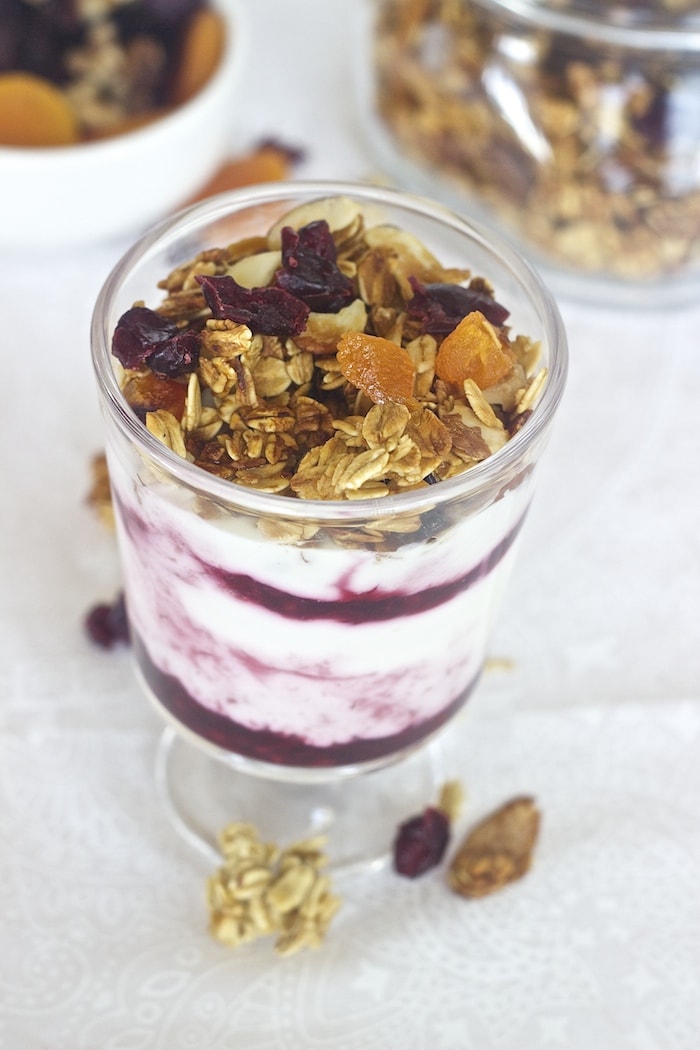 Breakfast is the most important meal of the day. Something which we have been hearing for a long time and haven't changed unlike the countless propaganda,  research and controversies related to different theories. I have experienced the change in energy levels when I skip or don't have a healthy breakfast. I can easily go from someone who is on the go whole day to being very tired. This granola is clustered and crunchy because of the egg whites and mildly sweet because of honey and brown sugar.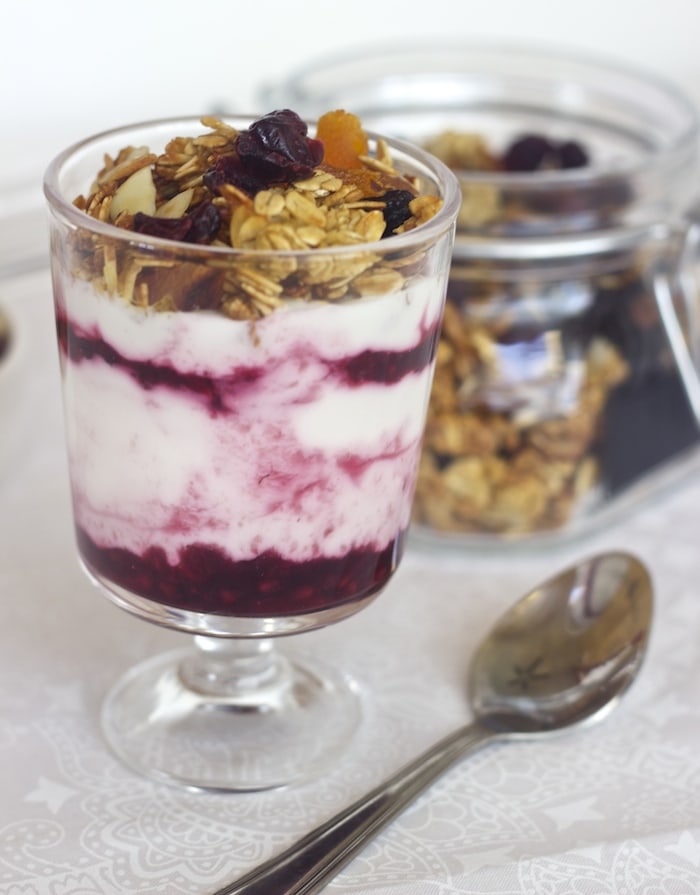 Earlier I would have different store brought cereals stacked up in my pantry, but that ended when I got a cereal for my son and saw the color of the milk turn into some sort of fluorescent blue green. I couldn't believe my eyes. It reminded me of water colors.  This defined the end of my visit to cereal isles.
I read an article about reading the food labels when buying cereals, which said go for cereals which contain less than 2% of sugar. Good luck finding that because I could only find two of those.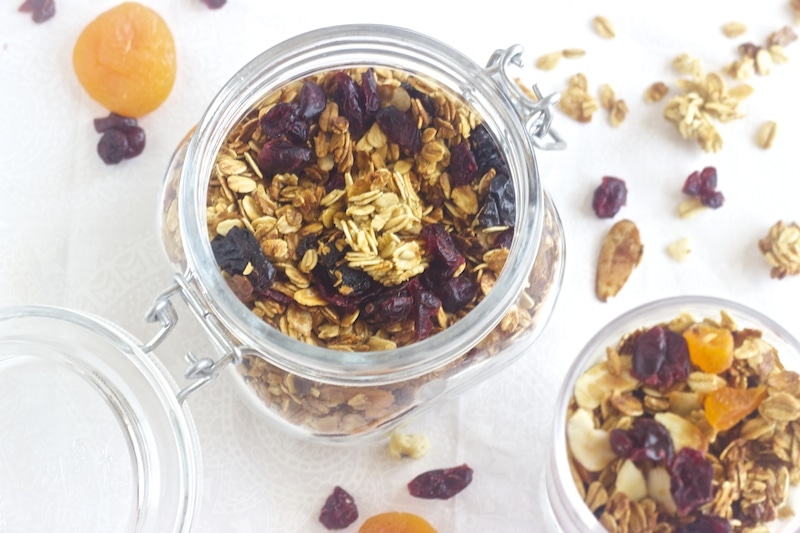 The conversion of tasteless uncooked rolled oats into a flavorful, toasty and crunchy granola. Top it on greek yogurt or add it to milk. Sprinkle a pinch of cinnamon, drizzle with honey or pure maple syrup, top with your favorite fruits and dry fruits. Enjoy a heart healthy breakfast.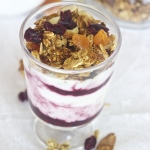 Homemade Granola with maple syrup and honey
Ingredients
4

cups

Old fashioned rolled oats

1/8

teaspoon

salt

2

Egg whites

beaten

1/2

cup

honey

2

tablespoons

oil

I used olive oil

2

tablespoons

brown sugar

1

cup

chopped nuts

I used sliced almonds

1

cup

chopped dry fruits

apricots, plums, cranberries
Blackberry Compote (Makes about 1 cup)
1

cup

blackberries

3

tablespoons

sugar

1

tablespoon

water or juice
Instructions
Preheat oven to 325 degrees Fahrenheit/160 degrees Celsius. Line a baking sheet with a parchment paper or silicon mat.

Place rolled oats in a bowl, sprinkle salt and toss the oats.

Bring honey + oil + brown sugar to a boil. Once it froths, let it simmer for few more minutes.

Add the honey mixture to the rolled oats, mix well to coat all the oats. Add the egg whites, mix again. Toss in the nuts.

Spread on the baking sheet, press down and place in the center rack of the oven.

After 10 minutes take the baking sheet out and stir the oats (they tend to darken more towards the edges). Put it back in the oven for another 10 minutes till crisp and golden brown. (Keep a close eye during the last 10 minutes because it doesn't take long for oats to turn from done to burnt)

Once done, add dry fruits, mix well, let the mixture cool completely before storing in an airtight container.
Blackberry Compote:
Add blackberries + sugar + water in a saucepan. Bring it to a boil and let it simmer for 2-3 minutes or until it slightly thickens.

Layer compote between greek yogurt and add granola. You can store the extra compote in an airtight glass jar.
Recipe Notes
1. There is a slight margin between done and burnt. Oven temperatures may vary so keep a close eye.
2. To toast the nuts, spread nuts on a baking sheet and bake for 10 minutes between 325-350 degrees Fahrenheit or between 160-175 degrees Celsius.
3. Store in an airtight glass jar for up to two weeks.
4. Honey can be substituted for maple syrup.