As I sit on the couch on a lazy Saturday morning with a laptop in hand, and hearing the sound of a cartoon with les miserables tune in the background it reminded me of how much I loved that song and especially the catchy tune. I then look outside and see the lake from our family living, calm, serene with few raindrops creating the tiny ripples, not a single leaf rustling, I remembered moving to our house from an apartment some years ago.
It was one of the coldest winters here in Florida. Down here the temperature reaching 0 degrees Celsius is cold enough and you rarely find people on the streets. And moving from the hustle bustle of the apartment to a new community, I understood what pin drop silence meant, it was that quite.
Crispy on the outside, chewy and soft on the inside, I figured I couldn't stop with just one. Very few ingredients and the easiest cookie I have made so far.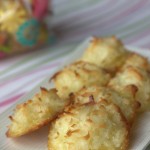 Coconut Macaroons
Ingredients
3

cups

720ml sweetened dried coconut, Shredded or flaked (Refer notes if using unsweetened coconut)

2

large eggs

at room temperature

1/2

cup

100gms granulated sugar

1/8

teaspoon

salt

1

teaspoon

pure vanilla extract
Instructions
Preheat the oven to 350 degrees Fahrenheit or 180 degrees Celsius.

In a bowl, beat the egg well with a wire whisk..

Add sugar + salt + vanilla extract and whisk again. Add the shredded coconut and with a spoon on spatula combine and mix everything well until all the flakes are moistened.

Place small amounts of mixture(about 1 tablespoon) onto the baking sheet about 1 inch apart. Slightly shape the mixture with your fingers if needed. Bake for 14-18 minutes or till the flakes are golden brown. (You can use a small ice cream scoop, spoon or actual tablespoon to scoop the mixture)
Recipe Notes
If you are using unsweetened coconut flakes increase the sugar to 1 cup (200gms).
If needed you can dip the macaroons in melted chocolate.
Its best if eaten the same day but this can be stored in an airtight container for a few days. It tends to become soft the next day but still tastes good.
Recipe adapted from: Joy of Baking