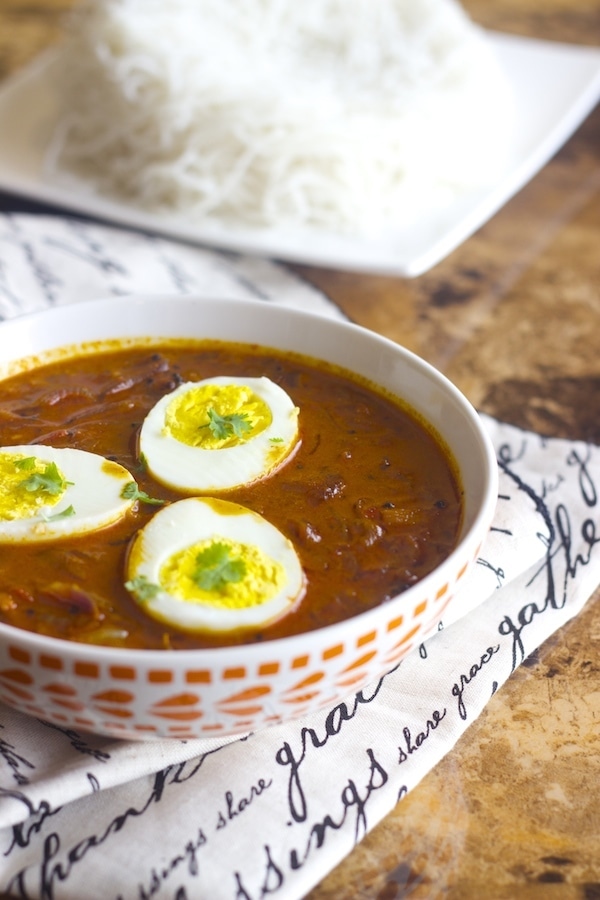 Egg curry / mutta curry makes a quick breakfast curry with roti or appams. It also makes a good weeknight curry for dinner when you want to fix something quick and easy.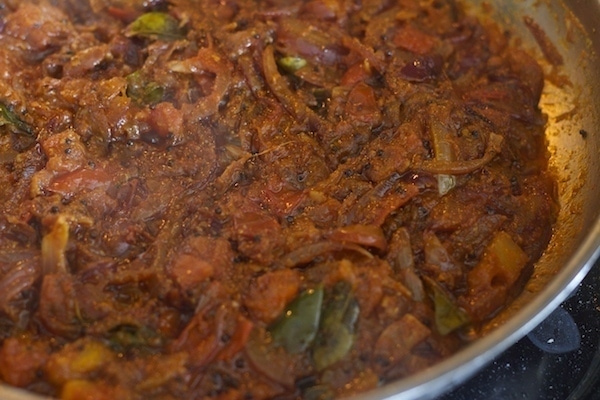 Oil can be seen once you roast the onions, spices and tomatoes well. Add coconut milk or use water if you are not a big fan of coconut milk.
If you like a smooth gravy, cool the mixture, then grind it and return it back to the same pan. Let the paste simmer till you see oil layer. Add the liquid.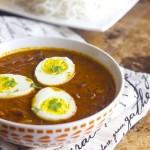 Egg curry with coconut milk
Ingredients
4

eggs boiled and cut into half

3

tablespoons

oil

1

teaspoon

mustard seeds

2

cups

finely sliced onions

about 2 medium onions

1

cup

tomatoes

chopped (about 1 medium size tomato)

2

slit green chilies

slit

2

sprig curry leaves

Please check notes

1

tablespoon

ginger paste or minced ginger

1

and 1/2 cup unsweetened coconut milk

Please refer notes

1 1/2

teaspoon

salt or to taste

Spices:

1/2

teaspoon

turmeric powder

3

teaspoons

red chili powder or paprika

3

teaspoons

coriander powder

1/2

teaspoon

garam masala

garam masala recipe

1/2

teaspoon

pepper powder

coriander

cilantro leaves for garnish
Instructions
Heat oil in a pan on medium high heat. Add mustard seeds. Once it cracks, add onions + green chillies + curry leaves + minced ginger + salt and saute until onions caramelize and turn brown. Add the spices and saute for 2 minutes on medium heat taking care that the spices don't burn. Sprinkle water if necessary. Add chopped tomatoes and let it cook till the tomato softens and the oil can be seen on top.

(If you like smooth gravy, let the mixture cool, grind the onions and spice mixture into a fine paste, bring it back to pan and let it simmer for few minutes till the oil layer can be seen before adding the coconut milk. Also do not add mustard seeds in the beginning) If not omit this step and add coconut milk directly to the sauteed onion and spice mix like I did.

Bring the coconut milk to a boil, then reduce the heat and let it simmer for 3-5 minutes until the gravy thickens a little. Adjust the salt if needed. Let the curry cool a bit, transfer to a serving bowl, arrange eggs and garnish with cilantro leaves. Serve with roti, rice or bread.
Recipe Notes
I always use mild chilly powder in all my curries. So adjust the spices accordingly.
For this curry, I used maggi coconut milk powder. I mixed 3 tablespoon of powder with 1 and 1/2 cups of warm water. Sometimes I also use silk unsweetened coconut milk and the canned versions.
If you don't like coconut milk, add 1 cup of warm water.
If you are not using curry leaves, sprinkle some cilantro/coriander leaves in the end.