This is such an easy and yet, an amazing recipe. I decided to bake a chocolate cupcake and when I came across this recipe I was little skeptical about the texture and moistness as this did not contain egg. Eggs play a very important role in defining the texture of baked goods. The reason I went ahead with this recipe was because it had lovely reviews. So calling all those who want to bake but are scared of the outcome. 'You cannot go wrong with this'. I gave this recipe to a friend of mine, who was a first time baker and told her this is a foolproof recipe. Her cake turned out awesome. I remember my baking disasters. After my initial baking a couple of times and unsuccessful attempts I did not bake for another 2-3 years. But I loved baking, so did my homework, did some research and tried some good and trustworthy recipes and my baked goods started coming out good. Now it has come to a point where everybody has really started appreciating.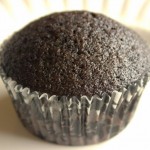 Eggless yet moist Chocolate Cupcakes
Ingredients
1 1/2

cups

all purpose flour

1/4

cup

unsweetened cocoa powder

1 1/4

cup

granulated sugar

1

teaspoon

baking soda

1/2

teaspoon

salt

1

cup

of warm water

1

Tbsp

white vinegar

2

teaspoons

vanilla extract

6

Tbsp

1/4 cup plus 2 Tbsp olive or vegetable oil
Instructions
Preheat oven to 350°F . Grease a muffin tin or line with cupcake liners.

In a large bowl, vigorously whisk together the flour + cocoa powder + sugar + baking soda + salt until there are no visible clumps.

In a separate bowl, mix together warm water + vinegar + vanilla extract + olive oil.

Pour the wet ingredients into the dry ingredients and stir only until they just come together. The mixture should be thin and rather lumpy.

Pour the batter into the cupcake liners, filling them about two-thirds of the way. Place in the center of the oven and bake for 18 to 20 minutes, until skewer inserted in the center comes out clean.

Remove from oven and let cool in the pan for 5 minutes, then remove from pan and place on the cooling rack.
Recipe adapted from: simplyrecipes.com
Notes: This recipe can be converted into a 9×2 inch cake. Addititional 5 min baking time will be needed. Bake until the skewer inserted comes out clean.