This eggless Tiramisu requires no baking. Mascarpone cheese, heavy cream, coffee, and chocolate makes this a perfect dessert for Valentine's day or any occasion.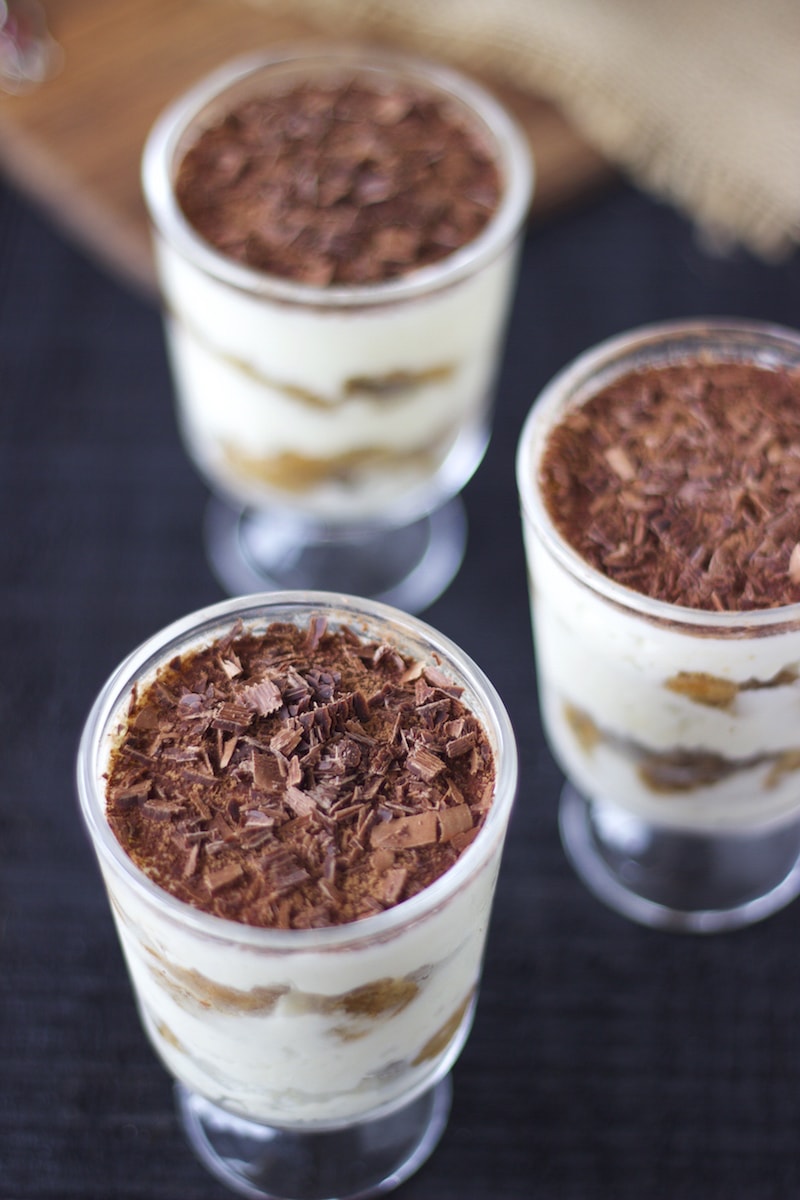 Tiramisu is an Italian coffee flavored dessert and did you know; Tiramisu means 'Lift me up' Or pick me up'?:). A reason why it is good for special occasions, just like the Red velvet cupcakes  and Red velvet Cake. Since Valentine's day is around the corner, you might be searching for ideas for the special day. If you want beautiful and awesomeness in you dessert then look no further. Tiramisu it is. No bake eggless pot de creme (pudding) and 5-minute chocolate cake in the microwave are other easy desserts you could try.
What makes Tiramisu one of the best desserts around? When mascarpone cheese, heavy cream, coffee, and chocolate come together, it becomes one of the sexiest and elegant desserts. Oh! How could I not mention rum, because that is the best part? You can always switch it with vanilla if you want to stay away from alcohol.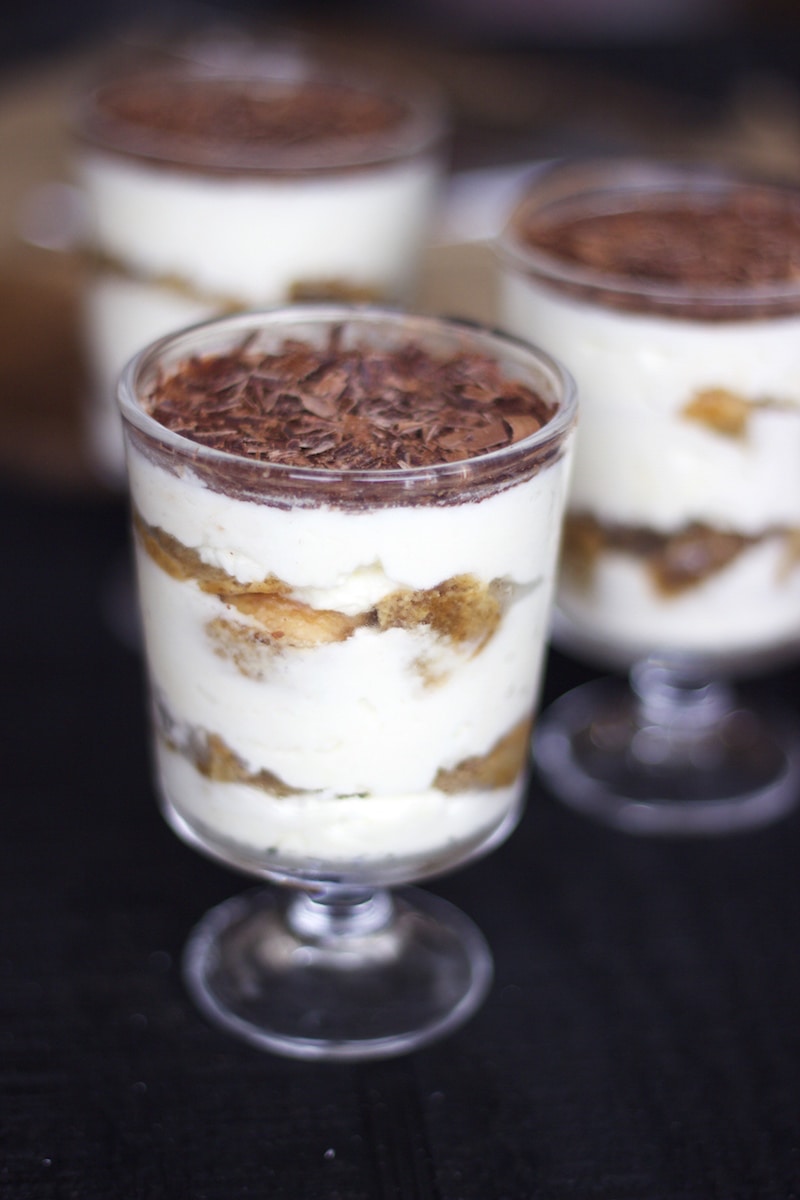 The Ladyfingers (Italian: Savoiardi) is dipped in coffee and then layered with a creamy custard usually made of egg and lightly flavored with liquor. Raw eggs are something which I am not comfortable using, and so I made an eggless version.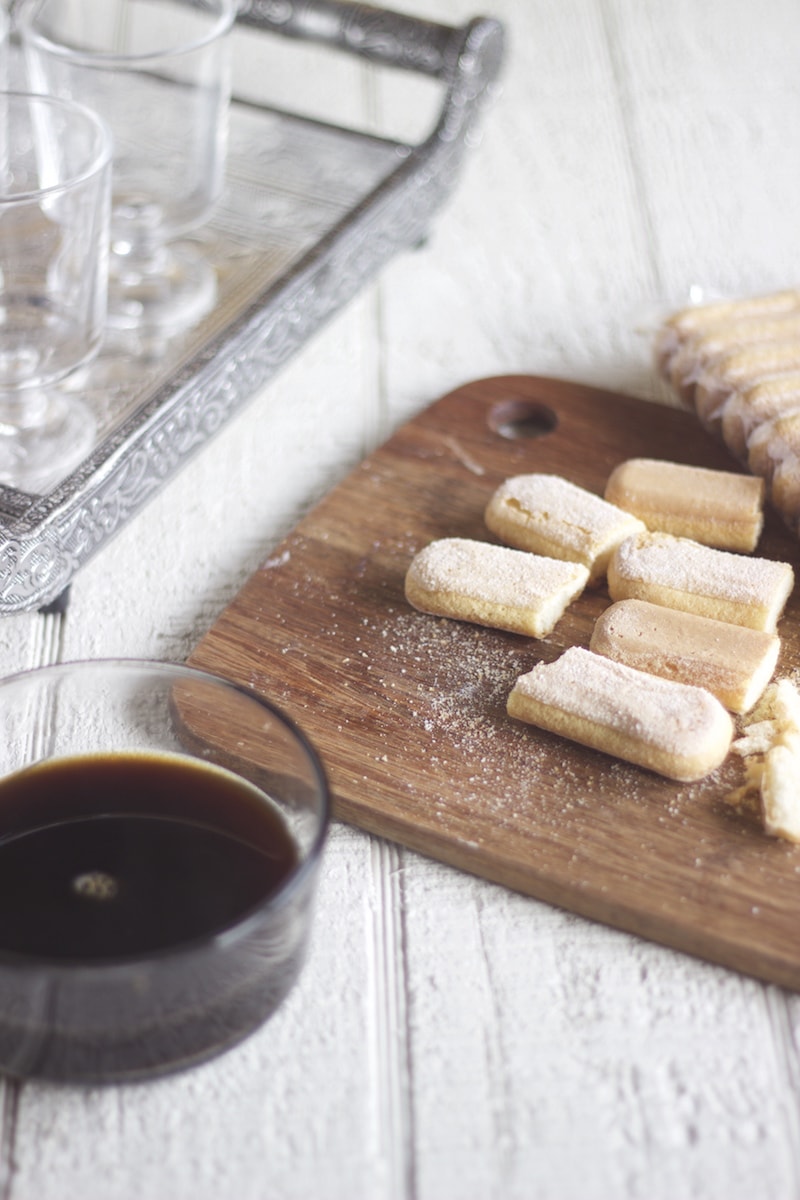 When making individual serving glasses, cut the ladyfingers in half or depending on the size of the glass.
Add some cream to the bottom of the glass, then add a layer of coffee-soaked ladyfingers, a layer of cream, another layer of ladyfingers and a final layer of cream.
Cover the glass with plastic wrap with wrap touching the surface of the cream(This prevents condensation) and place it in the refrigerator for at least 3-4 hours.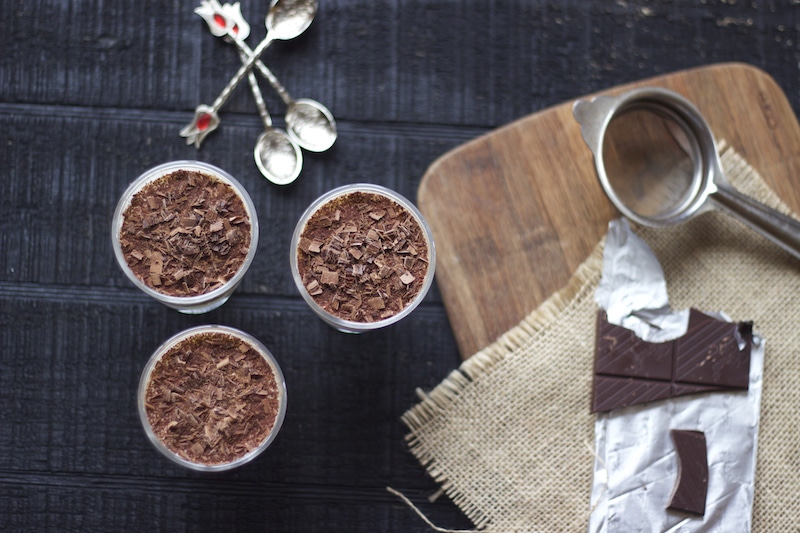 Before serving, dust the tiramisu with some cocoa powder and garnish with grated chocolate.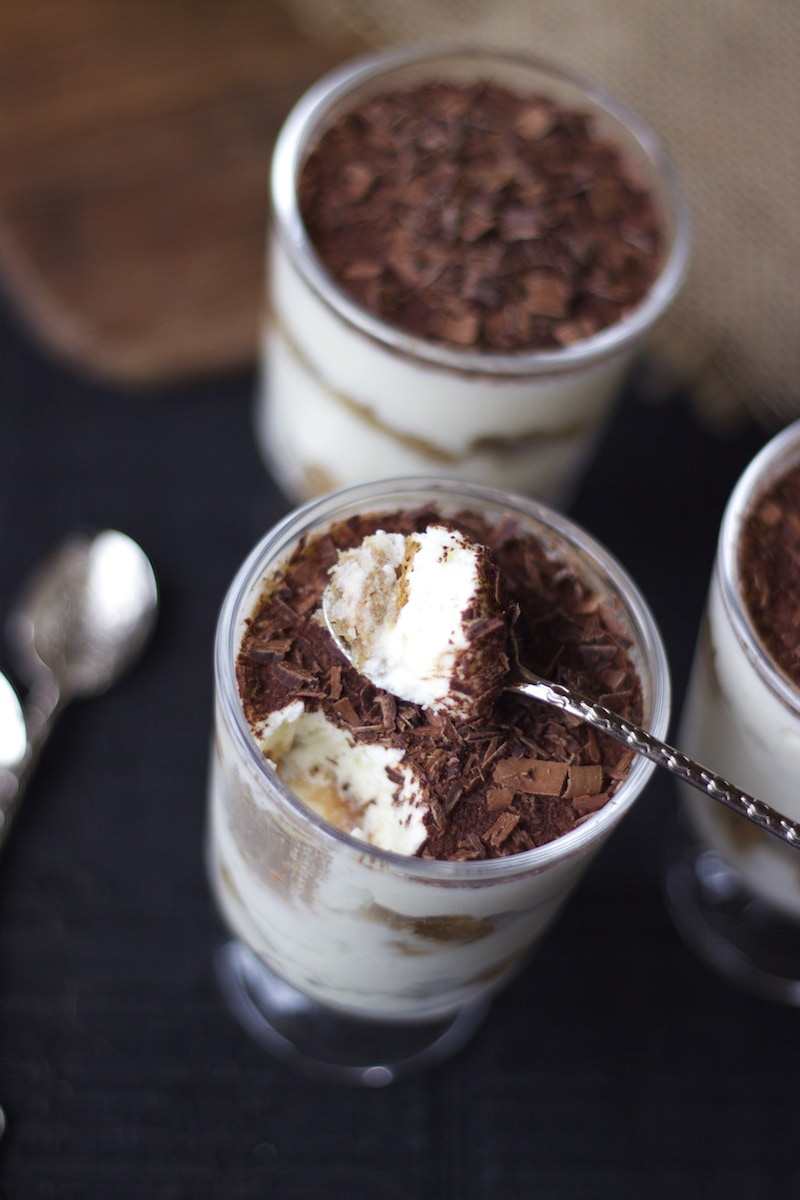 Now, Enjoy!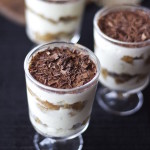 Tiramisu - No bake and Eggless
Yields 4 glasses or 1, 8-inch baking dish
Servings
:
4
glasses or 1, 8 inch baking dish
Ingredients
CREAM:

1/2

cup

4oz(120ml) heavy whipping cream

1

cup

80z(226g) mascarpone cheese

2

tablespoons

dark rum

brandy, marsala wine(Non-alcoholic version - 1 teaspoon vanilla extract )

1

tablespoon

+ 2 and 1/2 tablespoons sugar

divided (or to taste)(Ref notes)

DIPPING:

1 cup strong espresso coffee

1

cup

water

1

and 1/2 tablespoons instant coffee granules

2

tablespoons

sugar

ADDITIONAL:

8

Ladyfingers or more as needed

Check notes for eggless substitute

cocoa powder for dusting

grated chocolate

optional
Instructions
COFFEE:

Add coffee granules and sugar to water and place it over high heat till the mixture simmers. Turn the heat to low and let it reduce down a little about 2-3 minutes. Take it off the stove and keep it aside to cool completely.

CREAM:

In a bowl cream together mascaporne cheese + 2 and 1/2 tablespoons sugar + rum until creamy. Do not overheat or cheese will curdle. Taste and adjust sweetness.

In another bowl beat heavy whipping cream + 1 tablespoon sugar until stiff peak forms. Add this into the mascaporne cheese and fold gently. Taste and adjust sugar as needed.

ASSEMBLING:

If using small servings, cut the ladyfingers in half.

Add a spoon of cream in the bottom of the serving cup. Take a ladyfingers, dip it in coffee and immediately place it in the serving cup, creating one layer. Spoon some more cream on top. Add one more layer of coffee soaked ladyfingers. Add the cream.

Repeat the same process for remaining cups.

Place a plastic wrap touching the top of the cream. Cover and refrigerate for 3-4 hours. Putting a plastic wrap touching the top of the cream will avoid water from condensation.

GARNISHING:

Before serving, sprinkle the top with cocoa powder and chocolate shavings.
Recipe Notes
Sugar: I used fine granulated sugar. Confectioners sugar/Icing sugar is easier to mix. If you are using confectioners sugar, you might have to add a little more.
Lady fingers substitute-(For eggless version and otherwise): You can add a layer of white cake. Place a thin layer of cake, then drizzle with coffee and then repeat the process. (Alternately you can also cut the white cake or sponge cake into strips and bake for 10 minutes until crisp)
Depending on the size of the glass or baking dish, you might need more ladyfingers.