Has it ever happened to you that you give your hubby a detailed grocery list and still you find whipped cream instead of whipping cream, parsley instead of cilantro, the biggest ginger root in store or the things you did not mention. With the grocery stores packed with so many things with slightest variations these things are bound to happen. So I like to do my own grocery shopping because then I can check out different isles taking my own sweet time, try some new things and pick the things I really need.
This was the story behind the tuna cakes . The tuna cans were in the list I did not mention and I am glad it did make it in the grocery bag. They make quick filling for grilled sandwiches or easy and lovely fish cakes and now these cans are one of the things I always have in my pantry.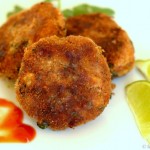 Tuna Cakes / Fish Cakes
Refrigeration time: 20 minutes
Ingredients
10

oz

285gms canned tuna drained well and patted dry

1/4

cup

mayonnaise

1

small potato baked or boiled

1

egg

1

teaspoon

chilly powder or paprika

1

teaspoon

salt

1/4

teaspoon

black pepper powder

1/2

cup

finely chopped cilantro

coriander leaves

1/4

cup

wheat germ or bread crumbs as needed plus more for coating

Oil for shallow frying
Instructions
Add the mayonnaise + egg + chilly powder + salt + pepper into a bowl and whisk well. Add the drained tuna into the mixture and combine well trying not to mash the tuna chunks. Add the boiled potato and the bread crumb, mix well without mashing.

Cover and keep it in the freezer for 15-20minutes, which will make it easier to form a patty.

Take it out of the freezer and gently form into a patty without pressing too hard. If its not coming together add some more bread crumbs. The sides will be uneven, and that's ok.

Coat it in the crumbs and shallow fry till golden brown on both sides.
Recipe Notes
You can add the spices of your choice like garam masala(All spice mix) or other herbs to suit your taste.
You can also add any fish of your choice. Fry the fish with some salt and pepper and very little oil till its cooked. Break into chunks and add it into the mixture.