Growing up, I would spend my two months summer vacations in Kerala. I would be thrilled with the very thought of going there. The memories of travelling by the konkan rail, waiting for the Doodh Sagar waterfalls falls and then for the train to reach kerala, is still fresh. I remember waiting anxiously for the train to enter kerala and asking my dad 'Are we there yet?' frequently.
Apart from the pure excitement of being with family and cousins, what I loved most was watching the lush greenery, the coconut grooves, the rivers, and streams for hours. A state where seafood is in abundance and fish curry can be found in various forms and served with every meal. Its a staple just like rice and a must in every household. 
A fish fry and a post from Gods own country. Yet another vacation and my destination for some more time.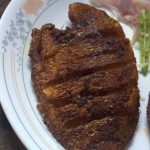 Fish Fry
Cleaning a whole fish: Cut the fins and the tail off, scrape the scales off the fish with a knife, rub salt and lime juice over the fish to remove the sliminess.
Ingredients
2.2 pounds 1 kg fish, with slits
2 teaspoons salt or to taste
1 teaspoon turmeric powder
2 teaspoons red chilly powder or to taste
1 teaspoon black pepper powder
2 teaspoons ginger garlic paste
Instructions
Clean the fish, cut slits and pat dry. Take all the spices in a bowl, add 1 tablespoon water or as required and make a thick paste.

Marinate the fish with the spices and keep aside for 30 minutes.

Heat oil in a shallow frying pan and shallow fry the fish till its crispy on each side.
Recipe Notes
For added flavor: Make a paste of fresh ginger + garlic + curry leaves or Corriander leaves(Cilantro) and add to the spice mix.
Cut slits only if, using fish with bones. Do not cut slits on fillets.