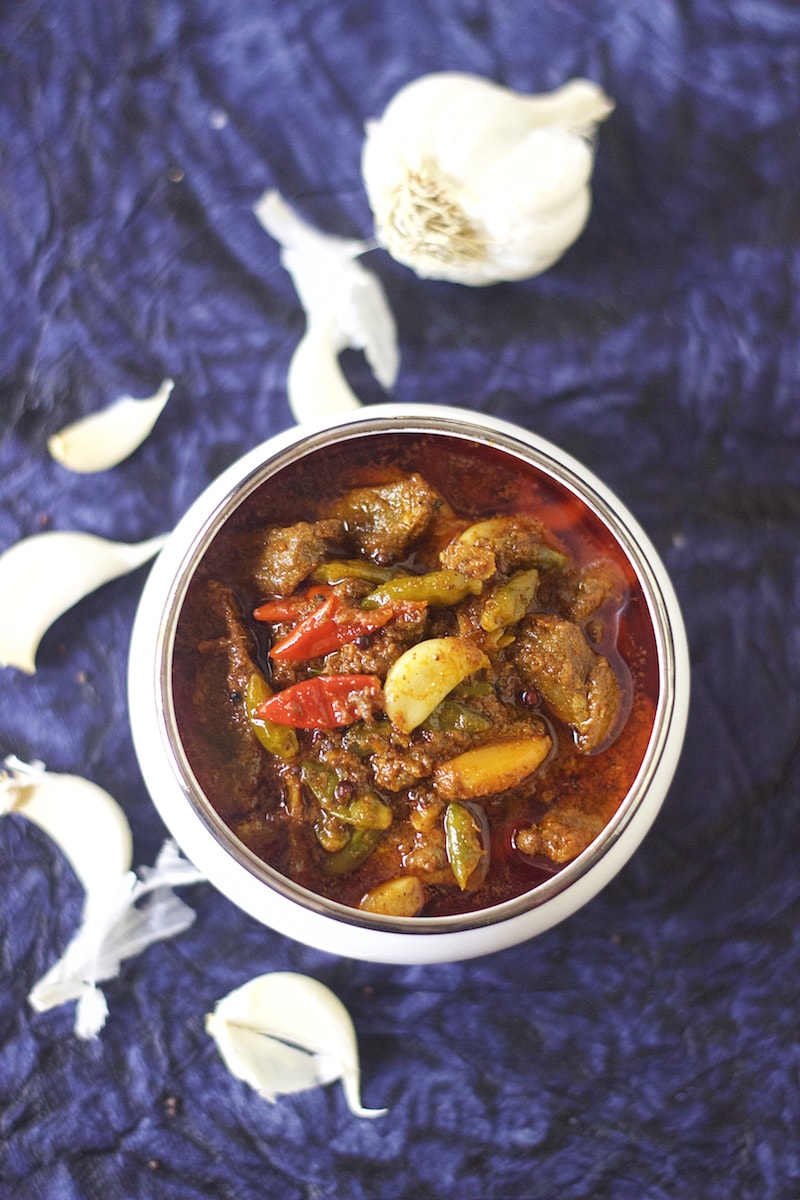 Pickle, also called achar is an integral part of Indian cuisine.  Its served as a side, and adds a beautiful flavor to whatever you are having it with. This kerala style Prawns pickle – Beef achar – fish pickle – mutton pickle is even more irresistible and uses the same recipe. The combination of spicy, sour and salty gets into every bite and you cannot stop. You wish it was not a side dish and you could enjoy more and more.
The oil, spices and salt acts as a preservative. Although you don't have to refrigerate vegetarian pickles, its ideal to store this pickle in the refrigerator and use as needed.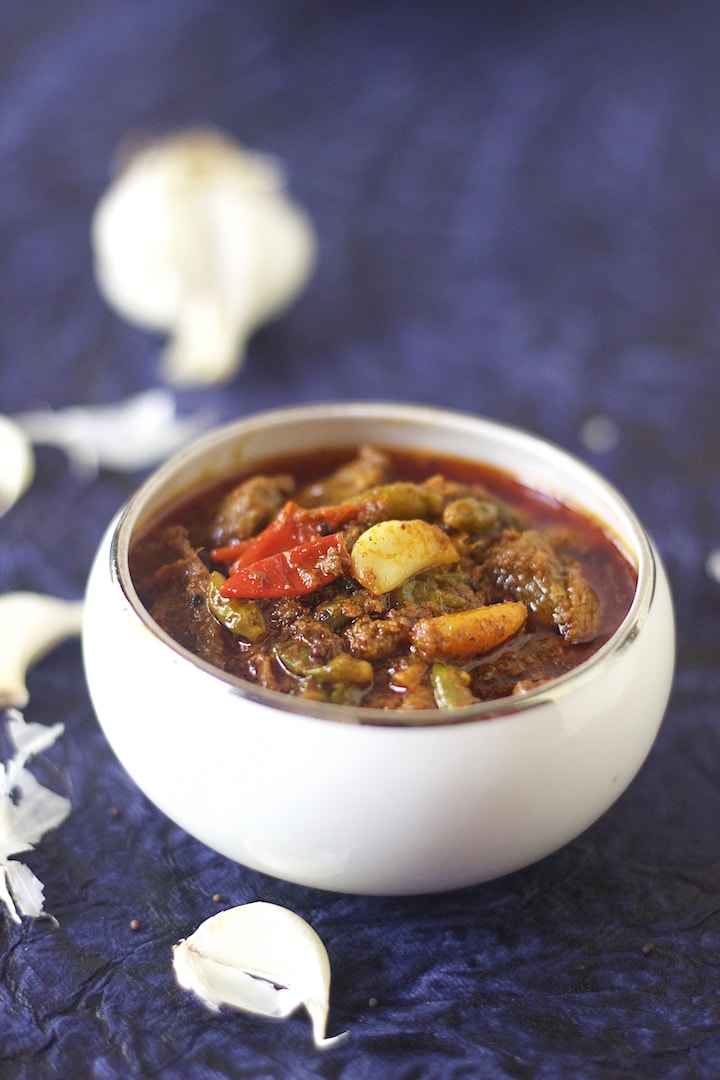 The garlic adds a good flavor but  the extra hot chillies is for someone like my BIL who can tolerate extreme levels of spice.
You can reduce the amount of garlic and chillies as per your liking.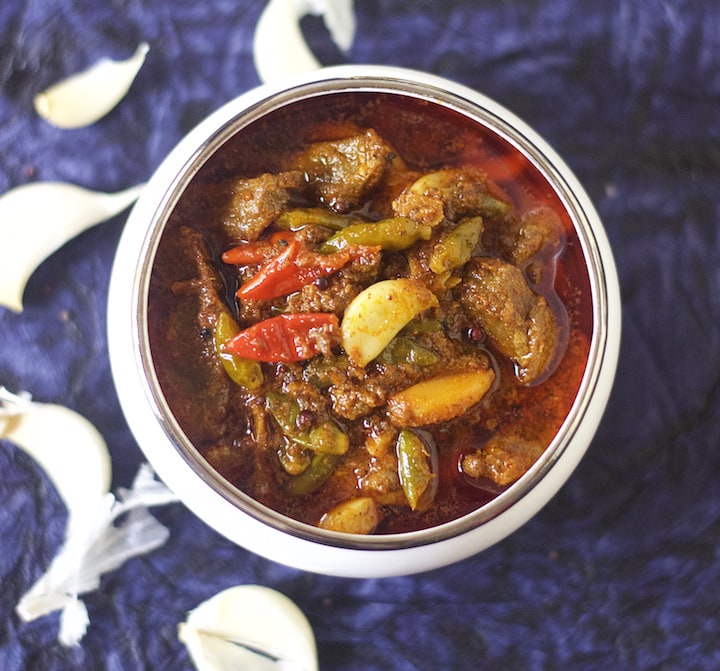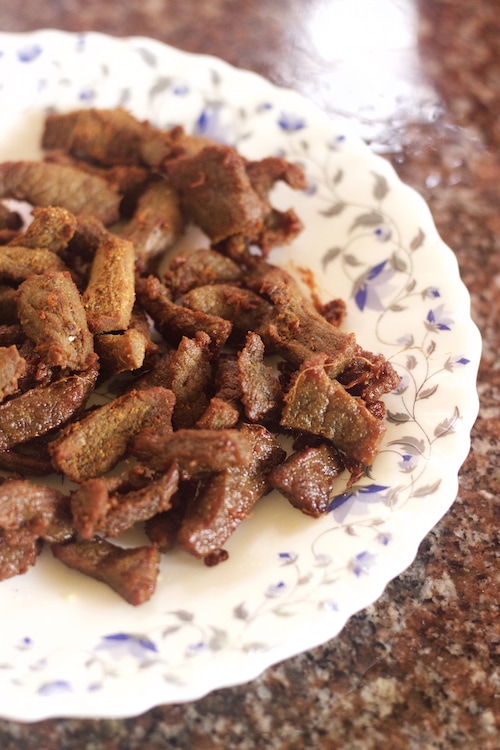 These are the marinated and fried pieces of beef. You can substitute it for fish, prawns or mutton/goat.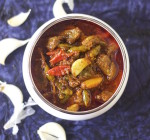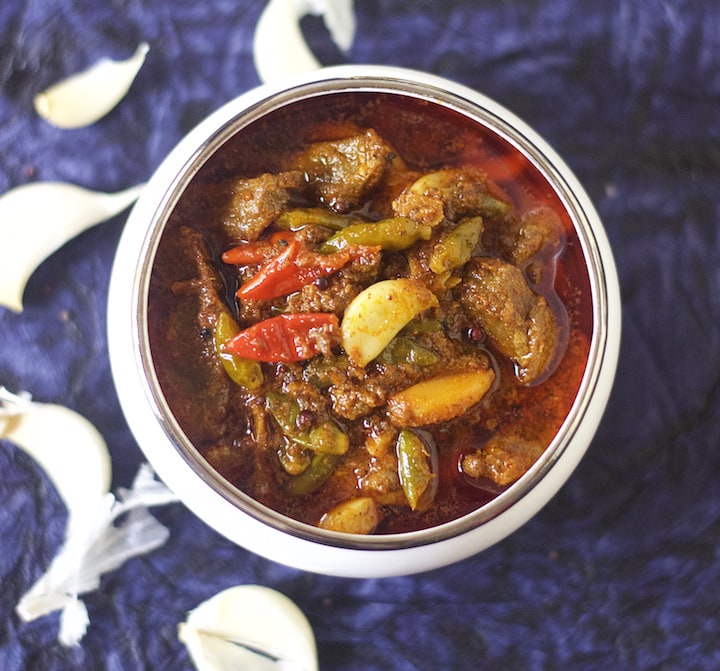 Fish / Prawns / Beef / Mutton Pickle
Ingredients
500

grams

beef / fish / mutton

cut into 1/4 - 1/2 inch pieces

MARINADE

1

teaspoon

salt or to taste

1/4

teaspoon

turmeric powder

2

teaspoons

red chilly powder

1/2

teaspoon

garam masala

1/2

teaspoon

pepper powder

1

teaspoon

ginger garlic paste

OTHER

Please refer notes for the quantity

1

+ 1/2 + 1/4 cups oil

1

teaspoon

mustard seeds

3/4

cup

garlic cloves

1/8

cup

ginger

thinly sliced

1/8

cup

green chillies

2-3

tablespoons

red chilly powder

1/4

teaspoon

methi / fenugreek powder

1/4

teaspoon

asafoetida

1

teaspoons

salt or to taste

1/8

cup

+ 2 tablespoon of vinegar or to taste
Instructions
Add the marinade to the beef / mutton / fish pieces and keep aside for 30 minutes to an hour.

Deep fry the marinated pieces in above mentioned oil on medium heat till cooked. Keep aside. (It takes about 10 minutes for the meat to cook. You will be reusing the same oil later).

Once the frying is done, add mustard seeds to the same oil. Once it cracks, add garlic cloves + ginger + green chillies till its just cooked.

Turn off the heat and add red chilly powder + methi powder + asafoetida and mix till the raw smell of the spices disappear. Add the fried pieces + salt + vinegar and mix again. (Taste and adjust the salt and vinegar as needed)

When this sits for a while the oil and spices are soaked into the fried meat.

Once it cools, transfer into a glass jar and refrigerate. Use as needed.

Stored in the refrigerator and with enough oil it stays good upto few months.
Recipe Notes
You can use more or less garlic or green chillies as needed.
I like to use a mix of hot chilly powder and paprika for color.
You can also use fish with bones.