When I think of trying a new recipe I kind of try it in my dreams. Yeah I dream about baking and that's how much I am addicted to baking. My genes hail from the beautiful southern state of India, kerala, known as the Gods own country. The abundance of tall coconut trees contribute to the lush greenery. That explains fresh coconut, coconut milk, coconut oil and pretty much everything coconut was a staple in our diets, still I never thought I will like coconut cake or let alone think of making this. I wanted to try something other that the usual chocolate and pineapple cakes.

I remember the time when there was some propaganda linking coconut to bad cholesterol and many people started cutting it down from their diet but now people are realizing the health benefits leaning towards this again. It has gained popularity and I was stunned to find extra virgin coconut oil on the shelves of many US supermarkets. I wonder how do we trust the research studies which keeps changing every now and then. In that case we can rely on one word 'Moderation', which is the key. Too much of anything cannot be good for you. What say?
Check out other moist and awesome cakes here.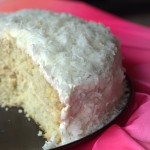 Fresh Coconut Cake
Ingredients
2

cups

240gms all purpose flour

1 1/2

cup

300gms sugar

1/2

cup

vegetable oil

1/2

cup

1 stick (4oz) (113gms) unsalted butter, softened at room temperature

4

large eggs

separated

1

teaspoon

baking soda

1

teaspoon

baking powder

1/4

teaspoon

salt

1

cup

240ml coconut milk or buttermilk (Substitute for buttermilk)

2

cups

480ml fresh grated coconut (I used fresh frozen coconut, thawed well)

1

teaspoon

vanilla extract

Icing:

1/2

cup

1 stick (4oz) (113gms) unsalted butter, softened at room temperature

8

oz

225gms cream cheese, at room temperature

1

tablespoon

heavy cream or milk

1

cup

powdered sugar or confectioners sugar as needed

2

cups

480ml sweetened grated or shredded coconut (optional)
Instructions
Preheat oven to 350 degrees Fahrenheit or 175 degrees Celsius. Grease and dust two 9*2 inch cake pans with flour. Whisk together flour + baking soda + baking powder + salt and keep aside.

In a large bowl beat butter + sugar until fluffy. Add oil and beat well. Now add one yolk at a time beating well after each addition. Stir in vanilla extract. Add flour in three batches alternating with coconut milk beginning and ending with flour. Fold in the coconut.

Beat egg whites in a clean bowl until soft peaks form. Yield better results if the egg is at room temperature. Carefully fold in the egg whites taking care not to over mix.

Pour into two 9 * 2 inch round pans.

Bake for 25-35 minutes or until the tooth pick inserted in the center of the cake comes out clean.

Let the cake stand for 10 minutes and then carefully transfer onto a wire rack for cooling.

Icing:

Beat the butter, cream cheese and milk until fluffy. Gradually add the confectioners sugar and beat well until soft. Increase or decrease the sugar as needed. (I cannot stop tasting the icing when I am making )

To start the icing let the cake cool completely. Place one cake on the cake stand. Spread the frosting in the center of the cake leaving 1 inch around the edges. Place another cake on top. Top it with icing and spread evenly on the top and towards the sides. Sprinkle shredded coconut generously all over the cake.
Recipe Notes
You can use a single 9 *3 inch cake pan but the baking time will change to 55-60 minutes. If you want a double layer cut the cake in the center with a serrated knife and follow the icing directions.
This cake should be stored in refrigerator. Leave it out for 30 minutes -1 hour before serving.