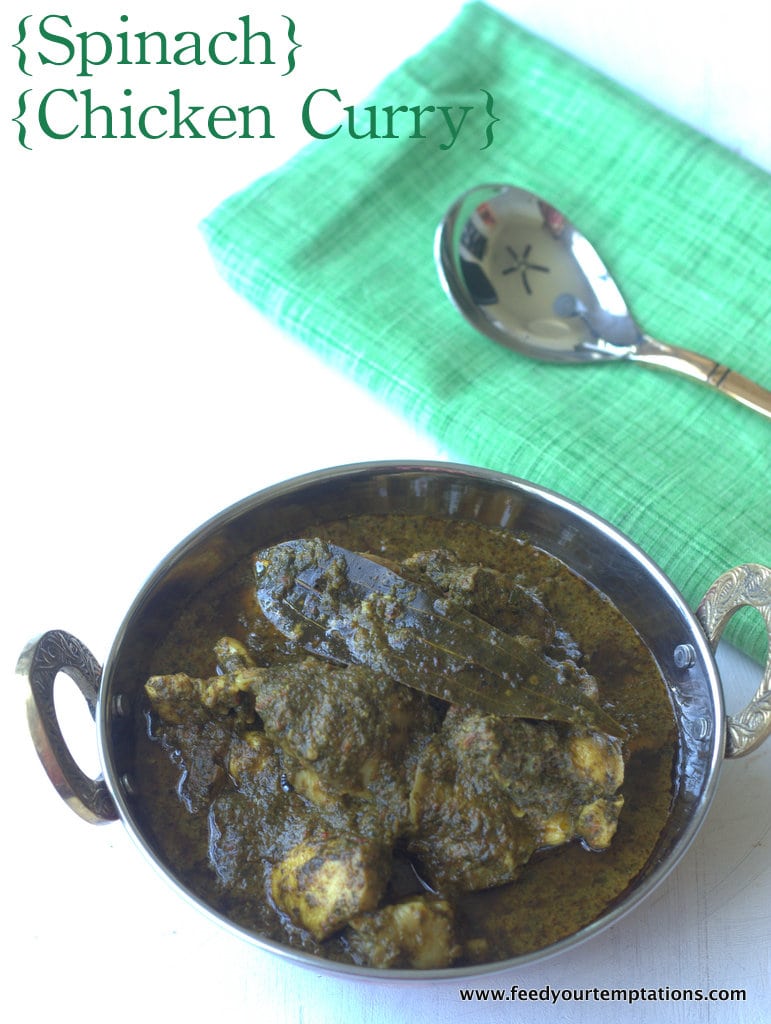 Chicken simmered in green chutney and spices and then topped with heavy cream or yogurt. Green leaves can sometimes taste good too 🙂
Have you ever observed, how moms and dads have different ways of taking care of their kids?. One rainy morning, I went to drop my son at the playschool. This is what we moms did.  Found the closest parking spot, got the umbrella out, opened the door making sure the umbrella is open as soon as we step out, got the kiddo stuff out, then our kid, again making sure that not a single drop of rain falls on them. Moms 🙂
This is what I see a dad doing. He did not care where he parked. In this case it was little far from the main door, no umbrella, brings his kids out and then slowly picks their stuff, slowly walks towards the school chitchatting happily and not worrying about those droplets.
My other experience was when I was at the mall and Nivaan was in the play area. I was watching him and at the same time catching up with my friends. Then I see him on top of another kid, not fighting but playing. I am all paranoid and run towards him worrying that they will get hurt, I then look around wondering where the other kids parent is and there I see his dad smiling and calmly observing them play. Dads 🙂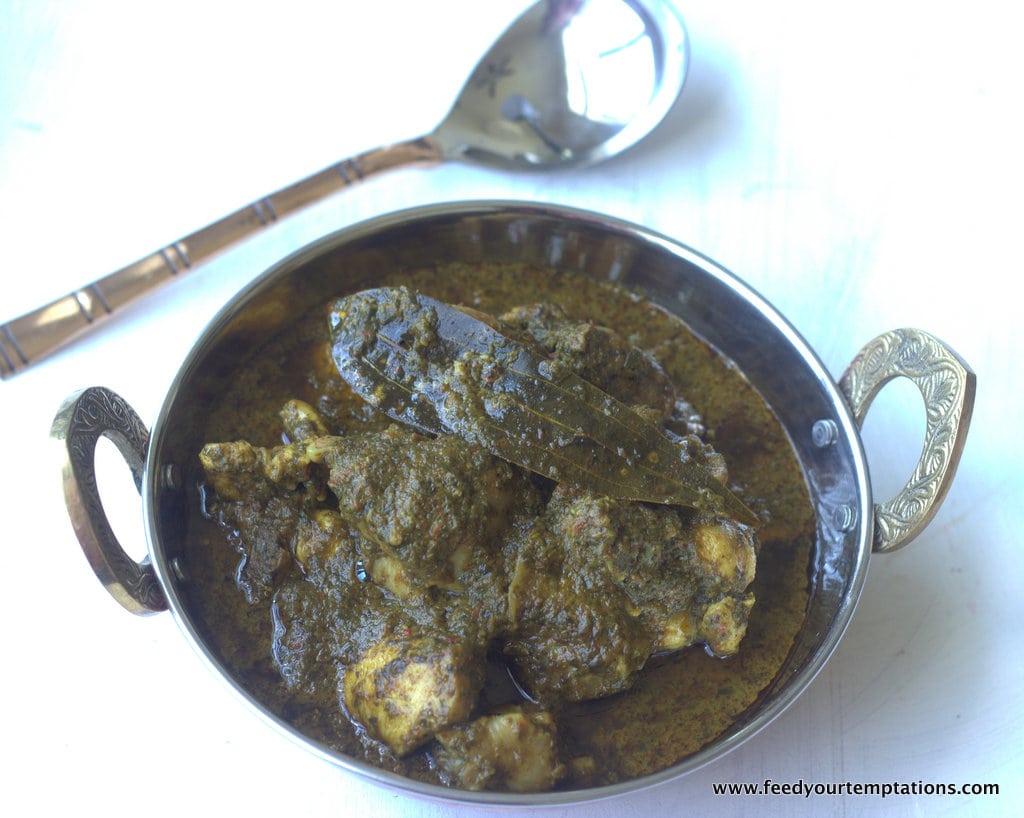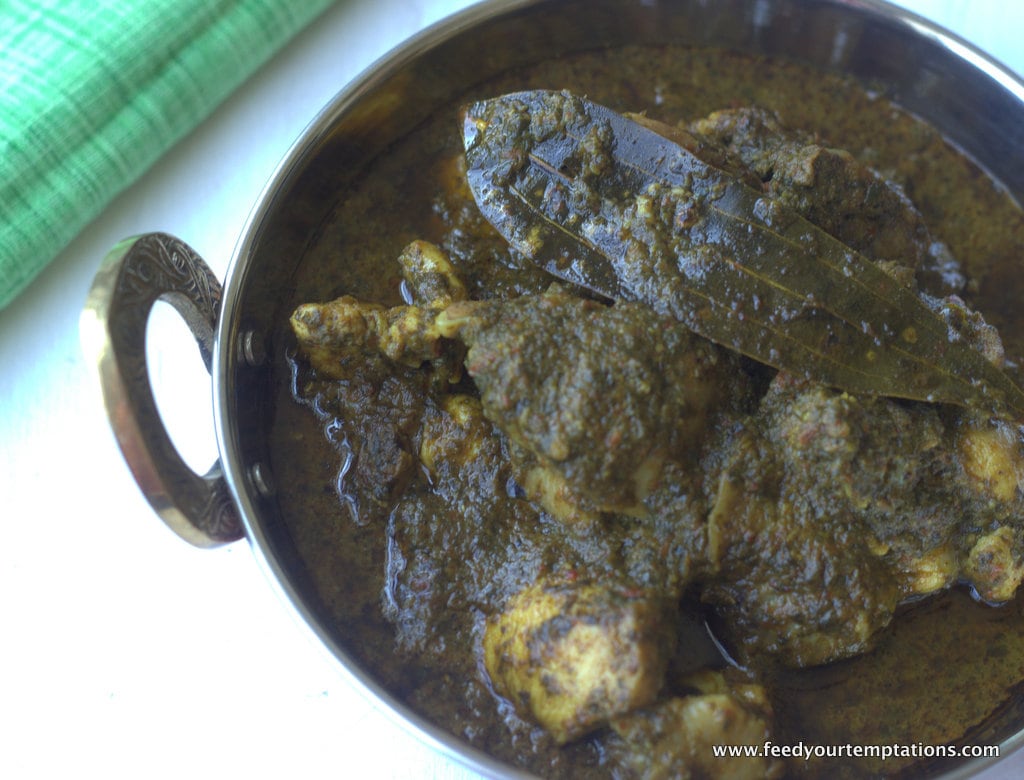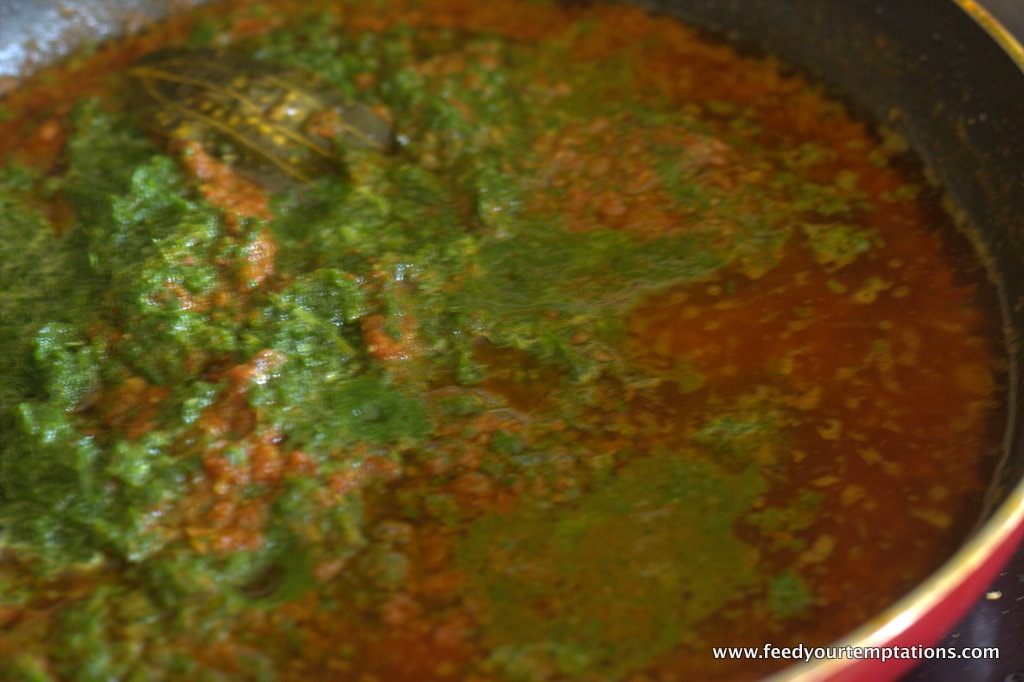 Spinach Chicken curry
Ingredients
2.2

pounds

1kg chicken, cut into small pieces

3

tablespoons

oil

2

tablespoons

butter

1

cup

tomato puree

3 medium sized tomatoes

1

tablespoon

ginger garlic paste

2

tablespoons

honey

1/2

cup

heavy cream or plain yogurt

GREEN CHUTNEY:

2

handful spinach

1

bunch coriander leaves

1/2

bunch mint

Optional

2

green chillies

SPICES:

2

Bay leaves

1

and 1/2 teaspoon garam masala

1/2

teaspoon

turmeric powder

2

teaspoon

red chilly powder / Paprika

2

teaspoons

coriander powder

1

teaspoon

cumin powder

3

teaspoons

salt or to taste
Instructions
Wash and pat dry the chicken pieces. Take all the spices in a bowl and keep aside. For Green chutney: Grind spinach + coriander leaves + mint + green chillies in a food processor with very little water. (I used 1/2 cup of water for grinding).

Heat oil and butter in a pan (non-stick preferred) on medium high heat. Add bay leaves and tomato puree and stir. Once the oil oozes, add spices and sauté for 2 minutes. Now add the green chutney and keep stirring in between till the gravy thickens and oil can be seen on top.

Add the chicken pieces, coat it with the gravy and let in cook on medium high heat for 15-20 minutes. Keep stirring every 5 minutes or so.

Taste and adjust the salt if needed. Add honey and heavy cream and let the mixture simmer for additional 5 minutes.
Recipe Notes
Honey will not make the curry sweet. It will only balance the sourness of tomatoes.
Using a non-stick pan will make the cooking process lot more easy.
The gravy should be thick and not watery.
I used a whole cut chicken. But breast meat or thighs can be used as well.