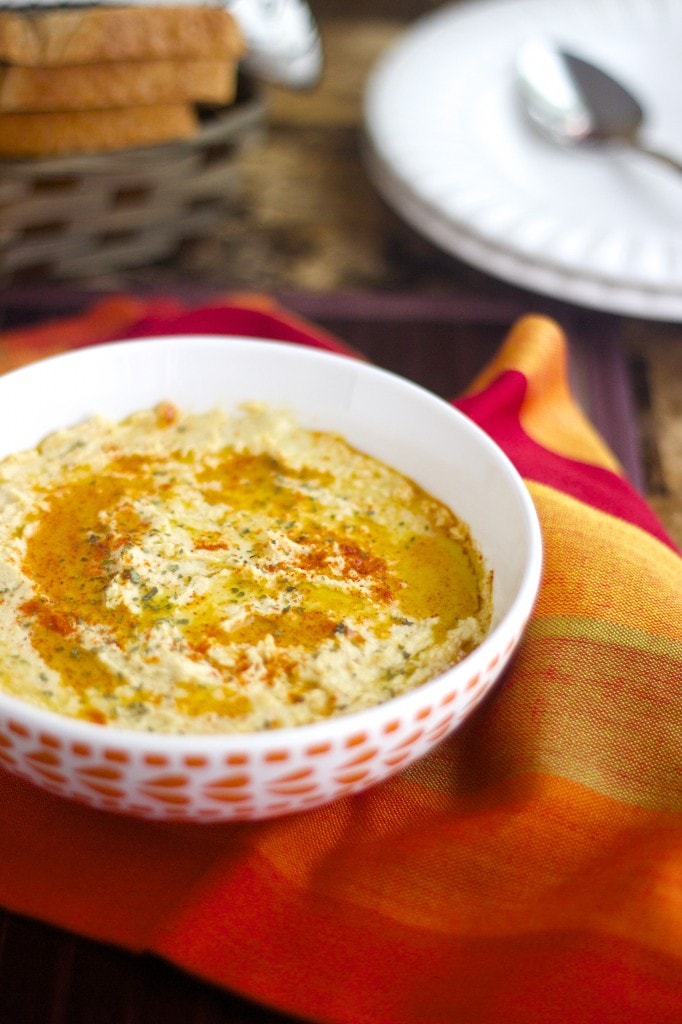 Hummus is a healthy dip or spread which is generally eaten with pita or lavash bread. Its a mediterranean dip which is now popular all over the world. Its creamy, smooth and an ideal dip if you looking for healthier diet choices. Although I cannot resist donuts and cannot get my hands off creamy desserts, I do recite healthy mantra every now and then. Its needed to negate the effects of the former mentioned culprits. That's when things like guacamole and hummus comes into the making. I find mediterranean cuisine irresistible. Don't you? Right from their kababs to breads and all those lovely dips. So much full of flavor.
If you live in an around Orlando, you should visit 'Bhosphorus', a Turkish Restaurant in the heart of winter park downtown. I haven't tried variety of dishes there, because I cannot resist their kabab platter and their lavash bread. It easily serves two to three. They also have a platter serving different dips around a big lavash bread, which again could serve two to three.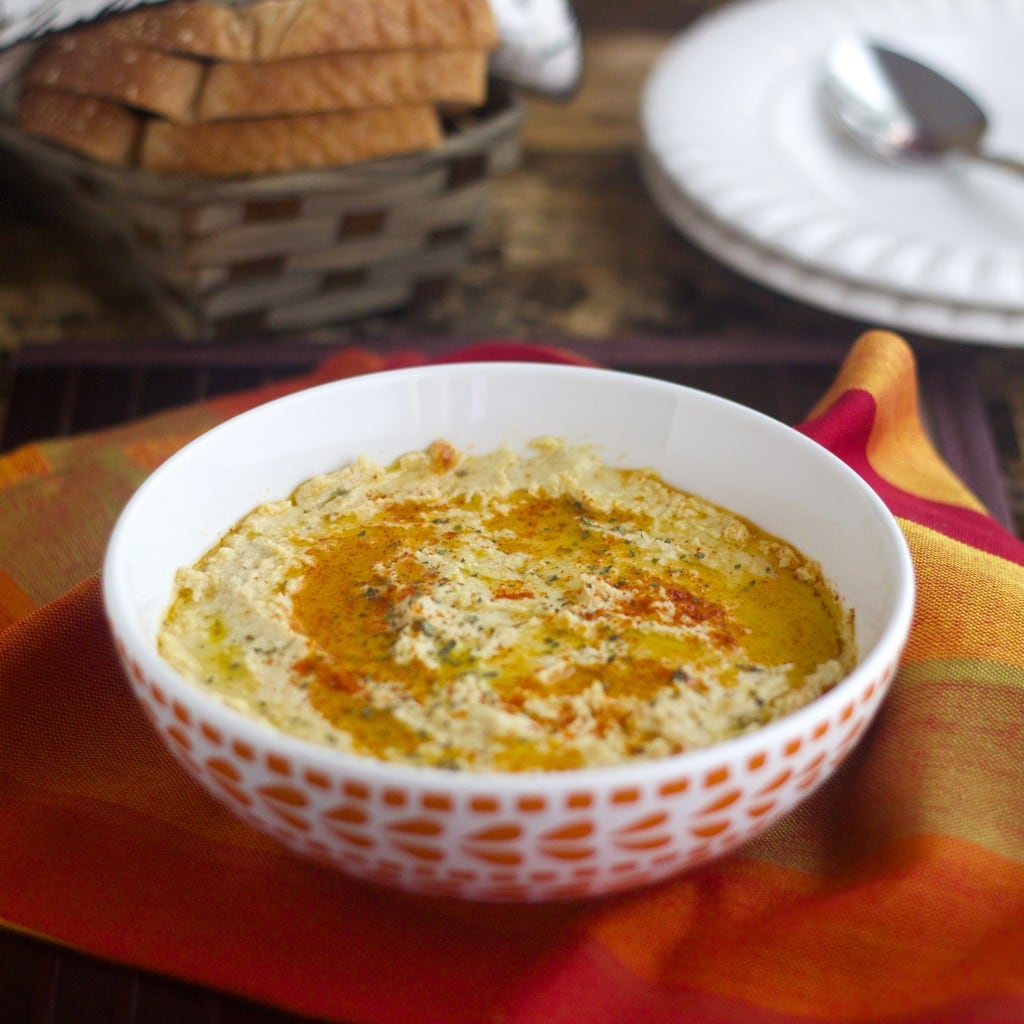 I sometimes wonder why do we purchase food from outside which can be easily made at home. Time constraint I understand. But is it always the time ?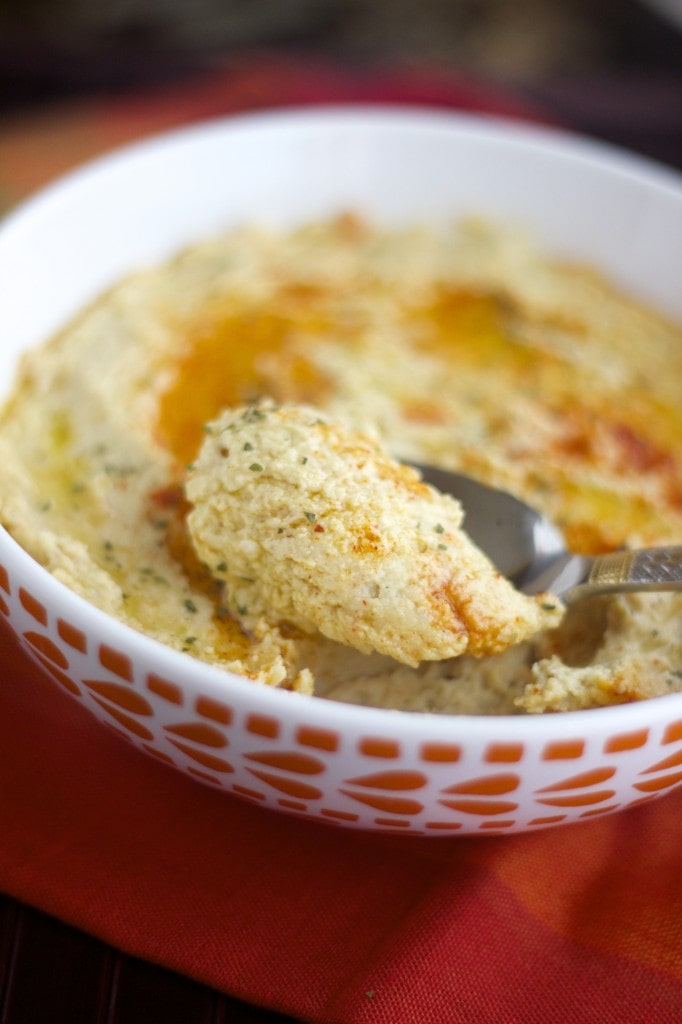 Soaking chickpeas and cooking them can seem like a lot of work but once you do it, you might never go back to the canned ones again. Its so much better and plus you can avoid the extra sodium and all those preservatives. If you don't have a pressure cooker it will take longer, but you can cook a whole batch and freeze it for later, for your soups or chickpeas salad. Check out the recipe and notes below for different cooking and soaking tips.
P.s: Rebecca of My Natural family put together a list of 25 healthy veggie recipes. I was glad to see the guacamole recipe on her list. Thank you Rebecca 🙂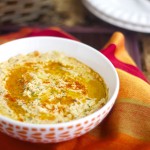 Hummus
Prep time will increase if soaking and cooking chickpeas.
Ingredients
2

and 1/2 cups cooked chickpeas/ garbanzo beans

Chickpeas should be really soft for hummus

2

and 1/2 tablespoons lemon juice

1/4

cup

tahini

Recipe below

1-2

small cloves of garlic

3

tablespoons

olive oil

1

teaspoon

or to taste kosher salt

1/2

teaspoon

roasted cumin powder

2-3

tablespoons

water

oil for drizzling

paprika/red chilly powder for sprinkling

pinenuts for garnish

optional

Tahini

1/2

cup

roasted sesame seeds

2-3

tablespoons

of vegetable oil
Instructions
Wash and drain the cooked chickpeas well. If using canned, wash it several times. Removing the skin while washing yields a smoother hummus.

In a food processor add lemon juice + tahini + 1 minced garlic + oil and beat well for few minutes.

Add the drained chickpeas + salt + cumin and process it until smooth, adding a tablespoon of water as needed. Scrape off the sides in between. Once the desired creaminess is achieved, taste and adjust the salt. Add one more minced garlic if needed. Process again if you are adding anything.

Transfer to a serving bowl, drizzle oil and sprinkle some paprika. Garnish with pine nuts or finely chopped cilantro/coriander leaves.

To make tahini:

Roast the sesame seeds by adding it to a pan in even layer placed on low - medium heat, stirring and moving it continuously till it heats up but doesn't change its color. Alternately you can also roast it in oven.

Transfer to a plate to cool. One cooled transfer into a food processor/mixer and grind the sesame seeds to powder and then add 1 tablespoon of vegetable oil at time as needed to form a little more than creamier liquid.

Soaking and cooking chickpeas:

Chikpeas should be washed and soaked in cold water overnight or unto 10 hours. This method helps in easier digestion. Wash thoroughly before cooking. If you are in a hurry, wash and transfer the chickpeas to a pot, add water and let it simmer for 5 minutes. Turn of the heat, cover the pot and let it stay for 1 hour before cooking again.

If using pressure cooker, cook till its soft, about 3-4 whistles.

If using normal pot, bring the soaked chickpeas and water to a boil, let it simmer for 5 minutes, then turn the heat to low, cover the pot and let it cook for 60-90 minutes.

If you want more detail about how to soak and cook chickpeas,

check this

.
Recipe Notes
Hummus freezes well. To thaw place the container in the refrigerator overnight.
Cooked chana/chickpeas can be frozen as used as needed.