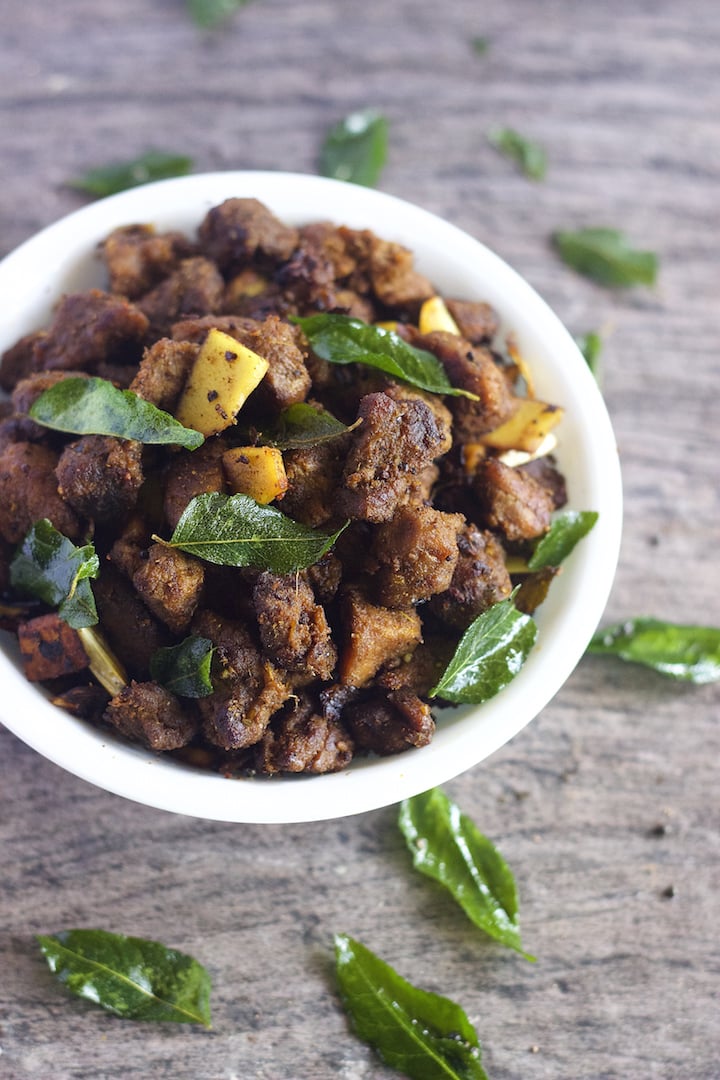 Its been a month of no blogging, family time and a much needed break, but I did schedule few posts before I left Orlando. A break certainly feels good even though few weeks of doing nothing has made me lazy and staring at my computer is taking more time that composing an actual post. Its crazy hot here but the beauty of the place and the family time is worthwhile.
This time I am bringing you the famous kerala style beef fry – beef ularthiyadu from my moms kitchen in kerala. This post was long pending, the recipe carefully prepared and then drafted. Whenever I am cooking to post a recipe, at most care goes into it so that I can give you the very best. This was one such preparation and I saved a portion for the photos.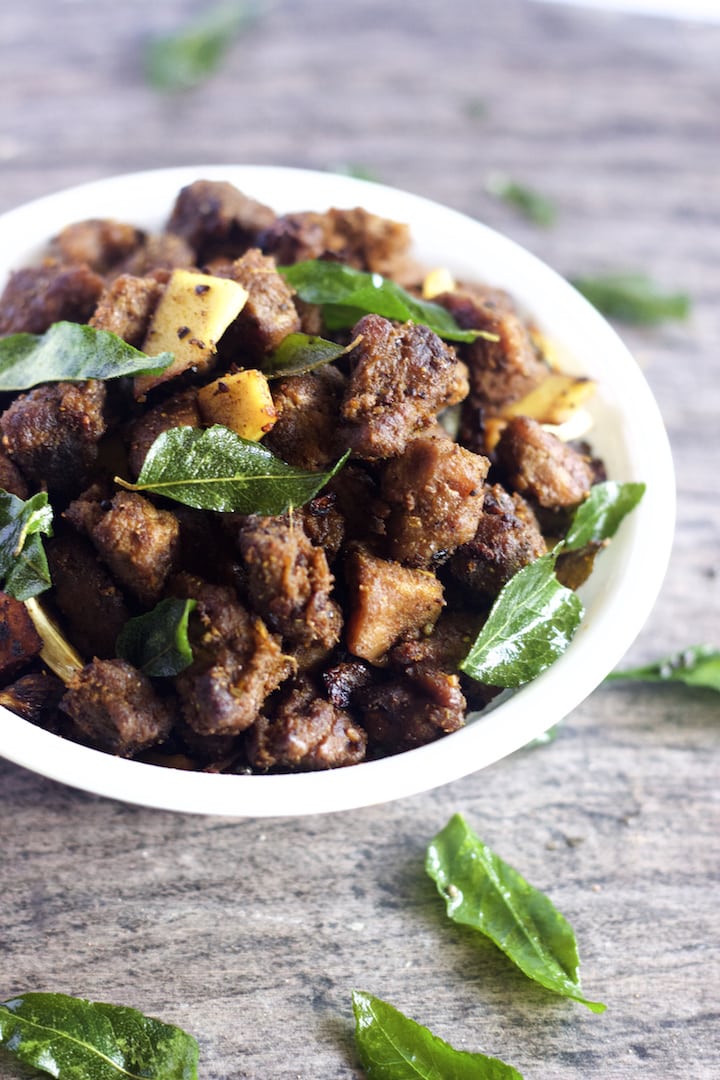 The sun came around the next day and after setting up my stuff for the pictures I went to the refrigerator to grab the star of the show but I couldn't find it, which made me doubt myself if I had even saved it for later. Then I see the empty bowl in the sink 🙁 .  Take a guess. Its not that I couldn't have made it again but with lent starting the next day and an India trip coming, this post had to wait.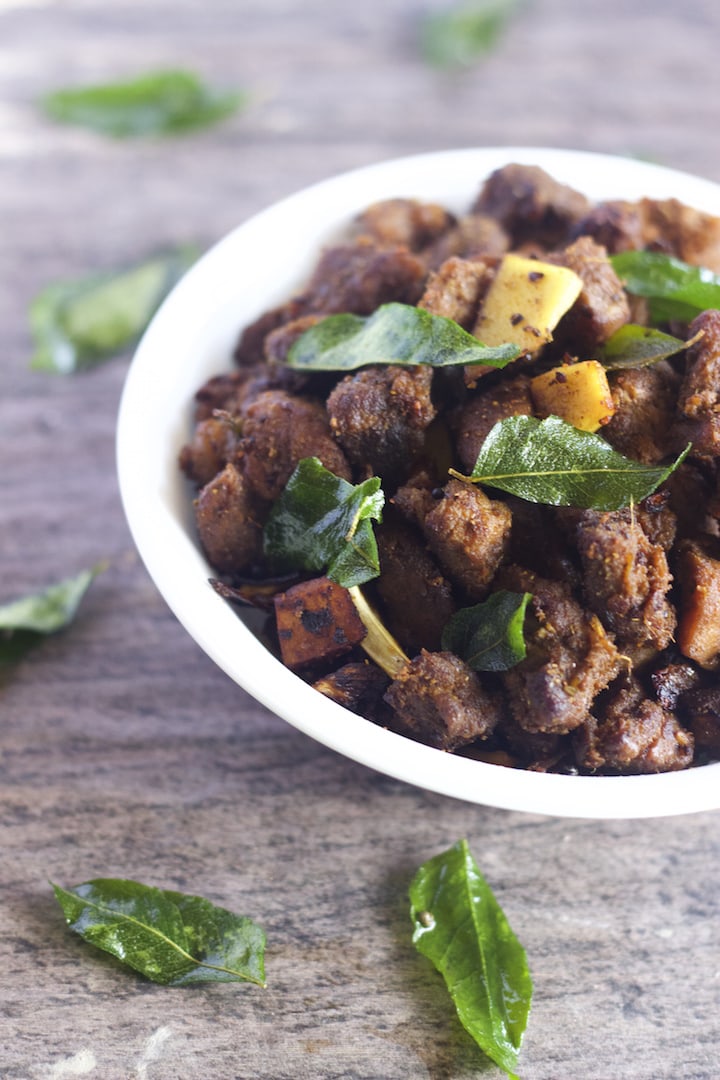 This beef fry is a part of any celebration, get together or family gatherings in this part of the country. Check out the famous red fish curry and other recipes from Kerala.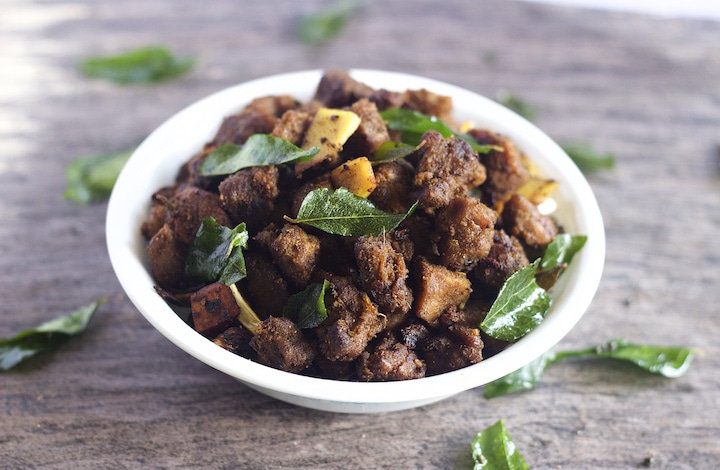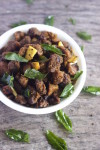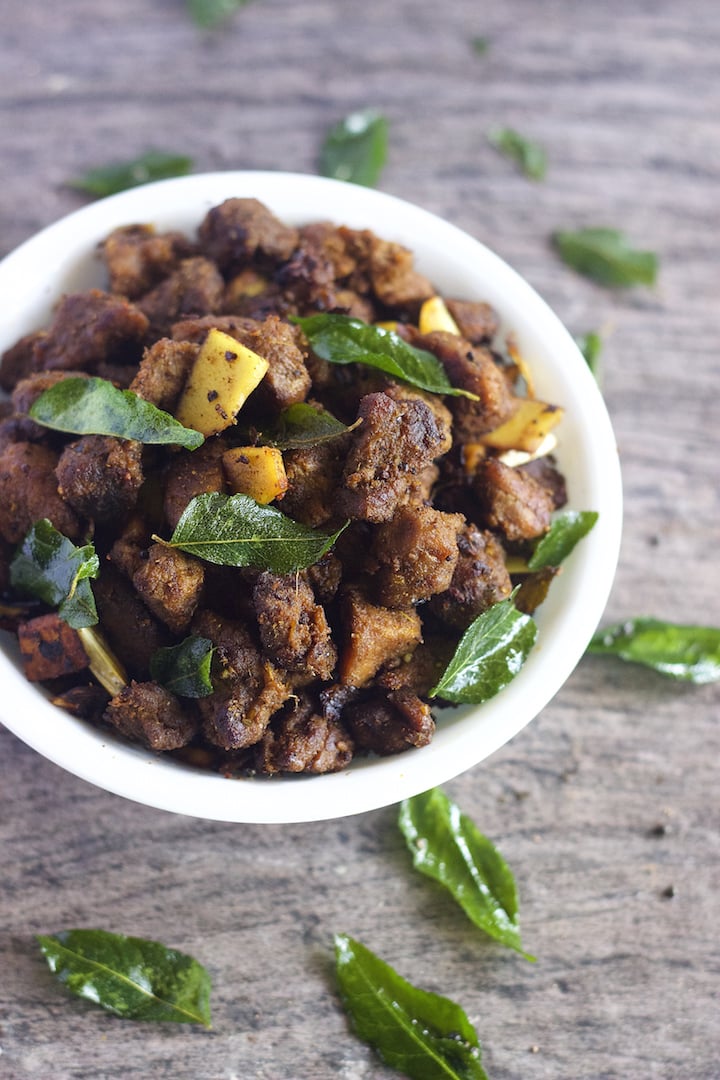 Kerala Beef Fry
Ingredients
1.1

pound

500g Beef, cut into ½ inch cubes

2

tablespoons

oil

1

teaspoon

mustard seeds

½

teaspoon

fennel seeds

1

onion

About 1 cup finely chopped

2

sprig curry leaves

¼

teaspoon

garam masala

1

teaspoon

chilly powder

Marinade:

1/2

cup

sliced fresh coconut

cut into 1/2 inch pieces

1

and ½ tablespoon ginger crushed

4

cloves

of garlic

crushed

2

green chillies

slit

½

tablespoon

vinegar

½

tablespoon

oil

2

teaspoons

red chilly powder/paprika

2

teaspoons

coriander powder

¼

teaspoon

turmeric powder

¼

teaspoon

black pepper powder

¾

teaspoon

garam masala

1

teaspoon

salt or to taste

2

sprig curry leaves
Instructions
Wash the beef and drain well. Add the marinade and mix well. Cook this in a pressure cooker on high for 5 minutes and then on low till the meat is cooked but not too tender. (Since no water is added, take care to change the heat to medium or low accordingly)

Add oil in a pan (use of a shallow, wide non-stick pan makes it easier to roast the beef). Add onions + curry leaves and fry on medium high heat till the onion is translucent. Add garam masala + chilly powder, sauté the spices for a minute and then add the cooked beef along with any liquid.

Turn the heat to medium high for the water to evaporate and stir every 5 minutes so that it doesn't stick to the bottom of the pan. If there is too much liquid increase the heat to high but don't leave it unattended. The end product should be dry, yet moist, roasted and brownish black.

Garnish it with some fried curry leaves.
Recipe Notes
Its ideal to use beef with fat trim because that is what makes the meat moist.
I used chilly powder which is very mild, so adjust it as per your preference.