Easy Kung Pao style spaghetti with your choice of meat, vegetables or noodles.
I am not into bland foods, I love lot of flavor and that's what I like about this dish. The red chilies makes the dish look spicier, but in this case I like to use the milder chilies, which gives out the smoky flavor and at the same time doesn't make it difficult to enjoy the food because of the unbearable heat. yeah I love spicy food but not the spice which will not let you swallow the food and all you do is keep wiping your runny eyes and nose and not to mention the upset tummy later on.

Agnel and I are not a spaghetti person per se, so until recently, I never ventured into the world of spaghetti and pastas. My liking for this began with one of my visits to California Pizza Kitchen and I saw my friends ordering it. Peanuts and red chilies, I could very well imagine the flavor. There came my inspiration to create a simple version of this dish and now we love it.
The Kung Pao dishes you get in restaurants are more saucy. I wouldn't say this tastes the same way. I wanted something which could be easy, light on stomach and which could make a easy weekday dinner, which everyone could enjoy and to add, to that, whole grain spaghetti goes very well with this seasoning.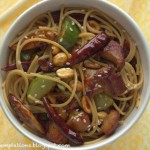 Easy kung Pao style spaghetti
Marination time: 30 minutes
Ingredients
7 0

z

approx. 150gm spaghetti or any noodles(I used whole grain Barilla)

1/4

cup

peanuts

10-12

dried red chillies

1

cup

about 1 cucumber, bell pepper, cabbage or carrot, to name a few.

2

chicken breast cut into cubes

substitution: paneer, tofu, shrimp, pork, fish

1

tablespoon

sesame seeds

optional

2

teaspoon

red chili paste or red pepper flakes or to taste

2

teaspoon

soy sauce

2

tablespoons

oil

sesame oil preferred but any other oil is just fine

MARINADE:

1

teaspoon

soy sauce

1

teaspoon

ginger garlic paste

1/2

teaspoon

salt or to taste

2

teaspoons

corn flour/starch
Instructions
Coat the chicken (or substitutions) with the marinade. Mix well, then add corn starch, cover and let it stay for 15-30 minutes.

Once the chicken marinates, bring a pot of water to boil, add salt and add spaghetti. Cook as per the instructions. Drain and keep aside. If using noodles drain well with cold water.

Heat a wok or a pan on medium with 2 tablespoons of oil. Add red chillies + peanuts and let the aroma come out. Now add the chicken and saute well till half cooked. Add the cut cucumber and saute well till the chicken cooks well. (Do not overcook the vegetables). Add the chili paste + soy sauce and the drained spaghetti. Mix well. Sprinkle with toasted sesame seeds.
Recipe Notes
Rice vinegar and Worcestershire sauce adds an amazing flavor. So if you have that, add 2 teaspoons of each right after you add chili paste. Let it simmer before adding the spaghetti.
This tastes good with vegetables too. No need to add chicken, paneer etc.