These days the first thing people ask me is "what do you do with all the food you cook and how do you get time for all this cooking?". The answer, we eat, sometime I share with friends and to tell you the truth I don't like spending too much time in the kitchen. Some days all I do is make tea and enjoy left overs or order food. What I can make everyday is dessert, only I wish it was healthy and I could eat that like an entree :). This makes me think what do food blogs with only desserts do? Do they really have everything they make ?

I believe kitchen should be a place you love to spend time to cook for your family and not a tiring chore. Coming to the point. What if you have to make a dozen or more omelette's and all it takes is about 10 minutes of prep time. I would definitely love that.
A spicy bite.
Sprinkle cheese at the bottom, top with your favourite filling up to 3/4 full, add the egg mixture leaving 2-3 mm from the rim or else it could overflow and in the end top with some more cheese.
So there it is, easy weesy omelet in a cake pan with tons of options.
My favorite, cooked Italian sausages.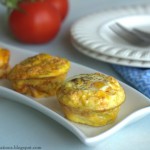 Omelets in Cupcake pan

Ingredients
3 Eggs
1/2 cup grated Cheddar cheese or any hard cheese
1/2 teaspoon salt or to taste
pinch of pepper
1/2 teaspoon paprika or to taste
FOR FILLING:
3 medium Tomatoes
1 green chilly chopped optional
OTHER OPTIONS:
Cooked sausages cooked bacon, ham, vegetables or whatever you can add in an omelet.
Instructions
Preheat oven to 350 degrees Celsius. Spray or brush a cupcake pan with oil or butter.

Chop tomatoes or whatever you are going to add and keep aside.

Coat a muffin pan with cooking spray. Sprinkle 1/2 of the cheddar cheese on the bottom of each cup. Spoon vegetables in each cup until 3/4 full.

Add the spices to the eggs and beat it until fluffy. Spoon 2 tablespoon or as needed in each cup. Leave 2-3mm on the top. Sprinkle with the remaining grated cheese.

Bake for 20-25 minutes or until the top is golden brown.
Recipe Notes

If you want to make plain omelet, only fill the muffin pan with half the egg mixture or else it will rise like a souffle.
You can also break and add one egg into individual cups. Turns out like poached eggs.

Vegetables can be added without sauteing if you don't mind the rawness. I sauteed mine in 1 teaspoon of oil before adding to the cupcake pan.

If you are only making 6 omelets in a 12 cup cake pan, fill the remaining cups with 1/3 water so that everything cooks evenly and the cooking time stays the same.