I have spend so many afternoons watching Food network shows and I never get tired of watching this. One of the show i love watching is Barefoot Contessa by Ina Gartner. I think afternoons are also one of the worst time to watch cookery shows. Since your lunch is starting to digest and being the most laziest time of the day you feel like making all the enticing things they show. Another wrong time to watch these show is when you are on the treadmill. Here you are trying to burn some calories and there they are showing to cook some yummy cheesey stuff.

This salty cheesey cracker is a result of watching her show.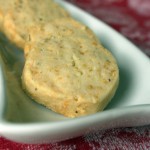 Parmesan Crackers
Refrigeration time: 15 minutes
Ingredients
1/4

pound

1 stick unsalted butter

3

ounces

grated Parmesan

1 1/4

cups

all-purpose flour

1/4

teaspoon

kosher salt

1/2

teaspoon

freshly ground black pepper

1-2

tbs

heavy cream or milk as needed for forming the dough.

Variations from the actual recipe:

Left out 1 teaspoon fresh chopped thyme.

Added heavy cream since the dough was not coming together.

Reduced the freezing time to 15 min from 30 min.
Instructions
Place the butter in the bowl and with an electric mixer mix until creamy. Add the Parmesan, flour + salt + pepper and combine.

Dump the dough on a lightly floured board and roll into a 13-inch long log. Wrap the log in plastic wrap and place in the freezer for 15 minutes to harden.

Meanwhile, preheat the oven to 350 degrees F.

Cut the log crosswise into 1/4 to 1/2-inch thick slices. Place the slices on a sheet pan and bake for 22 minutes.
 Recipe adapted from : 'Ina Garten' from Food Network