S

ometimes when all you have to do is take picture and jot down the instructions, rather that do the actual cooking, its fun. My main challenge was convincing my mom to use the measurement spoons. We know that Moms and measurement spoons don't gel along. 
I am itching to bake and it feels like a long time but the challenges to gather baking ingredients in a place where baking is not very common is tough. So for another two months till I get back to my full fledged baking pantry I will be posting recipes from my moms kitchen.
From my moms kitchen: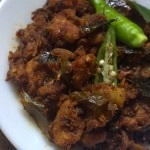 Pork fry
Ingredients
SET 1:

1

kg

pork

cut into 1/2 inch cubes

2

inch

ginger

cut into small pieces

1 1/2

tablespoons

red chilly powder / paprika or to taste

3

tablespoons

coriander powder

1

teaspoon

turmeric powder

2

teaspoons

garam masala/ All spice mix

Recipe here

3

teaspoons

salt or to taste

2

sprig curry leaves

SET 2:

1/4

cup

oil

1

tablespoon

mustard seeds or fennel seeds

sauf

1

small onion sliced

about 1/4 cup

1

sprig curry leaves

1/4

cup

minced or crushed garlic
Instructions
Wash the pork and drain well. Add all the ingredients from set 1 and mix well into the pork. Cook in a pan or pressure cooker till the meat is cooked and tender, yet firm. (If cooking in a pan, turn the heat on high heat for 5 minutes and then cook it on medium heat until cooked, mixing in between. Cooking time could take somewhere between 30-40 minutes).

Heat oil in a pan on medium heat. Add mustard seeds. Once it cracks, add onions + curry leaves + garlic and saute. If needed, you can add 1/2 teaspoon red chilly powder and 1/2 teaspoon garam masala into the oil, taking care that the spices don't burn. Add the cooked pork and saute for another 10-15 minutes until slightly crisp and till the pork gets coated with oil and spices.
Recipe Notes
I like using fennel seeds instead of mustard seeds.
Cooking in a pan lets you control the tenderness of the meat.