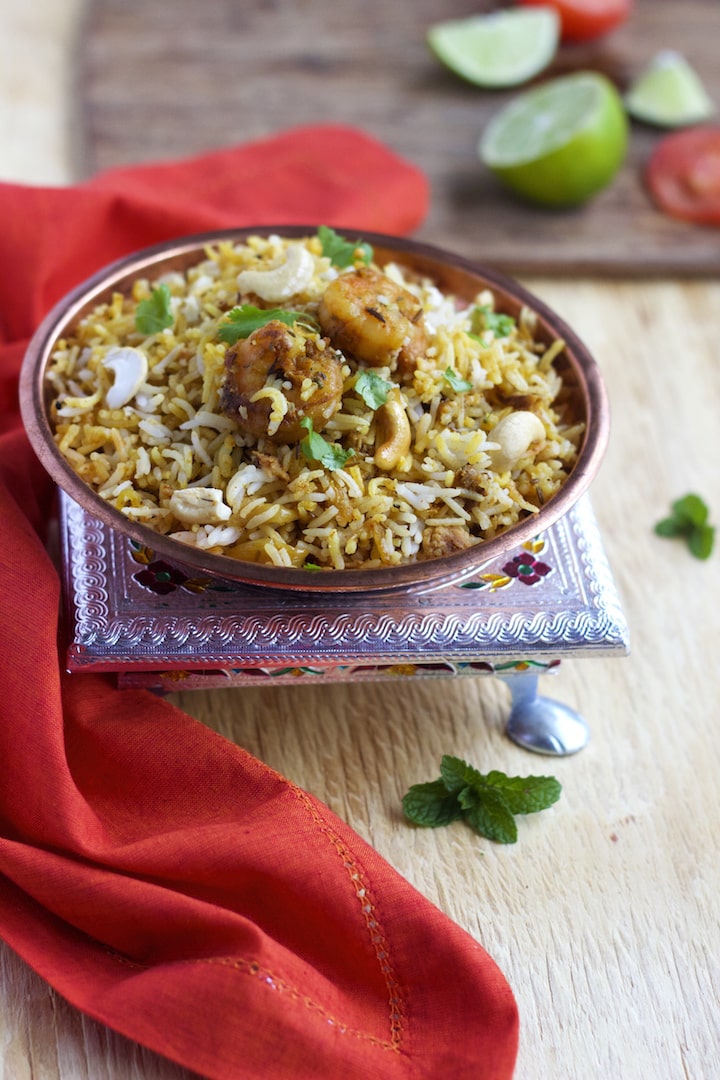 What do you expect from a 4 year old when you tell him that he cannot go to the park because his mommy wants to clean the car? If my case, the 4 year old agreed that the car needs cleaning. I admit that my car can be really messy. The crumbs, the fish crackers, empty juice boxes, wrappers, extra clothes, shoes, jackets, it keeps on accumulating because you are always short of time and cleaning everyday doesn't seem practical, atleast in my case. Moms, you know what I am talking about. I like my house and car clean, who doesn't?, but when you are the driver, mom of a toddler, the cook, the cleaner, then an organized life feels like a dream. If other mom is sitting next to me then its doesn't matter because I assume she knows every bit of what my life revolves around but if its someone who doesn't have kids, then the little OCD in me kicks in.
To be honest, I  judged other moms before I became one myself. I thought 'how difficult is it to keep everything clean and organized?'. Reality stuck me hard and after having Nivaan I tried to be in the clean and organized mode, but then eventually figured out that I did not have any time for myself. Thats when I read some where, when your work doesn't seem to end, put your legs up, relax and say ' What the H- – – . I don't care ':).
But, I did find a solution to keep the car clean and organized most of the time. Thank you Megha for introducing me to the car organization video. Car organization video! Yeah…it did help. To those of you who doesn't know Megha, she is a dear friend who admits that she has OCD, and I totally agree :). Its good to have friends like her to keep you on track:).
Here is what you will need if you want an organized car: (You can get the boxes from dollar store)
A basket on the back passenger seat (For extra pair of your kids clothes, socks, sweater).
A basket on the back seat aisle (For paper rolls, extra shoes, Alcohol wipes, a zip lock bag with plastic covers)
Baby wipes behind the seat compartment.
A plastic cereal box lined with plastic cover: (Sitting on the front passenger seat aisle for trash) This is the best part.
A $15 hand vacuum cleaner.
For additional tips check this video.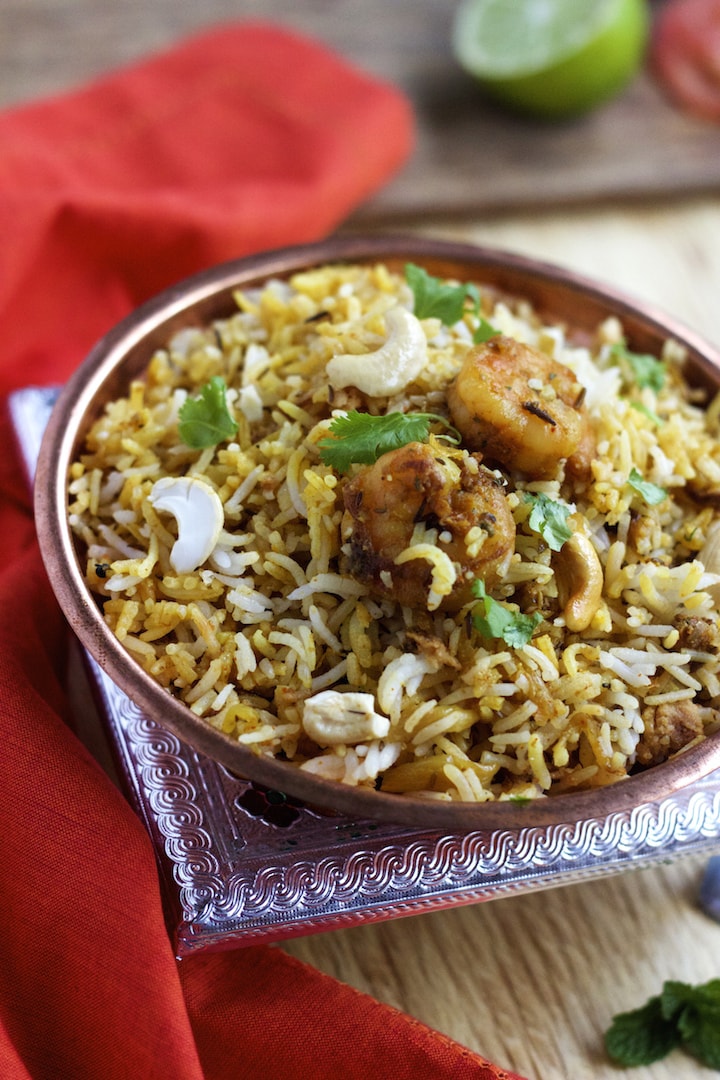 Biryani is a one pot meal, a mix of rice and meat (Chicken biryani) or rice and vegetables. In this case its Shrimp and rice. The origin of biryani is still debatable but its a very common cuisine in south Asia. Shrimp is cooked with spices and then layered with rice and Shrimp masala.
Its served with raita, (yogurt dip) and Pickles. The best thing about any biryani is, it tastes even better the 2nd day, which makes it a perfect leftover.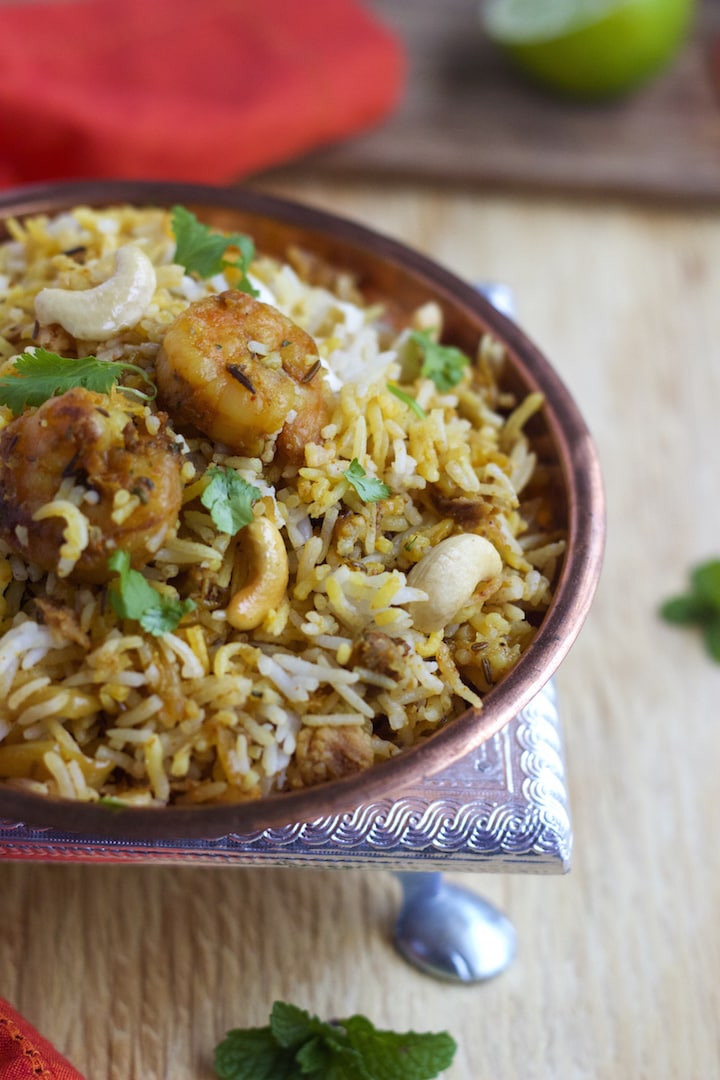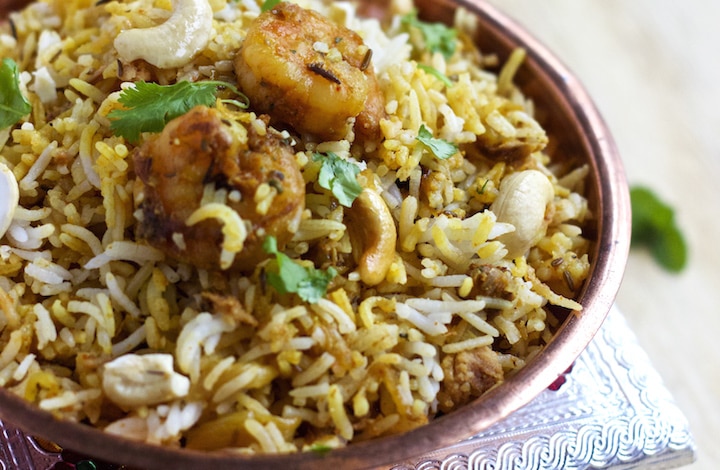 Please don't be overwhelmed by the big list. It uses only basic spices.
I have divided it into different sections so that it will be easy to gather ingredients.
If you gather all the ingredients in a bowl or plate before cooking and follow the instructions then making biryani will be an easy task.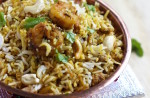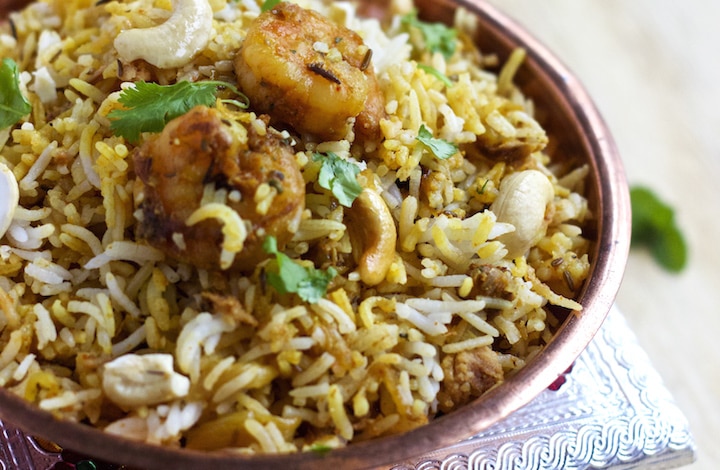 Shrimp Biryani / Prawns Biryani
A one pot meal of rice and shrimp. This recipe uses only the basic spices. For ease of understanding and cooking, the ingredients and Instructions are divided into steps, So don't be overwhelmed.
Ingredients
RICE

1

and 1/2 cups Basmati rice

4

cups

water

2

bay leaves

1

teaspoon

shah Jeera/ fine cumin

Ref notes

3/4

teaspoon

salt

SHRIMP MARINADE

1.1

pound

1/2 kg shrimp

1

teaspoon

salt

1

teaspoon

lime juice

1

teaspoon

red chilly powder/paprika

1/4

teaspoon

garam masala powder

1/4

teaspoon

turmeric powder

1

tablespoon

rice flour/corn starch

Add in the end

GRIND

1/2

inch

ginger

2

cloves

garlic

5-6

mint leaves

1/4

bunch cilantro/coriander leaves

2

tablespoons

oil to fry shrimp

MASALA

2

tablespoons

oil

1

and 1/2 cup onions finely sliced

1 and 1/2 large onions

1/2

inch

ginger

crushed

2

green chillies slit

1/2

teaspoon

salt

1/2

cup

tomato

1 medium size

1/4

cup

thick yogurt

SPICES

1

teaspoon

red chilly powder

1

teaspoon

coriander powder

1/4

teaspoon

turmeric powder

1/4

teaspoon

garam masala powder/all spice mix

Additional: For garnish

Optional

1/2

cup

Fried onions

Ref notes

1/4

cup

cashews

3

slit green chillies

cilantro and mint leaves
Instructions
RICE:

Soak the rice in cold water for at least 30 minutes to an hour.(While the rice is soaking, prepare the shrimp. Cook the rice when preparing masala)

Bring 4 cups of water to a boil. Add bay leaves + shah jeera + soaked and drained rice. Once it starts boiling, reduce the heat to medium and let it cook, stirring once or twice in between. Drain the water and keep the rice aside.

SHRIMP:

Wash and pat dry the shrimp well with a kitchen towel. Grind ginger + garlic + mint + cilantro leaves and add it to the shrimp along with the marinade mentioned above. Massage the spices well into the shrimp. In the end sprinkle some rice flour or corn starch and coat well. Keep it aside for at least 15 minutes. (You can cover and place it in the refrigerator for additional time).

Add 2 tablespoons of oil to the pan and place it on medium high heat. Add the shrimp and shallow fry till its cooked and slightly golden brown. Remove it from the pan. (A shallow, wide non-stick pan with a lid is ideal to cook this biriyani.)

MASALA:

In the same pan you fried shrimp, add additional 2 tablespoons of oil. Add finely sliced onions + ginger + green chillies + salt and fry till the onion is translucent and is slightly brown. Add the spices and sauté for additional minute.

Add the tomatoes, reduce the heat to low, cover the pan and let the tomatoes cook for additional 5 minutes. After 5 minutes, when you open the lid you should be able to see a shiny layer of oil on top. If the masala looks watery, turn the heat to medium high and keep sautéing. Add yogurt and let it simmer for 5 more minutes.

ASSEMBLING:

Remove 1/2 of the masala into another plate. To the pan, add half of the cooked shrimp and then add 1/2 of rice. Sprinkle with some chopped cilantro leaves and green chillies.

Spread the remaining masala and shrimp on top of the rice and spread the rice on top. Give it a gentle press.

Add fried onions + finely chopped mint/cilantro leaves and cashews sauteed in ghee/clarified butter. Cover and let it cook on low heat for 15 minutes till the flavor blends in.

Enjoy with raita (yogurt dip) and pickle.
Recipe Notes
Shah jeera is a fine cumin which is used mainly for biryani and masalas. If you don't have it then just omit that. Do not substitute regular jeera/cumin instead.
To roast the cashews in the microwave, apply some oil or ghee on the cashews and cook it for 40 seconds to a minute.
You can add ghee/clarified butter in additional to oil or substitute oil with ghee completely. Ghee definitely adds more flavor.
Additionally you can also add a pinch of saffron to 1/4 cup of warm milk, let it stand for a while and then sprinkle the saffron milk over rice after final assembly.
You can use store brought fried onions or sauté sliced onions in oil till it turns brown and caramelized.
Our Privacy policy has changed.