Happy Onam.
My friends wish me Onam every year and also ask me the significance of this festival. Onam is a rice harvest festival celebrated by the people of Kerala ( a southern state of India) . It is believed that, on this day, the great and beloved ruler King Mahabali, comes from the nether world to see his people living happily.

This festival is one of its kind because its celebrated by people of different religion and caste, in a land where religion and caste dominates most things. Traditional vegetarian food served on plantain leaves, pookalam (a floral design made in front of the house), boat race, family gatherings, are few of my favorite things. Countless curries including puli ingi served on plantain leaves makes you think where to start from.

Times when traditions have become a luxury, even the smallest celebration matters.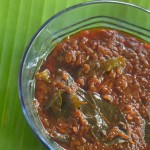 Sweet, spicy and tangy Ginger chutney / Puli Ingi
Ingredients
1 cup grated ginger approx a handful ginger
5 tablespoon oil
1 teaspoon mustard
3 green chillies slit
2 sprig curry leaves
2 teaspoon red chilly powder or to taste
1/2 teaspoon turmeric powder
3 teaspoon salt
1/8 cup tamarind soaked in 3/4 cup water
1/4 cup jaggery
Instructions
Heat oil in a pan on medium heat and add mustard seeds. Once that cracks, add grated ginger and saute till ginger cooks well.

Add green chillies + curry leaves + chilly powder + salt + turmeric powder and mix well for an additional minute.

Squeeze tamarind pulp into water and add that water. Once that simmers, add grated or crushed jaggery and let the mixture simmer again on low heat. Adjust salt, jaggery or tamarind as per taste if necessary.

Turn off the heat once the chutney thickens and a layer of oil is visible.
Recipe Notes
This stays well in the refrigerator for few weeks. Can be used as a spicy dip or as a side with rice.