A laptop crash and a lazy weekend later I am all charged up to post one of the raved upon dishes.
The 1st part explains the delay in posting recipes this week. Samosas are no longer found in only Indian restaurants. It has found its way to few American restaurant chains as well. Its very popular along with the world famous chicken tikka masala or tandoori chicken. When you look at the recipe, don't be overwhelmed. Although it looks complicated its not.
 The recipe looks longer and complicated because of the detailed explanation. Many may not find the need to make veg samosas because good ones can be found at many Indian super markets but, when you need a chicken filling or a different filling, making your own samosas makes sense, plus its fun to make if you have time and especially if you have a  friend to cook with. Its also so versatile, stuffing can be made a day in advance, samosa can be put together another day and it freezes so well. Thaw it and fry it or preheat in the oven before serving.
Knead the dough as per the directions. Divide it into 6 equal portions. Roll each one into a ball and with a rolling pin flatten into circles. Circles shouldn't be very thin.
Cut the circles into half. Take one part and create a cone shape with overlapping sides and seal the edges very well. Slightly bend the narrow side of the cone inwards sealing it well. Tightly stuff with the filling, leaving space towards the ends.
Seal the edges. Cover the samosas with a damp cloth till its ready to fry and when rolling the entire batch or the dough tends to dry.
Deep fry on medium heat till golden brown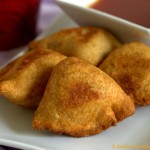 Punjabi Samosa / Chicken Samosa / Veg Samosa
Servings: 12 MEDIUM SAMOSAS
Ingredients
FOR THE DOUGH:
1 1/2 cup All Purpose Flour
2 tablespoon semolina Rava
3/4 teaspoon salt
1/4 teaspoon ajwain Optional
2 tablespoon hot oil or ghee clarified butter
1 tablespoon lime juice
1/4 cup + 3 tablespoon cold water for kneading dough
FOR CHICKEN FILLING:
1 chicken breast or thigh
1/2 cup fresh or frozen green peas
1 teaspoon fennel seeds Sauf
2 green chillies finely chopped optional
1/2 teaspoon paprika or red chilly powder
1/2 teaspoon garam masala/All spice mix
1/2 teaspoon ginger garlic paste
1/2 teaspoon turmeric powder
1/2 teaspoon salt or to taste
1/4 cup finely chopped coriander leaves
2 tablespoon oil
FOR VEGETABLE FILLING:
2 boiled potatoes coarsely mashed with few chunks
1/2 cup fresh or frozen green peas
2 tablespoon oil
1 teaspoon fennel seeds sauf
1/2 teaspoon finely chopped ginger
1/2 teaspoon turmeric powder
1 teaspoon paprika or red chilly powder
1/2 teaspoon garam masala/All spice mix
1 teaspoon chat masala
1/2 cup finely chopped coriander leaves
Salt to taste
Oil for deep frying
Instructions
FOR CHICKEN FILLING: Cut the chicken into cubes, Heat oil on medium high, preferably in a non-stick pan. Once the oil heats, add fennel seeds.

After the fennel seeds start to sizzle, add chopped green chilies ginger garlic paste, sauté for few seconds then add garam masala + turmeric + chilly powder.

Now add the chicken pieces and salt and cook it first on high for approx. 5 minutes till the water evaporates and then on medium till chicken cooks, stirring occasionally. 5 minutes before chicken is about to be cooked add green peas. Adjust salt.

Allow the chicken to cool completely and grind into coarse mixture in a food processor. Add coriander leaves and keep aside.

FOR VEGETABLE FILLING: Heat Oil on medium heat, preferably in a non-stick pan. Once the oil heats add fennel seeds, After the fennel seeds sizzles, add finely chopped ginger and sauté well till its cooked. Now add the garam masala + chilly powder + turmeric powder, mix well and immediately add peas. Once the peas gets cooked add the mashed potatoes and salt and mix well. In the end add chat masala and finely chopped coriander leaves. Keep aside to cool.

FOR THE DOUGH: Mix all purpose flour + semolina + salt + ajwain in a bowl and mix well with hand or a whisk. Add lime juice and mix well. Warm the oil or ghee in the microwave for 25 seconds and add this to the flour mixture and mix well. Now add water little by little to form a dough. The dough doesn't have to be very smooth. Cover the dough and let it rest for 20 minutes.

After 20 minutes, knead it again and divide the dough into 6 equal portions and roll into soft balls.

With the rolling pin, flatten it into a roti or a tortilla stretching the dough forming a circle. Don't try to make it very thin.

Cut into half, form it into a cone, seal the ends well, fold in the corner of the cone or press it to seal well. Fill it tightly with the mixture and press two ends together. Cover it with a damp kitchen towel till you begin deep frying.

Heat the oil for deep frying on medium heat. Put one samosa in the oil, it should sizzle but shouldn't come up right away. Put the other samosas and fry till golden brown.
Recipe Notes
Stuff it with the filling of your choice, It could be spinach and cheese, veggie, crab and the list follows.