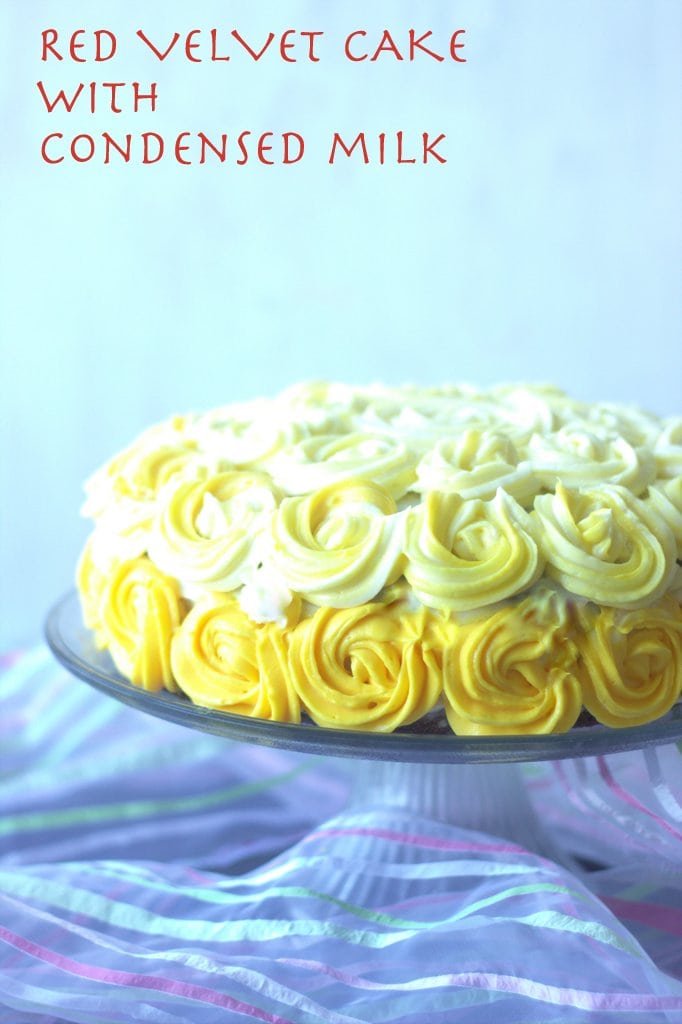 Can you stop yourself from indulging in sweetened condensed milk, if its right in front of you?. Now, imagine a Red velvet cake drenched with sweet condensed milk and topped with cream cheese frosting. I went a little overboard with this whole cake, all because I wanted to pipe some roses. Check out the video on how to pipe two toned roses at the end of the recipe. If you want to minimize your work and still come with a delicious outcome, bake this as a single cake in a 9*13 inch pan, and then cover this with sweetened condensed milk.
This post is about three things:
A red velvet cake with a choice of sweet condensed milk, cream cheese frosting or both.
Piping roses and the amount of icing needed to do that and
How to use different  shades of icing.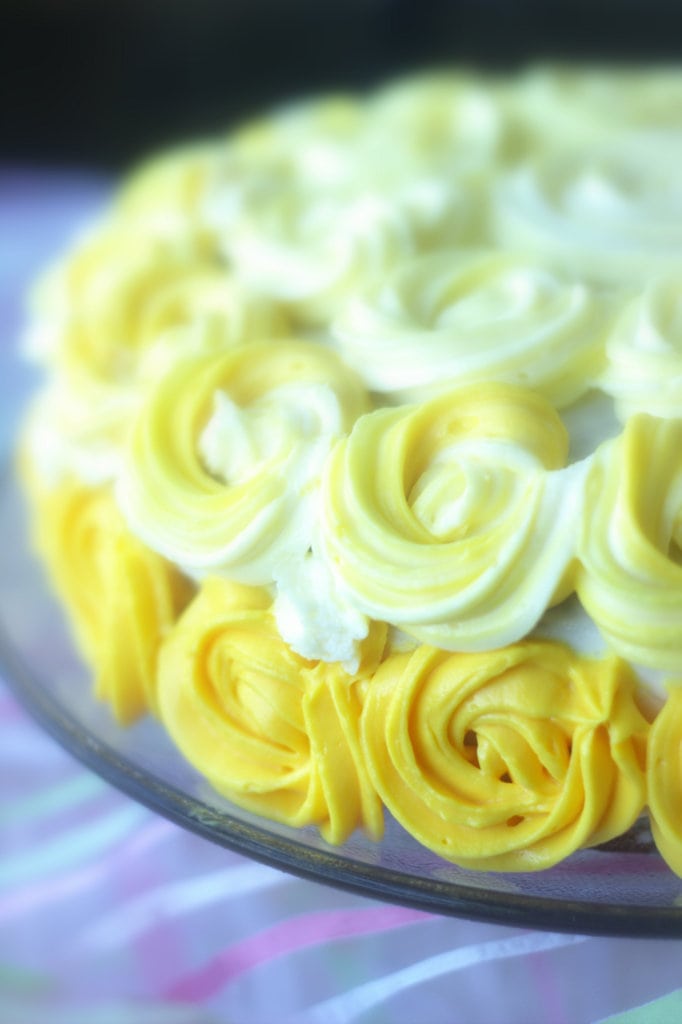 Red velvet cake tastes good with cream cheese frosting and is the popular choice for many. Earlier I have posted a recipe of butter based red velvet cake with cake flour. This is an oil based cake and I like this better that the earlier one.
Red velvet poke cakes are popular too, in which you poke about 1/2 cm in diameter holes in cake and drench it with sweetened condensed milk.
I combined the two together, it never hurts to have both:).  If you have been reading my blog for a while, you know I always show you how the moist interior looks. I made this cake for a potluck and did not have anything left for the picture. Whenever I am trying some recipe from the internet thats how I determine how a cake might taste. So trust me, this is a moist cake as usual or else I wouldn't be putting up the recipe.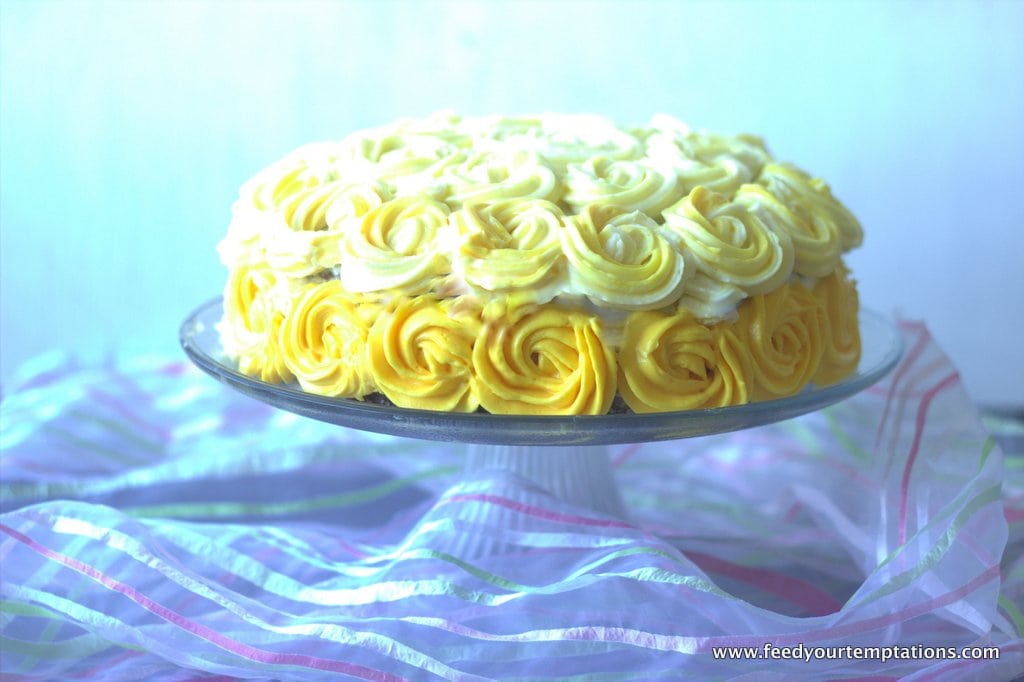 Let start with the icing.
I poked holes on the 1st cake. Poured 1/2 of condensed milk. Placed the other cake on top and repeated the step.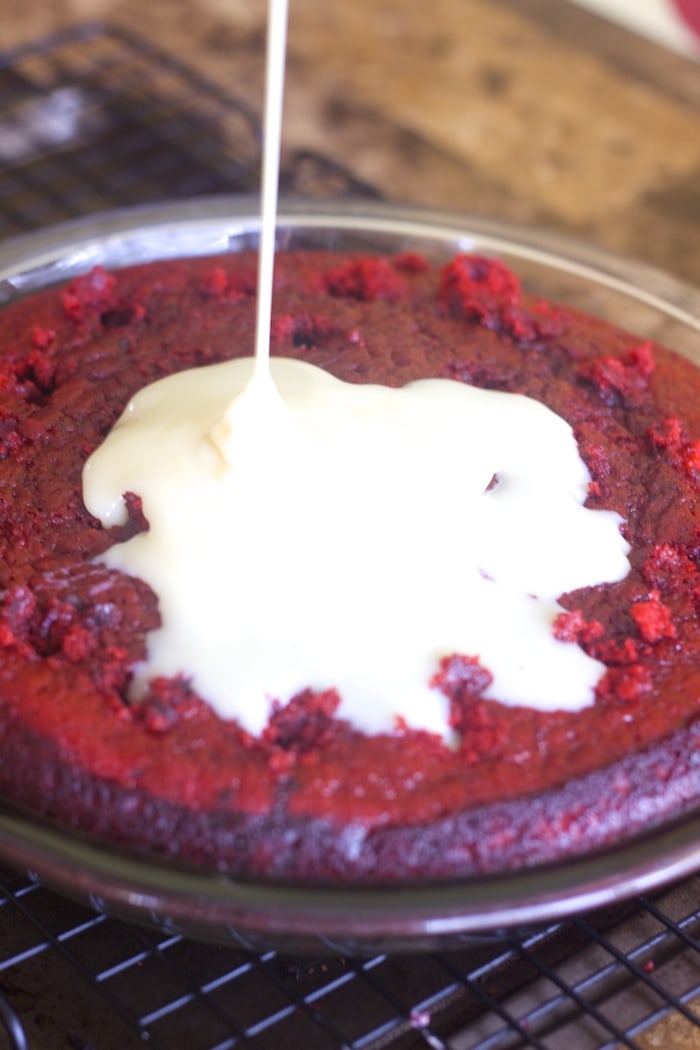 I topped it with thin layer of cream cheese frosting. This coating doesn't have to be perfect if you are going to make roses. I wanted to make pink color roses but I ran out of red color, so I went with the yellow one. There are tons of youtube videos on how to make roses and how to make get different shades of color and believe me, its easy.
I brought Disposable piping bags from Michaels, a craft store. But I have seen really cheap ones on ebay. Works, if you want to make your life easier when designing a cake and leaves you with less mess. Its also good for practicing.
I always use buttermilk substitute instead of actual buttermilk as its always handy and I don't have to worry about what to do with the left over buttermilk. Baking soda works well with acidic liquids like buttermilk. If you want to know the difference between baking soda and baking powder and how it works, check out my latest feed on twitter. My latest feeds are also available on the footer of this page
I hope it was not all too confusing. If it is, just bake the red velvet cake and drench with sweetened condensed milk. Forget about the cream cheese frosting and two toned roses.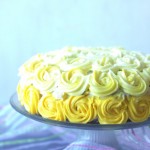 Red velvet cake drenched in condensed milk
The cake tastes good even without the cream cheese frosting. Just don't skip the condensed milk.
Servings
:
2
, 8 inch cakes or 1, 9*13 inch cake
Ingredients
2

cups

240g All Purpose flour/maida

1/2

teaspoon

salt

1 1/2

teaspoons

baking soda

2

tablespoons

cocoa

1/2

cup

120ml + 2 tablespoons vegetable oil

1

and 1/2 cups

300g sugar

1

cup

buttermilk Substitute

3

Large eggs

2

tablespoons

red food color

1

teaspoon

vinegar

1

and 1/2 teaspoons vanilla extract

1

cup

condensed milk

CREAM CHEESE FROSTING:

Optional

12

oz

350g cream cheese

8

oz

235g unsalted butter

4

cups

450g confectioners sugar

1

tablespoon

heavy cream or milk

1

teaspoon

vanilla extract
Instructions
Preheat oven to 350 Degrees Fahrenheit or 175 Degrees Celsius. Grease and dust two 8 inch cake pans.

Whisk the dry ingredients, all purpose flour + salt + baking soda + cocoa and keep aside.

In another bowl, add oil + sugar and beat until the sugar dissolves. Add eggs + food color + vinegar + vanilla and combine well.

Now add the dry ingredients to wet ingredients in 3 batches alternating with buttermilk, beginning and ending with flour. Mix only until combined. Do not over mix. Pour into the prepared pan and lightly tap this on the counter about 4-5 times.

Bake for 35-40 minutes or until a skewer inserted in the center of the cake comes out clean. After 5 minutes, transfer into a wire rack to cool completely.

Place the cake on a serving tray. Poke holes all over the cake and pour 1/2 of the condensed milk. Place another cake on top and repeat the same process.

CREAM CHEESE FROSTING:

Beat cream cheese well until soft. Add butter and sugar and beat well until soft and fluffy. Taste and adjust the sugar if needed. Stir in heavy cream and vanilla and beat for additional minute.

FOR TWO TONED COLOR: Take one cup of frosting in another bowl. Add the food color of your choice. (I added 10 drops of yellow food color, Gel food color is ideal since it won't dilute the icing).

Take a piping bag, invert it halfway, place it in a glass and fill it will yellow frosting. Take it out and press the sides together so that the colorful frosting is all over the piping bag.

Open it up again and place it in the glass. Now add the white frosting. Close the piping bag, get rid of the air bubbles and start piping.

PIPING ROSES: I used a star decorating tip. Refrigerate the icing for 20-30 minutes before you start piping.

Check out the video below which I found on youtube.
Recipe Notes
Its better to use two cake pans instead of one. Too much batter in one pan will increase the baking time, and will make the cake dry because the outside will get done quickly, while the center will be undone.
Enjoy the icing videos I found on youtube:
How to make rose swirl design on cake