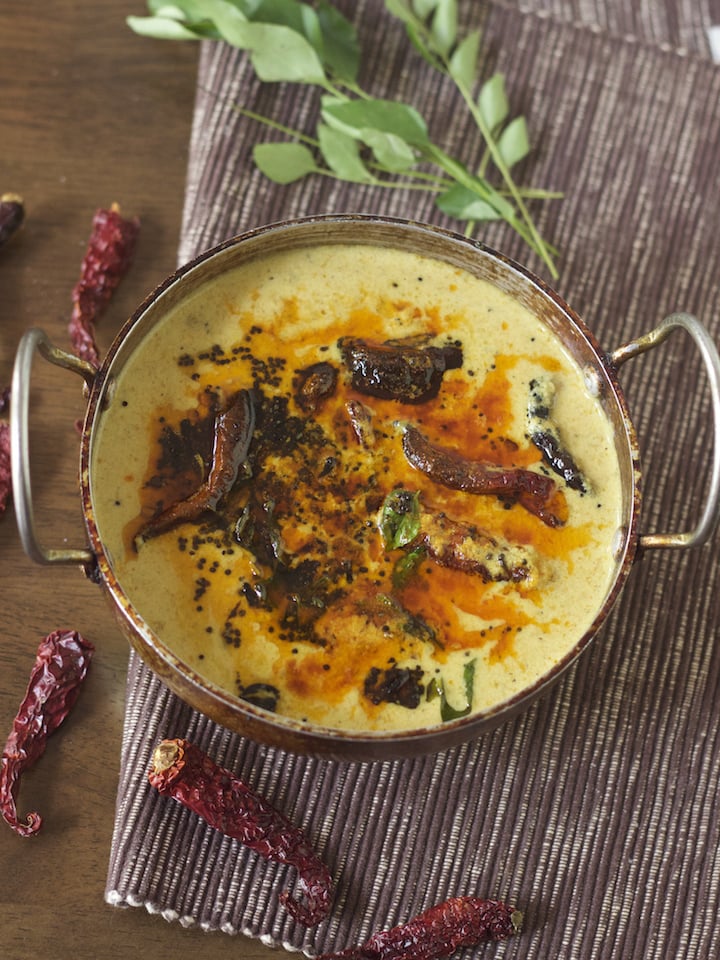 Summer is here and its time for Mangoes, Mangoes and Mangooooooooooooooooes.
when the stores are loaded with crates of mangoes, the recipes we have is not enough and we are in search for more.
I like traditions. Ok! not every aspect of it. I like the authentic taste of food and I rarely tweak a traditional recipe but I am guilty of changing the ingredients and directions if time and ingredients don't permit.
Ripe mango curry or pazham manga curry – pulissery is an integral part of Kerala cuisine, just like the Kerala fish curry and simple fish fry.
My vacation is still in full swing and I am now in Bengaluru. I have been having mango curry for the past couple of weeks when I was in kerala.
I had to battle the constant arguments and suggestions while making this. When my dad and mom saw the mangoes I brought they started off by saying this is not the mangoes you use for this curry and it won't come out right.
'Yeah I know, but small mangoes are not available everywhere so sometimes you have to use what you have and get', I said. 'and what difference does it make? the taste will still be good'.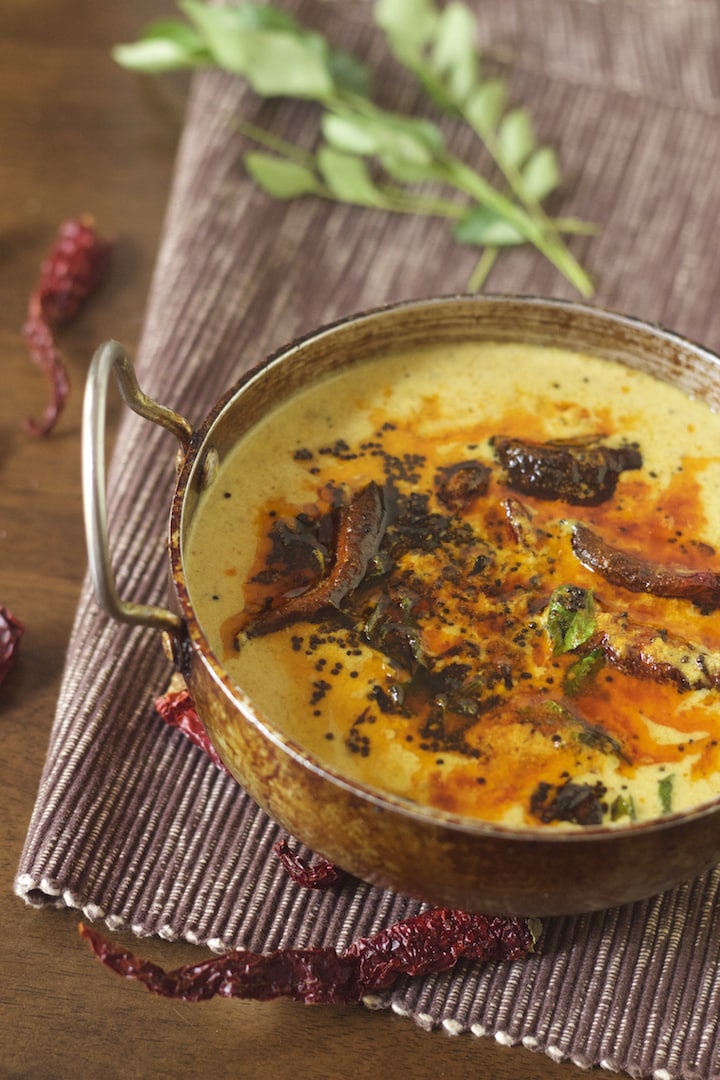 This yogurt curry is slightly sweetened with mango, is a great side with rice and is finger licking good.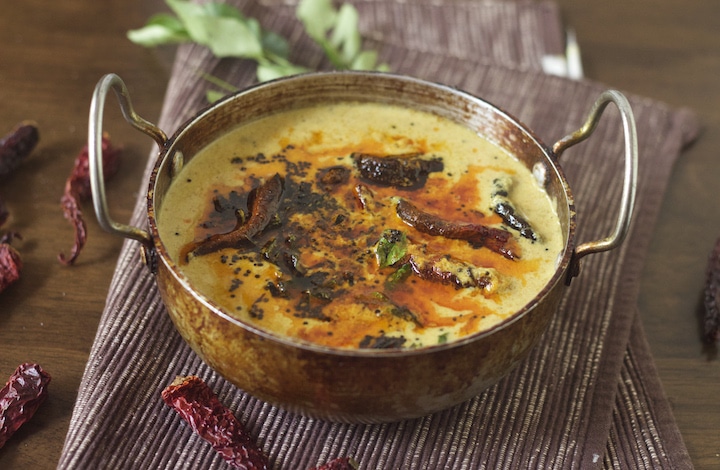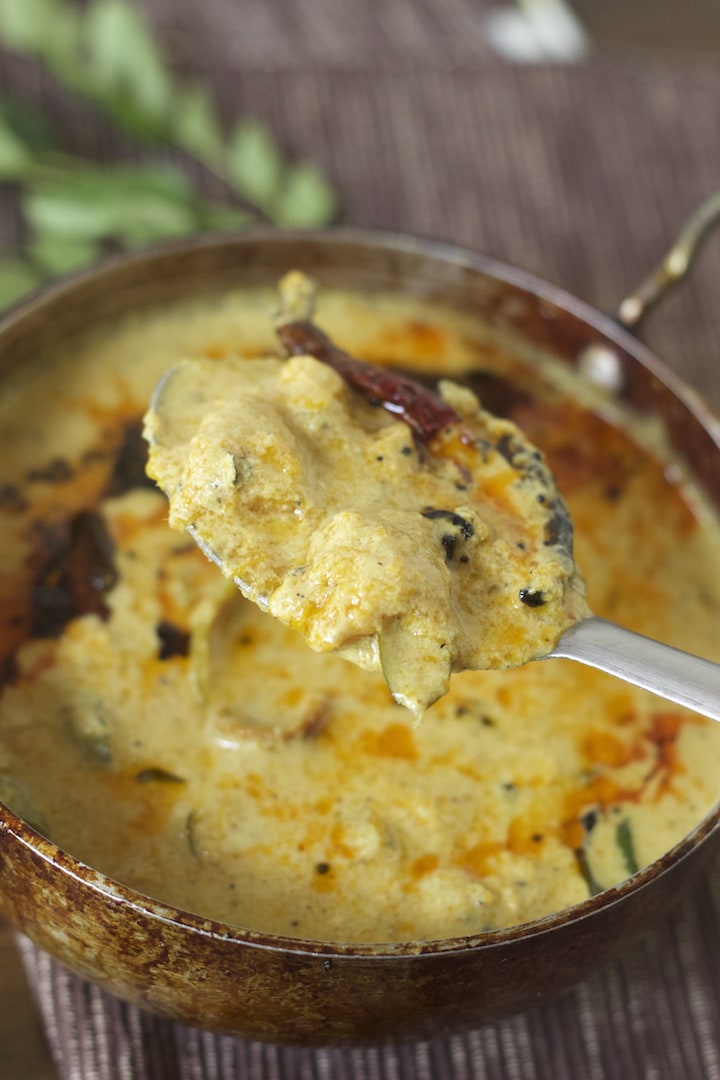 Some people use mango slices but normally small variety of mango is used. The skin is peeled off and mango is added as is.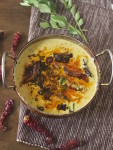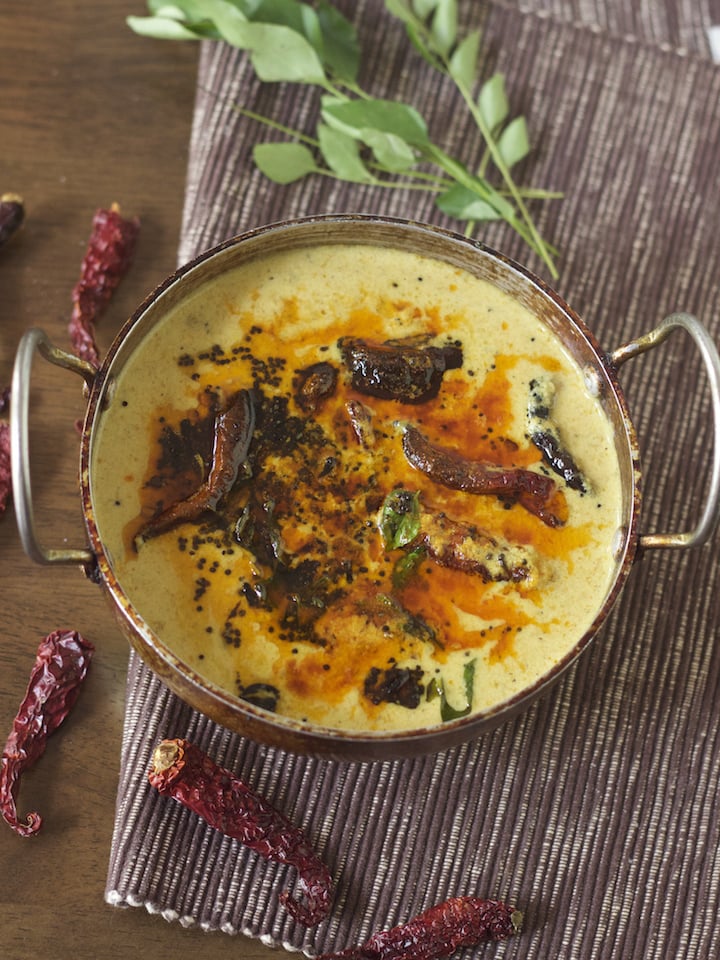 Mango Pulishery
Ingredients
SET1 - TO COOK

1

cub cubed mangoes

about 1 medium sized mango

2

green chillies

split

2

sprig curry leaves

1/2

teaspoon

red chilly powder

1/4

teaspoon

turmeric powder

1/4

teaspoon

salt

1/2

cup

water

SET2 - TO GRIND

1/2

cup

coconut

1

teaspoon

cumin seeds

2

cloves

garlic

1/4

teaspoon

turmeric powder

MORE

1

cup

slightly sour yogurt

well beaten

SEASONING

2

tablespoons

oil

1

teaspoon

mustard seeds

1/2

teaspoon

methi/fenugreek seeds

3

shallots sliced

4-5

dried red chillies

3

sprig curry leaves

1

teaspoon

red chilly powder

EXTRA

sugar or jaggery as per your taste
Instructions
Add mango + green chillies + chilly powder + turmeric powder + salt + water and simmer on low heat till the mango cooks. Turn off the heat.

Grind the ingredients of set 2 into a smooth paste adding little water at a time. (I used 1/2 cup of water.)

Add the ground paste and yogurt to the mangoes, turn on the heat to medium and keep stirring till you see a slight simmer. Adjust the salt if needed. (Do not let it boil or else the curry will curdle.) Transfer into a serving bowl.

THE SEASONING: Place the oil on medium heat. Add mustard seeds and once it cracks, add fenugreek seeds + shallots. Let it cook for a while and then add red chillies + curry leaves. Turn off the heat and add red chilly powder. Mix this with a spoon and pour over the curry.

Serve this curry as a side with rice.
Recipe Notes
Some people like to add a little sugar or jaggery if the mangoes are not sweet enough. I like this curry on the sweeter side so I added 1 teaspoon of sugar in the end.
Traditionally small mangoes are used to make this curry. The skin is peeled and the whole mango is used as is.