The Salmon Curry with Coconut milk is the ultimate comfort food. It's tangy, mildly spicy, made in one pan and under 30 minutes. Seriously! Can making fish curry be any easier.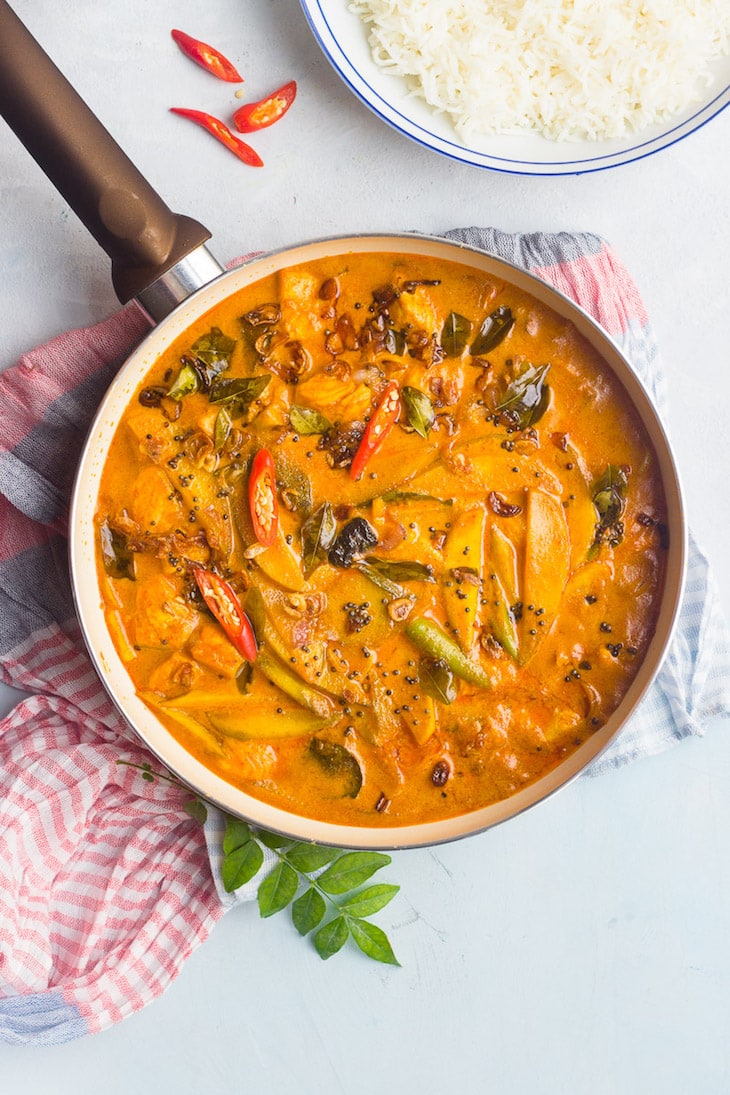 If you like fish curry with coconut milk or Kerala style fish curry, then this is for you. It's healthy and comforting at the same time.
To make this curry, gather all the ingredients in a pan and bring it to a boil. After that, let it simmer on low heat for 15 minutes. That's it. The magic of simplicity.
The flavor of spices, herbs, the tang of raw mango and gamboge gets absorbed into the fish, and the final curry will tickle your taste buds and make your taste buds jump with joy.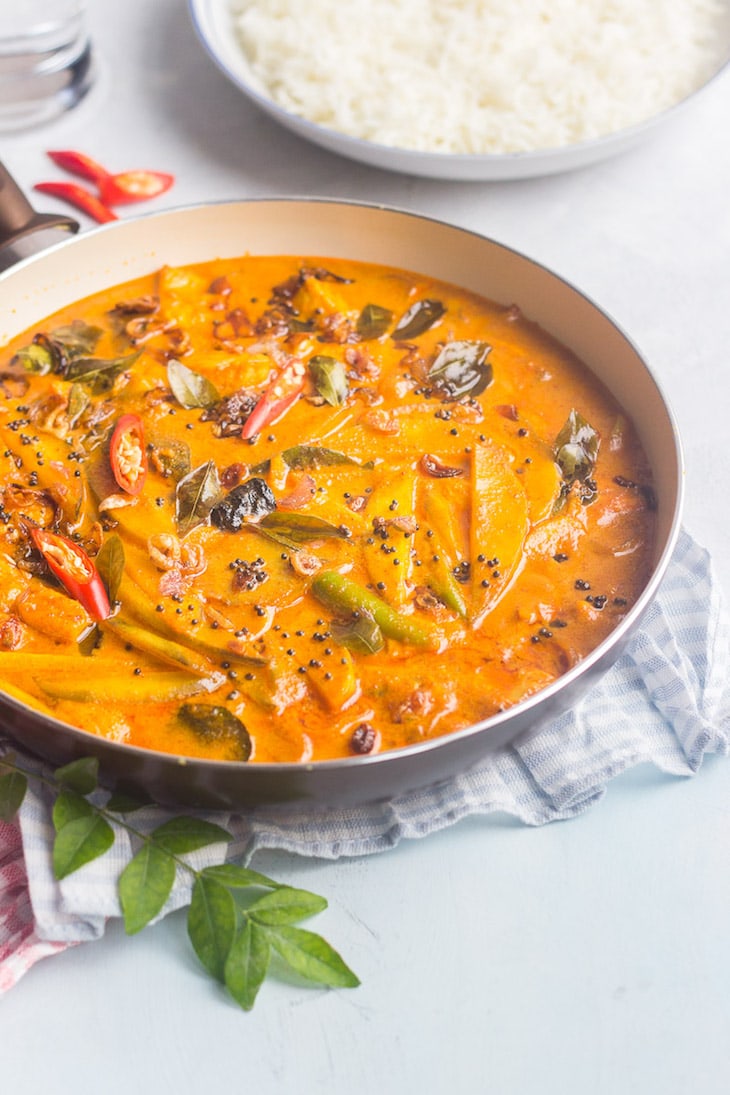 You can add tamarind if you don't have gamboge. Finally, finish it with the final addition of tadka or tempering.
Now imagine these scenarios; a busy weekday when you feel like having something homemade or when you are not well, and you want to treat yourself to something fabulous or a weekend when you want to wrap up your work quickly or whenever you want to delegate the cooking task to your husband.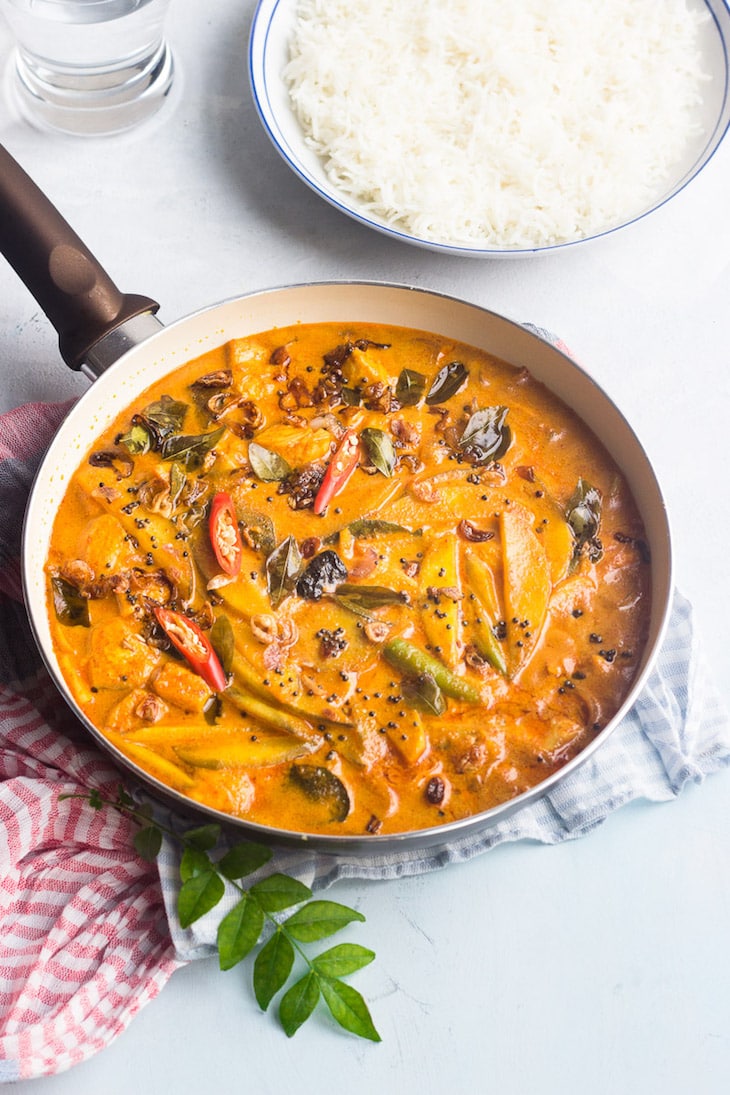 It works like a charm, and it's quite impossible to go wrong with this recipe.
You can use the choice of fish you want, but a cubed fillet works best. Now, if coconut milk is not your thing then try the traditional Kerala fish curry with red gravy.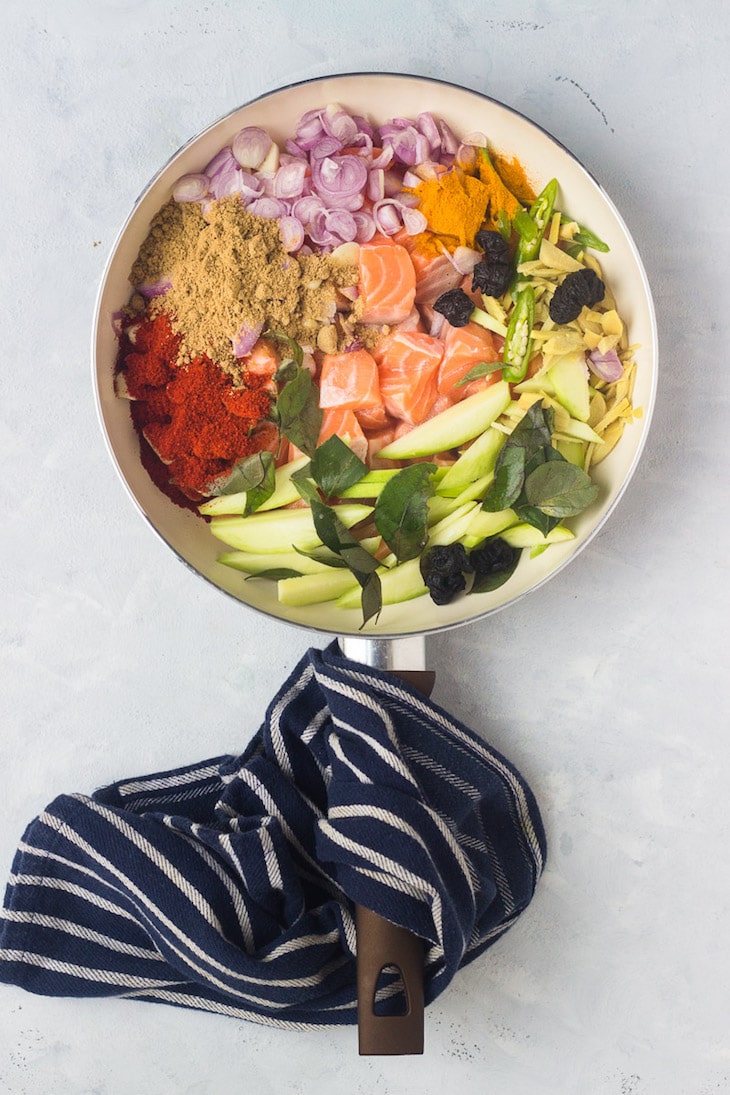 Add all the ingredients to the pan.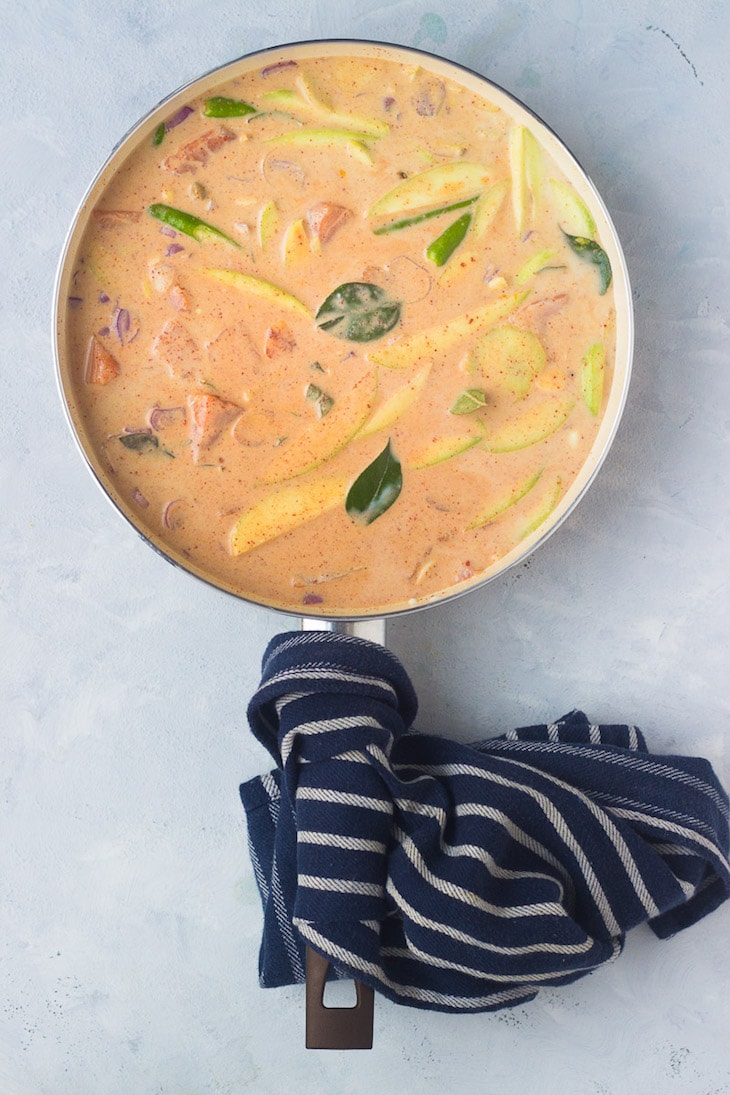 P.S: Check this Weeks blogging tips below the recipe: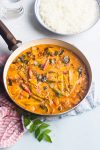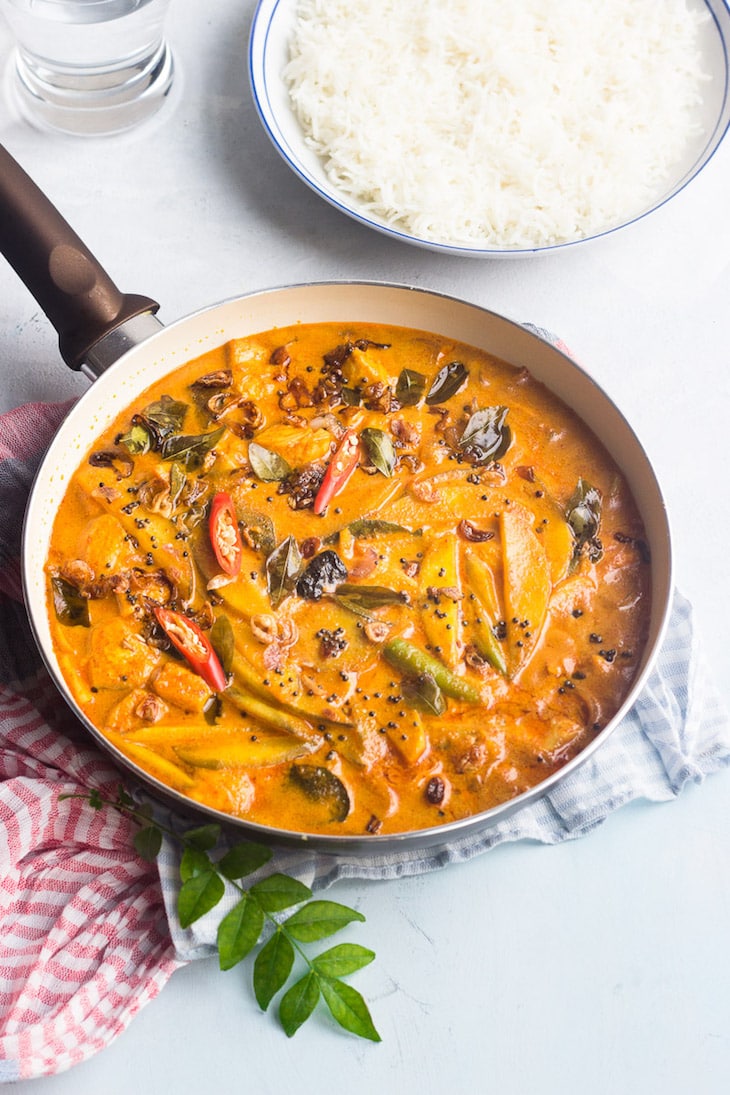 Salmon Curry with Coconut Milk
The Salmon Curry with Coconut milk is the ultimate comfort food. It's tangy, mildly spicy, made in one pan and under 30 minutes. Seriously! Can making fish curry be any easier.
Ingredients
1/2

kg

(500g) salmon fillet, cut into cubes

Please refer notes

1

(1/2 cup)

raw mango, sliced

10

shallots, thinly sliced

1/4

cup

ginger, cut julienne

2

green chillies

2

sprig

curry leaves

(can sprinkle coriander leaves in the end)

1

tablespoon

coriander powder

1 and 1/2

tablespoon

red chili powder

1/2

teaspoon

turmeric powder

600

ml

coconut milk

1 and 1/2

teaspoon

salt, or to taste

3-4

gamboge or 2 tablespoons tamarind pulp

(Please refer notes for substitutes)

FOR TEMPERING OR TADKA

2

tablespoons

oil

2

tablespoon

mustard seeds

1

sprig

curry leaves

2

shallots, sliced

4

dried red chilies
Instructions
Add all the ingredients to a pan (Except tempering ingredients) and mix it up.

Place on heat and bring it to a boil. Let it simmer for 5 minutes. Turn the heat to low and cover the pan with a lid. Let it cook for another 15 minutes.

FOR TEMPERING: Add oil to a pan. Add mustard seeds. Once it crackles, add curry leaves. Add this to the finished curry.

Serve the curry warm with rice.
Recipe Notes
Fish choice: Salmon,  kingfish, mahi-mahi cubes are ideal for this curry. If you don't mind the thorns, then you can use whatever you like.
Gamboge is tamarind which is used in Kerala style fish curry. The purpose is to give a tang. So you can use the standard tamarind pulp. (Galangal, lime leaves, and lemongrass can be used too.)
Instead of curry leaves, you can add coriander leaves or cilantro once you turn off the heat.

TIT-BITS OF BLOGGING:
Let me give you some insights into the type of DSLR Cameras.
The two main types are cropped sensor and a full-frame camera.
Now if the terms completely went over your head, I understand. I have been there, and so does everyone who is starting out.
I came across this term only recently and understood the limitations of the cropped sensor cameras when I started taking professional photography projects.
Check this out if you are interested or planning to buy a DSLR.
https://www.slrlounge.com/workshop/crop-vs-full-frame-cameras/
If you only want to know this concept and avoid the techy stuff fast forward to 4.30 seconds :).
The Price:
Cropped sensor cameras are cheaper than full-frame cameras and are a good choice if you are starting out and on a budget.
If you have any questions, please leave a comment or hit the contact button and I will get back to you.
Don't forget to subscribe to get some bonus insights.