When you want your dinner ready in Less than 30 Minutes, make this easy Shrimp Tacos with Cilantro Garlic Mayo. Shrimp cooks faster, and additionally, the Garlic Mayo makes this too good.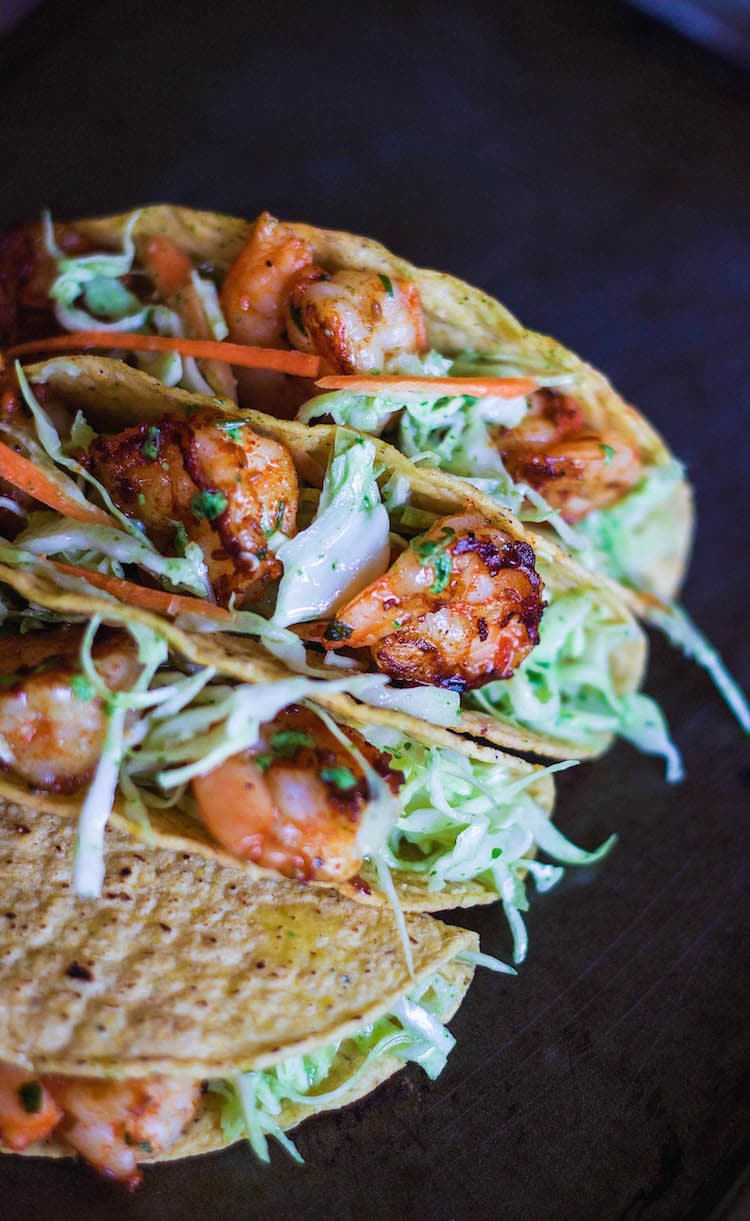 These SHRIMP TACOS are worth every bite.
BEST DAYS TO GO GROCERY SHOPPING
Recently I walked into Publix on a Thursday and found many items on buy 1 get one free sale. Things like chicken breast, which you know can be pretty expensive, bacon, oil, and lots of other things. Moreover, If you like to work on a budget, then this is it and who doesn't like to save some extra cash?.
I like to read the 10 point or 15 point articles, the one that says, ten things to keep your house clean and organized, ten things to save money on groceries, or 5 things to maintain beautiful skin. Just an example folks, but let me tell you that information are to the point and often worth following. I had read in one of those articles that Thursday is the day most stores clear their shelves to bring in new stuff, and that was it. Wow!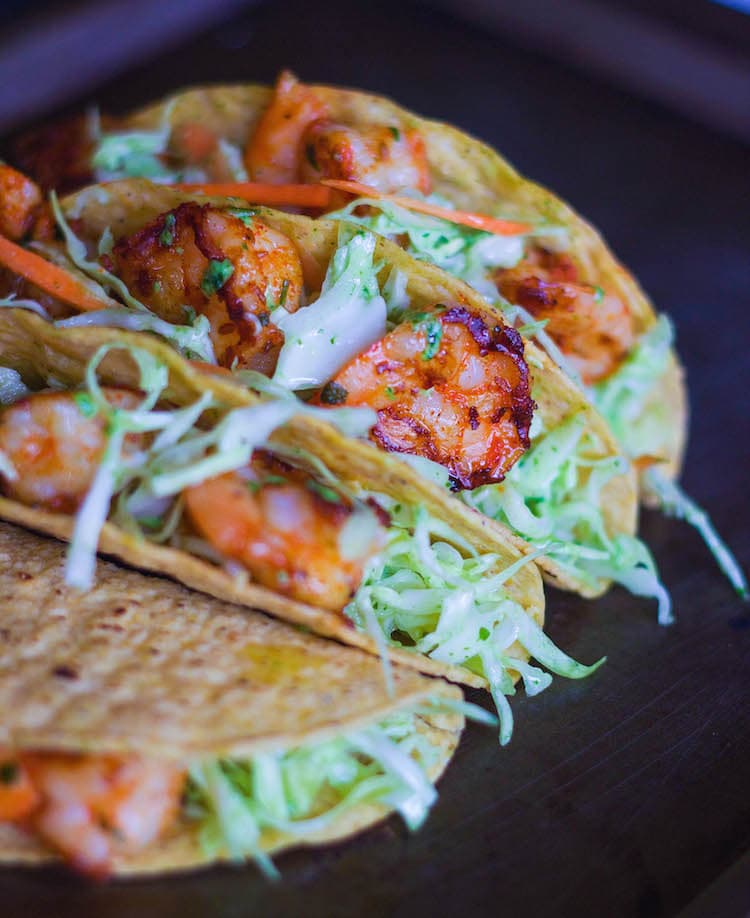 I often did my groceries on weekends for a whole week or a week and a half so that I could save all the extra trips. But eventually I figured out that was the worst things to do. I picked up so many things,  stuff to try new recipes and fresh produce, thinking that I would cook regularly the coming week, or so I thought, but then I ended up stressing about using the ingredients so that it doesn't go waste. O boy – Tossing out food – I hate myself when I do that.
So now I visit grocery stores 2 times a week,  and pick up things for the next 2 to 3 days. I pick up new things only when I am absolutely sure that I have time to make it.
Now, my refrigerator looks clean, less things in the pantry, no wastage and no stressing out.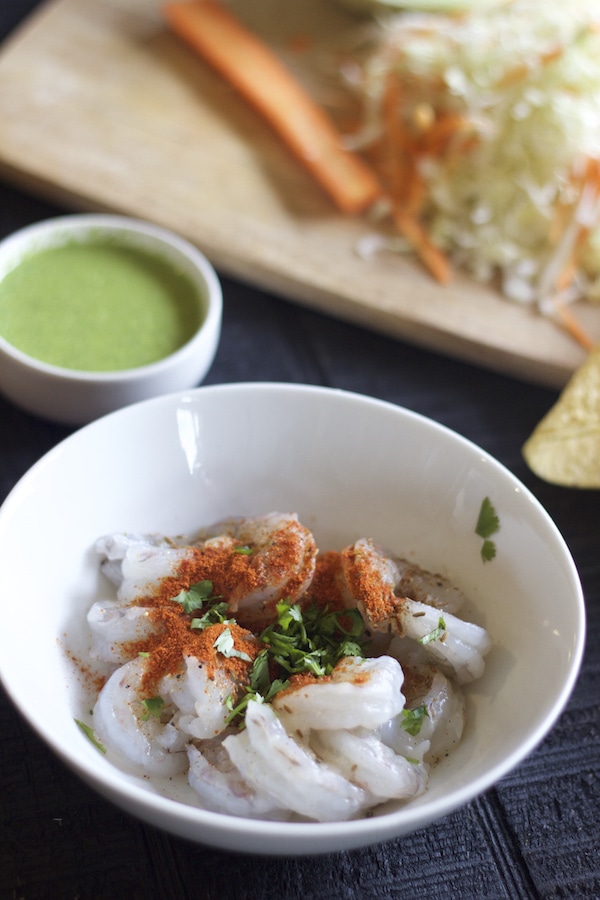 While I was at the store, I ended up picking Taco shells and the thought of making shrimp taco finally became a reality and a darn good one.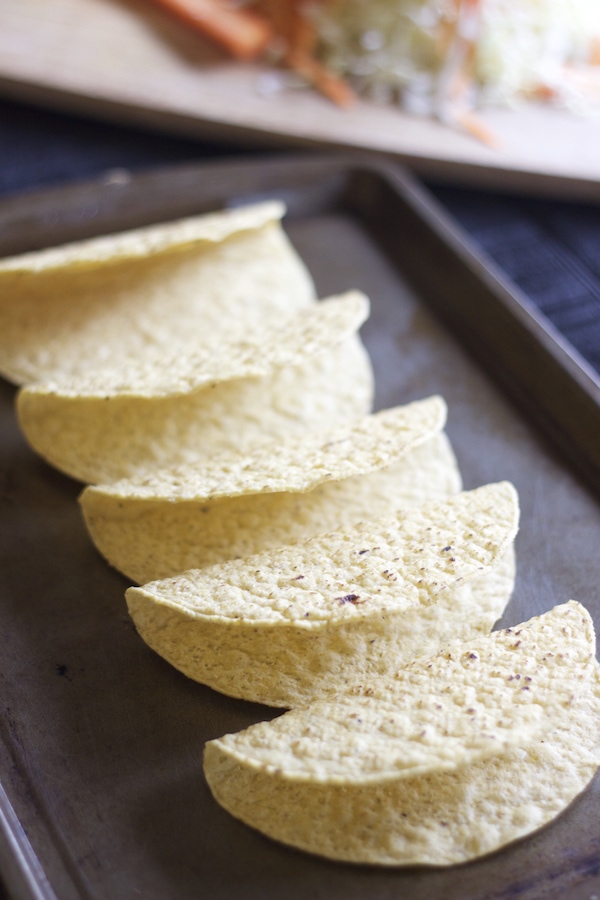 Open the taco shells up a little, line it on a baking sheet and bake it as per the manufacturers instructions.
HOW TO GRILL SHRIMP IN  A PANINI MAKER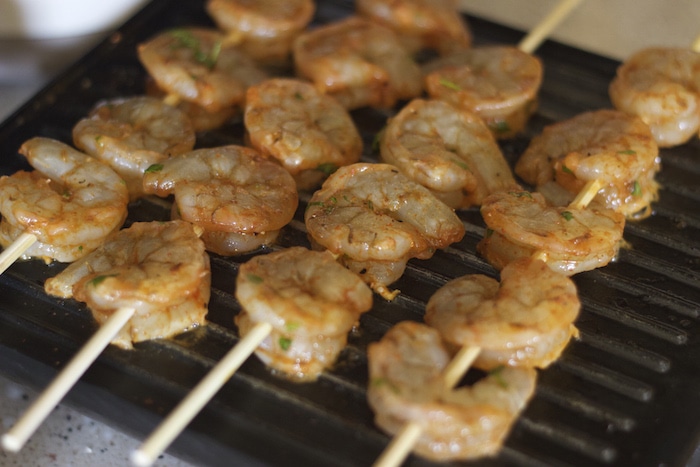 The best thing about Shrimp is that, it cooks faster.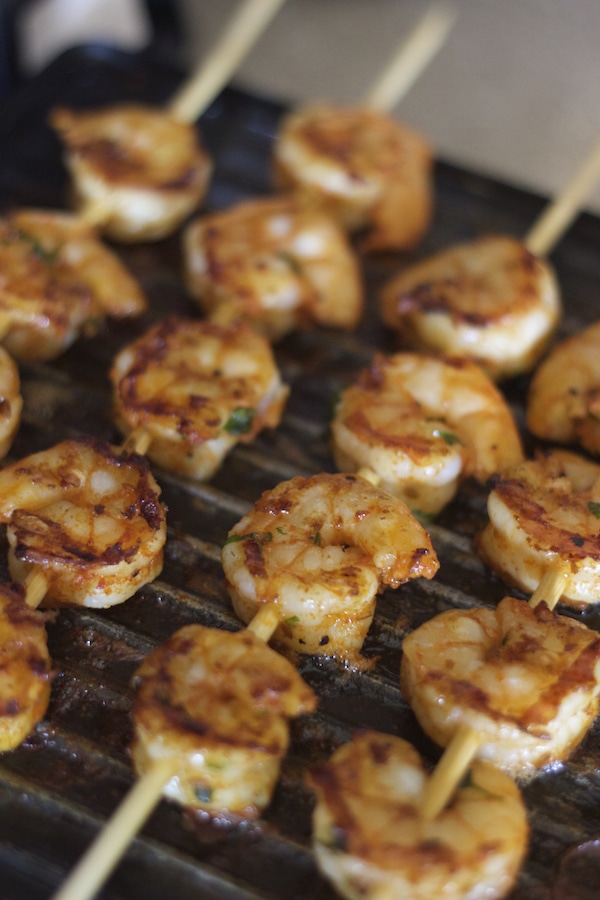 Shrimp marinated with basic ingredients, cooked with beautiful grill marks and served with cilantro and garlic mayo. A grill mark can bring a special appetizing beauty to food, don't you think?, which is why I like to use the panini maker when the outdoor grill is not fired up.
This reminds me of the perfect grilled sandwich made in a panini maker.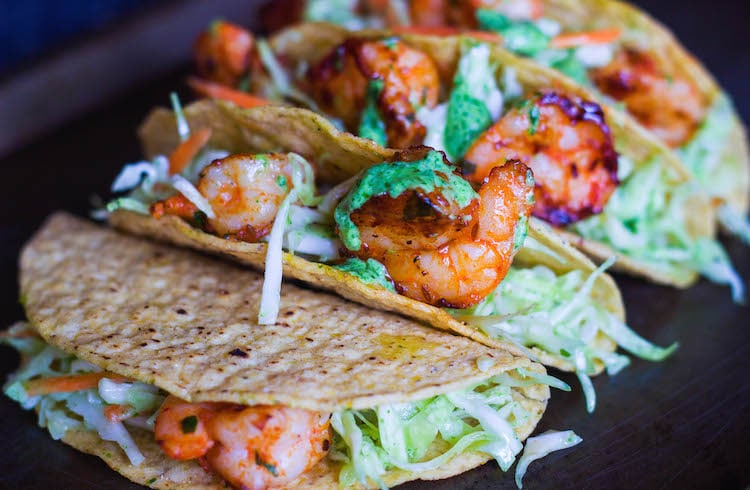 Let today be Taco Night. Happy Tuesday!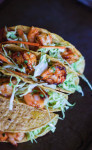 Shrimp Tacos
You can use flour tortillas or Roti and make it into a wrap. Substitute shrimp with grilled tofu or paneer for vegetarian options.
Ingredients
CILANTRO GARLIC SAUCE:

1/2

bunch cilantro leaves/coriander leaves

1

clove

garlic

1/2

cup

mayonnaise

Pinch

of salt

SHRIMP MARINADE:

For 1 cup shrimp

18 Large shrimp

1

teaspoon

lime juice

1

teaspoon

red chilly powder/paprika

1

teaspoon

ginger garlic paste

1/2

teaspoon

pepper powder

1/2

teaspoon

salt

1

tablespoon

oil

ADDITIONAL:

Taco shells

flour tortillas or roti

2

cups

finely shredded cabbage

1

carrot

Julienne cut
Instructions
GARLIC AND CILANTRO SAUCE:

Grind garlic + cilantro with 1 tablespoon of oil to a smooth consistency. Add this to mayo and mix well with a spoon. Add salt and adjust the taste as needed.

COOKING SHRIMP:

Wash and pat dry the shrimp with a paper towel. Add all the marinade to the shrimp, mix well and add the oil in the end. Cover the bowl and keep it in the refrigerator for 30 minutes to an hour. Thread the shrimp onto the skewer.

Brush some oil on the panini maker and place the shrimp on it and grill for 5-10 minutes. (Alternately you can grill the shrimp on outdoor grill, broil in the oven, or brush a pan with oil and cook the shrimp.)

ASSEMBLY:

Add the cilantro and garlic mayo to the shredded cabbage and carrot and coat well.

Spoon the veggies into taco and top with shrimp. Drizzle additional mayo if needed.
Recipe Notes
If you like the taco to be spicy, add some sriracha sauce or chilly paste to the mayo.