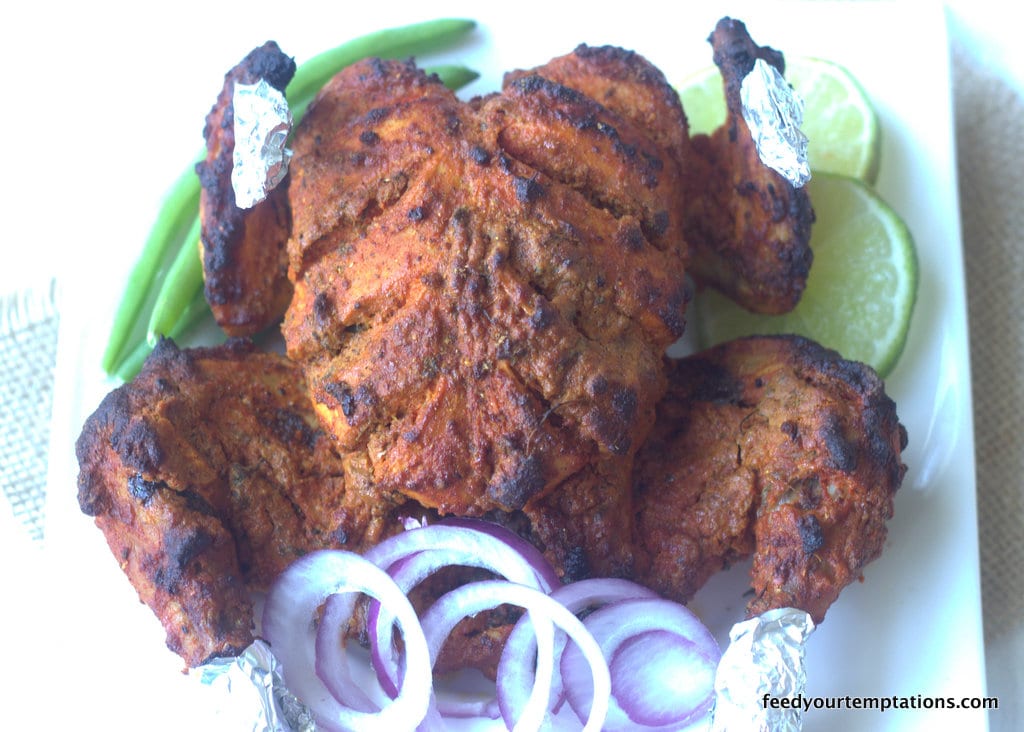 Have you planned the menu for Valentine's day? How about two small grilled cornish chicken for you and your loved one? Does Tandoori chicken sound like a good idea?
Tandoori chicken is the most famous Indian bbq besides the chicken tikka. Tandoor means brick oven in Hindi and hence the name. The chicken is coated with a marinade of plain yogurt and indian spices, and then grilled on high heat to attain a charred look. The yogurt, apart from acting as meat tenderizer, makes the chicken moist and flavorful. Many restaurants add red food color, but adding paprika can give this a good natural red color like the one above. It can be served with roti or rice but the famous combination is tandoori roti.
Try grilling this on an outdoor grill. For that you can get skinless chicken thighs (bone-in preferred and dark meat is more moist compared to the white) which makes grilling much more easier. And you know what, you can also use the same marinade on fish and make  tandoori fish :). Baking time will vary so please keep an eye on that.

Now are you thinking about an easy, but eye-catching and mouthwatering dessert for your Valentine?. Stay tuned for Chocolate pudding for two in my next post.

Have you noticed, I have moved to my own domain Feedyourtemptations.com and this is my 1st post here. Please keep visiting and Happy Grilling!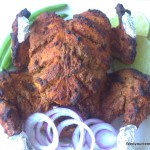 Tandoori Chicken
Ingredients
1.80

pound

approx 1/2 kg chicken (I used whole cornish chicken)

1

st Marinade

1

tablespoon

paprika/kashmiri chilly powder

1/2

tablespoon

salt

1

tablespoon

lemon juice

2

nd Marinade:

1/2

tablespoon

paprika/kashmiri chilly powder

1/2

tablespoon

salt

1

teaspoon

coriander powder

1

teaspoon

cumin powder

1/2

teaspoon

garam masala/all spice mix

1/2

teaspoon

kasturi methi/dried fenugreek leaves

1/4

cup

thick strained plain yogurt or greek yogurt

1/2

tablespoon

lemon juice

1

tablespoon

ginger garlic paste

1

tablespoon

oil

1

tablespoon

oil + 1 tablespoon melted butter

for basting

Chaat masala for sprinkling

Vegetable bed:

medium chunks of potato

celery, peppers, carrots

I used 2 carrots and 2 bell peppers
Instructions
Wash and pat dry the chicken well with a paper towel. Cut big slits on the chicken.

Rub the 1st marinade on the chicken and inside the slits. keep it aside for 15-20 minutes.

Prepare the 2nd marinade without the oil and pour it over the chicken, coat the chicken well. Add 1 tablespoon of oil, mix once so that a good coating forms on top. Cover this and place it in the refrigerator for 2-4 hours.

Preheat the oven to 450 degrees fahrenheit,

Line a tray with aluminum foil, place cut vegetable on the tray so that it can absorb the liquid from the chicken and marinade. Place the chicken on top and pour oil butter mixture genourouly over the chicken with a spoon or brush let it bake for 35-40 minutes until lightly charred.

You will know it done, when the juices from the chicken runs clear.
Recipe Notes
You don't have to use a whole chicken. If you are using cut pieces, chicken will be done in 25-30 minutes.
Chicken tandoori can be served with rice or roti.
Increase the amount of marinade based on the quantity of chicken you are using.
Try using the same marinade to make tandoori fish.
Sprinkle some chaat masala, squeeze some lemon juice on the tandoori before having. Raw onions and tomatoes goes well with this too.
You can make dry tandoori mix by mixing the dry ingredients of 2nd marinade and mixing it with wet ingredients whenever needed.
Vegetarians: you can pass the 1st marinade and apply the 2nd one on tofu and panner. Let it rest for 30min to an hour before grilling. Grilling will take only 10 minutes or less.