Summer is here and so is the time to get your grills out and get things smoking. Nope, I did not cook this on the grill, I baked this and broiled this in an oven but its a good BBQ to try on the grill too. And after all isn't outdoor grilling a guys thing? So since the man of the house is only available on weekends I decided to satisfy my temptations for tikka by baking it in the oven.
Sometimes I wonder why adding yogurt to a marinade makes the meat more flavorful or is it just my taste buds which has adapted to the Indian BBQ. Nah….if it was just my taste buds then chicken tikka and tandoori chicken wouldn't be the most popular items on the menu of many Indian restaurants. And when Britain's official dish is chicken tikka masala instead of their fish and chips there has to be something about this I think.
Marinated chicken ready to go into a preheated oven.
The outcome : Tender, juicy, moist flavorful chicken tikka. Yogurt acts as a natural meat tenderizer.
More chicken Recipes:
Crispy herb coated chicken without deep frying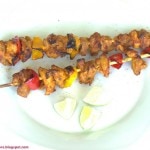 Chicken Tikka
Marination time: 2-4 hours
Ingredients
4

boneless skinless chicken thighs or breast

cut into 1 inch cubes

2

teaspoons

salt

or to taste

3

teaspoons

lime juice

2

teaspoons

red chilly powder or paprika

2

teaspoons

ginger garlic paste

1

teaspoon

garam masala powder

Garam masala recipe

1/4

teaspoon

turmeric powder

1/2

teaspoon

coriander powder

1/2

teaspoon

kasturi methi powder / dry fenugreek leaf powder

optional

1/4

cup

thick strained yogurt or greek yogurt

1

tablespoon

oil

preferably mustard oil

oil for brushing

chaat masala for sprinkling

6

skewers soaked in water for at least 20 minutes

bell peppers or onions
Instructions
Put the chicken in a bowl. Pat dry well with a paper towel. Add 1 teaspoon salt + 2 teaspoon lime juice to the chicken, mix well and keep aside for 20 minutes.

Meanwhile in a bowl, add yogurt + garam masala + turmeric powder + coriander + fenugreek powder + remaining salt and lime juice, mix well with a spoon or your hand. Add this to the chicken and mix well. In the end add oil, mix again. Cover and keep this in the refrigerator for 2 to 3 hours or upto 8 hours. Soak skewers in water at least 20 minutes before you want to start grilling.

Preheat oven to 450 degrees Fahrenheit or 230 Degrees Celsius.. Line a 13 * 9 inch deep pan with aluminum foil. Attach the meat on the skewers, place it on the horizontal side of the pan. This method helps the meat to stay dry when cooking. Brush the chicken with oil on all the sides and place it in the oven for 15-20 minutes. Mine took 15 minutes. At the end turn the oven to broil and broil for 3-5 minutes or till the desired charred or grilled look is achieved. Keep a close eye when using the broil setting. It only takes a minute or two for the food to burn.

Take it out and sprinkle generously with chaat masala. Squeeze lemon if needed. Serve with green chutney on the side or with rice or roti.
Recipe Notes
Coating the chicken well with oil keeps it moist and prevents it from getting dry.
You can bake this in a shallow pan by creating a bed of cut vegetables like potato, carrots etc to keep the chicken dry.
If you don't want to create a bed of vegetables thats ok too. Just rotate the skewers at the end of 5 minutes.
Plain yogurt can be strained either in a muslin cloth or a paper towel placed on a strainer. Pour the yogurt on the towel and let it stay for 30minutes to an hour. If in a hurry pat with paper towel and absorb the moisture. Greek yogurt is nothing but strained plain yogurt.
Few drops of red food color can be used for the restaurant look. For natural color add 1 teaspoon or more of paprika or kashmiri red chili powder.