These cream-filled doughnuts are irresistible and fun to make. Nothing can beat the fresh deep-fried warm bread. Kids and adults are going to love it. To make it easier you can divide the process into two days.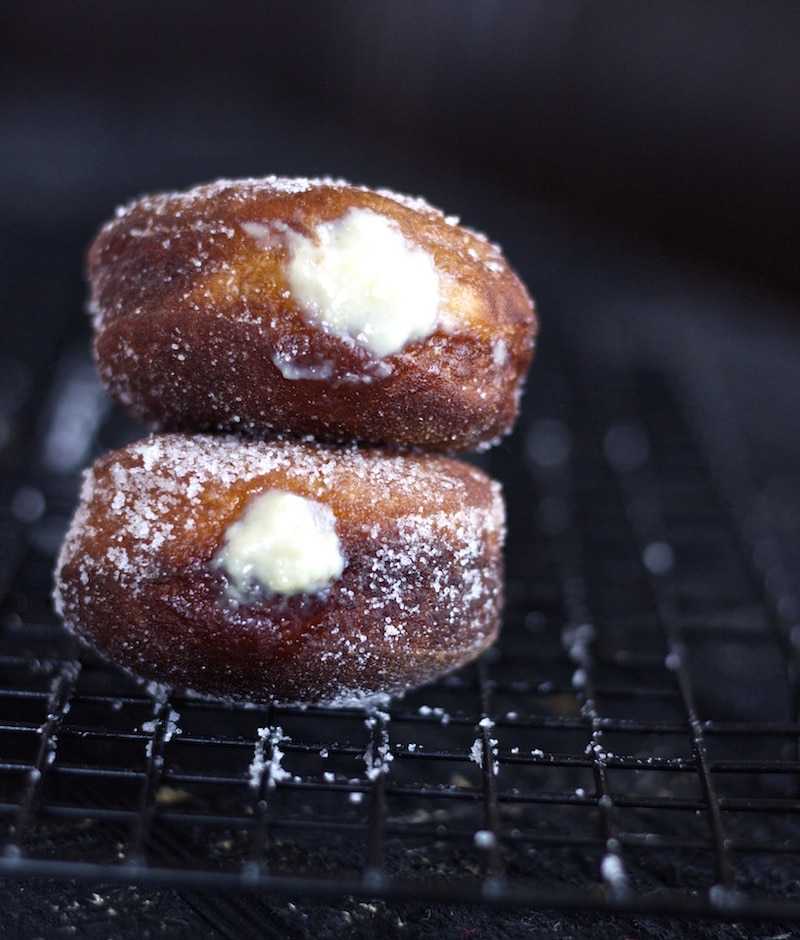 I started crying (in a funny way). Agnel and Nivaan who were too engrossed in their TV show finally turned their attention towards me. 'My Doughnut rose too much', I cried again. Everything was stuck to the parchment paper and I could see small air pockets in the dough which had risen beautifully but only this time, I couldn't lift it to fry. I had a bad doughnut day and it was on New Years.
My plan of starting the new year with my all-time favorite dessert failed miserably. I took some of the dough and however the shape or non-appetizing look it had, I fried it and it did taste great. I knew then that the dough was good, I just have to be careful with the timing.
Soon I did it again, this time after 2 days, when the boys were not home, and I was alone, with only the faintest sound of the refrigerator. I like it that way and I have quite gotten used to that. When I cannot stand the volume of the television, Agnel Jokes, ' You are used to the quiteness of the house and the only sound you hear is the refrigerator'. I totally agree. I like my peace and the quieteness.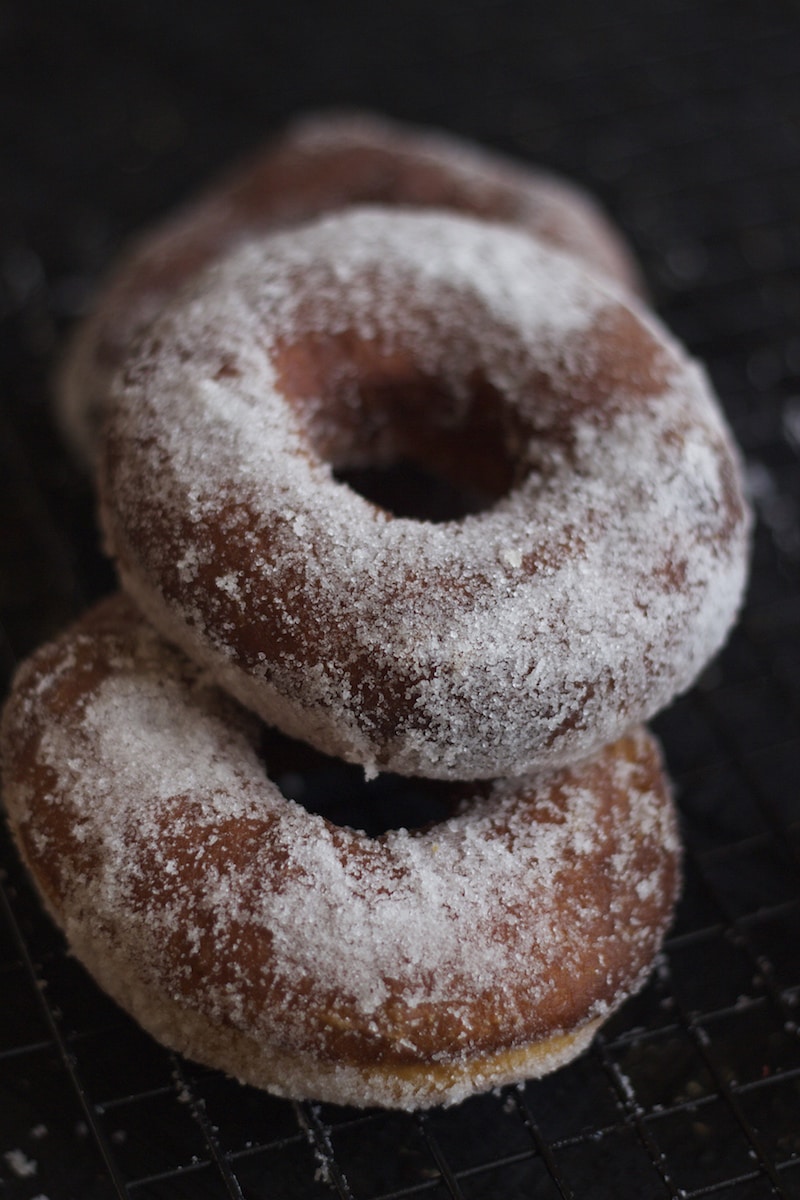 These doughnuts were soft, pillowy and exactly like the way doughnuts are supposed to be. Fill the warm doughnuts with vanilla cream and do I have to even mention the aftermath. Hellooo Donut heaven 🙂 .
Wish you all a very Happy and prosperous New Year:)
May your new year be like these Doughnuts, 'Sweet, Warm and Delicious'.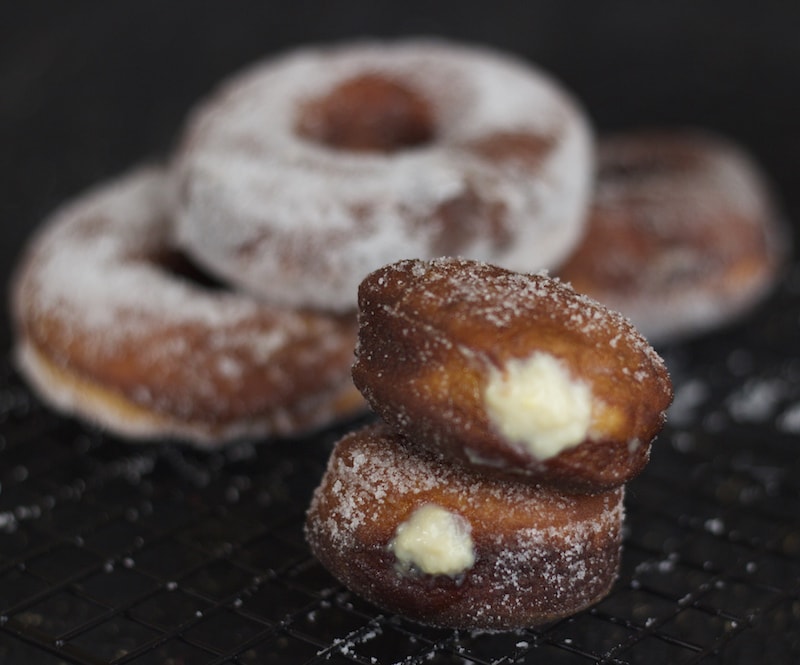 2014 Was a good year for 'Feed Your Temptations'. I got into the blog reform after my long vacation In India. I got a domain name, switched to a paid server, got the site redesigned in November. Now since the bells and whistles are taken care of, I can concentrate on the core part of blogging, yes recipes and pictures.
How to make doughnuts at home?
Making doughnuts is easy. The basic principle used is like the one for bread. You knead and let the dough double in size. Punch down the dough, knead a couple of times and shape into a loaf. In this case, roll and cut into circles, with or without a hole in the center and let it sit covered for another 30-40 minutes until the dough doubles again. Then you deep fry them.
Difference between bread dough and doughnut dough
Doughnut dough is more richer, because it uses milk and eggs. Many people especially bakers, let the dough rise in the refrigerator anywhere from 6-15 hours, before rolling and shaping. When you are making these at home most of the times you just don't want to wait that long.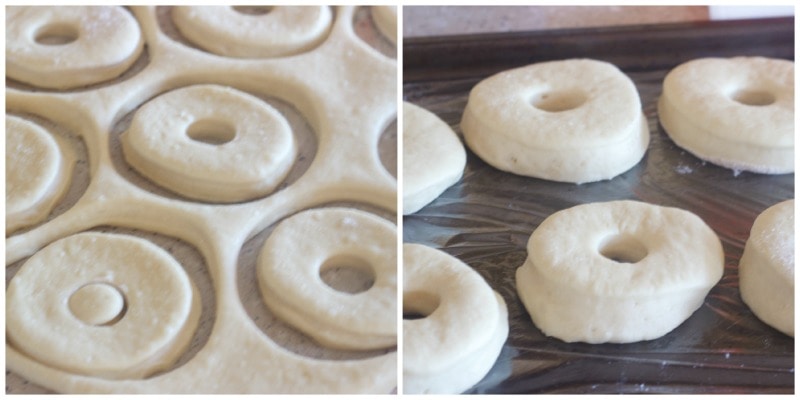 Fry the donut holes separately. You can also cut them into circles without holes in center. The disks without holes makes it perfect for filling. The cream filled donuts in the pics are the donuts without hole in center.
If you don't want to fill the doughnuts or coat it in glaze, just place the donuts in sugar and coat it well. If you are a cinnamon lover, mix some cinnamon powder to the sugar and coat the doughnuts.
Vanilla cream filled Doughnut
Add warm water + yeast + 2 tablespoons sugar in a mixing bowl. let it
Ingredients
FOR THE DOUGHNUTS:

2

and 1/4 teaspoon

1 envelope active dry yeast

1/4

cup

water

2/3

cup

milk

2

tablespoons

butter

1/4

cup

+ 2 tablespoons sugar

1/2

teaspoon

salt

1

Large Egg

3

and 1/2 cups all purpose flour

PASTRY CREAM

1

and 1/2 cup milk

2

tablespoon

butter

1/2

cup

sugar

3

tablespoons

corn starch

1/2

teaspoon

salt

3

Egg yolks

1

teaspoon

vanilla extract

CREAM FILLING

3/4

cup

heavy whipping cream

Pastry cream
Instructions
Add warm water + yeast + 2 tablespoons sugar in a mixing bowl. let it Sit for 10 minutes or till the mixture froths. Meanwhile heat the milk in the saucepan or microwave until tiny bubbles appear on the side. Remove the milk from the heat and add the butter. Let it cool till the milk is warm to touch. (Boiling milk is very important, it makes a difference in the rising of dough). Sift the flour 2-3 times and keep aside.

Add the milk + egg + remaining sugar + salt to the mixing bowl and mix well till everything mixes well. Now add two cups of flour, one cup at a time, mixing and scraping of the sides. Add the remaining one and half cup little at a time, till the dough pulls off the sides of the bowl. The dough should be slightly sticky and soft. (If kneading manually, work the dough with hands or wooden spoon till the dough is sticky and then transfer to a well floured surface and knead in the remaining flour with both your palms. Knead for additional 2-3 minutes)

Transfer into a greased bowl and cover it loosely with a kitchen towel and place it in a warm place for 1 hour 30 minutes to 2 hours or till the dough doubles in size.

Transfer onto a lightly floured surface and knead it 2-3 times. Flour the rolling pin and counter as needed and roll the dough into 1/2 inch thickness. Using a round cutter cut shapes. Transfer the cut donuts onto a tray lined with plastic sheet. Cover loosely and let it rise again for 40 minutes to an hour till the donuts doubles in size. (Keep and eye and don't let it rise too much or you won't be able to lift the dough).

Heat oil in a saucepan to 350 Degrees Fahrenheit/175 Degrees Celsius(medium heat) and add the donuts one by one not crowding the pan and keeping an inch space between the donuts. Fry on each side for 1-2 minutes to till its gold brown.

Transfer onto a paper towel and coat it with powdered sugar and fill it with vanilla cream. Let it cool completely if you are filling with pastry cream.

PASTRY CREAM

Add milk and butter in a saucepan till it simmers.

Mix together sugar + corn starch + salt. To this add egg yolk and whisk well. Now slowly add the milk to the egg mixture, stirring constantly so that the resulting mixture is smooth.

Transfer the entire contents back to the sauce pan and place it on medium heat. Keep stirring constantly till the mixture slightly thickens. Take it off the heat and stir in vanilla extract.

Strain the mixture through a fine sieve to avoid any lumps.

Let it cool. Cover it with a plastic wrap and refrigerate for 4-6 hours.

FILLING:

Whip the heavy cream until stiff peaks form. Lightly fold or beat in the pastry cream.
Recipe Notes
1. The temperature and type of yeast used will yield the results. But you have to remember few things.
2. The dough has to be slightly sticky, elastic and soft. Knead it well but don not overdo.
3. Let the dough rise till it doubles. It might take more of less time depending on where you live and which yeast you use.
5. Once you cut the donuts, cover and let it rise till it doubles again.
6. Deep fry on medium heat. When you add donuts, the oil must be slightly bubbling. Fry for a minute or two on each side. This ensures that the donuts are cooked on the inside without changing the color fast and without becoming soggy.
You can also cut them into circles without holes in center. The disks without holes makes it perfect for filling. The cream filled donuts in the pics are the donuts without hole in center.
You can also let the dough rise in the refrigerator anywhere from 6-15 hours. Then roll and shape. Cover it loosely and let it rise till the donut doubles in size, about 2-3 hours.
Pastry cream can be stored in the refrigerator for 2-3 days.
Homemade donuts taste better the same day. It can get soggy as it sets. Managing steady temperature(350 Degrees F) and frying on each side for 1-2 minutes is key to avoid soggy donuts.