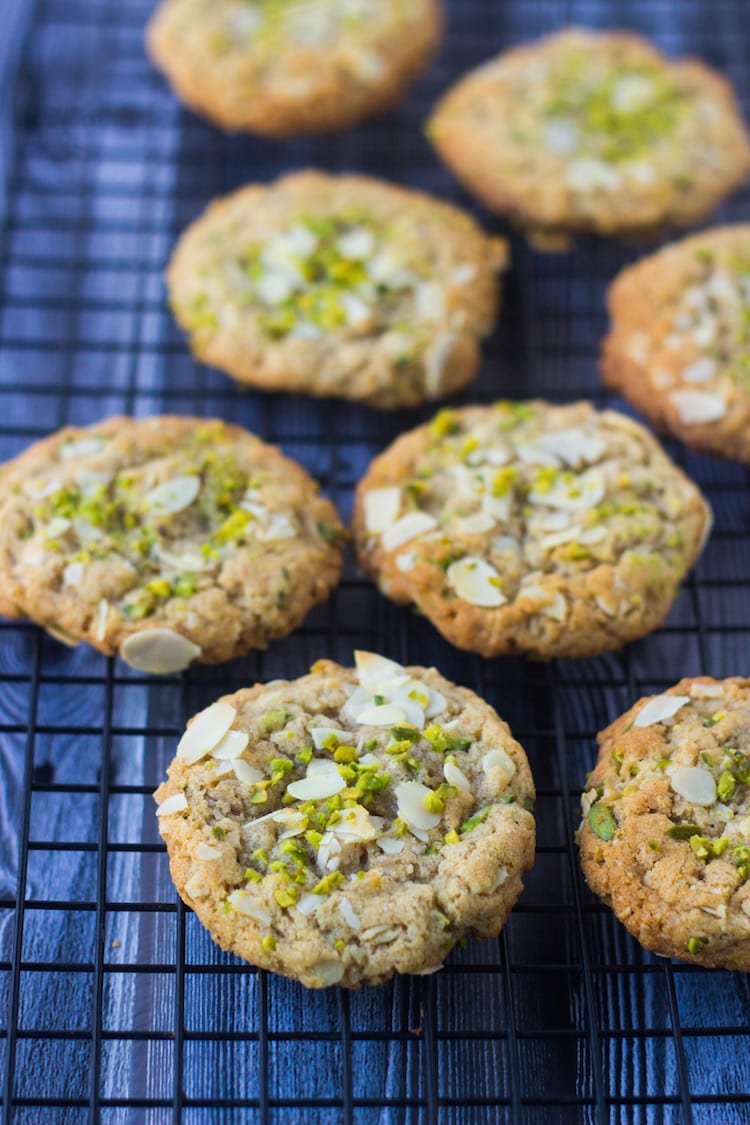 These Almond butter pistachio Oatmeal Cookies are slightly chewy and has the right amount of sweetness. The combination of Almond butter, rolled oats, sliced almonds and pistachios makes this cookie one of the best and in a way healthy too.
Almond butter is nothing but ground almonds. When whole almonds are added to food processor or mixer and then processed, it turns into powder. The more you mix, the oil in the nuts are released and makes it sticky and pasty, which gives it a butter like consistency. You can also use this almond butter to spread on your toast or on sandwiches.
My Son is a very picky eater, most of the 6 year olds are, but sometimes his choice of food will amaze you. For instance, when he orders grilled fish from the main menu instead of chicken tenders from the kids menu.  Not to mention, the servers are surprised too because it not everyday that they meet kids who would choose fish over chicken.
Feeding him vegetables can be a daunting task but again he cannot get enough of carrots and cucumbers. For all other veggies, I add it to daal/lentil curry and disguise it by whisking it, so no more vegetable chunks and that way the mom in me is satisfied that atleast his veggie needs are met. Guess this is one of the many ways we moms get our kids to eat their vegetables.
I would love to know if you have more ideas?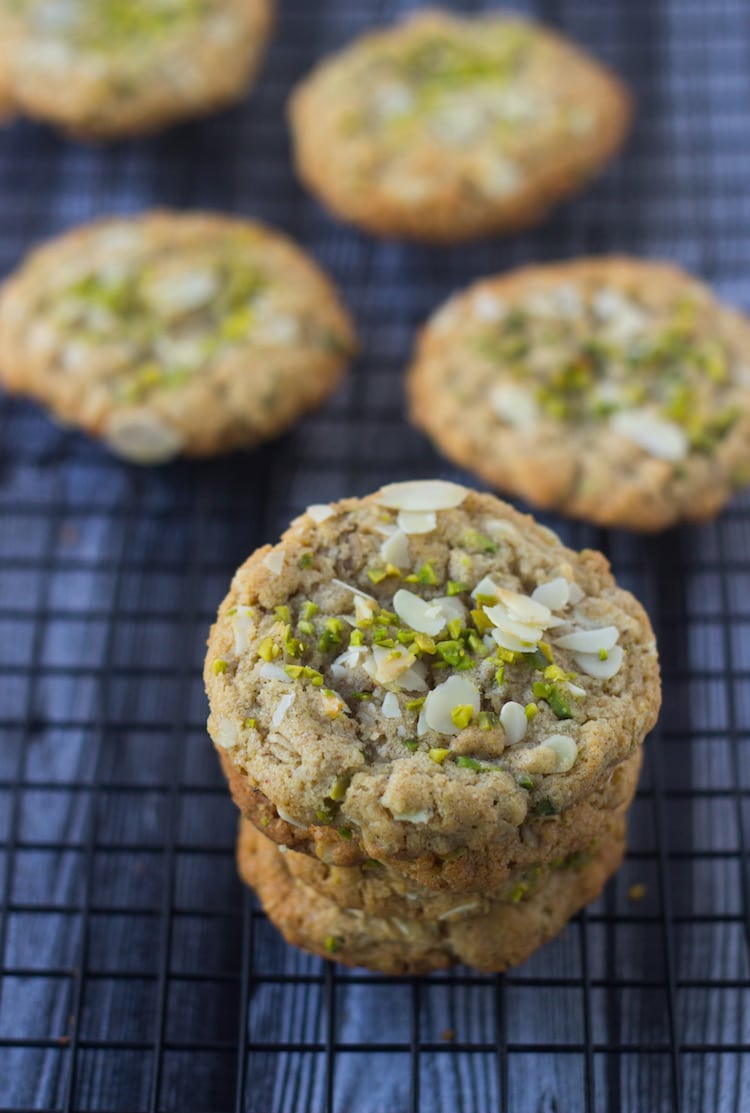 Fruits are something which we never had to insist on. Knock on wood. Nivaan loves fruits so much that whenever we walk into the fruits aile, he goes nuts. He wants to have every other fruit in our shopping basket. I have never seen him go crazy or get excited for candies.
When we were expecting Nivaan and during the 1st few years of his life we had a pet bird, a beautiful sun conure, who adored fruits. Well, parrots do. Agnel and I joke that this guy has inherited Suri's genes. Its also said that your kids tend to like what you have eaten when they were in your womb or while you were nursing them. If that is true then the credit goes to my dad who would serve me flawless fruit bowl every now and then when I was nursing Nivaan. Yeah, flawless because my dad is a perfectionist and has lot of patience. So the fruits would be perfectly sliced and the oranges would not have a single fibre on them.
On the other hand, if you have a picky fruit eater, then you might want to try this homemade fruit leather – 100% natural with no sugar added.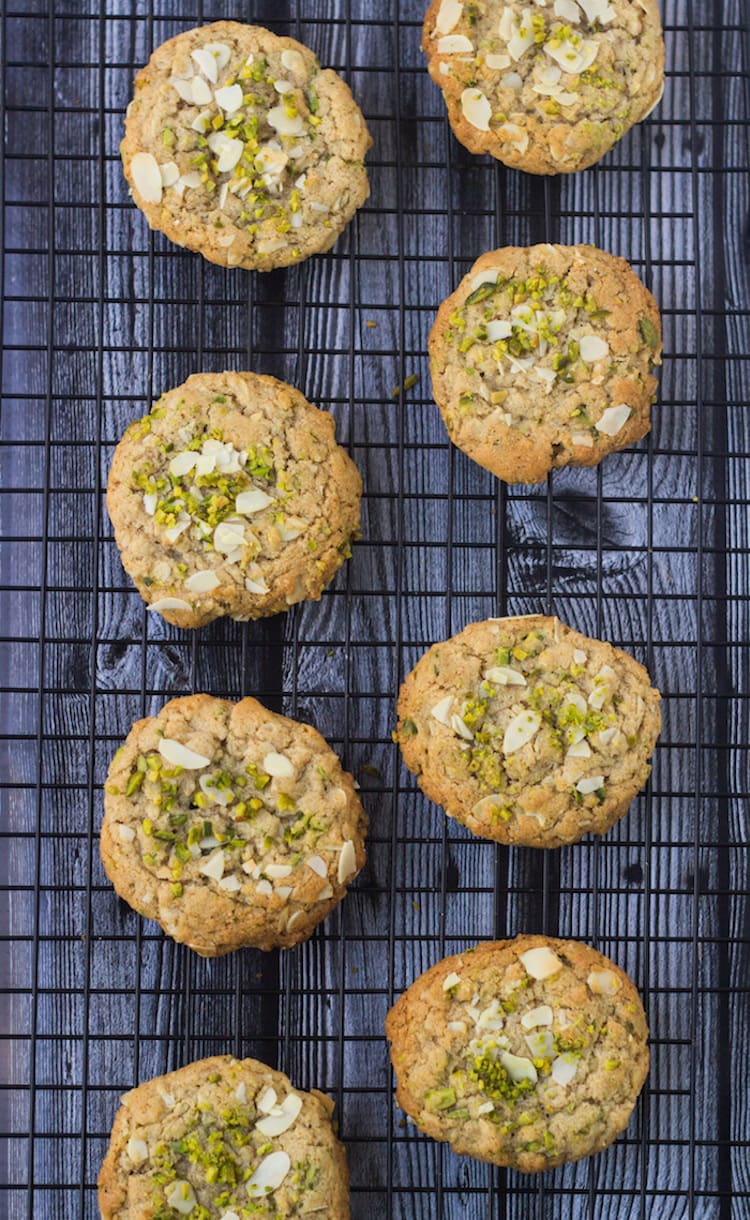 Nuts is another group I wanted to incorporate in his diet, but he never seemed to like it. I tried soaking and grinding almonds and adding to his milk, but that never worked out. This time again he surprised me by gorging down these almond butter cookies. He has never looked beyond chocolate cookies. The Almond butter cookie has become our family favorite too. Agnel and my mom in law cannot seem to get enough of it.
If you like Peanut butter then this peanut butter cookie is a must try. Its another one of my favorites.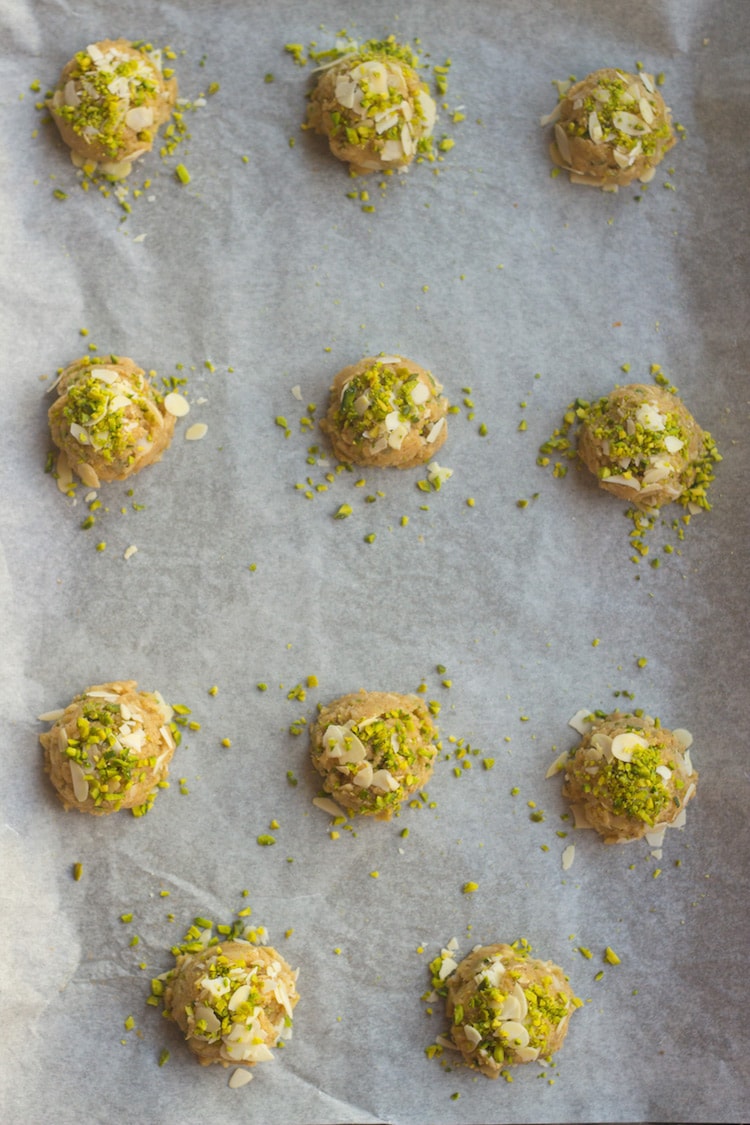 Use a small ice-cream scoop to transfer the dough onto a baking sheet. Place it about 2 inches apart. Sprinkle some chopped pistachios and sliced almonds on top.
Bake at 350 degrees Fahrenheit/175 degrees Celsius for 13-15 minutes.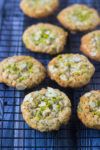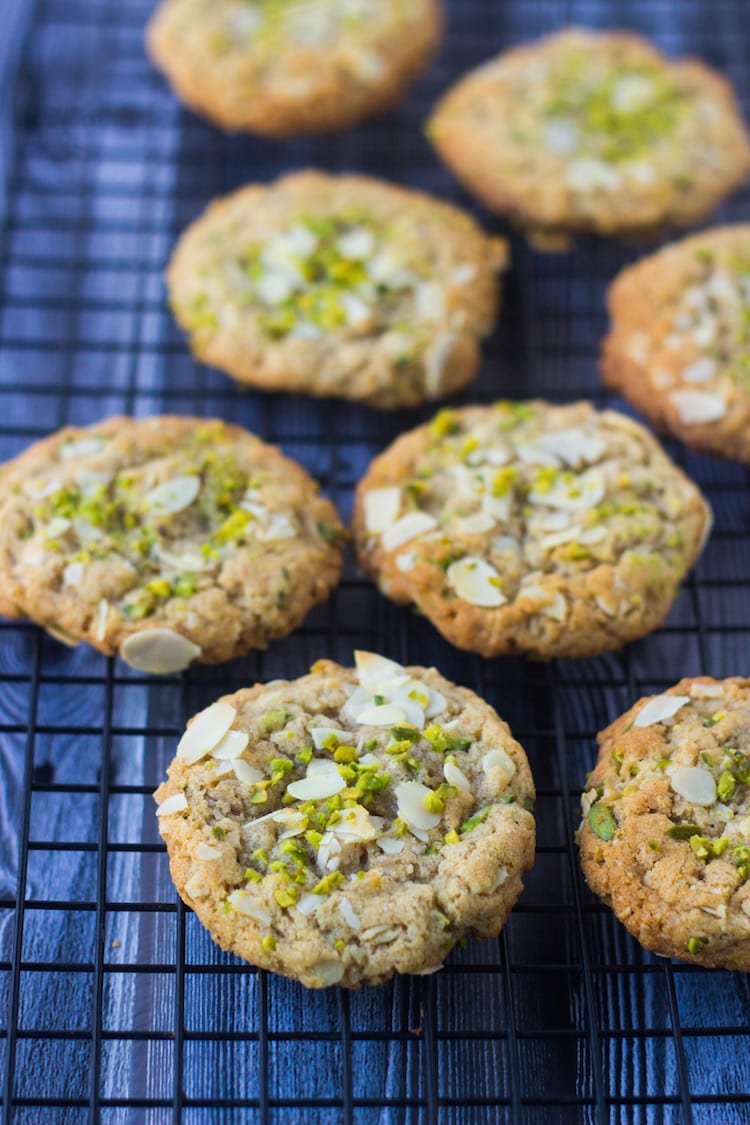 Almond and Pistachio Oatmeal Cookies
Ingredients
1

cup

120g All purpose flour

1

teaspoon

baking soda

1/4

teaspoon

salt

1/2

cup

113g (8 tablespoons) unsalted butter

1/2

cup

almond butter/ground almonds

1 cup whole almonds = 1/2 cup almond butter Ref notes

3/4

cup

150g sugar

1/4

cup

14g brown sugar

1

egg

1/2

teaspoon

vanilla extract

1/2

cup

rolled oats

3/4

cup

sliced almonds

1/2

cup

crushed pistachios

FOR GARNISH

1/4

cup

sliced almonds

1/4

up coarsely ground pistachios
Instructions
Preheat the oven to 350 degrees Fahrenheit/175 degrees Celsius.

Swift or whisk flour + baking soda + salt and keep aside.

In a mixing bowl, beat butter + almond butter until soft.

To that add white sugar + brown sugar and beat till fluffy.

Add egg + vanilla and mix well, but do not over mix.

Add flour little at a time and mix well only until incorporated.

Fold in oats + almonds + pistachios.

Using a small ice-cream scoop or spoon, scoop about 2 tablespoons of cookie dough, 2 inches apart onto a baking sheet lined with parchment paper/wax paper.

Bake for 13 -15 minutes. Take it out of the oven and let it stay on the baking sheet for additional 5 minutes.

Transfer onto a wire rack to cool. Let it cool completely before you transfer into an airtight container.
Recipe Notes
For Almond Butter: Add 1 cup of whole almonds into a food processor or jar of a mixer. Process until the mixture becomes smooth and creamy. (1 cup whole almonds = 1/2 cup almond butter)
You can substitute peanut butter instead of almond butter.