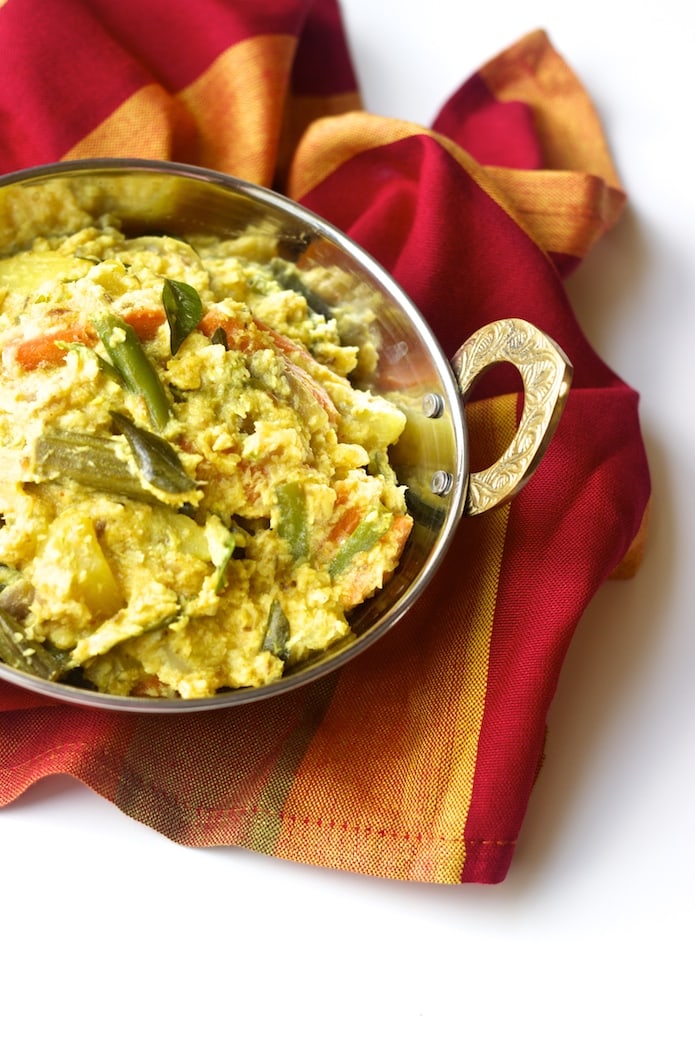 Sambhar (Lentil curry with vegetables) is one  way to use your left over vegetables and Aviyal is another way to do the same . Its an assortment of vegetables cooked with coconut and yogurt and served as a side with rice. Its one of the main curries in Onam Sadya (feast).
I called my mom the morning I was planning to make aviyal, I 'Mom, How do you make aviyal?'.
Mom ' Haven't you made it so many times'.
I ' Yeah but since I don't make it that often, I don't want to miss out any key ingredients or steps since this time I will be posting the recipe on my blog'.
'Okay' she says and gives me a detailed recipe. Well, It was not always like this.
During my last India trip,( that was the 1st time I was visiting after starting my blog), I decided to post some recipes, which my mom was making. My role was to note down the ingredients and steps. She would casually take a spoon and tell me 'see I am adding a teaspoon'.
My reaction would be ' First of all mom, thats not even a teaspoon. Its the size of a tablespoon and you just used a heaped tablespoon. Please use the measuring spoons which I use and give me accurate measurements'.
Mom 'But everyone knows how much spices to add.'
I 'Yeah thats because you have been making this curry all your life'. How about if I ask you to make vada pav or Chicken tikka masala, can you eyeball the measurements and still get good results'. I have learned to make so many things because so many good sites out there have put up perfect measurements and instructions'.
Mom ' Hmm'
and I finally won the argument. Her measurements and instructions were super accurate after that :).
Use the vegetables of your choice. Cut it length wise and about an half inch thick.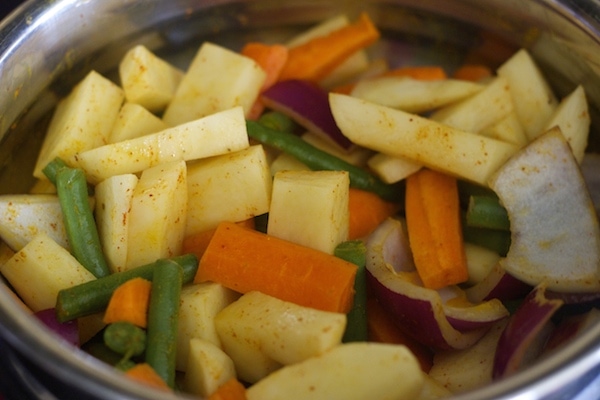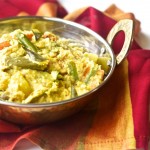 Aviyal
Ingredients
SET 1:

You can use the vegetables of your choice

2

medium size potatoes

10-12

green beans

1

Medium carrot

1

drumstick

2

green chillies

1

teaspoon

red chilly powder

1/2

teaspoon

turmeric powder

1/4

cup

water

1

teaspoon

salt or to taste

SET 2

TO GRIND:

1

cup

grated coconut

fresh or frozen

1

teaspoon

cumin seeds

1

shallot or1/8 piece of red onion

2

green chillies

SET 3

TO SEASON

3

tablespoons

oil

coconut oil preferred

2

sprig curry leaves

1/2

cup

yogurt
Instructions
Cut all the vegetables length wise. Add all the ingredients of SET 1. Mix well, and place this on medium high heat for 5 minutes and then on low heat till the veggies is almost cooked.

Grind the ingredients of SET 2 coarsely with about 1 tablespoon water. Add this to the vegetables. Cover the pan till the coconut cooks . Taste and adjust the salt if needed.

Add the beaten yogurt and mix. In the end add oil and curry leaves. Mix well again. Turn off the heat and cover the pan and let it sit for 5 minutes so that the flavor of coconut oil gets absorbed into the curry.

Serve as a side with rice.
Recipe Notes
I used almost 5 cups of cut vegetables.
If using raw mango, decrease the quantity of yogurt by 1/4 th cup.
Ash gourd, pumpkin, cucumber, raw plantains, yams, brinjal/eggplant, jackfruit seeds are few of the other vegetables that are commonly used.
This curry doesn't use tempering.
Yogurt is added for sourness, so if using mango you can omit the yogurt.
Onions are not used in a traditional aviyal. I had some left overs so decided to put it in.