These are the Best Chocolate Chip Cookies recipe. They are soft and chewy on the inside and slightly crisp on the outside. It's so easy to make.
Bonus: Blogging tips below every post!!!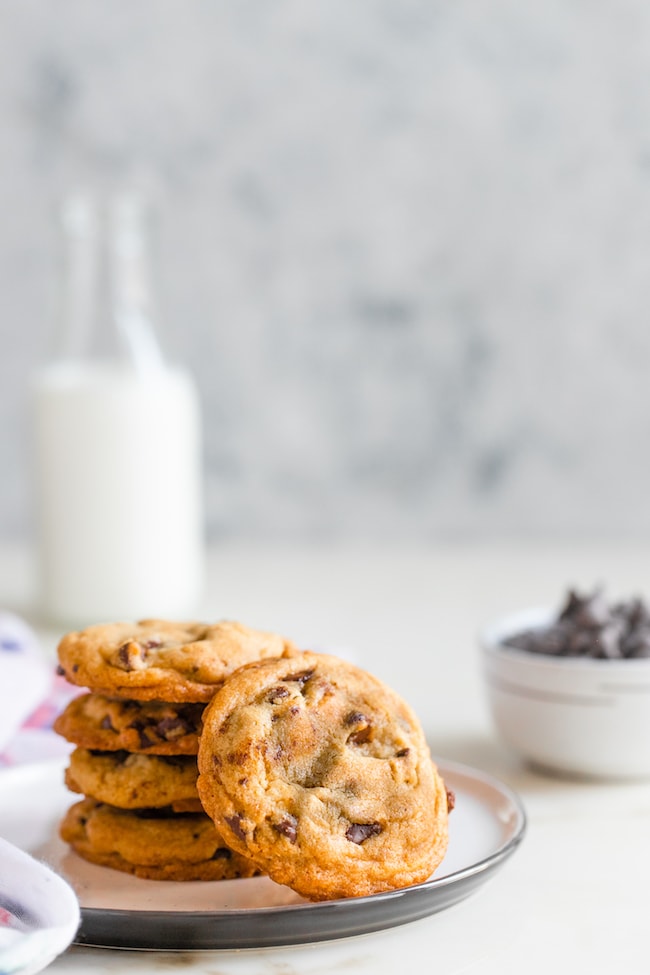 I have been making this chocolate cookies recipe for years now. After a lot of trial and errors, I landed on the perfect recipe. It's simply perfect. Soft and chewy on the outside and slightly crisp on the outside. The texture is to die for.
If you are a cookie lover, then don't miss the chocolate Pizzokie. A chocolate cookie in a pan served warm with ice cream, and salted caramel sauce will take you to dessert heaven. Chocolate Pizookie or Skillet cookie
Now if you are someone who likes the subtle sweetness and lighter cookies definitely try the cranberry and pistachio Biscotti. Oooooh, it's really good.
Crisp and chewy oatmeal cookies are also worth a try.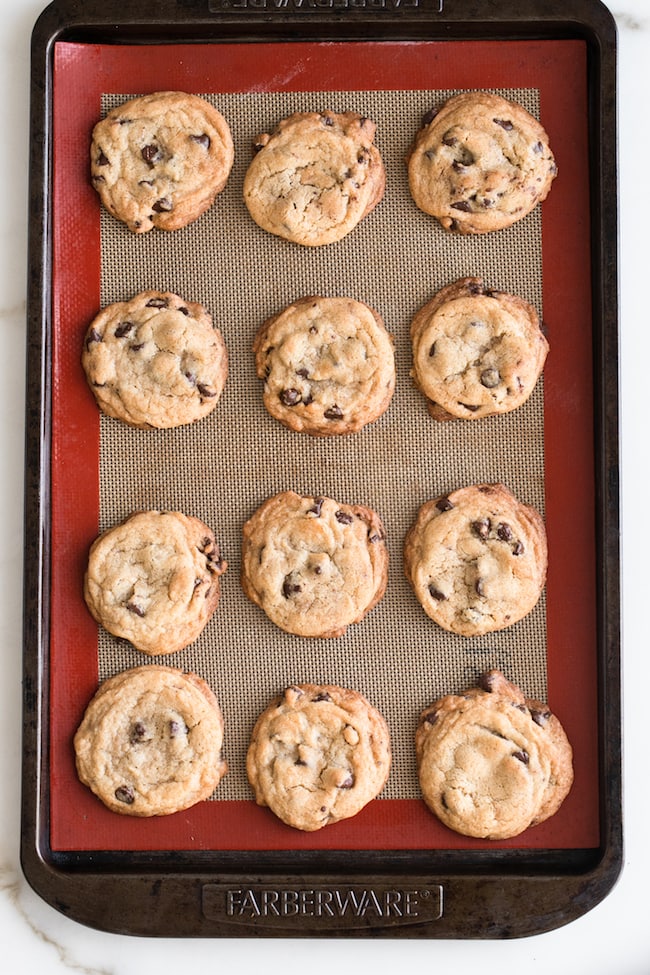 How to get ridges and crinkles on your cookies?
Ridges and crinkles are what makes these cookies the best. For this chocolate chip cookies recipe, the dough has to sit in the refrigerator for at least 2 hours or in the freezer for about 20 minutes to get that perfect look.
It will give you three styles of cookies
If you make it directly without cooling, it will yield a flat texture.
Once you preheat the oven and place the dough on the cookie sheet and place it in the oven immediately. Do not let it sit at room temperature. (If you want to get the texture in the images, follow this method)
Now if you make the scooped dough sit at room temperature for even 5 to 10 minutes, the crinkles and ridges will be less.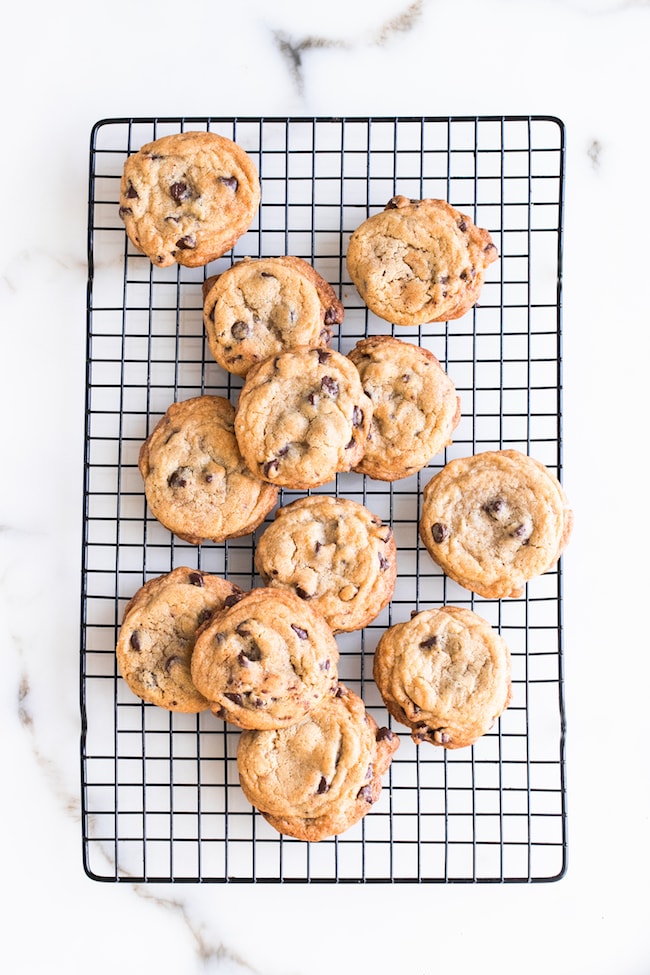 Always let the cookies cool on a wire rack completely before transferring into an airtight container.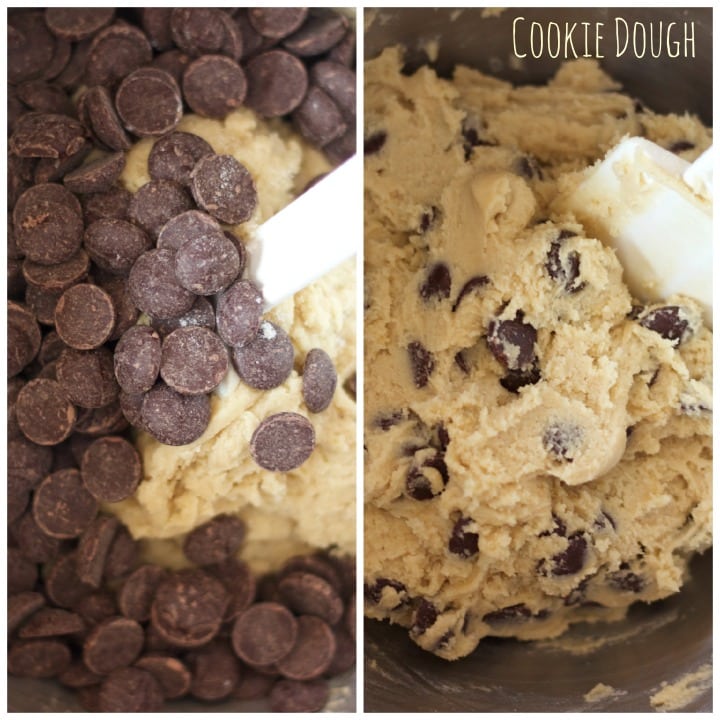 I used Ghirardelli big chocolate chips, but smaller chunks or chips would give the chocolate a more even distribution. Add the chocolate chip cookies in the end and blend gently.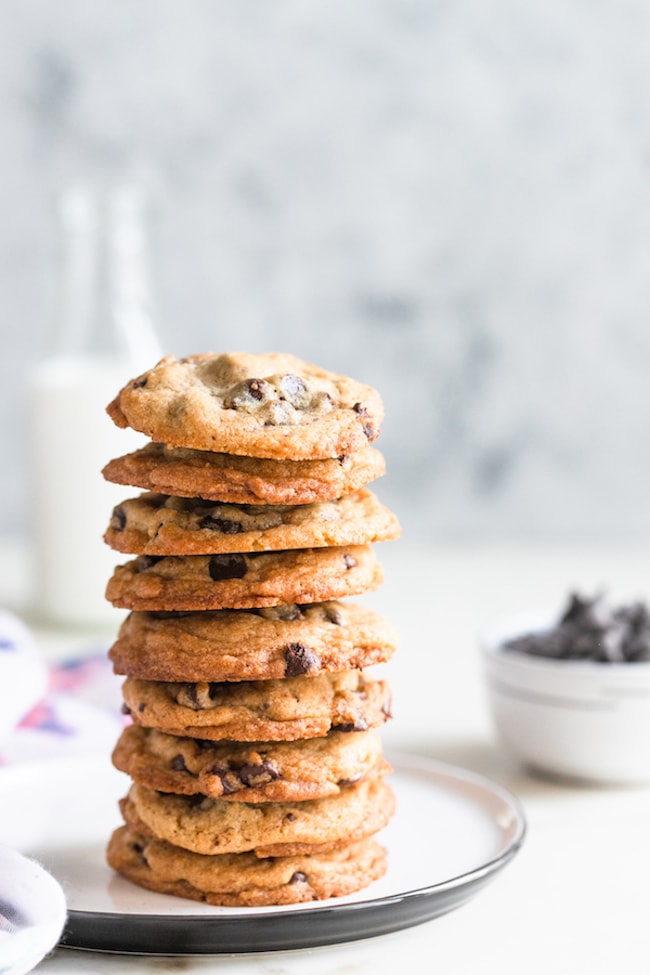 Verdict: You now have the secret to making the perfect chocolate chip cookies ever.
P.S: This Weeks blogging tips
If you want to learn about Food Photography, check out Rachel's Two Loves Studio.
I have taken all her courses and cannot recommend enough for those who are trying to improve their photography game.
Don't forget to subscribe to get recipes and tips delivered straight to your Inbox.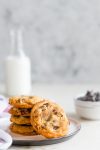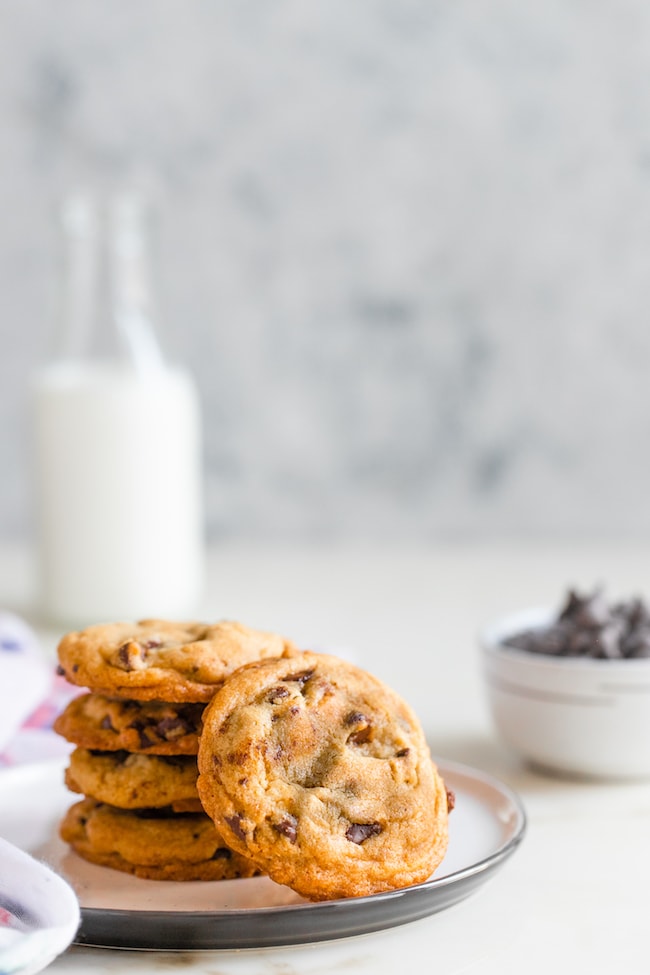 Best Chocolate Chip Cookies Recipe
The Best Chocolate Chip Cookies recipe. They are soft and chewy on the inside and slightly crisp on the outside. It's so easy to make.
Idle time: 2 hours
Servings
:
2
dozen medium size cookies
Ingredients
2

and 1/4 cup

(150 grams) All purpose flour

2

teaspoons

corn starch/Corn flour

1

teaspoon

baking soda

1

teaspoon

salt

1

+ 3/4 stick

or (1/2 cup + 6 tablespoons) or (200 grams) unsalted butter(@ room temperature)

1/2

cup

(100 grams) white granulated sugar

3/4

cup

(37 grams) packed brown sugar

1

and 1/2 teaspoon vanilla extract

1

whole large egg + 1 egg yolk

1

and 1/2 cups chocolate chips
Instructions
Preheat the oven to 350 Degrees Fahrenheit / 175 Degrees Celsius.

Sift or whisk together flour + corn starch + baking soda + salt and keep aside.

Cream together butter + sugar until soft and fluffy.

Add a whole egg and beat only until mixed well. Add the egg yolk and vanilla extract and mix well scraping off the sides.

Add flour little by little to the egg mixture until everything is combined together. (Do not overmix)

Add the chocolate chips and fold it well.

Cover and refrigerate the dough for at least an hour or more for thicker cookies. If the dough has been in the refrigerator, let the cookie dough sit at room temperature for 10 minutes before scooping.

Line a cookie sheet with parchment paper or a silicone mat. Using a cookie scooper or two tablespoons, scoop the dough. Keep it an inch or two apart on a cookie sheet and bake for 10-12 minutes or until the cookies look slightly underdone. Take the cookies out and let it sit on the same sheet for 5 more minutes. (Cookies will continue to cook on the sheet).

Transfer onto a wire rack to cool completely before transferring into an airtight container.
Recipe Notes
You can also store the cookie dough in the freezer for a few months and the refrigerator for 3-5 days (if tightly covered).