The irresistible BRUSCHETTA WITH GARLIC CRISP RECIPE can be made in under 30 minutes. The flavor of garlic oil adds a unique touch.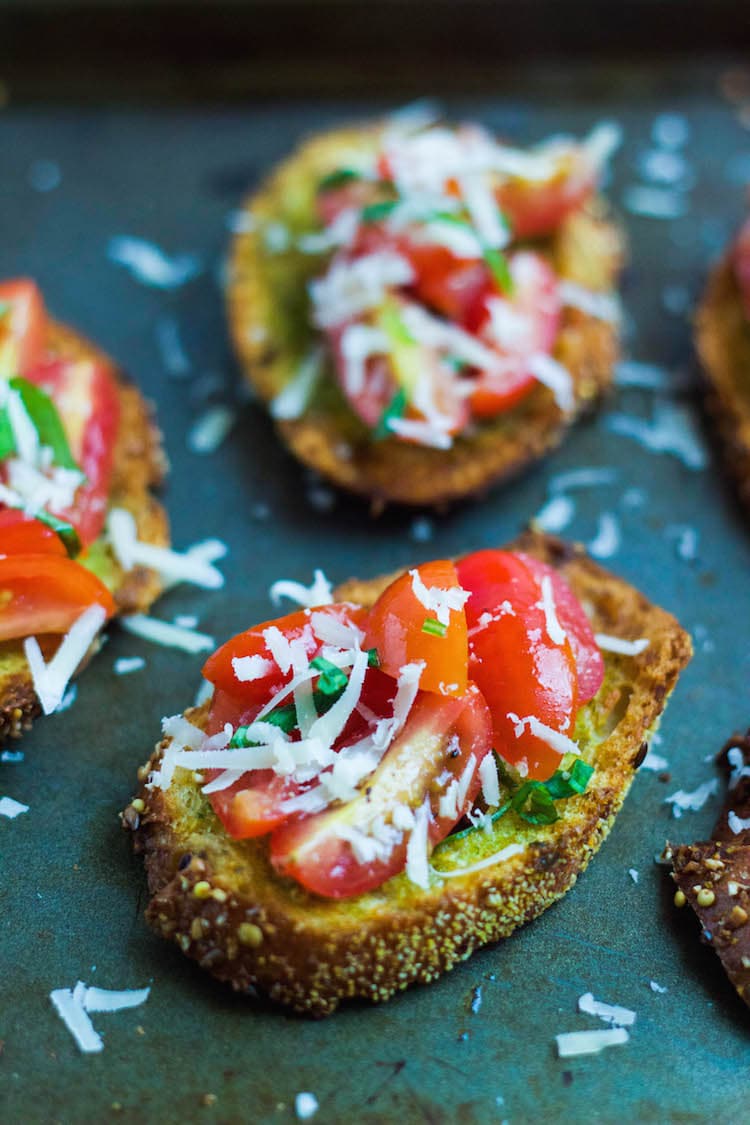 This Bruschetta with garlic crisp is irresistible.
What happens when you add garlic to something and toast it? It becomes awesome and garlicky and the aroma drives you nuts, making you want to dive right into, like this garlic crisps.
Brush individual slices with garlic cilantro oil and bake until crisp. Top it with tomatoes coated with flavors and enjoy this Bruchetta. With the long weekend coming this will make a great appetizer.
Love garlic?, then don't forget to try Grilled Shrimp Taco with cilantro garlic mayo.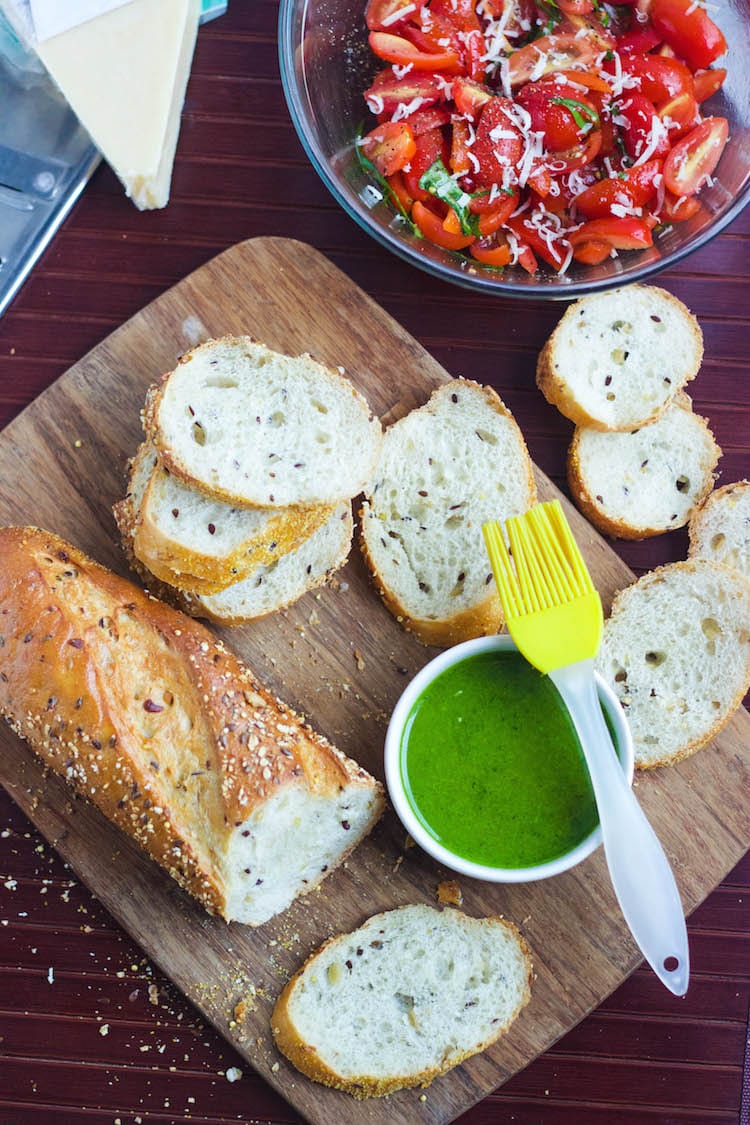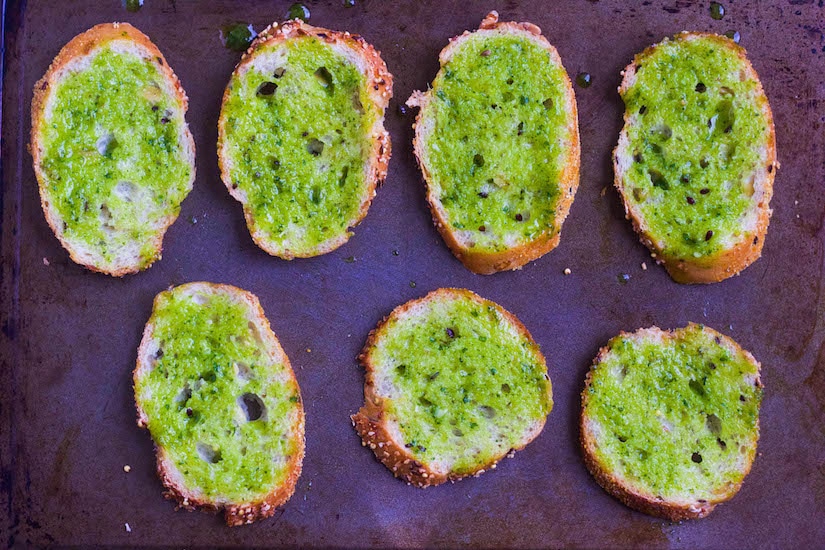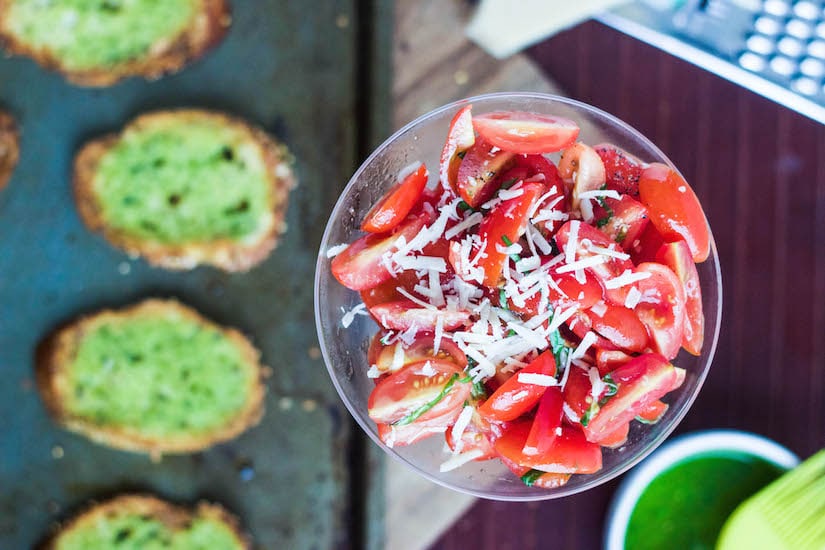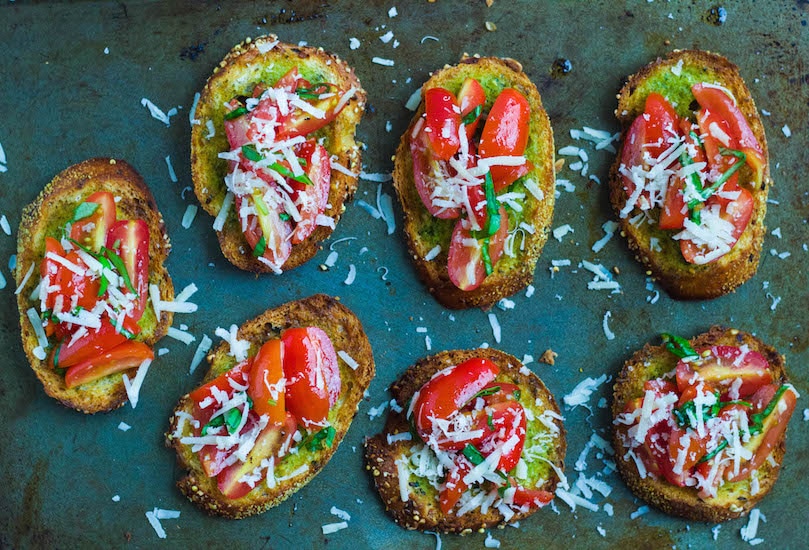 Wanna learn to use your knife like a pro. Check out this FREE Complete Knife Skills with Brendan McDermott on CRAFTSY. I highly recommend this if you want to learn chopping techniques and use your knife efficiently.
Craftsy has lot of other classes like cake decorating, gardening, photography etc etc etc. Its a well structured course. Some of the classes are absolutely free and some are paid. Don't forget to check it out.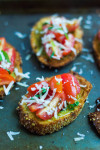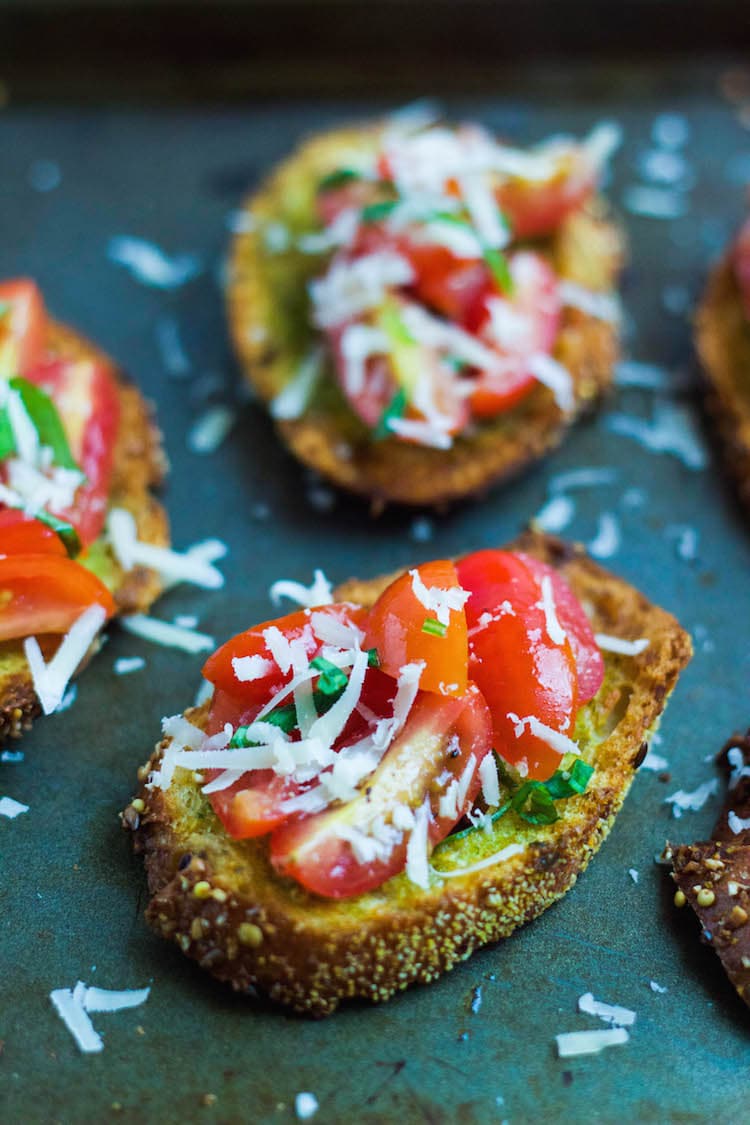 Bruchetta with garlic crisps
Serve the bread on the side and let everyone add their own topping as needed or else the bread will get soggy. Only add the topping on the bread if you plan to serve immediately.
Ingredients
1

baguette or crusty long loaf bread

cut into 1/2 inch slices diagonally.

GARLIC OIL

1/4

cup

olive oil

3

cloves

garlic

1/4

cup

cilantro leaves

1/2

teaspoon

salt or to taste

TOPPINGS

1

and 1/2 cup cherry tomatoes cut into 1/2 or quarters

or other ripe tomatoes

4

leaves

of basil

chopped

3

teaspoons

balsamic vinegar

1

teaspoon

olive oil

1/4

cup

parmesan cheese or mozzarella cheese

shredded

1

teaspoon

salt or to taste
Instructions
GARLIC OIL

Add garlic + cilantro + oil to a food processor and work till the garlic grinds well. Transfer into a bowl and add salt. (Taste and adjust the salt as needed).

TOPPINGS

Mix all the ingredients in the toppings together. Taste and adjust the salt and flavor as needed. Cover and refrigerate till ready to serve.

TOASTING BREAD

Preheat the oven to 375 Degrees Fahrenheit/190 Degrees Celsius. Arrange the bread slices on the baking tray. Brush some garlic oil on top and toast the bread for about 10 minutes or till crisp.
Recipe Notes
You can add mozzarella cubes in the toppings.
**Craftsy is an affiliate link. The views are my own and I have taken the above mentioned course and some of the other courses myself.