A cracked exterior and chewy and fudgy interior. Here comes the irresistible brownies. I like to bake things from scratch and that means I never use box mixes but it was with an exception of brownie mix. One day I wanted to make brownies to take to a friends place and I realized I did not have a box mix at home. Food emergencies I say. Then I thought I should have an easy brownie recipe from the basic ingredients. And that's how this brownie was born.

Haven't we all heard the saying on my toes. That was me today trying to complete a big to do list and at the end of the day still left with another list. And the list never ends. Have you seen the Sienfeld episode in which Neumen cries that the mail keeps coming and coming and it never ends? I jokingly use that phrase again and again but in my case its the dishes and the laundry, a never ending chore.
I can never resist white chocolate in any form.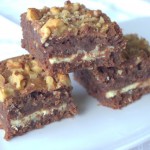 Chewy and fudgy brownies
Ingredients
10

tablespoons

140gm unsalted butter (1 stick + 1/4 stick)

6

oz

1cup(160gm)semisweet chocolate chips

1

cup

200gm granulated sugar

1

teaspoon

vanilla extract

3

eggs

1

cup

120gm all purpose flour

1/2

cup

chopped walnuts

8

oz

226 gm white chocolate bar (optional)
Instructions
Prepare a 9 or 8 inch square baking pan by lining it with aluminum foil and spraying or coating with oil or melted butter.

Melt butter + semi sweet chocolate chips in a heatproof bowl in a microwave or in a saucepan over a pan of boiling water. (It takes about 1 min 30 seconds in the microwave. 1st heat the chocolate for 1 minute, mix well with a spatula then, if needed, microwave for additional 30 seconds)

Stir in vanilla and sugar and mix well with a whisk. The sugar will be granular but that's OK. Now add eggs one by one mixing continuously and well after each addition. Add flour and mix well until just combined.

Pour half the batter into prepared pan. Arrange chocolate squares in single layer on top of the batter. Pour in the remaining batter. Sprinkle with chopped nuts.

Bake it for 40-45 minutes until the brownies leave the side of the pan or when a toothpick inserted in the center comes out with little moist crumbs stuck to it. Do not over bake.

Let it cool on a wire rack before digging into it.
Recipe Notes
If you want to use dark chocolate increase the sugar from 1 to 11/4 cup.
Semi-homemade version:You can use store brought brownie mix and sandwich the white chocolate bar in between the batter, sprinkle with almonds and drizzle with melted white chocolate.
These freeze well too.