I
have always wondered why this dish is called chicken65. Could it be because the chicken is cut into 65 pieces? 'Nah..that cant be true', I knew. Then I found the answer and assuming that's true, This dish originated in south India restaurant and used to be 65th on the menu of the restaurant. When soldiers from northern part of India did not know the regional language, they would refer it to chicken 65 and hence the name.
Did I mention that my favorite chicken dishes are Chicken 65 and Chicken Lollipop. Whats yours?
Hope you try this recipe. Enjoy!
Above, fried chicken ready to be coated in yogurt sauce.
Like Chicken? then try these other chicken recipes:
Chicken tikkas
Herb coated Crispy chicken fry
Chicken cutlets
Chicken ghee roast (Manglorian style)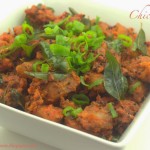 Chicken 65
Resting time: 2-4 hours
Ingredients
Part 1:

3

boneless skinless chicken thighs

cut into 1/2 inch pieces (About 2 handful)

1 1/2

teaspoon

red chilly powder

1 1/2

teaspoon

salt

1/2

teaspoon

garam masala/ All spice mix

Recipe Here

2

heaped teaspoons ginger garlic paste

2

teaspoons

lemon juice

3

tablespoons

corn starch or corn powder

1

egg

well beaten

Part 2:

Mix this ingredients together

1/2

cup

thick yogurt

1 1/2

teaspoon

red chilly powder

use paprika (Kashmiri red chilly powder) for color

1/2

teaspoon

all purpose flour / maida

Salt to taste

Part 3:

3

tablespoons

oil

1 1/2

teaspoon

mustard seeds

1 1/2

teaspoon

cumin seeds

4

green chillies slit

dried red chillies can be substituted

3

sprig curry leaves

Oil for deep frying

Spring onions/ scallions for garnish

Optional

Red food color

Optional
Instructions
Wash and drain the chicken pieces well. Pat with paper towel and dry completely. Add all the ingredients from part 1 into the chicken, except the corn flour and egg, and mix well. Now add corn starch and egg, mix and keep aside for 30 minutes to 1 hour.

Heat oil and deep fry one piece of chicken. Taste and adjust the salt and spices if needed. Fry the remaining chicken on medium till the chicken is cooked and the coating is golden brown.

Meanwhile mix the ingredients in part 2. Taste and adjust the salt and keep aside.

Part 3: Heat 3 tablespoons of oil, add mustard seeds, once that cracks add cumin seeds. Now add curry leaves and green chillies. Saute and add the yogurt mixture into the oil. Add the fried chicken and coat that with the yogurt mixture. Garnish with green onions/ scallions
Recipe Notes
Make sure you adjust the salt when deep frying and in yogurt.
Few drops of red food color can be used in yogurt to acquire the restaurant style.