Aren't we all ready for a change sometime, even if it means a change from the usual all-purpose flour coated chicken strips to a more healthy coating of crushed almonds, sesame seeds and crushed cornflakes. Its crispy, its crunchy. Sesame seeds and almonds are extremely healthy and what more can you ask if you can use the same coating on fish as well. Now doesn't that look and sound good?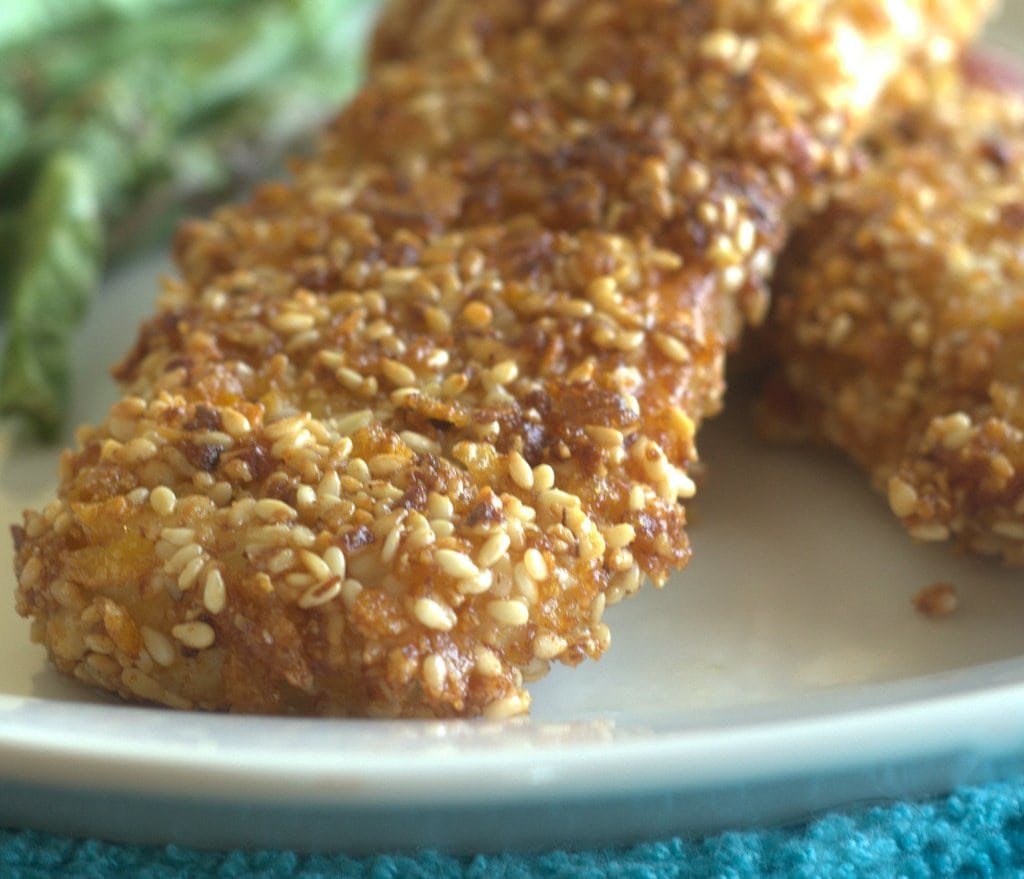 Sesame seeds can be little overpowering for some. But you can always substitute half sesame seeds with almonds. Dip the strips in eggwhites and then coat it with the nut mixture.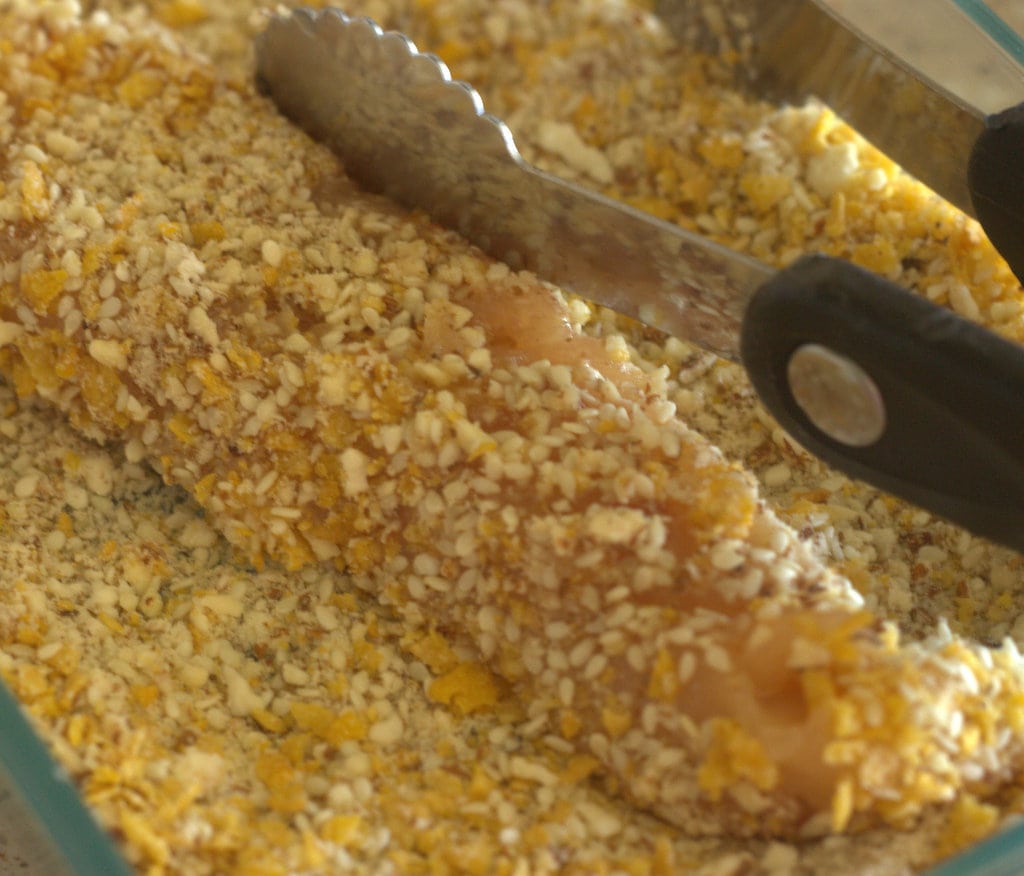 Like I always says, appetizers freeze well. Coat this and place it on a tray lined with plastic wrap and place these in the freezer for 30 minutes. Once done transfer into a freezer safe bag or box. You can take as many you want whenever you want. Imagine having some homemade snacks at home when you don't have time for the prep work. And imagine the early morning lunch box  preparation idea made easy.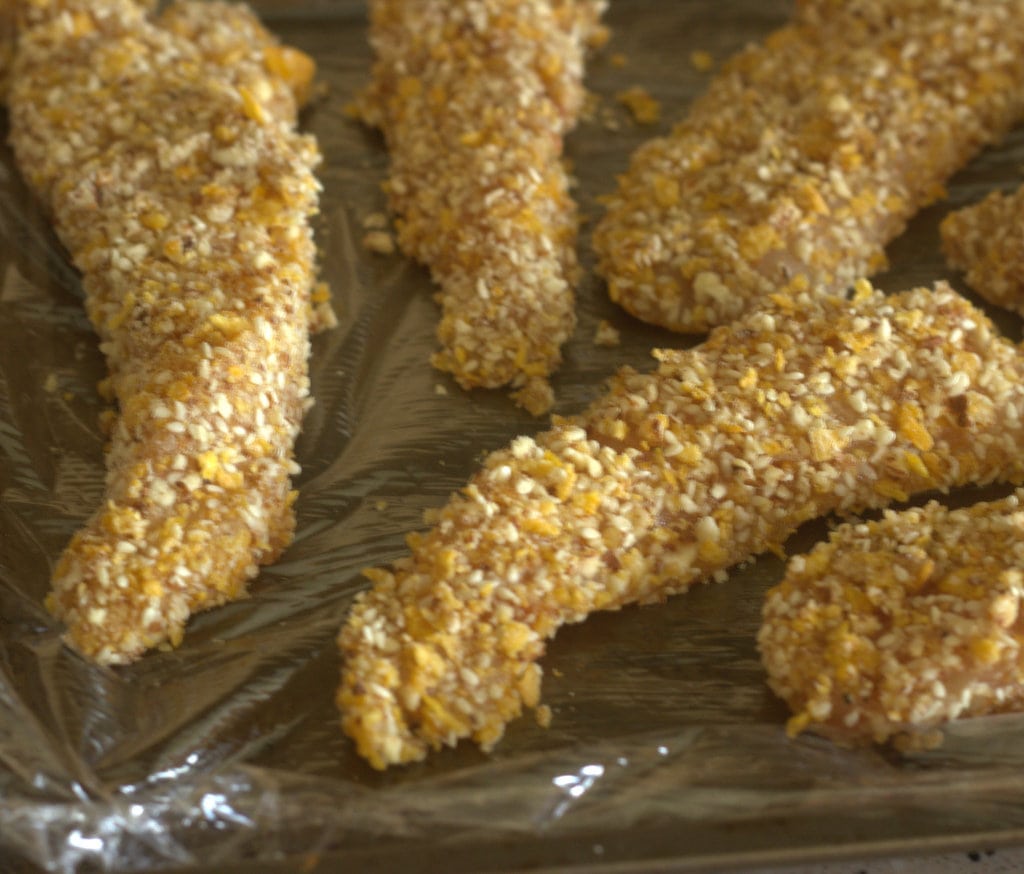 Now, I did think, if kids would like this? You know how kids hardly go for something healthy, if given a choice, but, my 3 year old has approved this :). Planning a healthy lunch for kids, which they will eat, can give you a hard time. So this happens to go on my list of healthy lunchbox ideas along with fish/tuna sticks/cutlets, quinoa cutlets and vegetable cutlets.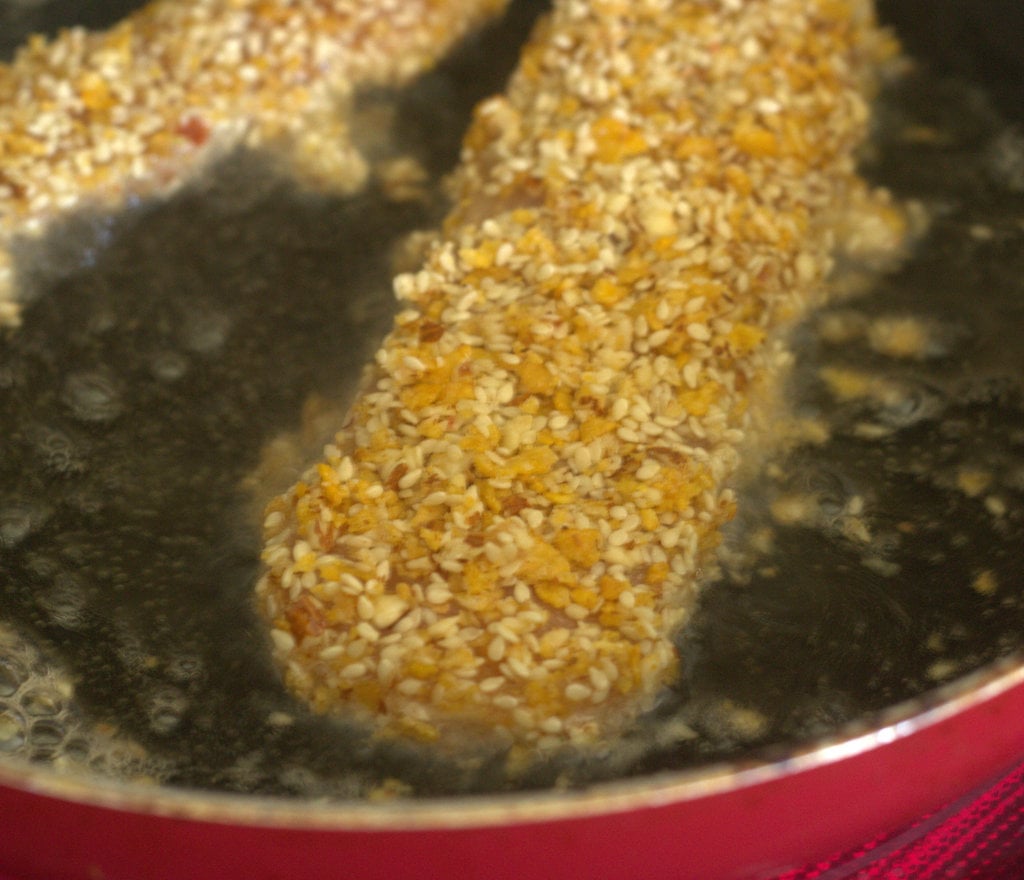 You can deep fry if you want, but then, if you want to use little oil, use only enough to cover one side of the crust.
Gourmet Chicken or Fish strips
Marination time: 30 minutes
Ingredients
2

chicken breast or 3 fish fillets

1

teaspoon

salt or to taste

1

teaspoon

red chilly paste or paprika

1/2

teaspoon

black pepper powder

1/2

cup

almonds

coarsely powdered

1/4

cup

sesame seeds

3/4

cup

corn flakes

coarsely crushed

1

Egg

1

tablespoon

milk or buttermilk

1/4

teaspoon

salt
Instructions
Cut each chicken breast into 5 thin strips. Cut it slant so that the chicken does not become flaky. If using fish, cut that into strips as well.

Add paprika or red chilly paste + salt + pepper to the chicken and keep aside for 30 minutes.

Mix together, almond powder + sesame seeds + cornflakes. In another bowl, beat the egg with 1 tablespoon of milk and salt.

Dip the chicken in the egg and then coat it well with nuts, pressing it well so that the coating sticks to the chicken.

Add oil in a pan only enough to cover the outer layer of chicken. Turn the heat to medoim high heat and cook the chicken strips about 3-4 minutes on each side and till the outer layer is golden brown. (You will know the oil is ready when you add few crumbs and it should sizzle). Reduce the heat to medium if the coating tends to darken.
Recipe Notes
If you don't have any one of the coating ingredients, substitute that with the ones you have.