What I baked yesterday? Soft chewy chocolate crinkle cookies. Crisp on the outside and soft on the inside.
I have had this on my mind a long time now and  I like the way it looks, all cracked and coated with powdered sugar. My son asked for cookie the other day and since that was the 1st time he had uttered that word it gave me all the more reason to try this and, did I say he eats only the chocolate ones?

Did I also say I love my quite afternoons and to go with it, a cup of coffee. Especially these days because I have started reading again and I realize how much I missed it.  I was never a voracious reader but I did read now and then but, this time it has been six moths already since I read the last one and for a change I picked up a book based on fiction which is normally not the case. I love reading autobiographies and non fiction works but these books makes you do some serious thinking. So this time I thought i should go with a lighter book,  sort of like a chick movie and so far loving it. This book is keeping me hooked.  What I am reading now? Its 'chocolate for two' by Maria Murnane. Don't you love the way your imaginations takes you to far off lands which you may never visit or to places you wish you were living in.

Similar recipes:
Peanut butter oatmeal cookie (so easy to put together and my favorite)
sugar cookies
candy cookies (Ideal for kids)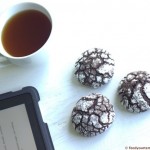 Chocolate crinkle cookies
Ingredients
1

cup

200gms granulated sugar

1/4

+ 1/8 cup

45mlvegetable oil

1/4

+ 1/8 cup

40gms cocoa powder (I used Hershey's special dark)

2

eggs

1

teaspoon

vanilla extract

1 1/4

cup

150gms all purpose flour

1

teaspoon

baking powder

1/4

teaspoon

salt

powdered sugar for dusting
Instructions
Whisk or stir together flour + baking powder + salt and keep aside.

Combine sugar and oil in another bowl. Add cocoa powder and beat until well blended. Beat in eggs and vanilla extract. Add the flour gradually to the mixture, beating well.

Cover and refrigerate until dough is firm to handle, at least 6 hours. I kept it overnight. Alternately if you are in a hurry cover and pop in the freezer for 20-30 minutes.

Preheat the oven to 350 degrees Fahrenheit or 175 degrees Celsius.

Shape dough into an inch ball, roll in powdered sugar and place on the baking sheet lined with non-stick paper about 2 inches apart. Bake for 11-13 minutes.
Recipe Notes
If you are keeping the dough in the freezer make sure the dough doesn't get too hard. Just in case it does, leave it outside for some time.
Recipe adapted from: Hershey's