This clam curry with coconut milk is great comfort food. The flavor of lemongrass and the fresh herbs are intoxicating. It's made from scratch with simple ingredients.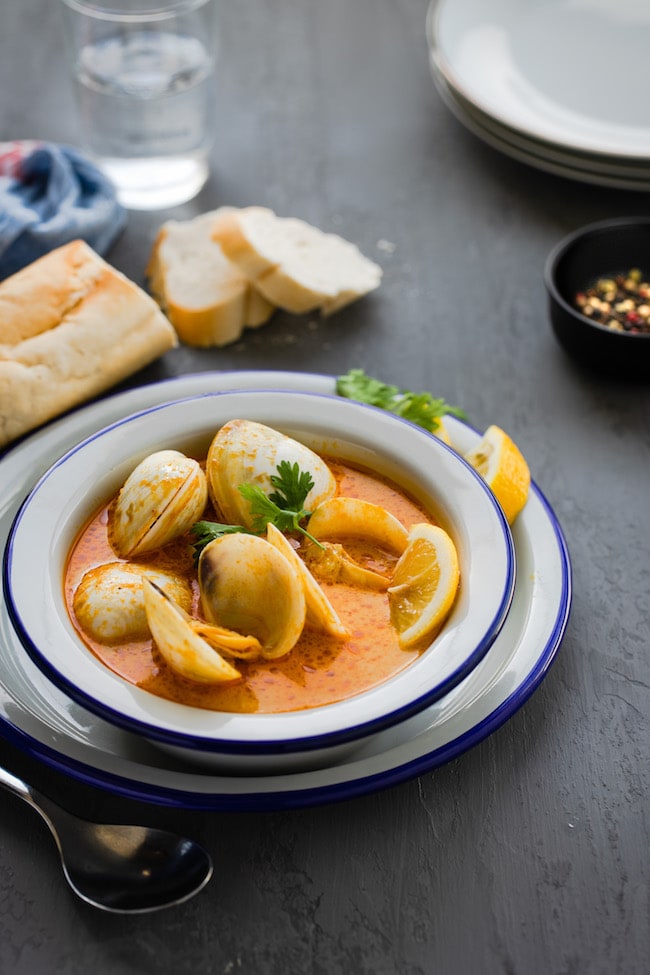 Are you a seafood lover? Planning on making something different and unique for dinner? If the answer is yes to both, then you must try out one of the clam recipes.
This clam curry with coconut milk is not just any other mouth-watering clam curry.  This dish is a fusion of Asian style curry and is not a typical Kerala clam recipe.
It's quite easy and delicious to make. Once you have tried it, you will be convinced that this is exactly what was missing from your dinner menu.
The ingredients used here are easily available, the process is much easier and the curry paste is made from scratch. The Salmon curry with coconut milk is another simple and great recipe if you are looking for a healthy option.
Clams are clearly the stars of this dish.  The fresh and delicious clams can be cooked quite easily in a short time.
However, the process of cleaning the clams is considered to be quite tricky. Many people are even intimidated by this.  But, it is really simple.
Cleaning the clams:
Soak the clams in cold water for about 20 minutes.
Add a small amount of pepper powder and vinegar.
Drain out the cold water after 20 minutes.
Rinse each clam individually with cold water.
If you are craving for something spicy and fried, try the calamari fry and prawns masala | shrimp masala.
How to make Homemade coconut milk from shredded coconut:
The creamy coconut milk is a great option instead of heavy cream or cooking cream. I use earths-finest organic coconut milk when I am in a hurry.
Although you can easily find organic coconut milk in the market, an alternative option would be to use home-made coconut milk.
It is also a healthier and less expensive option. So, the next time you plan on using coconut milk, try making it at home by using just water and unsweetened fresh shredded coconut.
All you have to do is:
Add 1 cup of fresh shredded coconut and 2 cups of lukewarm water to a blender and process on high for several minutes until creamy.
2. Place a cheesecloth over a strainer and pour the milk. In the end, squeeze the cloth tightly to get the remaining coconut milk.
Bring out the flavors:
Lemon juice will bring just the right amount of zing to the curry. Moreover, lemongrass and other herbs also elevated the flavor of the curry.
Lemongrass is an integral part of any Asian dish. It can be used in both fresh and frozen forms and depends on which one is more conveniently available. Fresh lemongrass can be stored in a refrigerator up to a few weeks. You can also store lemongrass in the freezer.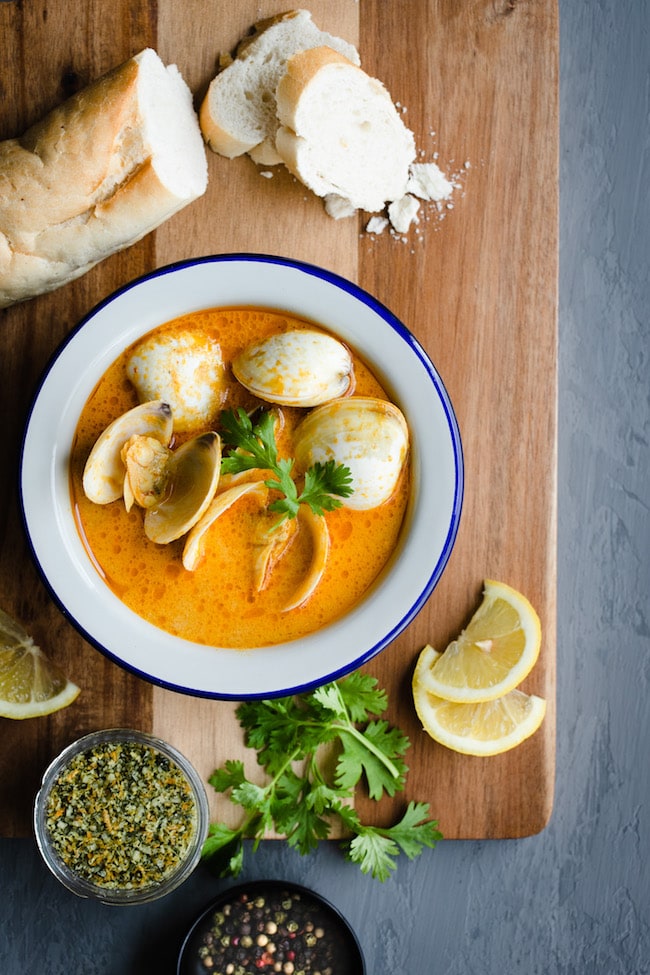 Enjoy this mouth-watering curry either with crusty bread or steamed rice.
The aroma of this dish will tantalize your taste buds and you can enjoy it till the last bite.
For curries and clams fans, this dish will earn you major points among your loved ones. Enjoy this scrumptious home-made dish, which is way better than any ready-made curry.
P.S: This Weeks blogging tips
If you want to monetize your blog, Ezoic is a great option.
The revenue is good and plus you don't have to worry about ad placements. Their system takes care of it based on the user experience.
I use Ezoic and the views are my own.
P.s: The above-mentioned link is an affiliate, which means I get a commission if you sign up with Ezoic and become a publisher.
Don't forget to subscribe to get recipes and tips delivered straight to your Inbox.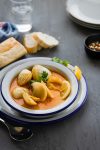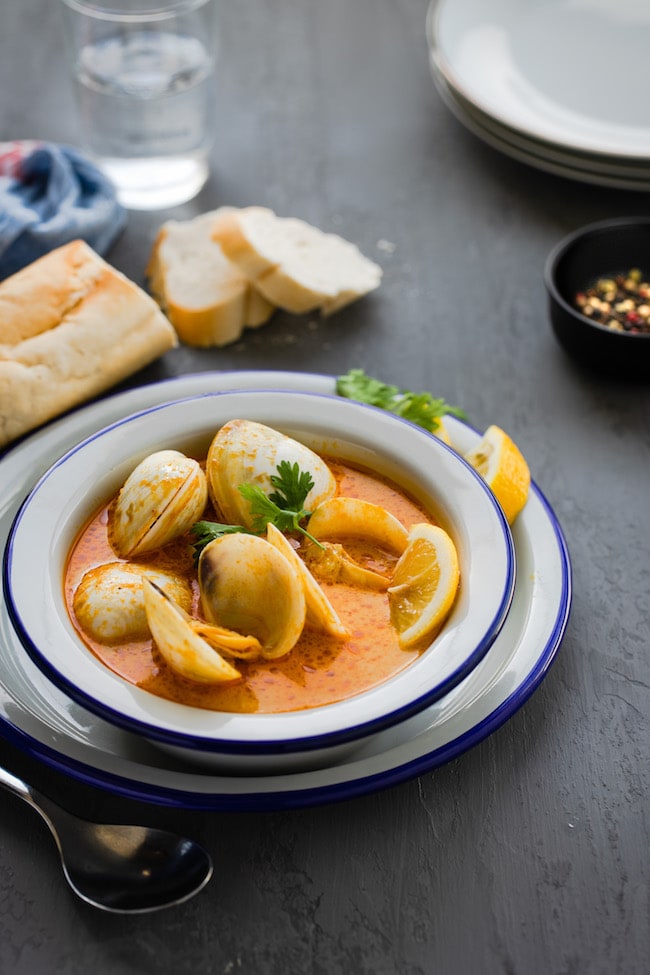 Clam curry with coconut milk
This clam curry with coconut milk is great comfort food. The flavor of lemongrass and the fresh herbs are intoxicating. Its made from scratch with simple ingredients.
Cuisine:
Chinese, Fusion, Indian
Keyword:
clams curry in coconut broth, clams recipe, fresh clam soup recipe
Ingredients
1

kg

(2.2 Pounds) Clams

2

tablespoons

oil

1 and 1/2

cups

coconut milk

1

cup

chicken broth or water

2

tablespoons

coriander leaves

finely chopped for garnish

2

teaspoon

Salt or to taste

1

teaspoon

pepper powder
For the Paste:
1

inch galangal or ginger

thinly sliced

1 or 2

thai red chilies

sliced

3

lemongrass, fresh or frozen

thinly sliced

1/4

cup

ketchup

2

tablespoons

lemon juice

1/4

cup

coriander leaves

1

tablespoons

soy sauce

2

tablespoons

organic coconut milk

or homemade

1/2

teaspoon

turmeric powder
Instructions
Cleaning the clams:
Wash the clams and add it to cold water with 1 teaspoon of pepper powder and 1 tablespoon of vinegar. Let it soak for 20 minutes.

After 20 minutes, rinse the clams under cold water, drain and keep it aside.
For the paste:
Add all the ingredients under the paste in a blender and process until finely ground.
For the curry:
Add oil in a heavy bottom pot and once it's hot, add the curry paste and saute for about 2 minutes till the herb cooks and you see oil on top.

Add the clams and saute for another minute.

Now add the coconut milk and chicken broth or water along with 1 teaspoon of salt and pepper.

Turn the heat to high and let it simmer. Then turn to low heat, cover the pot and simmer for another 10 minutes or until most of the clams have opened.

Open the lid and let it simmer for another 2 minutes. Taste and adjust the salt as needed.

Garnish with fresh coriander leaves.

Serve with crusty bread or steamed rice.
Recipe Notes
1/2(4oz) cup (120ml) of buttermilk:  Add 1/2 tablespoon of plain vinegar or lemon juice to a 120 ml measuring cup. Fill the remaining cup with milk. Stir and let it rest for 5 to 10 minutes.