Garam Masala pronounced, (Gar-ham  Mas-sala) is used widely in Indian cooking. It can also be called the backbone of Indian cooking.  Garam in hindi means Hot and Masala means spices, so its just a mixture of hot spices. There are so many versions of this masala and no standard recipe. 
Has it ever happened to you that you don't try certain things because either you think it difficult or too much work. It has happened to me few times.  I always got my garam masala from India. My mom and my MIL would pack me enough spices which would last me till my next visit. But like we know sometimes planning don't work and I ran out of my stock. Tried the store brought one, but didn't like it. I had some whole spices sitting on the shelves for a while and so one fine day I thought might as well convert it into some garam masala. And so I did.
The above shown are the basic spices for garam masala. I did miss cardamom in the picture. That reminds me to mention green cardamoms are more flavorful than the brown ones. Many of the store brought masalas contain more of the cheaper spices like coriander and cumin which adds to the quantity rather than the quality. So its always better to get whole spices and make your own mixture.
Star Anise and fennel seeds are my favorites. Star anise has a wonderful strong aroma, so its ideal to use just two or three, if you are making 1/2 cup of masala. Fennel seeds also have a light sweet smokey flavor. I once tried Italian sausages with fennel seeds, such an amazing pairing. I have also made pork with the same and left people asking me what had I added to get that taste.
Some of the dishes in which I used garam masala:
Vegetable Biriyani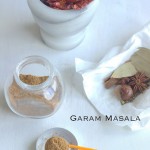 Garam Masala / All Spice Mix
Servings
:
1
/2 cup masala powder
Ingredients
Basic Spices:

1/8

cup

Cloves

1/8

cup

Coriander seeds

3-4

Cinnamon sticks

2

teaspoons

Cumin seeds

4-5

Cardamom pods

Missed it in the picture

Some more spices you can add depending on what you have and like:

2

Bay Leaves

1/4

of whole Nutmeg

2

teaspoons

Caraway seeds / Shah Jeera

3

Star Anise

1/8

cup

Fennel seeds

Some people also add pepper and whole chilies to their garam masala, and some don't. I like to control the heat element separately based on the dishes I am preparing

1

tablespoon

Pepper

2-3

Dried whole red chillies
Instructions
Method I: (Easier way, my way)

Break the bigger spices like bay leaves into smaller sizes with your hand and toast all the spices on low-medium heat in one batch stirring or tossing till the spices are warm to touch and you can smell the aroma.

Method II: (Traditional Way)

Toast the spices in a pan on low-medium heat in two batches, 1st with the smaller spices (Cloves + Coriander + cumin + cardamom + pieces of nutmeg + caraway seeds + fennel seeds ) and then with bigger spices (bay leaves + cinnamon sticks + star anise) stirring or tossing till the spices are warm and you can smell the aroma.

Move it onto a plate to cool completely. Once cooled, using a coffee grinder or mixer, grind into a fine mixture. Store in an airtight container.
Recipe Notes
Do not try to speed up the process by increasing the heat. It wont take long for the spices to burn.
Do not worry about the perfect measurements. A little here and there is completely fine.
To preserve the aroma and freshness make this in small batches. All you need in one teaspoon per curry which serves around 4 people.
Some curries require this mix to be added to oil during the initial sauteing while others require it to be sprinkled on top at the end of cooking.
Garam masala is mainly used in meat preparation. It also tastes good with roasted vegetables.
I make enough to last me about 2 months in one batch (about 3/4 cup).