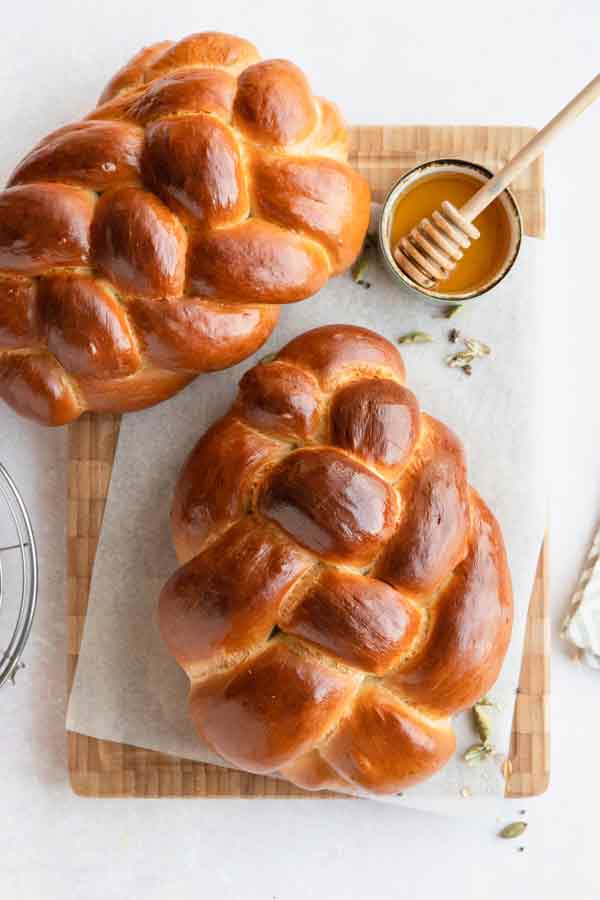 How is Dubai compared to Orlando?, is a question I get asked often these days.
One thing I can say about Dubai is you won't get bored. There are so many places to explore. If you like the feel of the old market places then Dubai Gold and spice souq will take you to the old times while the Malls and Hotels can give you a luxurious and modern feel.
I think even a lifetime won't be enough to explore all the stores in one of the biggest malls in the world – The Dubai Mall. If you are a shopaholic and spend most of the time in the mall then I am not the one to say. Needless to say I only go to some of the malls when I am truly pumped up coz there is so much to walk. Thanks to the baby stroller atleast you have your hands free.
Off all the places, I really love going to the Souqs (meaning Old Market). If its shopping for dry fruits – spices – handicrafts or Gold (The price is 50% less than stores, excluding Gold of course). The Gold Market is regulated and you won't find much difference in price, but you can bargain on the making charges. Apart from the prices I really like the feel of this place.
Being a Foodie, Dubai is one of the best places you can be. The countless number of amazing buffet, cuisines and world class food is only miles away. Pick the cuisine you want and you shall have it :). Most of the restaurant offer home delivery too.
There is so much more to say – Will try to add little snippets in the upcoming posts.
Now lets steer away to the actual topic – A beautifully braided, Soft Challah.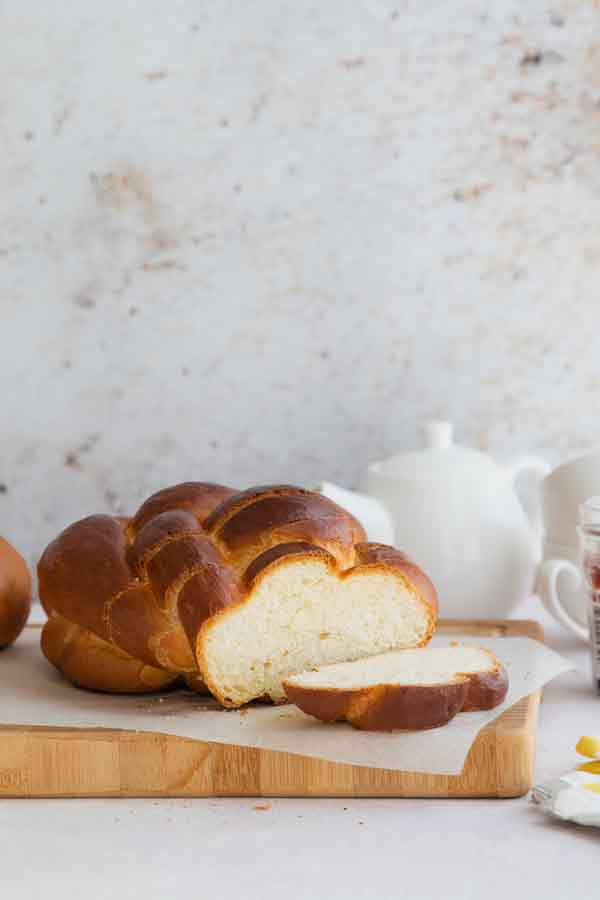 I made it again, but this time a sweeter version with honey and cardamom instead of the plain challah. The Eggs in the dough gives it a rich and softer texture. Challah is very good for making french toasts too.
If you don't want to add eggs then try this eggless dinner rolls.
The beautiful spinach stuffed swedish rolls is an alternative if you are looking for a savory version.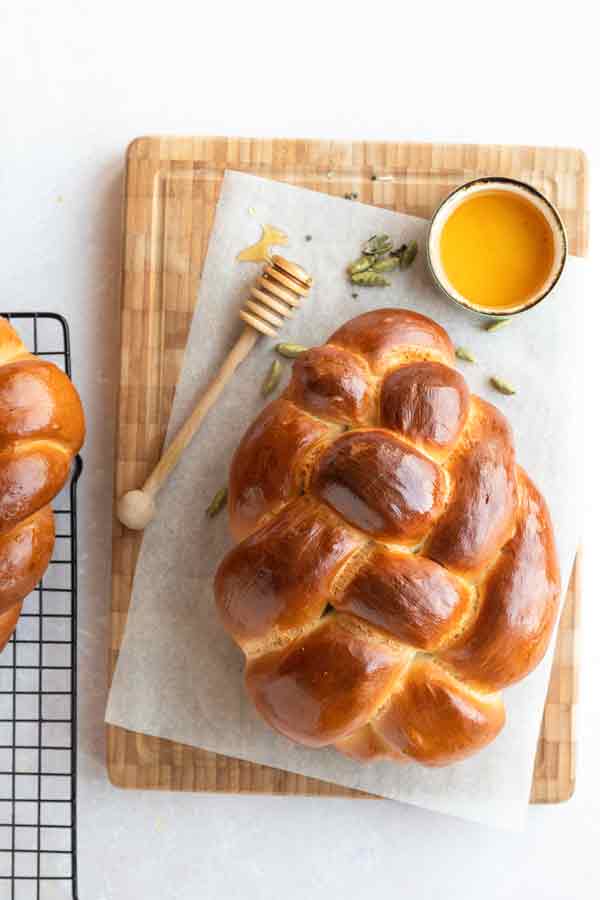 Divide the dough into two equal parts. Then divide each section into further three parts and roll into three ropes of about 15 inches each.
Braid it like you braid your hair.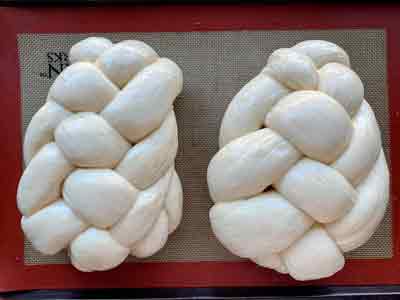 The braided bread.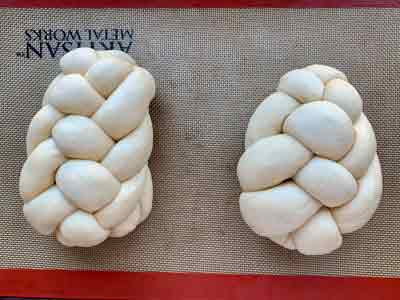 The gorgeous dough after an hour of resting.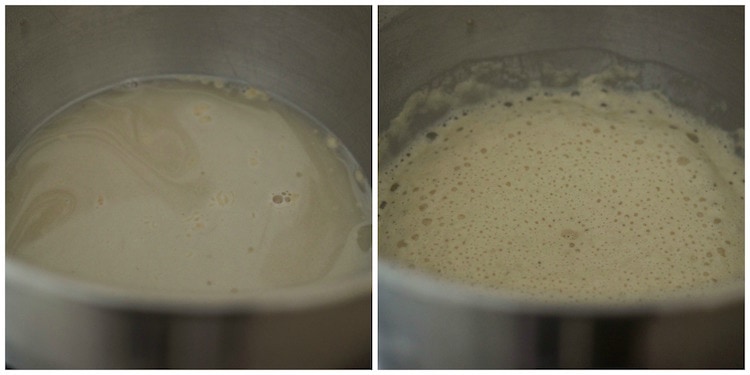 Add yeast + honey + flour to warm water and let it sit for 10 minutes.
Wait for about 15-20 minutes for the mixture to froth before adding flour.


When you let the dough to rest it almost doubles in size after an hour and half. Rising depends strictly on the temperature of your room.
P.S: Did you ever want to start your own blog around your passion. It may not be as difficult as you think. Here are some tips on how to start your own blog.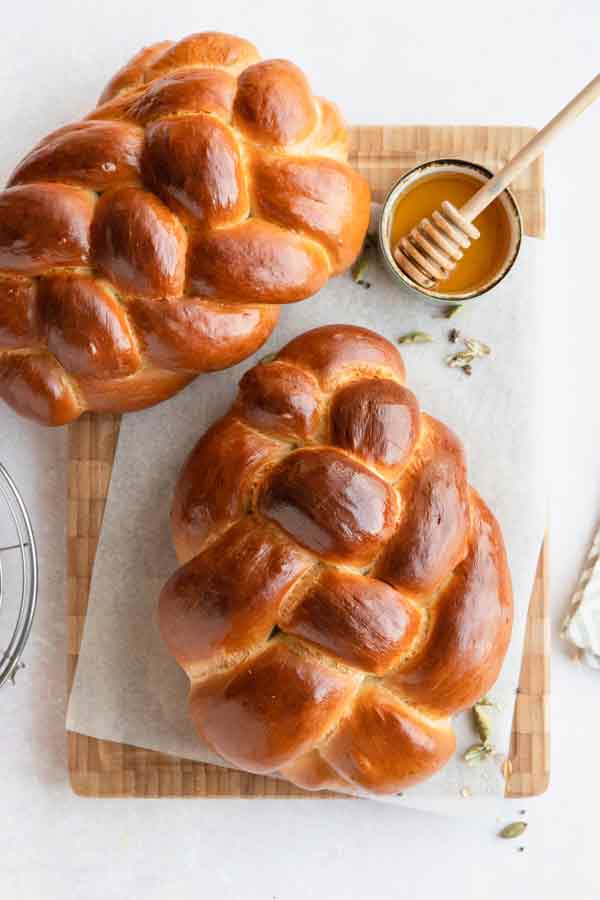 Honey and Cardamom Challah
Total resting time: 2 and 1/2 hours
Ingredients
2

and 1/4 teaspoon active dry yeast

3/4

cup

180ml warm water (I heated water in the microwave for 40 seconds)

1/2

cup

120ml honey

1

teaspoon

salt

1/8

cup

30ml oil

4

and 1/2 cups

540gm All purpose flour

2

Large eggs

1

yolk

Reserve the whites for glaze

1

teaspoon

cardamom powder

GLAZE

1

Egg white

1

tablespoon

honey
Instructions
Add yeast in a mixing bowl. To that add warm water + honey + 2 tablespoons of flour. Mix well with a spoon and keep aside for 10 minutes or till the mixture froths.

Add salt + oil, stir again. Now add half of the flour + egg + egg yolk and start kneading with a dough hook attachment. Add little flour as needed. The dough should be sticky and elastic. Reserve about 1/2 cup of flour.

Transfer the dough onto a lightly floured work surface and knead well with the palm of your hands for 6-8 minutes so that the gluten can develop. Add the reserved 1/2 cup of flour as needed.

(If using hands, use a wooden spoon to combine the flour. Once the dough is difficult to stir and less sticky, transfer onto a floured work surface or your counter top and knead remaining flour with both the palm of your hands. After all the flour is incorporated, knead for additional 6-8 minutes for the gluten to develop).

Lightly coat the top of the dough and the bowl with oil. Cover and let it rise in a warm place for 1 and ½ -2 hours or until the dough doubles in volume.

Punch down the dough, separate it into 2 equal parts. Further divide each part into 3 parts. Roll 3 ropes about 15 inches long. Keep it parallel to each other. If its difficult to roll, cover and try doing it after 5 minutes.

Pinch together one side. Braid it like you braid your hair. Fold both the pinched sides below the bread. Transfer this to a non-stick mat or parchment paper lined baking sheet.

Gently brush the top of challah with egg wash (1 egg white + 1 tablespoon honey). Apply generously in the corners and towards the sides too. Sprinkle some slices almonds or pistachios. Cover this and let it rise for another hour.

Preheat the oven to 375 Degrees Fahrenheit / 190 Degrees Celsius.

Bake for 30 - 35 minutes until you achieve a dark brown shiny look.

Brush some melted butter as soon as you take the bread out of the oven.