Many sago (sabudana) lovers have asked me what is tapioca (kappa). So for the information, sago is made from Tapioca.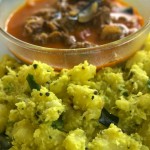 Tapioca with coconut / kappa arachadu
Ingredients
800 gm 2 lb. tapioca (Kappa), cut into 1/2 inch cubes
3 1/2 teaspoon salt or to taste
SET 1: Grind to a coarse paste
1 1/2 cup grated coconut
2 shallots or 1/4 small onion
5 small garlic cloves
2 green chillies
1 sprig curry leaves
1/2 teaspoon turmeric powder
SET 2:
2 tablespoon oil
2 teaspoon mustard seeds
1 sprig curry leaves
1/8 cup finely sliced onion or shallot optional
Instructions
Boil tapioca in salted water and drain like rice or pasta. (Do not overcook)

Coarsely grind all the ingredients in set 1 with 2 tablespoons of water.

Place the drained tapioca in a pan on medium heat. Add the ground ingredients from set 1, mix well, cover and let it cook for 5-10 minutes. Keep aside.

Set 2: Heat oil in a pan. Add mustard seeds and let it crack. Now add onions and curry leaves and let the onions brown. Add this to the tapioca and mix.