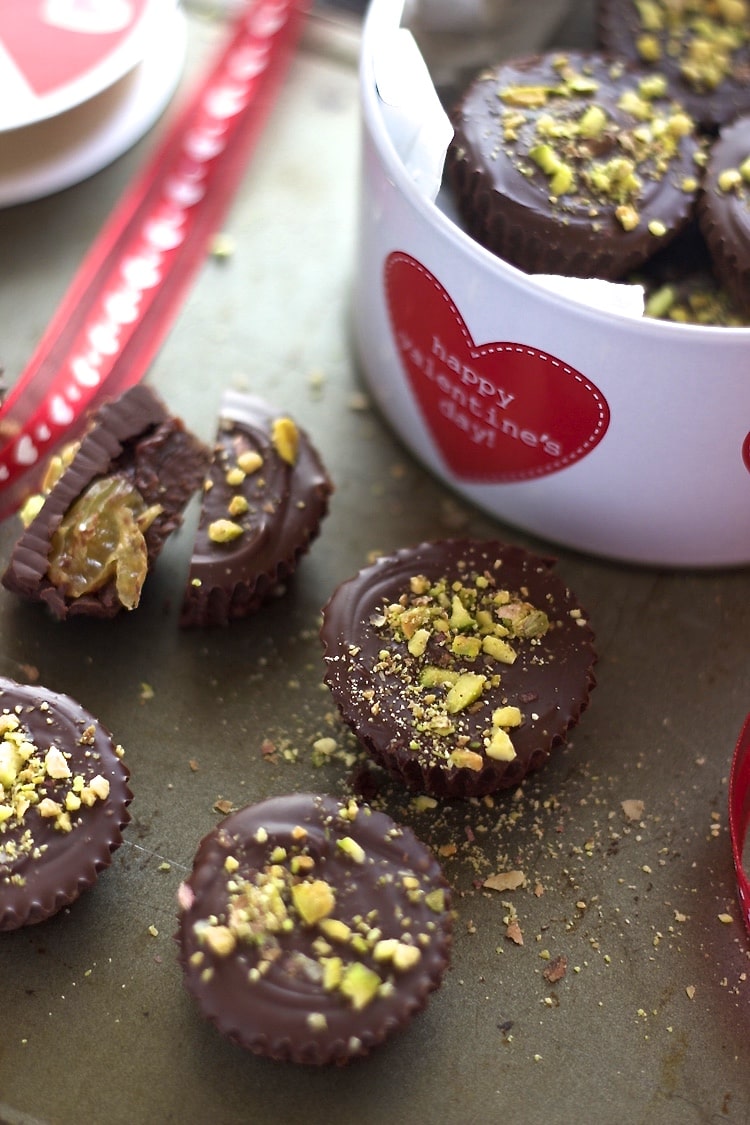 There is one thing I don't like about food blogging and thats the never ending pile of dirty dishes. Things which I absolutely love doing are melting chocolate first thing in the morning, dreaming about food and new recipes, reading food related stuff, being able to try new things which I would have never wandered into otherwise.
Baking bug has bit me a long time ago and it doesn't show any signs of stopping. I was always fascinated with the art of bread making and my search has brought me to Josey Baker Bread.
 Josey Baker is a San Francisco Baking sensation.
His book explains wholesome bread baking methods and recipes made with sourdough starter and not the commercial yeast. If you are aware of sourdough starter then you know how exciting that is, but for those who are new, in simple words, its cultivating your own yeast. It takes two weeks before you can first use the yeast. I am breeding my little pet in a jar. Will let you know how its turns out and then lets bake our own wholesome bread. Hope you are looking forward to it 🙂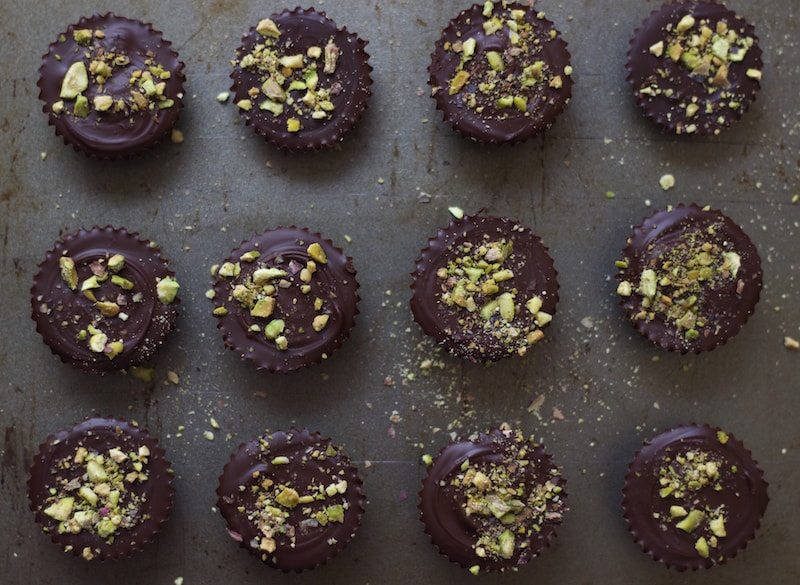 Do not go by the plain look. It has rum soaked raisins in between. If you don't have time to soak raisins in rum, check the notes for quick options.
One more day for Valentine's day and if you have still not thought of what to get or make then this is for you. A no bake chocolate dessert which is quick, easy and with a lil surprise inside. If you like rum based desserts then check out these Brownie truffles/rum balls.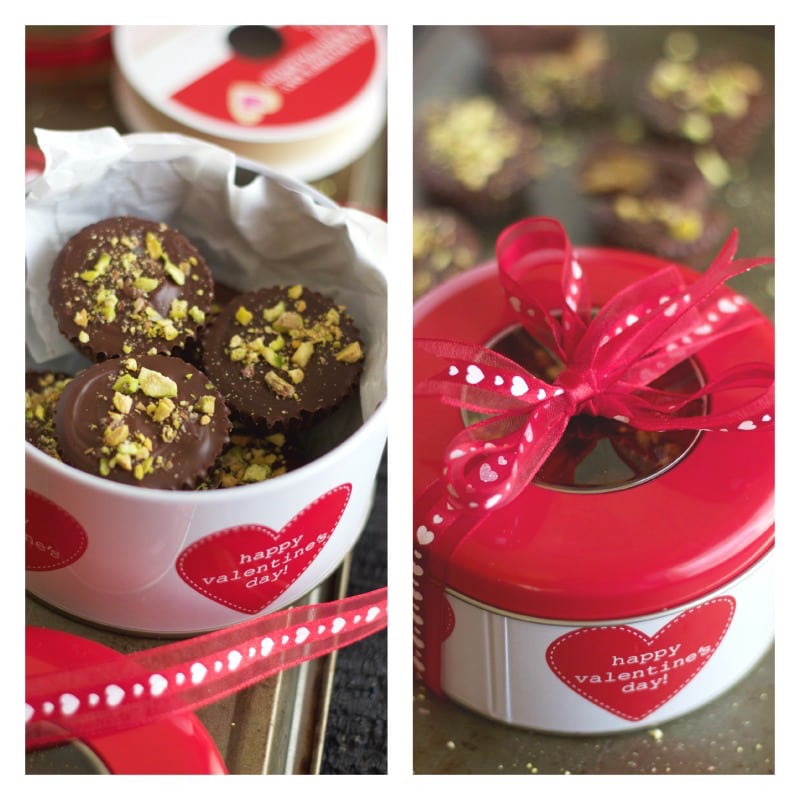 Box it up. I got this box from Michael's craft store.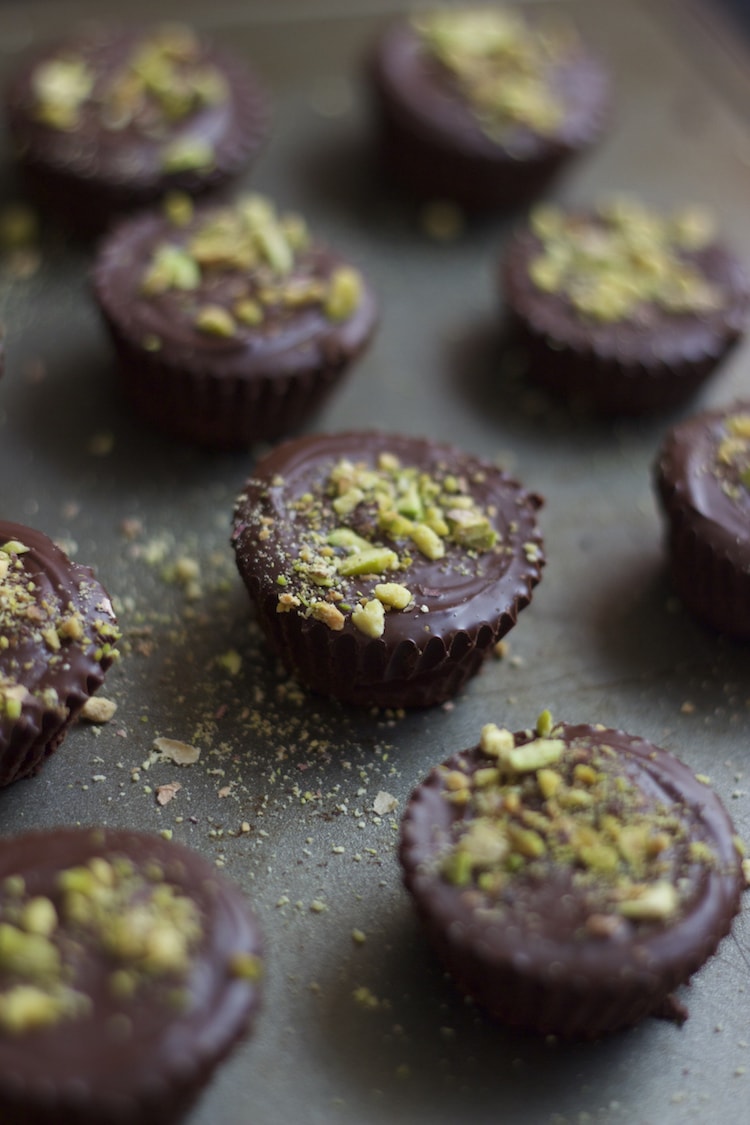 A lil sprinkle of nuts always adds a wow factor.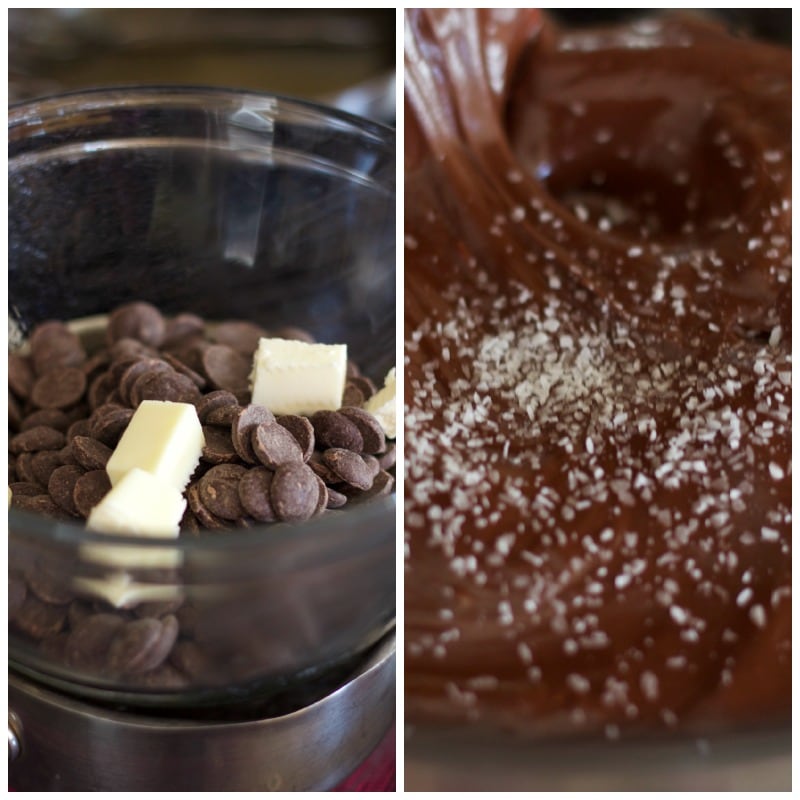 Melt the chocolate and butter. Sprinkle some granulated salt.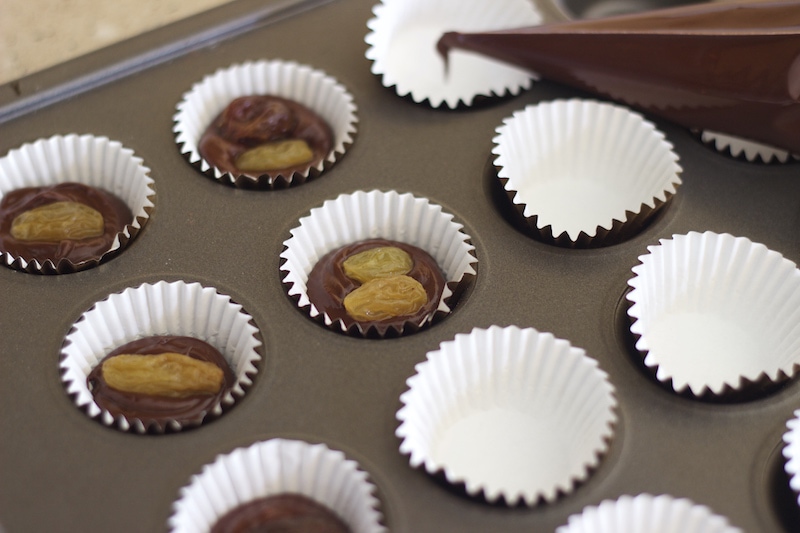 Add the chocolate in the piping bag and fill mini cupcake liner till half. Add rum soaked raisins and cover it with remaining chocolate.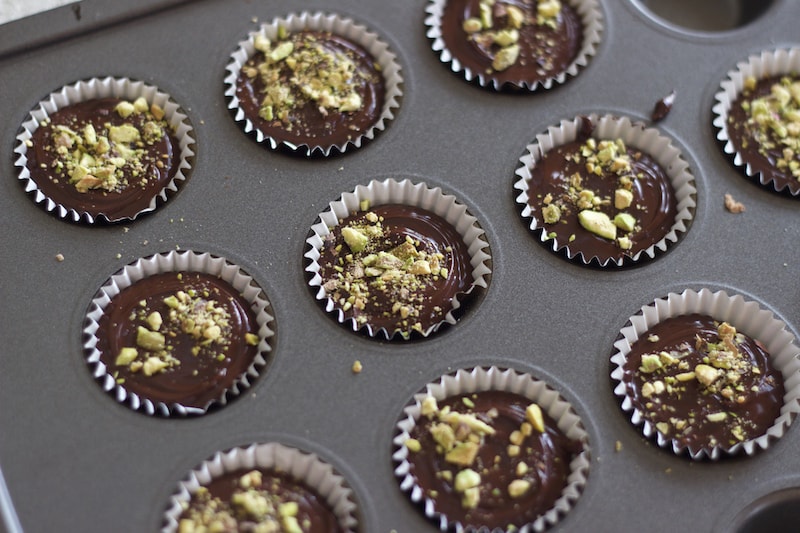 Sprinkle with some coarsely chopped pistachios.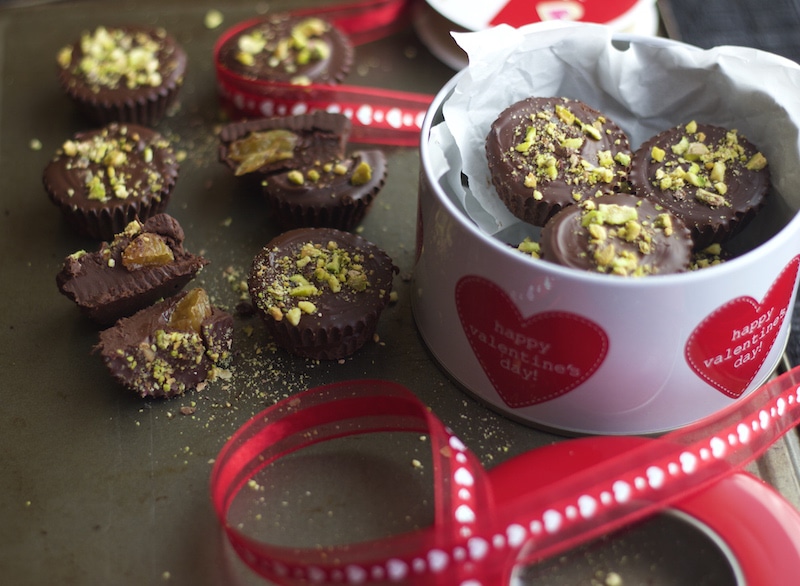 Enjoy your time 🙂
Happy Valentine's Day !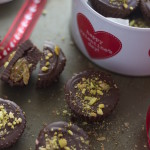 Rum soaked raisins filled Chocolate Cups
Ingredients
1

and 1/2 cup semisweet chocolate cups

1

and 1/2 tablespoon butter

1/2

teaspoon

granulated salt

1/2

cup

to 1 cup raisins soaked in Rum

Coarsely chopped pistachios for garnish

Additional:

Please refer notes for other options

Mini cupcake liners

Mini cupcake pans
Instructions
Soak the raisins in rum at least a day in advance.

Line a cupcake pan with liners or keep the chocolate moulds ready.

MELTING CHOCOLATE:Melt the chocolate + butter in a double boiler or in a microwave.

Double boiler Method:

Add chocolate + butter + salt in a bowl and place it on a bowl of simmering water making sure that the water does not touch the bottom of the bowl. When few chunks remain take it off the heat and mix till chocolate is smooth. Keep aside.

Microwave Method:

Add the chocolate and butter in a microwave safe bowl and heat it for 30 seconds. Stir it and place it back for 30 seconds. Repeat the process until few chucks remain. Stir it till the chocolate is smooth.

ASSEMBLING:

Stir in salt. Transfer the chocolate to a piping bag and pipe the chocolate into the liners half way. Add two to three raisins and cover it with additional chocolate. Garnish with chopped pistachios.

Place it in the refrigerator for 20 to 30 minutes to harden. Peel off the covers if needed before serving.
Recipe Notes
An alternative to mini cupcake liners are chocolate moulds.
If you don't have time to soak raisins, add a tablespoon of rum to melted chocolate and use the filling you like.
If not using rum, add you favorite filling of nuts in between without soaking in alcohol. Add a teaspoon of vanilla extract to melted chocolate.