You won't believe that these crispy buffalo wings are made in the oven. It is super EASY and QUICK. A true crowd pleaser.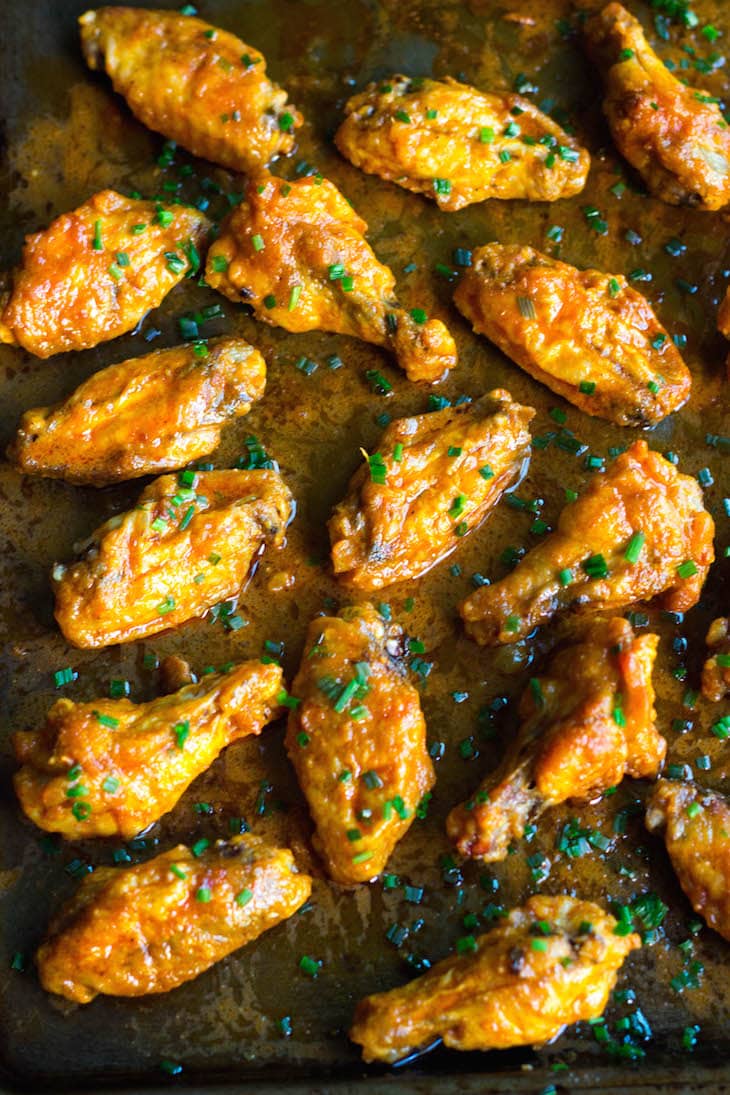 My mom and sis were in tears, so was my mom in law. My dad barely hid his. They had come to see us off. Agnel and I were newly married, just two weeks and we were flying to Orlando. We were happy to set foot into our new world,  the world full of new challenges and new beginnings. As we sat, ready to board, the thought of our parents faces made us sad.
I realized that was going to be the new norm every time we leave the country and the thought that I am going to see them after a long time made me sick to my stomach. Growing up I had seen my cousins leave with a heavy heart whenever they were traveling abroad, so part of me never wanted to settle in a country that was so far away.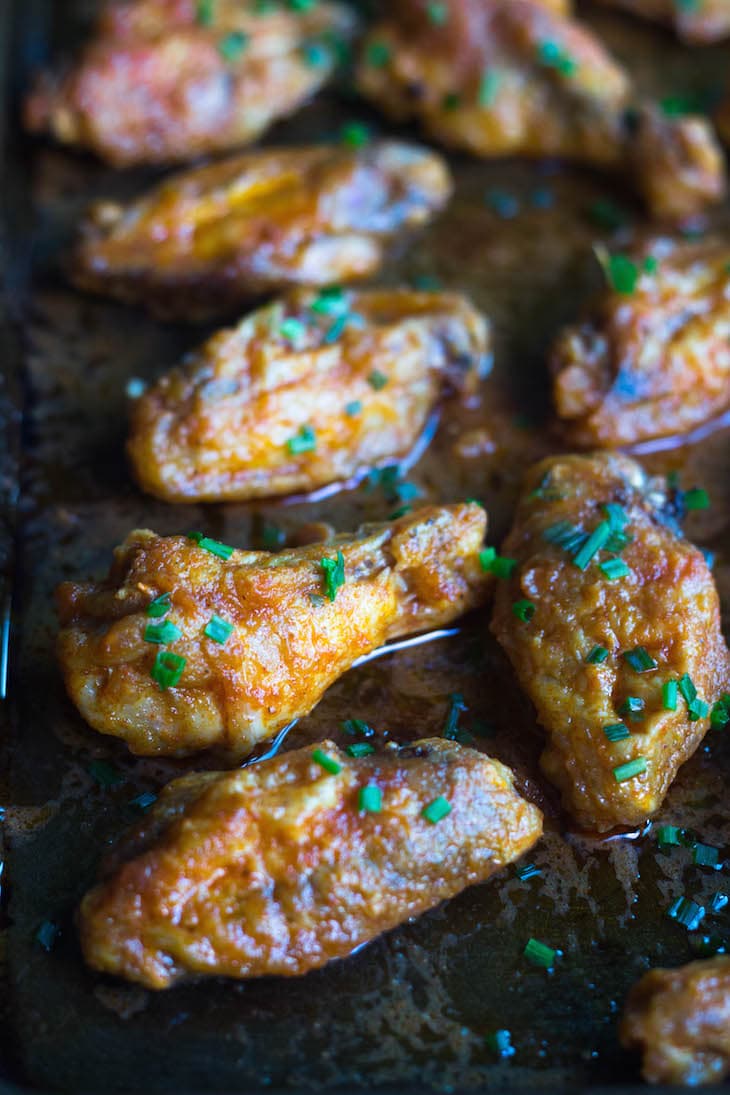 But like they say, marriages are made in heaven and fate is inevitable. I was there, half way around the world in an entirely new place. Agnel had done his masters there and was working, so he was already used to the place by now.
This place was completely new for me. Indian comfort food was something I craved now and then. Oh, the spicy, tangy food. I slowly started feeling comfortable in the new place I now called home and started falling in love with the food and new life. Hot wings were something I couldn't resist, and it was my new go to comfort food.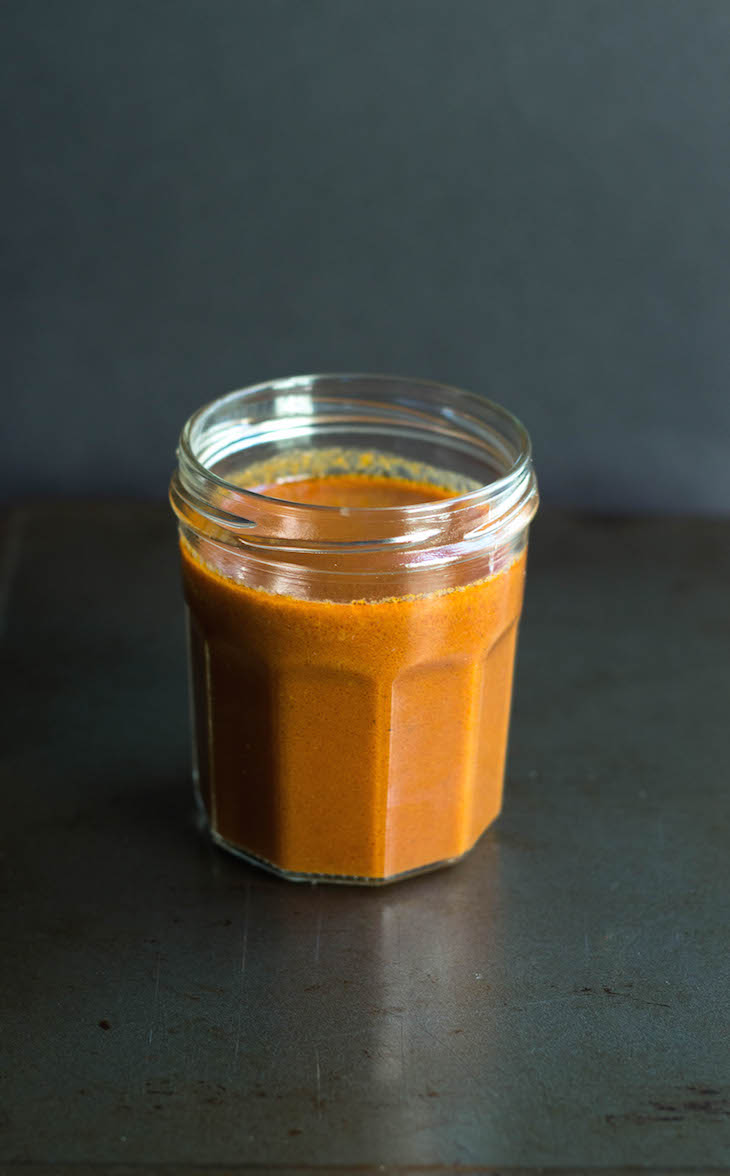 We started living the American dream, a beautiful house with a yard, a lake, pet, and cars but there was a big void filling our hearts, our family. Having said that, we were blessed to have friends who were like family, but we couldn't see our parents longing to spend time with their grand kids and our kids missing wonderful time with cousins and extended family, which we had cherished growing up. We want to move closer to our families.
Now that we are living close to home, chicken wings give me nostalgia. It reminds me of our road trips across the state lines, stops at mom and pop restaurants and trying out the local hot wings. I long every bit of it, although I am still happy to be close to home.
These chicken wings are baked and yet crispy. If you can make the sauce and marinate the chicken wings ahead of time, it becomes so much easier.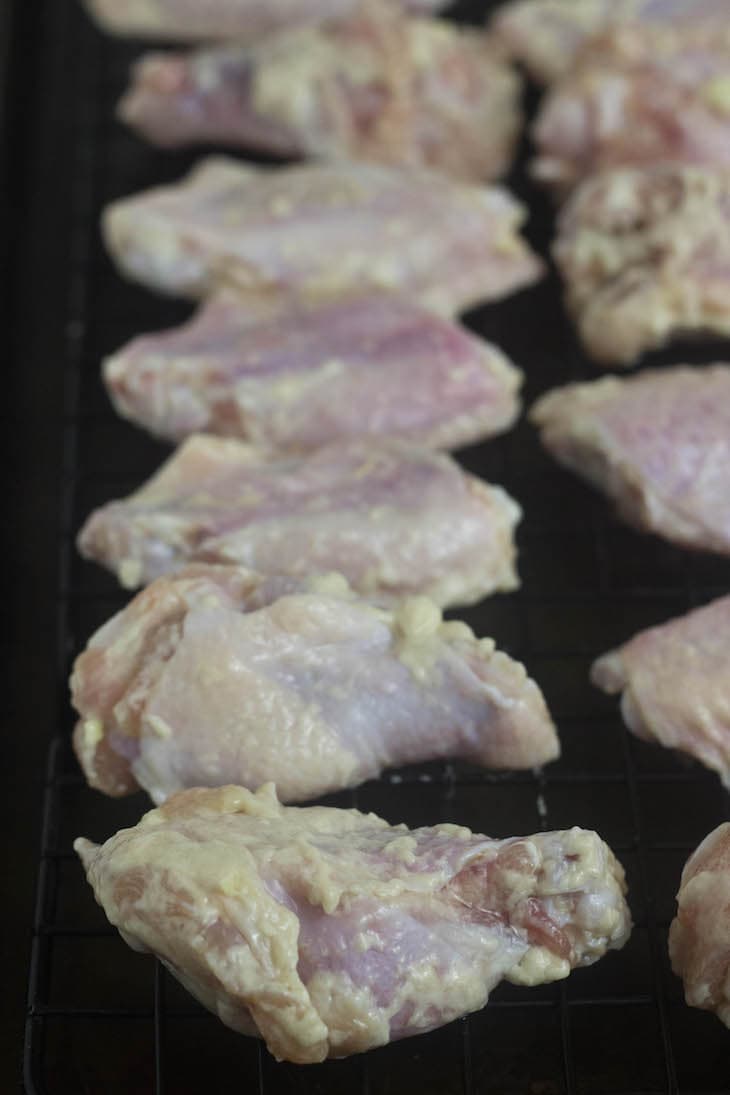 To make the wings, coat the chicken pieces well with the marinade and place it on the wire rack.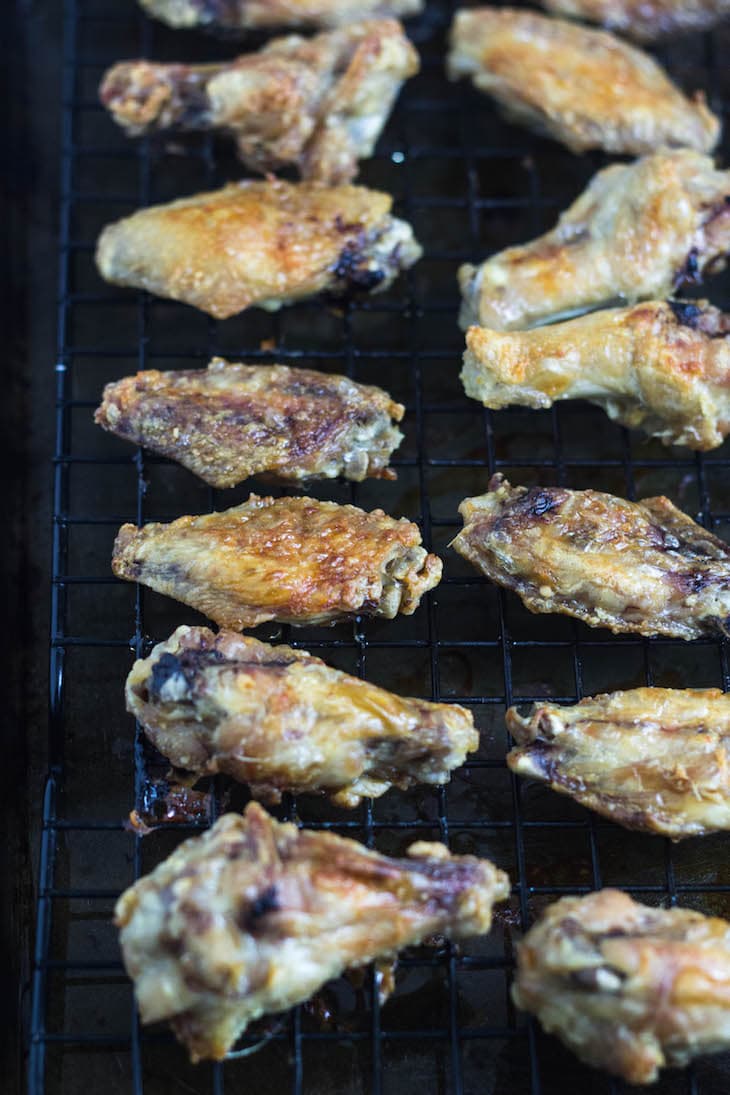 Once it turns crisp, coat it with wing sauce.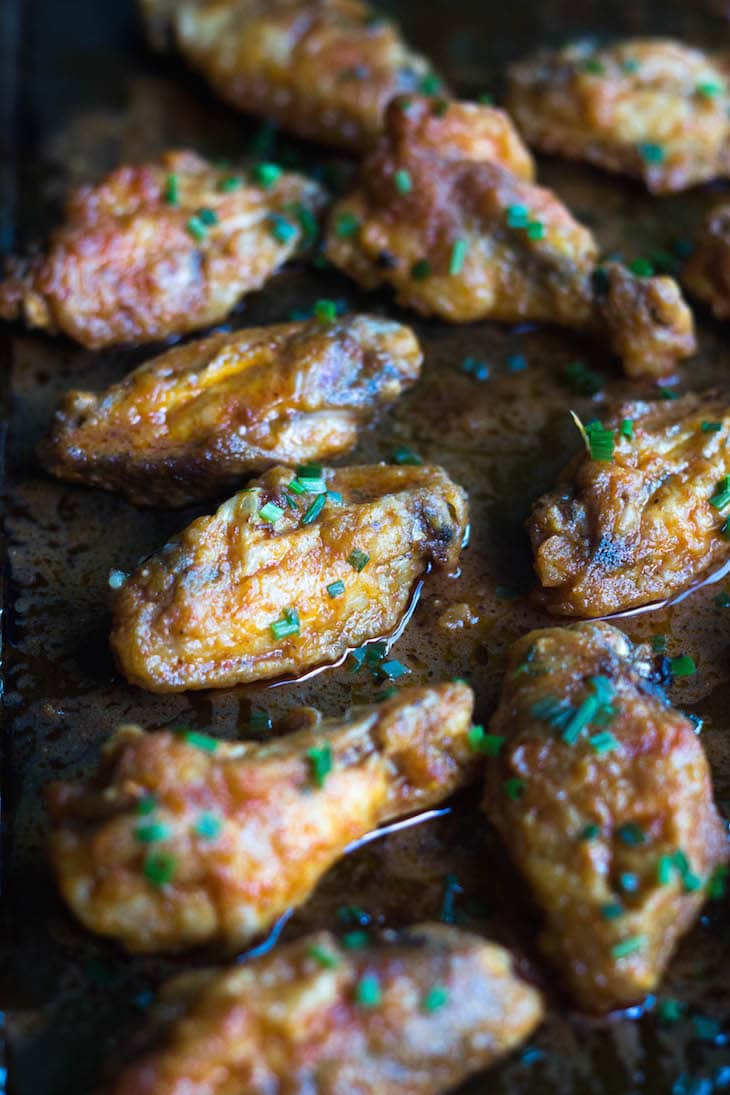 Additionally, Chicken Teriyaki wings is another baked wings recipe if you are looking for a milder version.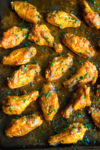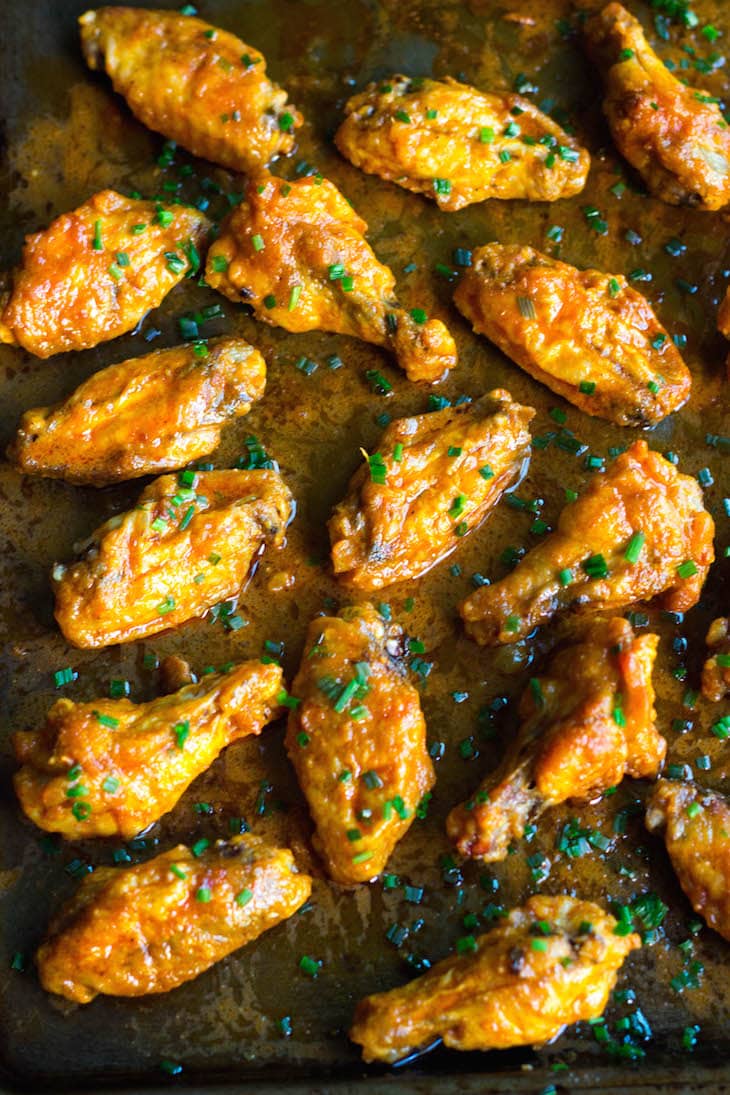 Buffalo wings
Ingredients
FOR BUFFALO SAUCE:

1/4

cup

1/2 stick (50 g) unsalted butter

3/4

cup

hot sauce

1

and 1/2 tablespoon vinegar

1/2

tablespoon 

Worcestershire  sauce

1/2

teaspoon

paprika

1/4

teaspoon

black or white pepper powder

1/4

teaspoon

garlic powder

salt to taste

FOR THE CHICKEN:

2

pounds

1 kg chicken wings

1

and 1/2 teaspoon ginger garlic paste

1

teaspoon

salt or to taste

2

tablespoons

All-purpose flour

2

tablespoons

oil
Instructions
FOR BUFFALO SAUCE:

Melt butter in a saucepan over medium-high heat.

Once the butter melts, add the remaining ingredients. Whisk well to combine.

When you see the sauce simmering, take it off the heat and mix again.

Keep aside to cool.

FOR THE CHICKEN:

Wash the chicken wings and pat dry well with a kitchen towel. Add the ingredients of the marinade to the chicken, except All-Purpose flour and oil, and mix well.

Sprinkle All-purpose flour and coat. Drizzle oil and mix again.

Preheat the oven to 400 degrees Fahrenheit/200 degrees Celsius.

Arrange the chicken pieces on a wire rack and bake for 40 minutes, turning once in between.

Transfer the wings to a mixing bowl and coat with the wing sauce.