The thought of melted cheese makes me hungry. I saw this on a food network show once and looking at the melted mozzarella and golden toasted bread I couldn't resist making this. The fun and important thing is it takes less than 10 minutes to assemble. I made this when my friends were over. Did the prep work and placed this in the oven few minutes before we were ready to have lunch. It was perfect to be served right out of the oven.  Its for one of those days when i want to be lazy and still enjoy a wonderful meal. This and a bowl of soup is all I need.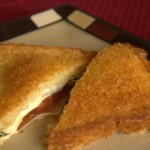 Panzanella Caprese
Ingredients
Butter

for greasing baking sheet

2

vine-ripened tomatoes

cut into 1/2-inch thick slices

1

tablespoons

balsamic vinegar

1

8-ounce balls fresh mozzarella cheese(sliced into 1/4-inch thick slices and patted dry)

1

clove

garlic

minced

1/4

cup

chopped cilantro leaves

original recipe used basil

Olive oil

for drizzling

Salt and freshly ground black pepper

6

1/2-inch thick slices country white bread or butter bread
Instructions
Preheat the oven to 375 degrees F. Butter a 9 by 13-inch rimmed baking sheet. Set aside.

Arrange the tomato slices on the bottom of the baking sheet in a single layer. Drizzle with the balsamic vinegar. Lay the cheese slices on top in a single layer. Sprinkle with the garlic and basil and give a tiny drizzle of olive oil. Season with salt and pepper, to taste. Arrange the bread slices on top and drizzle generously with olive oil.

Bake for 25 minutes until the filling is bubbling and the bread is crisp and golden. Remove the pan from the oven and let cool for 5 minutes before serving.