These Raw Plantain Kababs | Kache Kele Kababs are a great alternative to the traditional kababs. The freshly ground spices add more flavor and create a balance. It's CRISPY, easy to put together and is a great vegan|vegetarian option.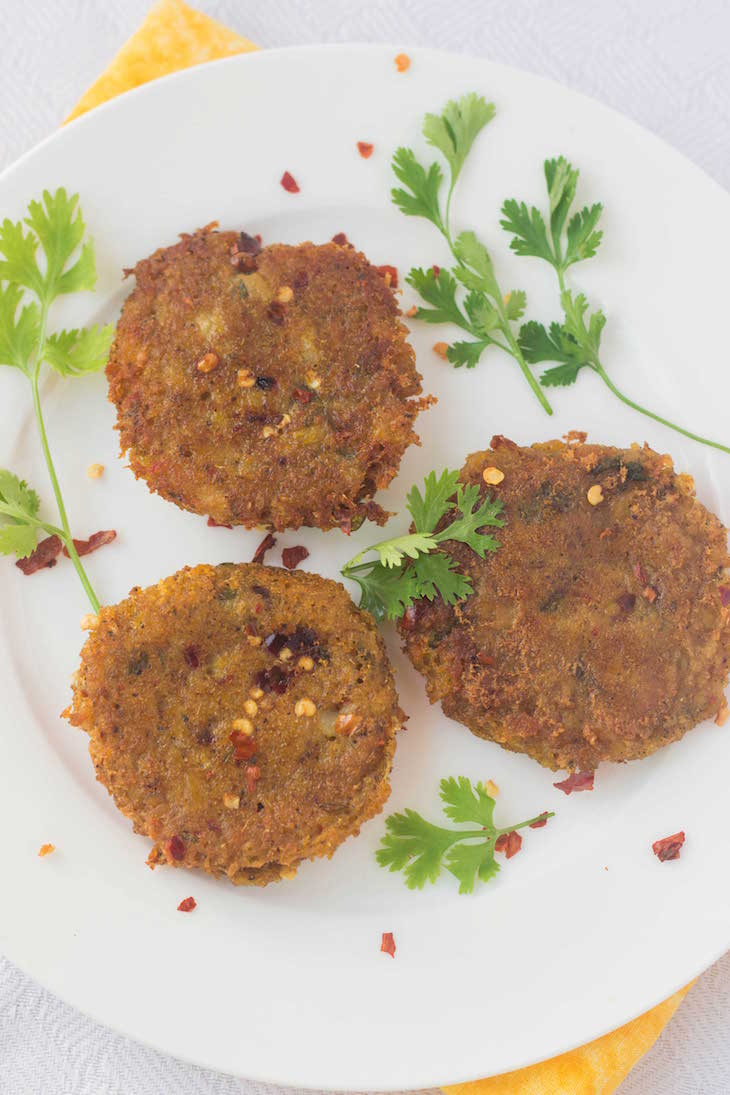 The old proverb, 'Necessity is the mother of all inventions,' always stands right. Although I did not invent this Raw Green Plantain Kababs Kache Kele Kababs, I had to find ways of using the green plantains which had been lying around for quite a while. The only time I buy this is when I have the craving to have the Kerala style Vazhakka Mezhukkupuratti.
At the same time, there are great ways to make ripe plantains too. The taco bell deep fried plantains were always my favorite. Also, roasting them in a pan with clarified butter/ghee or butter is a very yum kid friendly option. Another great way is to coat the ripe plantains in batter and turn it into plantain fritters.
Raw plantains, on the other hand, is a good choice for vegetarians and vegans. Similarly, an excellent option for vegetarian appetizer or snack is the Crispy Aloo Tikkis| Potato tikis.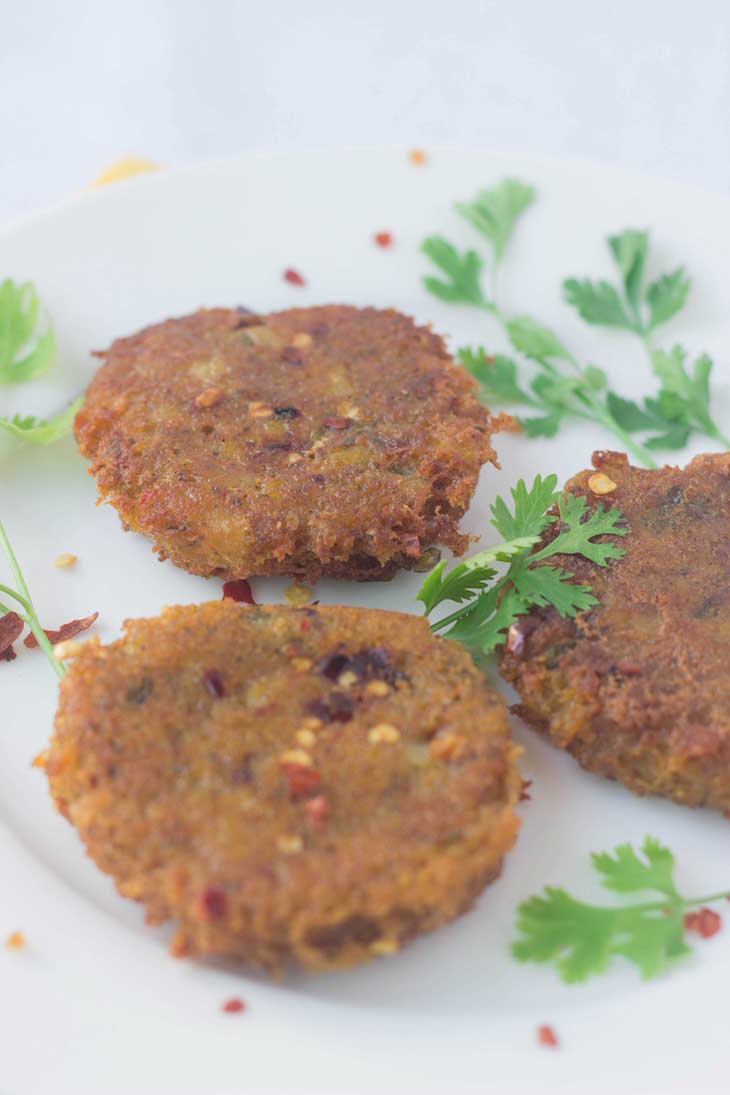 You might be wondering as to how I ended up having quite a lot of raw plantains. Remember, I frequently gloat about our reasons to move to Dubai, and one being closer to India.
One of the greatest pleasure of moving closer is that you keep getting homegrown and homemade organic products, like coconut oil, curry leaves, fresh homemade ghee | clarified butter, freshly ground spice powders, to name a few. My mom recently sent me these raw plantains from the Gods own country where plantains are a staple. Since plantains take the time to ripen depending upon the temperature around, and since I did not want to end up having to finish all of them at one, (the reason being too many calories:), I thought finishing them in batches would be great.

These kebabs are less time-consuming than other appetizers. You don't have to dip each piece in batter and then coat them in breadcrumbs. Here, you can mix all the ingredients together, then shape and shallow fry.
Furthermore, you can make a thicker dough by adding some more breadcrumbs and then put in skewers and cook them on an outdoor grill or stovetop grill pan.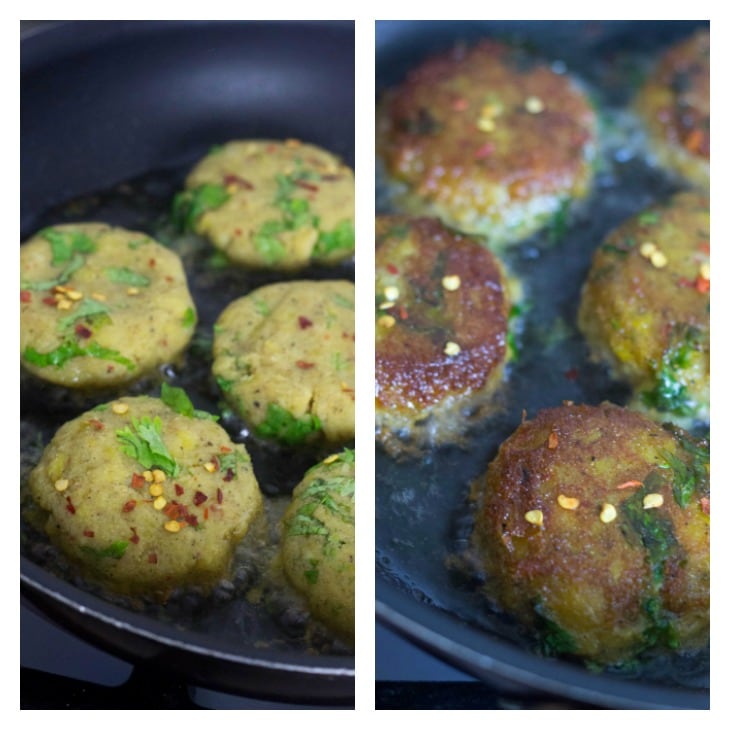 Always add enough oil to cover the outer layer if you want crisp tikis and remember to serve immediately.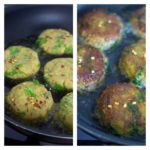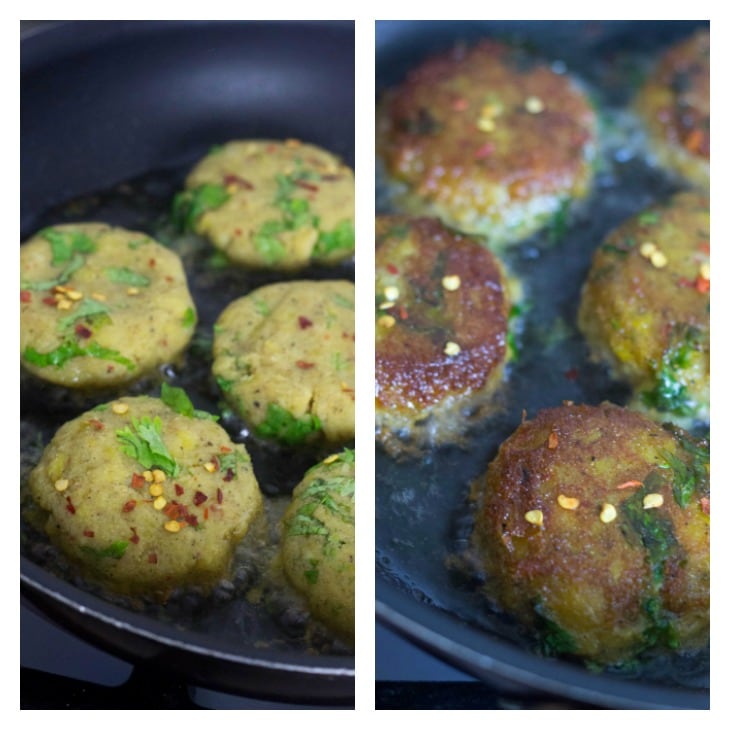 Raw Plantain Kababs
Ingredients
3

Raw Plantains

2

medium potatoes

boiled and peeled

2

tablespoons

Fennel seeds

2

Dried red chilly

1/2

tablespoon

whole Pepper

1/2

teaspoon

cumin seeds

1/2

cup

cilantro/coriander leaves

finely chopped

2

tablespoons

corn flour/corn starch

1/2

cup

bread crumbs

salt to taste
Instructions
Peel the skin of the plantains with a knife, cut this into big pieces and add it to turmeric water. Boil this in a pan or a pressure cooker. Once done, drain the extra water and keep aside.

Dry roast the whole spices (Red chili + pepper + fennel seeds + cumin seeds). Once its cool, grind it into a fine powder.

Once the plantains and the potatoes cool completely, mash these well. To this add the spice powder and salt and mix. Taste and adjust the salt as needed.

Now add the bread crumbs and cornflour and knead well like a dough till everything combines. Add the finely chopped cilantro leaves and gently mix.

Take a golf size ball and flatten these into a patty.

Take little oil in a pan, just enough to submerge the outer layer and place this on medium high heat.

Once the oil is hot, add the patty and shallow fry till golden brown on both sides.

Serve this with green chutney or ketchup.
Recipe Notes
You can also add some red chili flakes. I sprinkled some on the top while frying.